The COVID-19 pandemic remained the most significant story in 2021 – ever-present even when we tried to push it to the background, to pretend, for a moment, that everything had returned to "normal."
For a time, anyway, it seemed the availability of vaccines provided a semblance of personal safety – all the more so once teens and then children at age 5 were cleared for the shots. Pop-up and mobile clinics appeared – one was held in the parking lot of Rock Falls High School.
It was there when we awoke. It was there when we fell asleep. It was there when you went out, whether you encountered folks who were wearing a mask or not wearing a mask, or when asked to provide proof of vaccination, or stand in line for a nasal swab or to spit in vial so as to test for infection.
It was there in the daily tally of cases, in the reports of occupied intensive care wards at KSB Hospital and CGH Medical Center. It was the year when "breakthrough" cases and "booster" immunizations became a part of the everyday vocabulary. It was there in the obituary pages.
But it was also a year when events returned and gatherings convened. There were festivals and fairs, plus the return of high school football in the spring and in the fall. For Polo, a state title to celebrate. Stores opened. Bands played at open-air venues. Concerts were held, including at the renovated Dixon Historic Theatre.
Business resumed – and in some instances – boomed. Fireworks also boomed, as they were shot across the Rock River at Dixon's Petunia Festival and at Sterling's Christmas festival.
And there were shortages – in workers and in electric components – which reached into northern Illinois as it did elsewhere.
Here is a look back at 2021, highlighting those stories that resonated in importance or touched us in a meaningful way.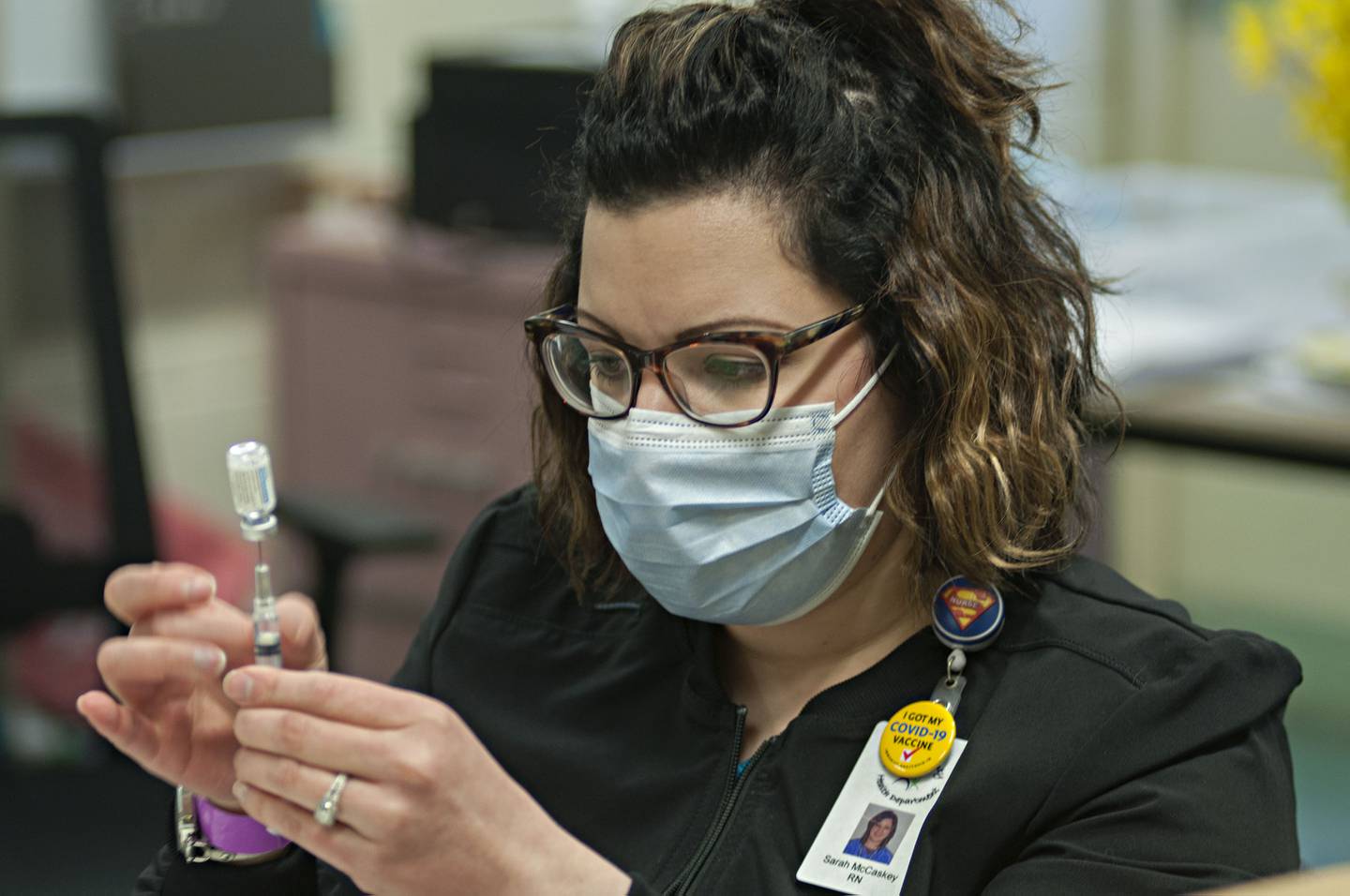 COVID-19 pandemic continues
Vaccines became widely available in 2021, with hospitals, health departments and pharmacies working to vaccinate the most vulnerable followed by the general public and youth. Schools developed return-to-learn plans with layered safety precautions, after facing constantly changing health recommendations and groups of parents protesting mask mandates.
Businesses and offices began reopening their doors. Cases lowered, but vaccine numbers reached a plateau, and only Lee and Ogle counties reached the 50% fully vaccinated mark. Another holiday surge moved across the region, coupled with spread of the Omicron variant, and health officials urged for community members to become vaccinated and follow health guidelines as hospitals filled up with COVID-19 cases.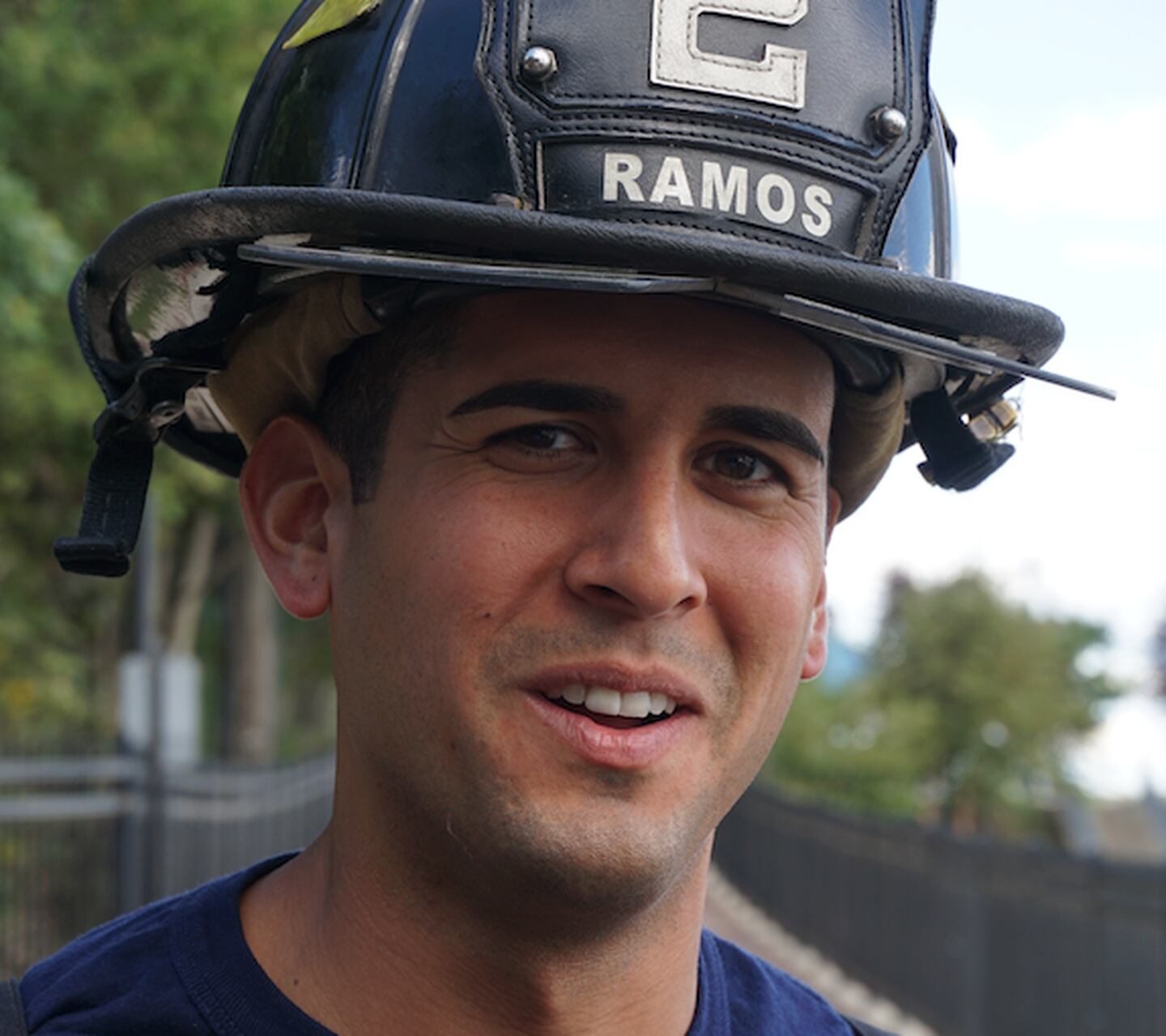 Sterling firefighter dies in the line of duty
Sterling firefighter Lt. Garrett E. Ramos, 38, died Dec. 4 fighting a fire that broke out around midnight Dec. 3 in a home at 10031 Ridge Road in rural Rock Falls, when the floor gave out and he fell into the basement.
Ramos is the first firefighter to die in the line of duty in the department's history. More than 1,500 fellow first responders and emergency workers form all over the state, as well as members of the community, attended his visitation and funeral. The state fire marshal and the Illinois branch of the Occupational Safety and Health Administration are investigating the death.
Ramos, a Sterling native who was with the department since 2012, was posthumously promoted to captain, and union Local 2031, of which he was president, set up a fund for his wife, Brittney, and their daughters Ruthie, 3, and Kepa, 2. Go to https://app.autobooks.co/pay/garrett-ramos-memorial-fund to contribute. Donations also can be made at any Sauk Valley Bank branch; write Garrett Ramos Memorial Fund on the memo line.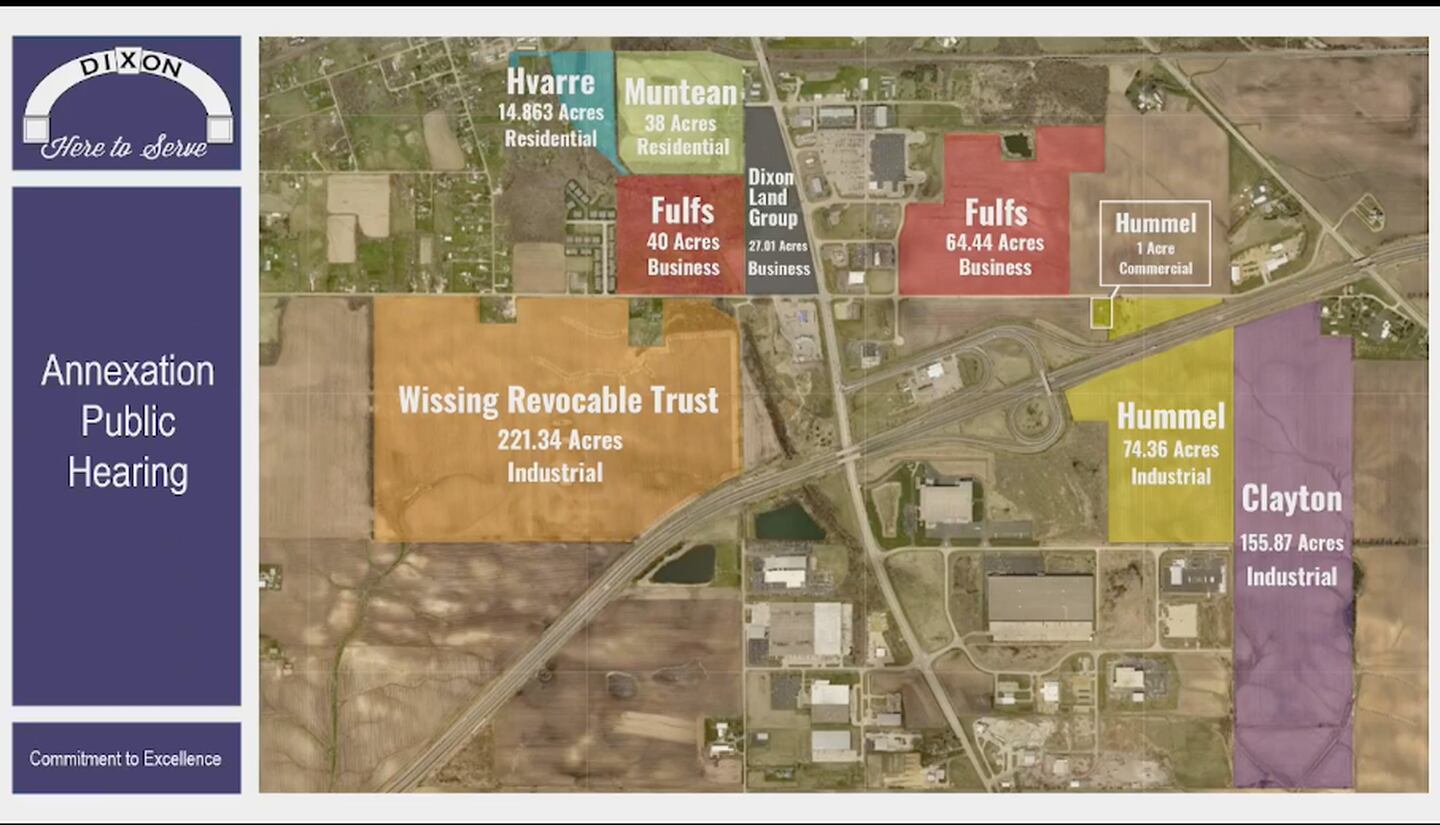 Expanding Dixon's footprint
The Dixon City Council annexed 657 acres aiming to expand commercial, residential and industrial development in the Interstate 88 corridor. The group approved nine annexation agreements after years of working with landowners and developers. Included in the agreements is the Gateway Project, which will bring a major development across 27 acres on South Galena Avenue across from Walmart between Keul and Bloody Gulch roads.
The project – by developers Xsite Real Estate of Burr Ridge and Walsh Partners of Elmhurst – is expected to bring in a dozen businesses including at least one hotel, gas station, and fast-food restaurant, as well as create more than 600 jobs and $1 million a year in new tax revenue. Hvarre Development is also looking to build a 75-unit housing project near the Gateway footprint, as well as, single family homes at the former Washington Park property.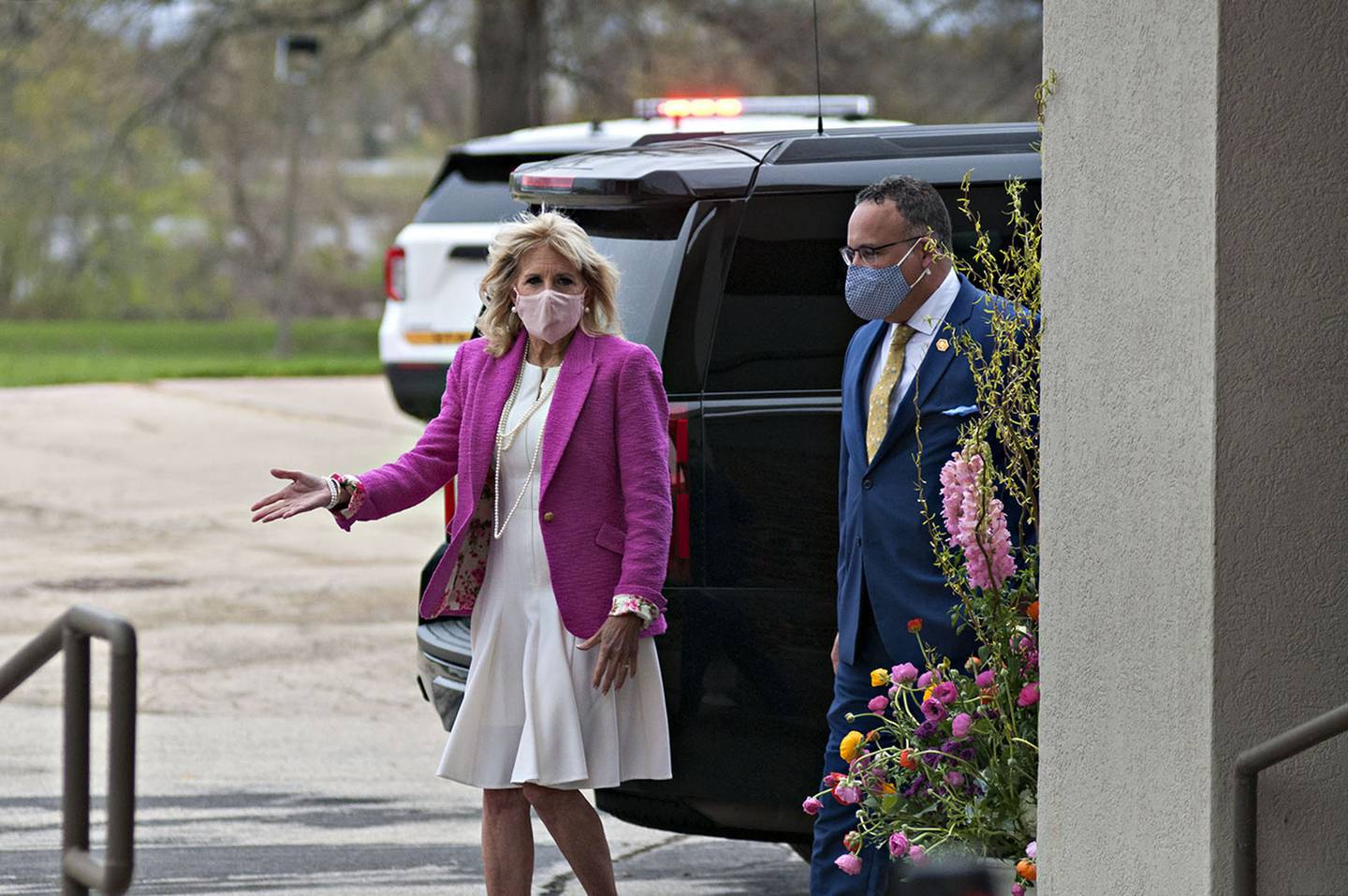 First lady Jill Biden visits Sauk
Sauk Valley Community College received national recognition by first lady Jill Biden and Education Secretary Miguel Cardona for looking to build a path where all have access to higher education. They toured the college in Dixon and spoke about the importance of promise programs such as the Sauk Impact Program, which would allow high-schoolers to earn up to 3 years of tuition and fees in a career or transfer program by volunteering in the community.
"What starts in one community college classroom can create a chain event that's eventually felt by every single American," Jill Biden said.
Education is the best economic driver for a community, and community colleges are engines of economic development, Cardona said.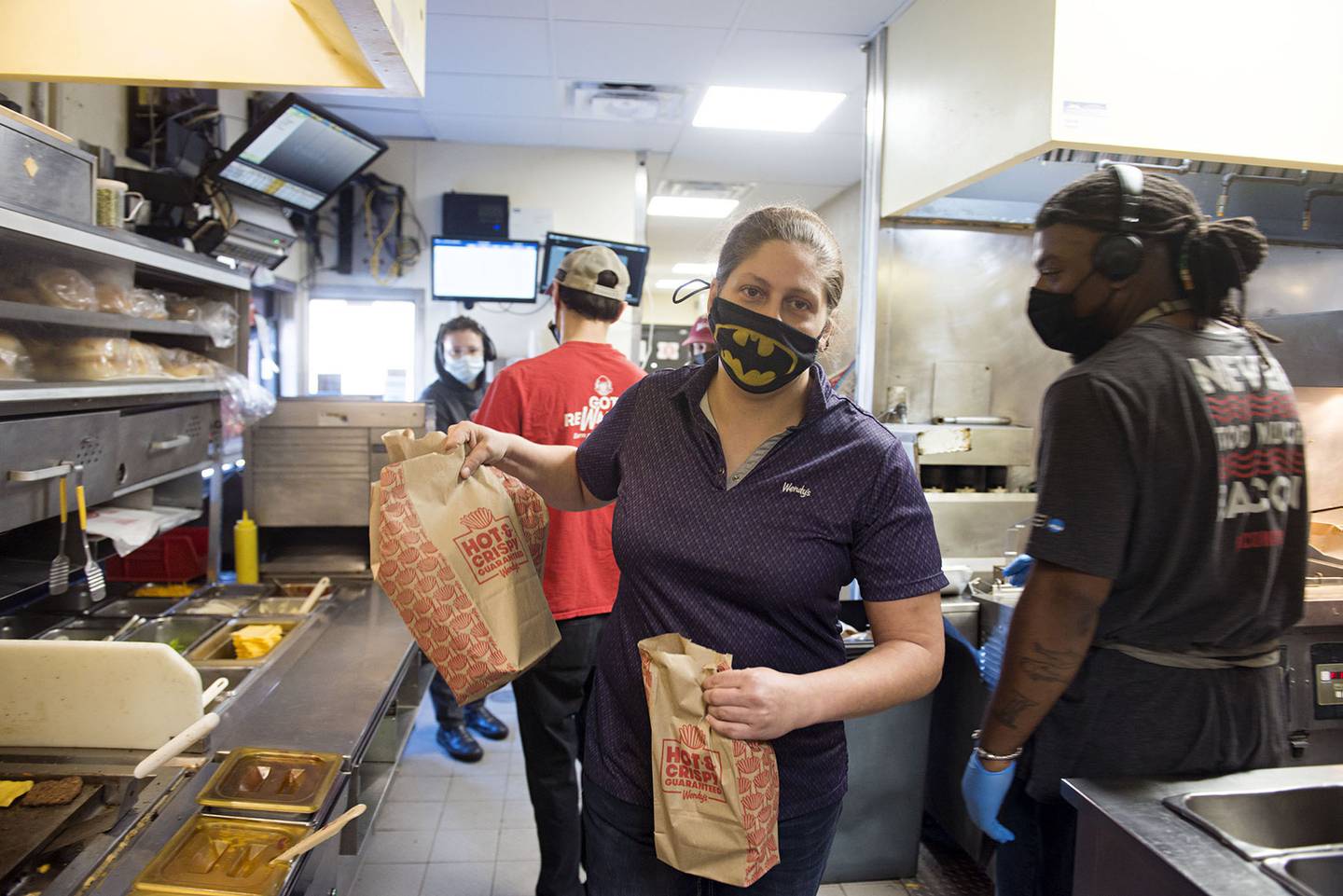 Worker shortage
Help wanted signs stretched the length of a football field down the road, business owners used billboards to attract workers for the first time in years, and several industries were hiring across all position levels. Even before the pandemic, the area had openings that were difficult to fill in health care, manufacturing and education, which is why area organizations collaborated to focus on career pathways and other resources to develop a more skilled workforce.
Job fairs took place in-person and virtually, employers upped wages and benefits, and partnerships grew among businesses, schools and chambers of commerce. Businesses across all industries, especially fast-food and other low-paying jobs, continue to try and fill gaps.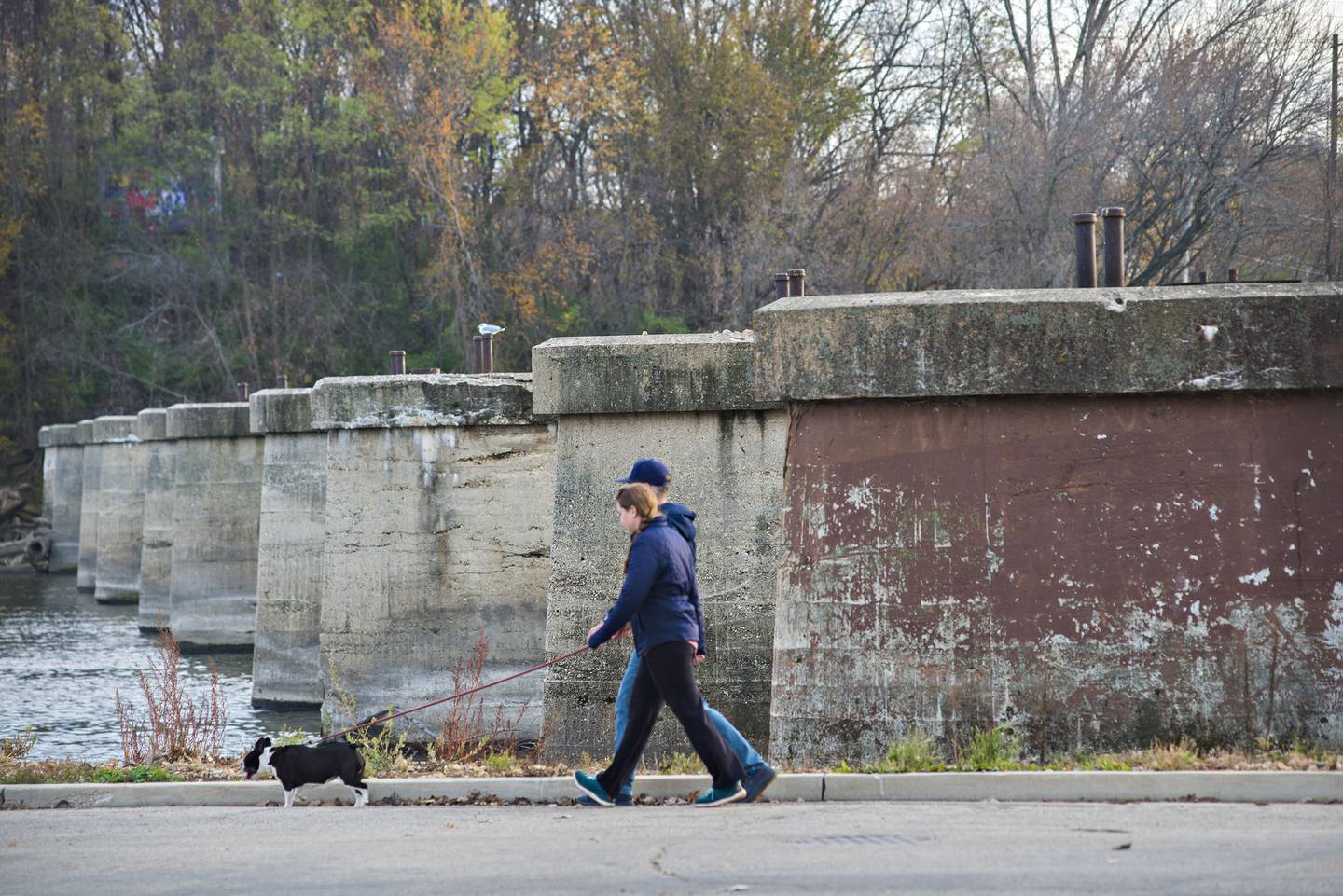 Pedestrian bridge and trail grant
Dixon won a $12 million federal transportation RAISE grant to build a pedestrian bridge across the Rock River and extend the bike path, a large hurdle overcome to fulfilling longtime riverfront development goals. The project includes constructing a pedestrian bridge on the old Illinois Central Railroad piers, adding 2.8 miles of multiuse path, doing new sidewalks and crossings, and resurfacing Page Drive, which is maintained by the Park District.
There will be new trails and pathways in the wooded area of Page Park commonly used for the Reagan Run, as well as a new pedestrian pathway to the baseball fields and tennis courts, as well as improvements to Page Drive, the baseball field, parking, and the boat docks.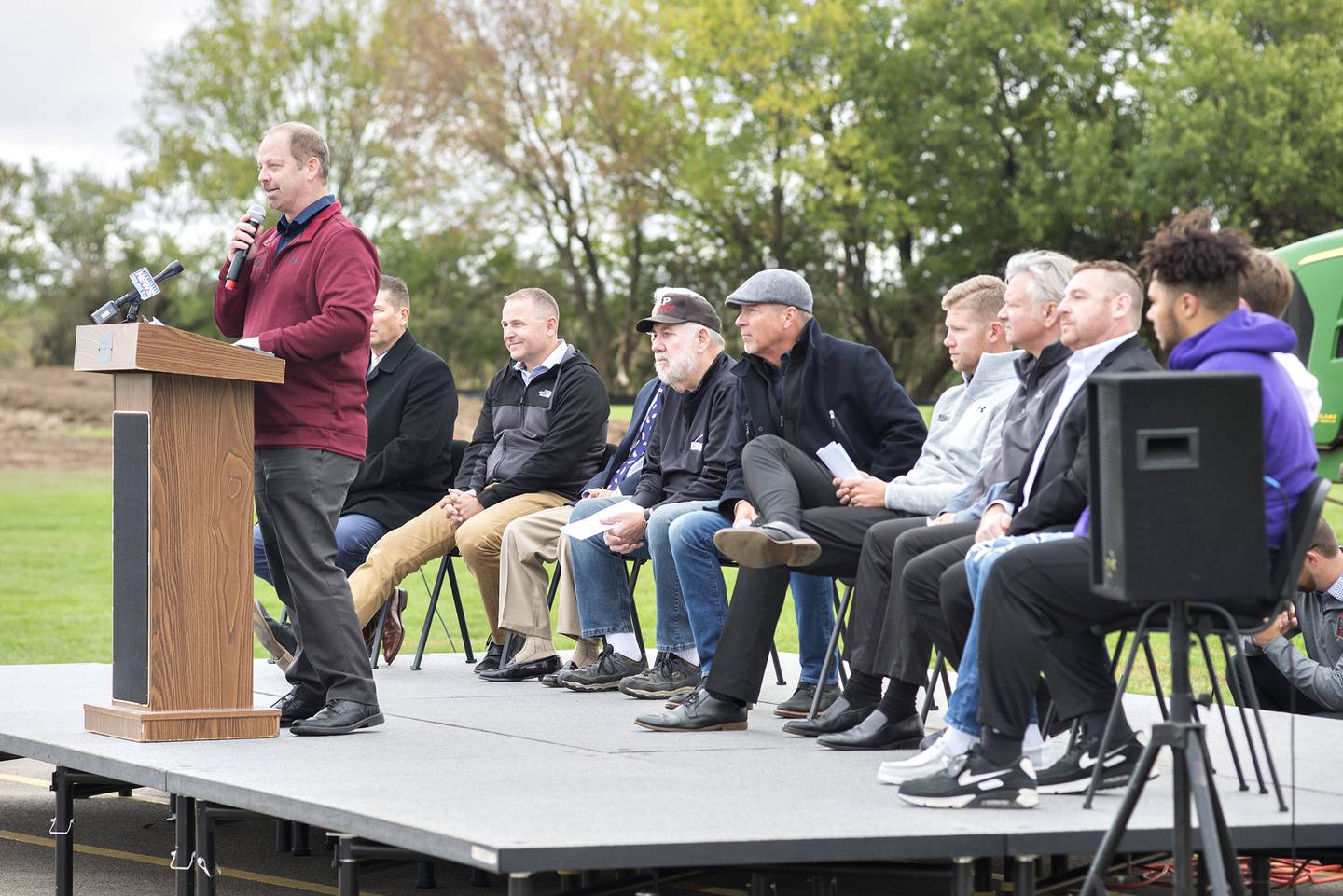 Dixon Park District community center
The Dixon Park District broke ground on a $3 million building meant to be the bones of a future community center. Different groups have been trying to bring a community center or sports complex to Dixon for many years, but those efforts failed to secure tax increases to fund one.
The district decided to pursue a building that would meet basic community needs without needing a referendum or tax increase and issued $2 million in bonds to do so. It will include a gym with two courts and batting cages, a community room, and administrative offices.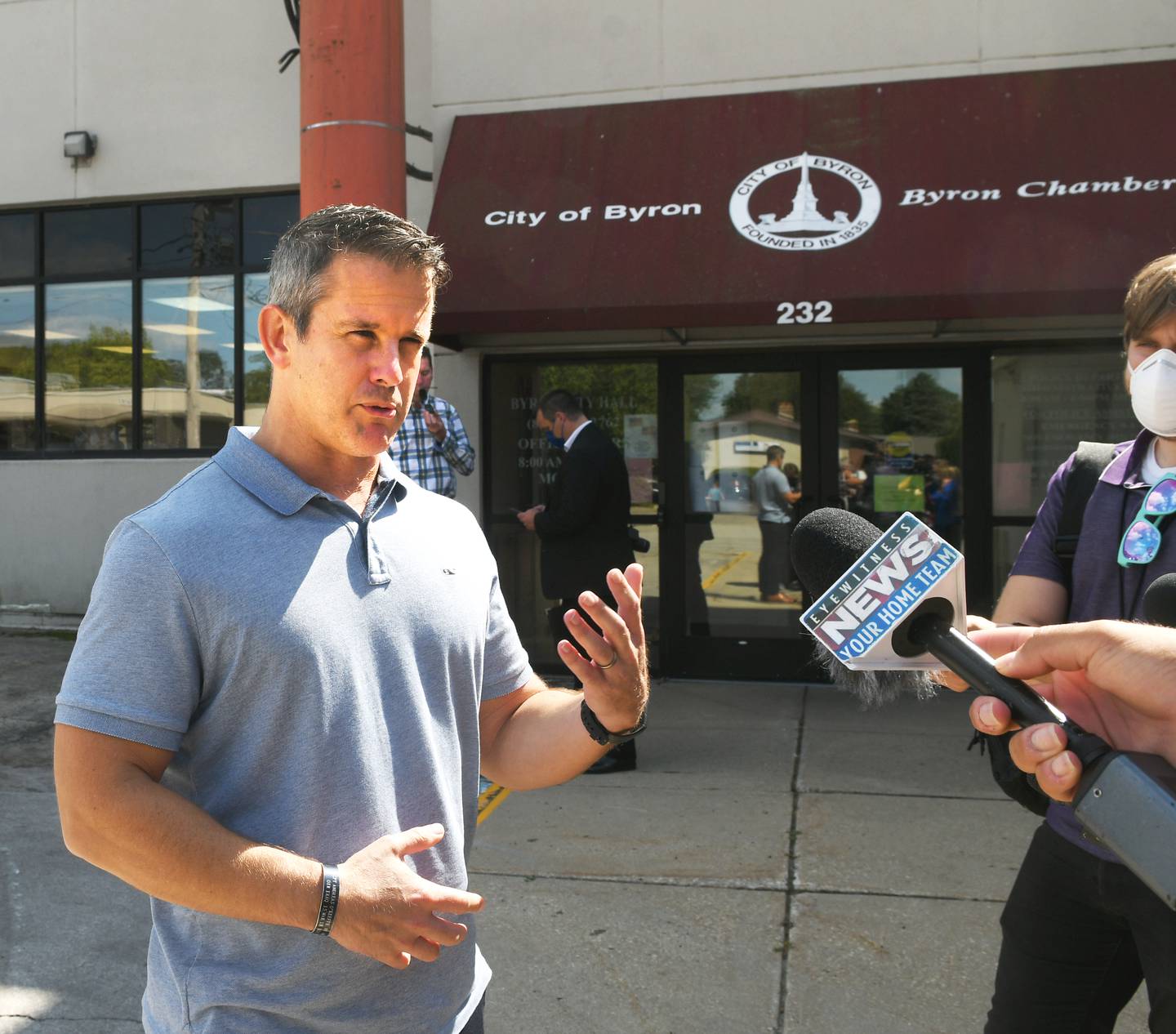 Exelon nuclear plants
Christine Lynde, chairwoman of the Byron Station Response Committee, said she experienced "relief and elation" when the Illinois Senate voted Sept. 13 to pass the energy bill, providing $694 million in subsidies to support nuclear power plants – including the one in Byron owned by Exelon Corp. The plant contributes nearly $35 million annually to the Byron tax base and benefits other surrounding communities too. Exelon immediately ordered a refueling of the Byron and Dresden plants, which had been scheduled to go offline that day.
Exelon first said it planned to close the Byron and Dresden plants in August 2020, saying it could not be cost-effective compared to the breaks given to wind and solar. The spring and summer was devoted to legislative back'n'forth over the energy bill, which Gov. JB Pritzker said he would sign if it passed. Eventually, the state House voted on the negotiated package on Sept. 9.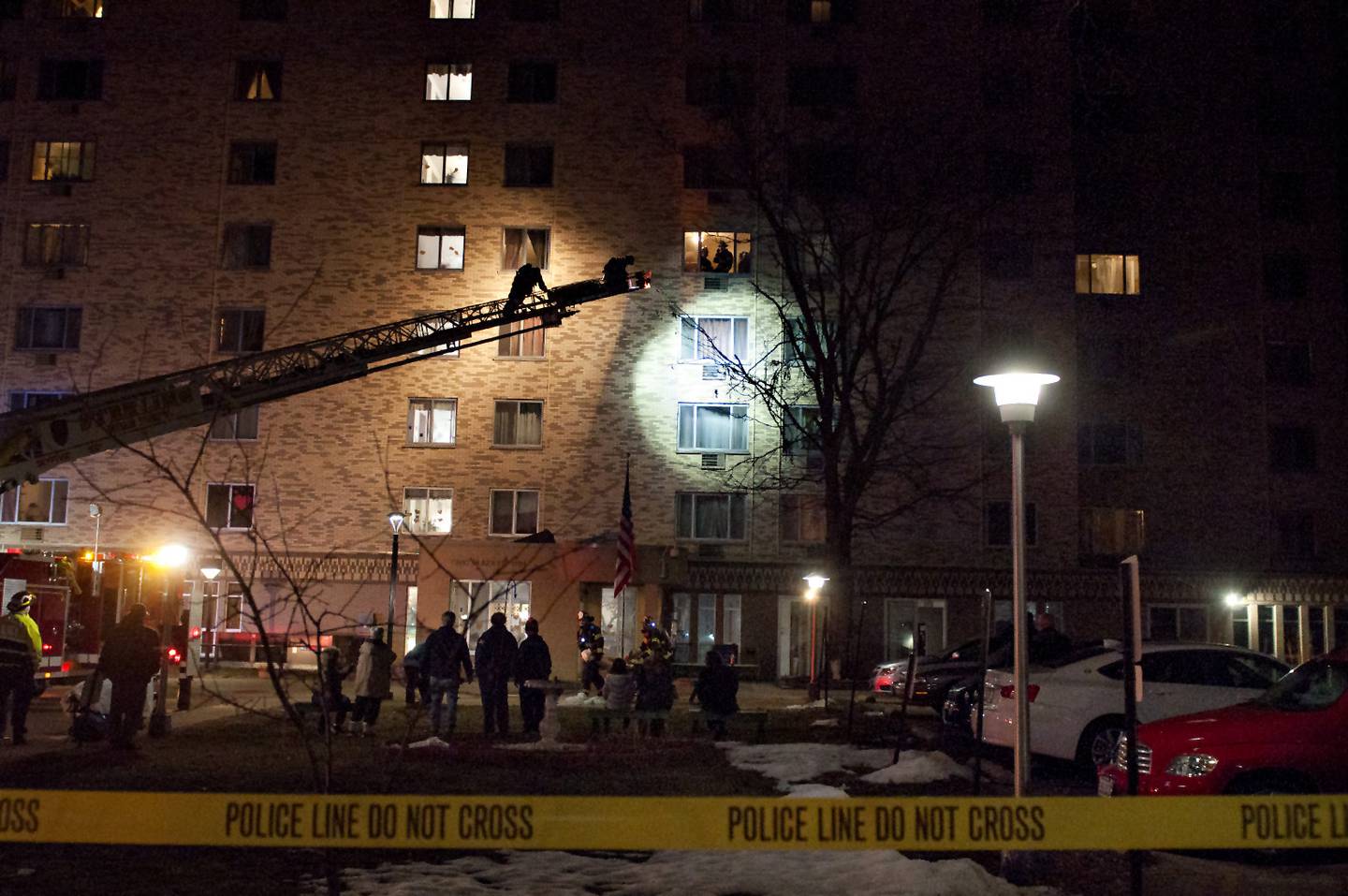 Woman dies in Rock Falls Civic Plaza fire
A Rock Falls woman died and about 100 residents temporarily were displaced by a fire March 5 in the nine-story Whiteside County Housing Authority's Civic Plaza 1, which houses many low-income elderly and disabled people. The fire began around 10:45 p.m. in the fifth-floor apartment of 59-year-old Eunice Karr, who died of asphyxia from the fire, the autopsy showed.
Residents of the least-damaged floors – 6, 7, 8 and 9 – were able to move back in at the end of the month, once the elevator was repaired, others stayed with family and friends or were put up by the Authority until the rest of the units were repaired or cleaned. There might have been more fatalities, but "all the residents sheltered in place like they were supposed to, and that helped us greatly," Rock Falls Fire Chief Mike Dettman said.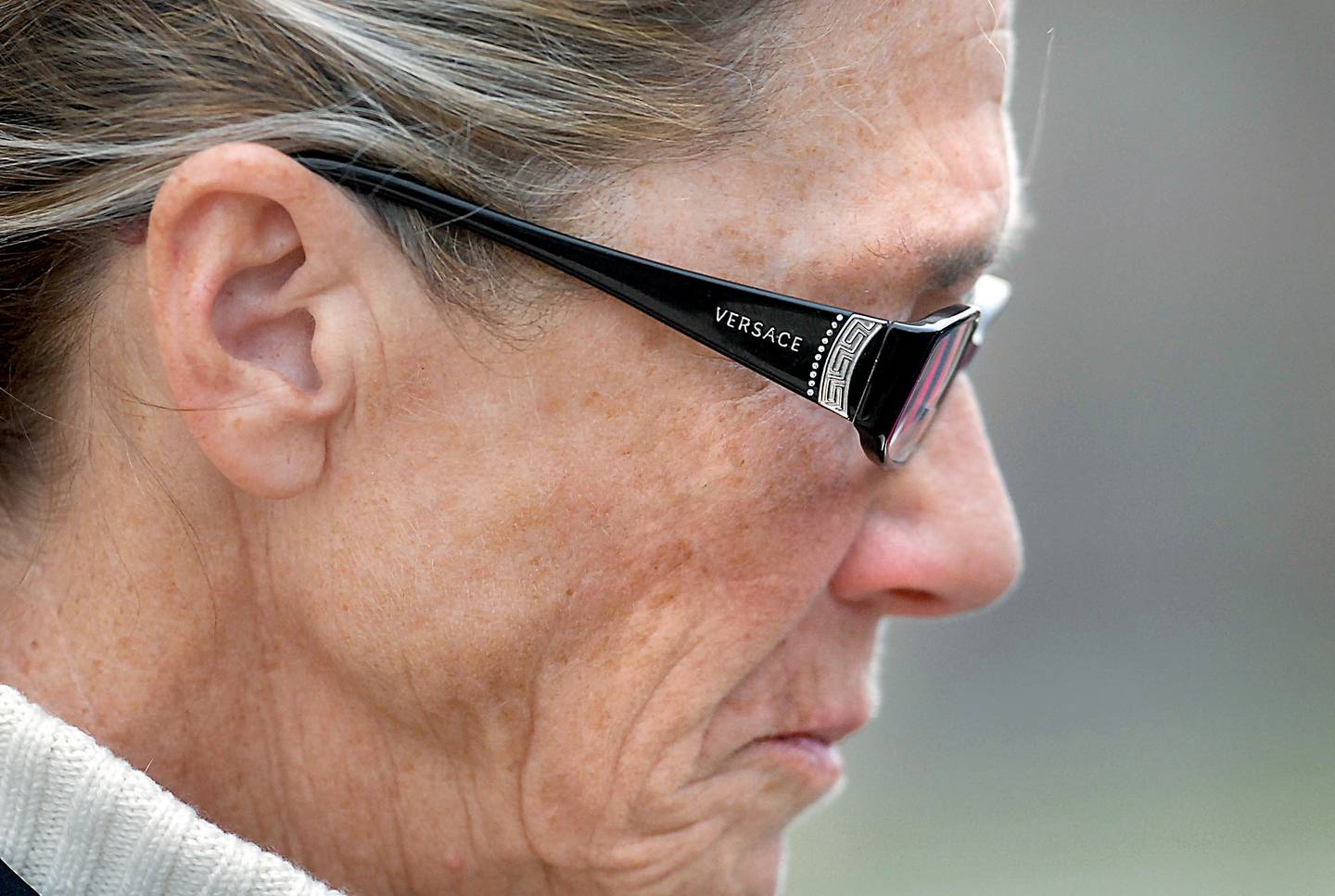 Rita Crundwell no longer behind bars
On Aug. 4, the woman who embezzled more money from any municipality than anyone in the history of the USA was released from federal prison and sent home to Dixon after serving less than half of her sentence. Rita Crundwell, who turns 69 on Jan. 10, is not free, per se – she is on house arrest under the supervision of the Bureau of Prison's Residential Recovery Management field office in Chicago.
Crundwell was released under the auspices of the Cares Act, passed in 2020 in response to COVID-19, which allows for the early release of some nonviolent prisoners. On Feb. 14, 2013, the former Dixon comptroller was sentenced to 19 years 7 months stealing nearly $54 million from the city over 20 years, which paid for a lavish lifestyle raising champion quarter horses and living high on the hog while Dixon struggled to pay for infrastructure and other projects. Her term ends Oct. 20, 2029.