OREGON – The man accused of killing his wife and setting fire to her Byron home, causing the death of their toddler, is asking the judge to toss any evidence found as a result of a "fraudulent" search of his cellphone.
Duane C. Meyer, 39, is in Ogle County jail on $10 million bond, charged with four counts of first-degree murder, two counts of aggravated arson, and one count of concealment of a homicidal death in connection with the Oct. 9, 2016 house fire in which Maggie Meyer was found dead and 3-year-old Amos Meyer died.
The body of Maggie Meyer, 31, was found on a couch on the first floor of her burning home, while Amos, whom Duane Meyer pulled from the burning home and tried to resuscitate on the front lawn, was pronounced dead a short time later at a Rockford hospital.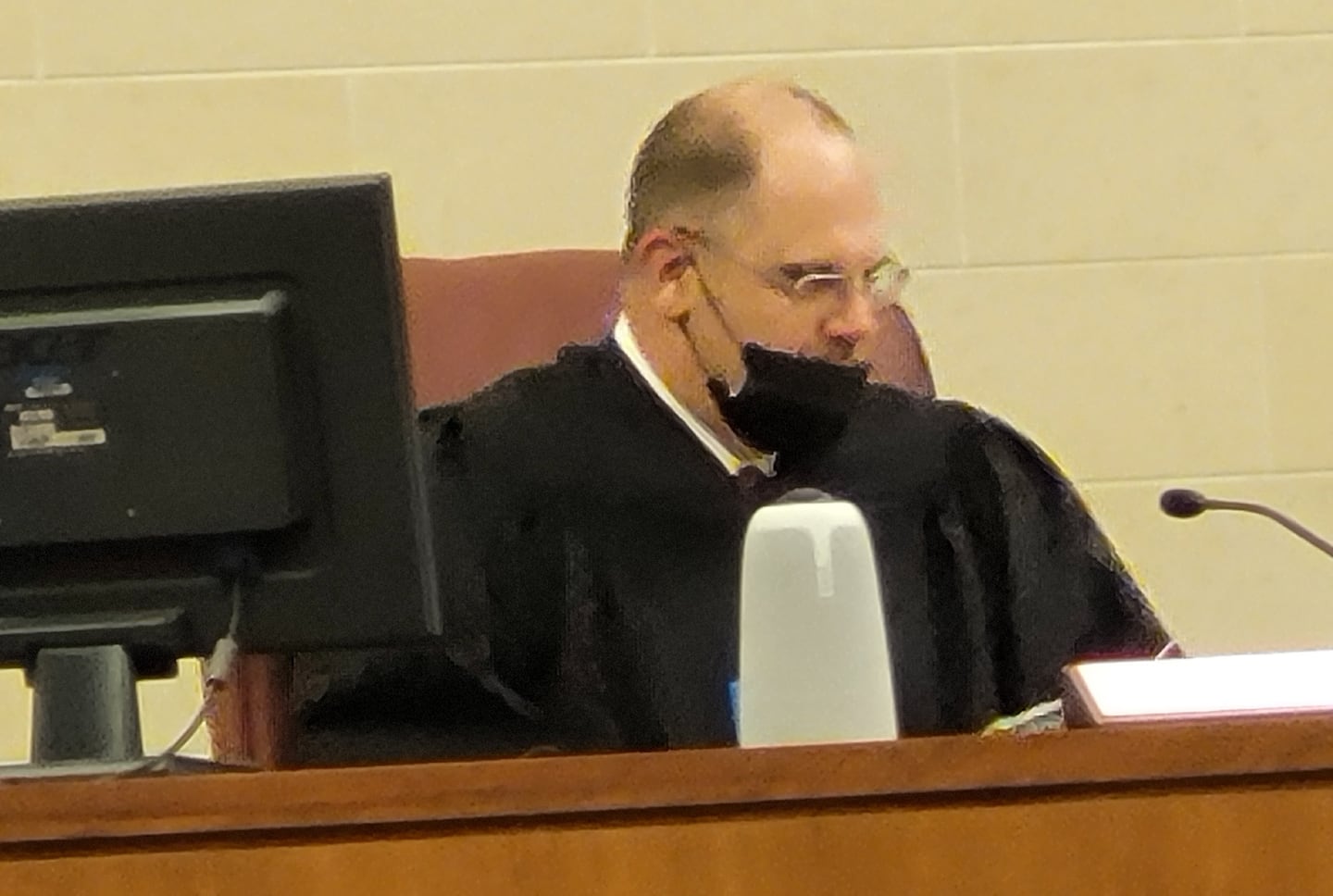 In a motion hearing this afternoon in Ogle County Court, defense attorney Christopher DeRango, of Rockford, argued that Illinois State Police special investigator Nate Macklin and other law enforcement officers made "an end run" around Meyer's constitutional rights.
They did so first by obtaining information from Verizon with an "emergency situation disclosure," rather than a warrant, saying they were concerned that others might be in danger from the at the time unknown suspect, then by obtaining a warrant from a judge eight days later, using information obtained in the Verizon disclosure.
They did so, DeRango said, because they knew that the only exception being able to obtain information from a cellphone provider without a warrant, according to federal statute, is "if the provider, in good faith, believes that an emergency involving danger of death or serious physical injury to any person requires the disclosure without delay of information relating to the emergency."
Maggie and Amos were dead, and no longer in danger, and police had no basis to suspect that there was a killer on the loose, running around setting house fires. Instead, investigators abused the process to go on a "fishing expedition" for evidence against Meyer, violating his constitutional rights, DeRango argued before Judge Ben Roe.
"Law enforcement used [the emergency disclosure] as an end-run to illegally access the defendant's cellphone so that they could use the information gained in an effort to later meet the normal warrant requirements."
When they did go to a judge seeking a warrant, they "fraudulently certified that they were entitled to the information [from Verizon] without a warrant," based on the federal statute.
The proof, DeRango added, is in the requests themselves: The emergency disclosure sought records from two days before the murders through a day afterward, and the subsequent warrant expanded the request to eight days after the crime.
They clearly were "exploratory" searches designed to circumvent the warrant clause of the Fourth Amendment, which requires police to be specific: to describe the place to be searched and the person or things to be seized.
Their reasoning was "'There was a fire, somebody died, who knows what could happen from here?' That's the definition of speculation," DeRango said.
In their response to the defense motion, State's Attorney Mike Rock and Assistant State's Attorney Matthew Leisten argued that Verizon, by federal statute, has the authority to decide if exigent circumstances exist and whether to release cellphone records without a warrant.
At the time the request was made, exigent circumstances did exist: "It would be logical for the police to fear that if the defendant were the suspect, that people could also be in danger, such as his own family, like Maggie Meyer's family, Maggie Meyer's boyfriend ... and even the defendant's girlfriend ..." Leisten said in his response.
"It would also be logical for the police to believe that if the defendant were not the perpetrator, then other citizens would be at risk and therefore it would be imperative to determine if the defendant was a suspect."
As for the subsequent warrant to obtain Meyer's cellphone records, Ogle County Sheriff's Detective Chad Gallick submitted an affidavit with his application, stating he based his probable cause to do so based on Meyer's statements and his relationship to the victims.
The affidavit also mentioned DNA, a witness statement and other evidence that pointed to Meyer as the likely suspect, clearing showing that police had enough information to lead them to believe Meyer's phone records would provide evidence of his whereabouts the day before and the day of the fire, he argued.
After Verizon granted the emergency disclosure request, Macklin sent the findings to an FBI agent, who determined Meyer's cellphone was in Byron the day before the fire was set.
"Detective Gallick had a good-faith belief that the warrant he obtained was valid because his search warrant relied on the exigent circumstances records that he reasonably believed were lawfully obtained by Agent Macklin," Leisten said.
Roe took the arguments under advisement, and said he plans to issue his ruling at the next hearing on Dec. 6.