DIXON – The Dixon Library Board unanimously approved policy changes Monday reinforcing language against censorship and discrimination after efforts to remove LGBTQ comic books containing sexual content.
The library found itself in the middle of a community debate during the last two months, after some residents raised concerns about sexual material in the young adult comic book "Gender Queer: A Memoir" by Maia Kobabe. The comic, which was part of the library's annual Pride Month display, is about the author's coming out as nonbinary and contains sexual depictions about topics including oral sex.
[ 'A slippery slope': Residents defend Dixon library following push to remove LGBTQ comics depicting sex acts ]
Community members said they were concerned that sexual content was accessible to minors, others called the material pornography and argued that library staff should be prosecuted for having it in the building.
Others alleged that the sexual content wasn't the real issue, but that the complaints were part of an attempt to ban LGBTQ books, stemming from nationwide politicized attacks on libraries during Pride Month in June.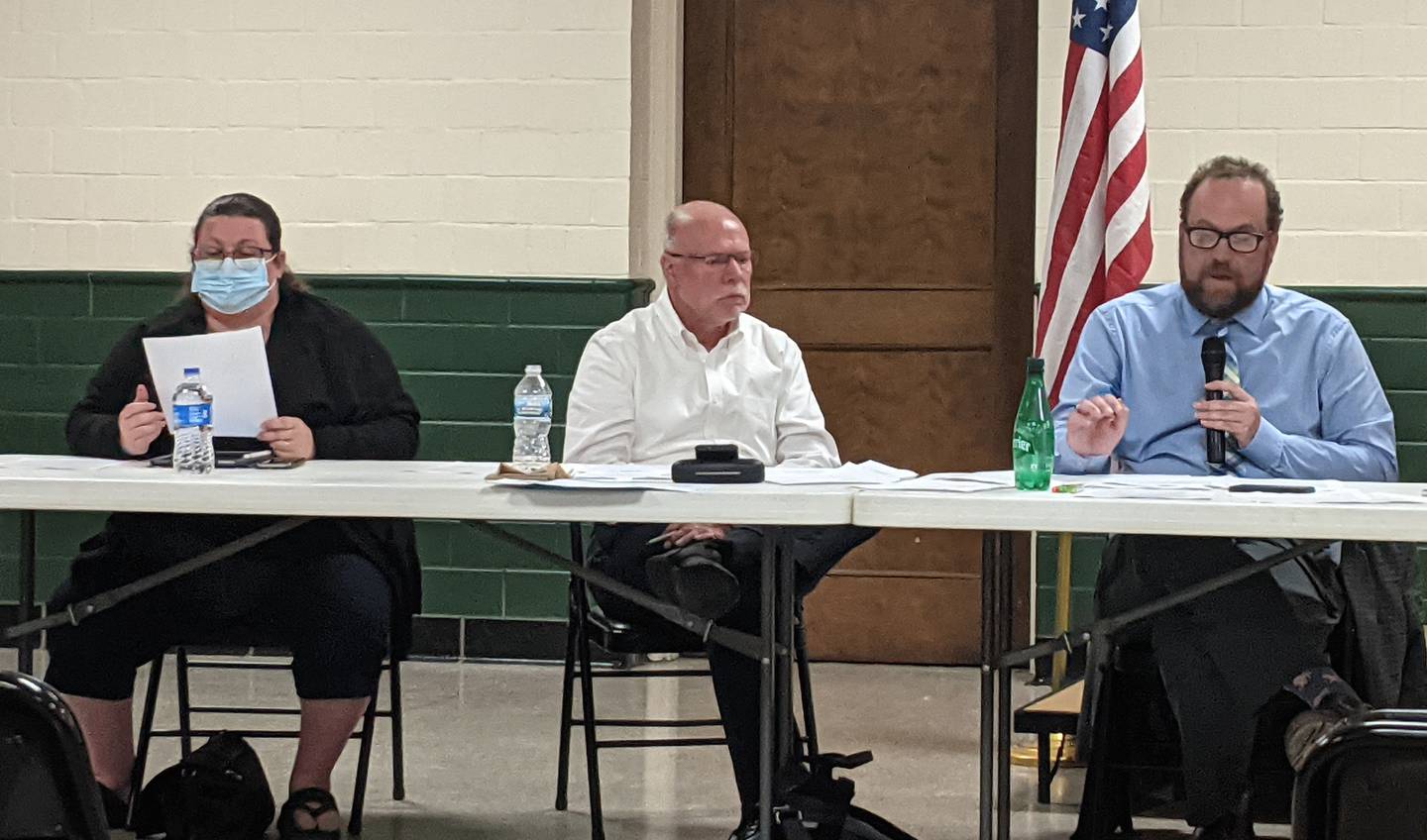 In June, about a dozen families submitted a letter to library Director Antony Deter and city officials calling for the removal of the library's Pride Month display.
It was a form letter from the conservative nonprofit CatholicVote "Hide the Pride" group, in which community members are asked to check out all the LGBTQ content they can from a library to remove the books from public display.
The letter did not name specific books but said the group would be checking out and keeping all the LGBTQ books until the library removed the "inappropriate content from the shelves," as well as refrained from buying "R-rated content" with taxpayer dollars.
Three Dixon library patrons subsequently checked out the maximum number of books allowed, 20, all LGBTQ materials, Deter said, without assigning any possible motivations.
Deter at the time directed the person who submitted the letter, Jill Hayes, to information on giving public comment during a meeting as well as the library's policy form for the request for reconsideration of library materials.
Deter said he received 16 requests for consideration for "Gender Queer" as well as the adult lesbian comic book "Patience and Esther: An Edwardian Romance." "Patience and Esther" was kept in the adult section, never put on display and never was checked out since the library purchased it about a year ago, Deter said.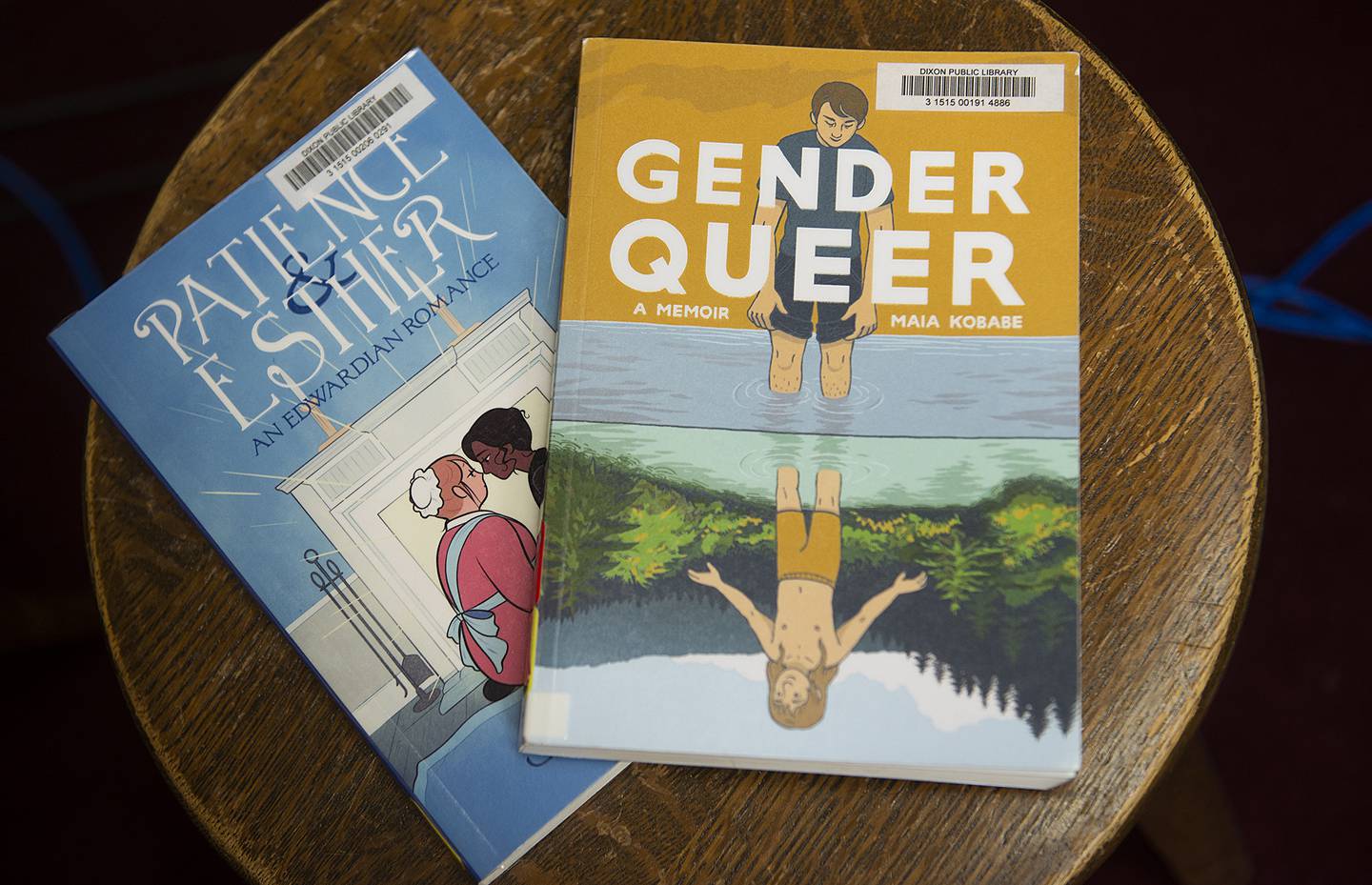 With an informal request, "Gender Queer" likely would have been moved to the adult section, but the requests called for getting rid of the books for reasons including "sin," "vulgarity" and "lesbianism," Deter said.
Removing the books on those considerations would not only violate the 14th Amendment's Equal Protection Clause against discrimination, but also would violate library standards on ethics, he said.
"Best practices in collection development assert that materials should not be excluded from a collection solely because the content or its creator may be considered offensive or controversial," according to the American Library Association. "Refusing to select resources due to potential controversy is considered censorship, as is withdrawing resources for that reason. Libraries have a responsibility to defend against challenges that limit a collection's diversity of content."
[ Controversy over sexual imagery in LGBTQ comics creates complicated issue for Dixon Public Library ]
Last month, more than 100 community members attended the July Library Board meeting with a mix of about 19 people speaking either against the books or against censorship and LGBTQ discrimination. Those in attendance included library supporters, LGBTQ advocates, political figures and members of a conservative Facebook group, the Sauk Valley Freedom Fighters.
There were around 50 people who came to Monday's board meeting at the Loveland Community House and Museum, with 11 people speaking on the issue and three submitting letters to the board.
Monday's comments were made in calmer tones compared to a month ago.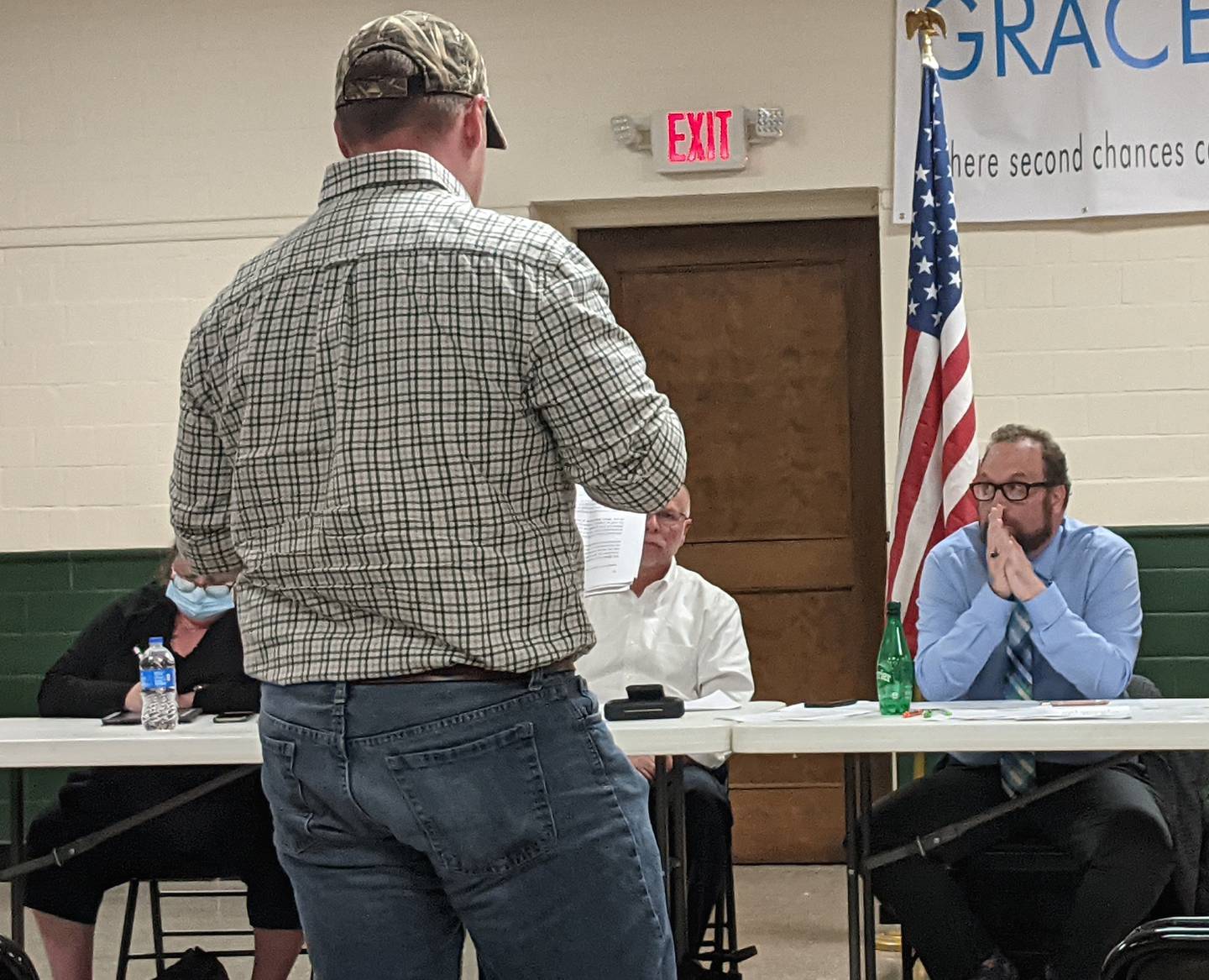 Meghan Crisham, who said she signed the June letter to the library, sent one to be read at Monday's meeting. Crisham said she that had no interest in removing the library's pride display, but that her concern was about having more oversight and accountability with graphic material being accessible to children. She said that the original letter misrepresented her beliefs, and that she "neglected to read it more thoroughly."
Kyle Ferrebee, program director of the Ronald Reagan Boyhood Home, which is run by the Young America's Foundation, thanked board members for their due diligence and deliberation. He said the issue had nothing to do with censorship or book-burning, but was about a concern over whether sexually explicit content was suitable for the library.
There's a difference between pornography and a sex scene in a book, resident Anne Hermes said, and because only LGBTQ books were being targeted, "the undertones do feel homophobic."
Making the books inaccessible means ostracizing those looking for them, and people against "Gender Queer" are asking for a person's story to be hidden, she added.
There were more than two sides to the issue, and the board took into account a variety of perspectives and positions, board President Tracey Lawton said.
Before Monday's meeting, the board didn't have the authority to remove material from the library; the decision was up to the director and staff on selecting and discarding materials.
The board approved several policy changes that include bolstering rules against censorship as well as providing an appeal process that would allow the board to decide whether to remove material.
[ Dixon Public Library Board considers stronger policy against censorship, discrimination ]
"While everyone is free to reject materials that they do not approve of for themselves and their children, they cannot restrict the freedom of others to choose what to read, hear or view," according to the amended policy. "A diverse collection is important. Material will not be excluded because of the race, nationality, religion, gender, sexual orientation, political or social view of either the author or the material."
A section was added for free access to library materials, which states:
"Selection guidelines do not guarantee that each item purchased for the library's collection is suitable for each person who may choose to select it. Young people under the age of 18 have free access to materials from the adult collection, and parents may choose to advise their children in making an appropriate selection."
Reconsideration of library materials requests will remain the responsibility of the library director, but a community member could choose to appeal the director's decision. The item would be placed on a board meeting agenda, the board would review the material, reconsideration form and staff findings, and make a final decision. No request will be considered for two years following a board decision on the same material, according to the policy.
More specific language was added to the library selection process including to "diligently examine and keep apprised of reviews, prepublication lists, publisher's catalogs and announcements, standard biographies and other sources, which serve as the basis for responsible selection" and to "develop and maintain a familiarity with and regularly as well as systematically assess the strengths and weaknesses of those sections which fall within their respective areas of responsibility. Selection of individual titles must take place within the context of purposeful selection management."
Both books were pulled from circulation during the controversy and made available to board members. Deter said he will base his decision on the books using the new policy rules.
The library purchased "Gender Queer" about three years ago, and it had been checked out three times, Deter said. It has received several awards and nominations.
The requests for consideration were the first the library received in at least seven years, and normally, no members of the public attend the Library Board meetings.
It's common practice for library staff to review and move material; at least 80 books were moved in the last year, Deter said.
Staff also remove material every day for a variety of reasons, including damaged or moldy conditions, inaccurate or outdated information, such as that in old medical books, or because people aren't interested in the books.