DIXON - The city recently annexed 657 acres aiming to expand commercial, residential and industrial development in the Interstate 88 corridor, and it's going to take significant investment from the city to build infrastructure to accommodate future projects.
Last month, the City Council approved nine annexation agreements after years of working with landowners and developers to open up new opportunities in South Dixon near the interstate.
Kevin Marx, executive director of the Lee County Industrial Development Association, and City Manager Danny Langloss recently presented to the Lee County Board on how the annexations would benefit the city and region.
The city has been somewhat landlocked with development, and the industrial park only has about 7 acres available, which has limited their ability to attract new businesses, Marx said.
The newly annexed land will help spur economic vitality, population growth, employment and tax revenue in the future.
"Each of these projects, these annexations, is going to contribute in one way or another to one of these objectives," he said.
One of those is the Gateway Project, which will bring a major development across 27 acres on South Galena Avenue across from Walmart between Keul and Bloody Gulch roads.
The project - by developers Xsite Real Estate of Burr Ridge and Walsh Partners of Elmhurst - is expected to bring in a dozen businesses including at least one hotel, gas station, and fast-food restaurant, as well as create more than 600 jobs and $1 million a year in new tax revenue.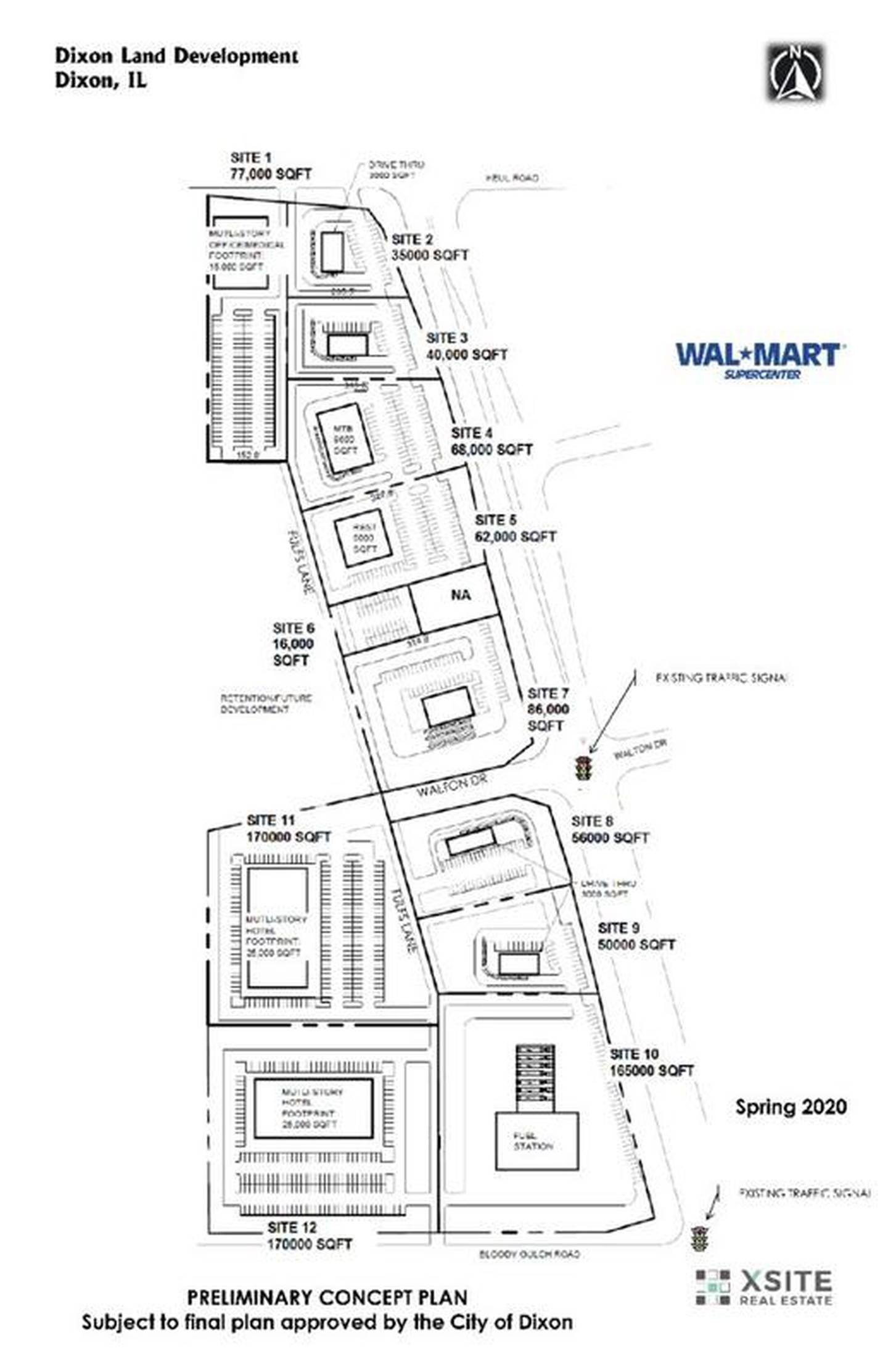 Hospitality services are pretty limited on I-88 between the Quad Cities and Aurora, and the Gateway Project will help make Dixon a place for drivers to stop, Marx said.
Langloss said the city will need to undergo $4 million of infrastructure improvements for Gateway, and it will likely cost another $7 million for infrastructure in expanding the industrial park up to 140 acres.
Warehousing and logistics are fast-growing sectors, and those types of operations need property with a lot of space, Marx said.
The city is also part of a regional housing needs study, and Marx said Lee County is facing a housing deficit of 400 units, making resident development a crucial focus.
"In terms of population support and growing, you really can't do that without offering people a place to live," he said.
Ted Hvarre, of Hvarre Development, is looking to build a 75-unit housing project near the Gateway footprint as well as single family homes at the former Washington Park property.
The annexations are:
Donna Muntean and Georgia A. Armstrong; 38 acres, to be zoned single family residential.
Celia Fulfs Marin, Fulfs Family Trust, Mae Fulfs McClernon and Kay Fulfs Cayler; 40 acres west of Galena Avenue and 64.44 acres east behind Walmart, to be zoned for business.
Wayne R. Hummel Trust and Wayne R. Hummel; 1 acre north of I-88 that is the Hummel home, to be zoned for commercial use.
Hummel Family Farms LLC; 74.36 acres on both sides of I-88, contiguous to the industrial park, to be zoned for general manufacturing.
Jerry L. Ferguson, Larry G. Clayton and Connie A. Clayton; 155.87 acres to be zoned for general manufacturing.
Chicago Trust Co., Phyllis Louise Wissing Holt Trust, Richard W. Wissing Trust and Rodney H. Piercey, Norma J. Wissing Revocable Trust; 221.34 acres west of South Galena Avenue that are zoned for general manufacturing.
Dixon Land Group LLC; 27.01 acres on the west side of Galena Avenue across from its Walmart project. City agrees to install "hard infrastructure," roads, water and sewer. Already a preliminary plan for a subdivision. City agrees to create a liquor license for consumption on that parcel for a fuel center that won't be large enough to qualify for state exemptions for alcoholic beverage service. Includes TIF deal that the first $150,000 will be paid to them. Development has $3.8 million in dedicated costs for the city.
Hvarre Holdings LLC; 14.863 acres. This includes both an annexation agreement and an exchange agreement on property. The city in 2020 entered into an intergovernmental agreement with Dixon Public Schools to acquire Washington Park for $1. Hvarre will exchange a separate 18.83 acres within the city for Washington Park. Washington Park then will be used for a family housing development: 15 single-family units and one multifamily lot with four units. In addition, Hvarre has property north of the exchange property for a project with the potential for 70 units. This TIF transaction is a pay-as-you-go agreement. In exchange for the city paying 65% of the TIF (up to a $1.9 million), Hvarre will pay for infrastructure.