DIXON – Should Dixon Public Schools continue to send special education students requiring therapeutic day services to other schools – some more than 90 minutes away – or find an in-house means to meet their needs?
That is the question the administration posed to the school board during Wednesday's regular meeting, and it also proposed three ways to do it.
"How do we get these students transitioned back to our school?" Superintendent Margo Empen asked rhetorically before laying out the administration's proposals.
As things stand, the district is making $1.9 million in tuition payments – although a portion of that is reimbursed by government funds – for about two dozen students to attend other facilities, some of which are in the Quad Cities and Rockford.
The problem with the current approach is two-fold, Empen said. First, students are being separated from their home community by both distance and time, and thus are not able to take advantage of other groups, clubs and activities that could support their growth.
Second is the fact that since the COVID-19 pandemic began, the need for such services keeps growing to a degree that these other facilities are at capacity, putting Dixon's latest referrals on waiting lists.
Empen said there are three ways for the district to establish its own therapeutic day program and have it up and running by August 2024.
How do we get these students transitioned back to our school?"

—  Superintendent Margo Empen
1. Lease two portable classroom units, which would cost about $250,000 over 10 years. This option eliminates long bus rides and puts these students in proximity to support services, including gyms, music and the cafeteria. But it does not provide the school culture atmosphere, as it is still disconnected from the general education schools.
2. Use existing facilities, working with architects to review campuses and designate spaces for this program. This option puts the students on-site, integrates them into the culture of the school and provides connection to the community, and offers more opportunities for them to transition back to general education.
3. Buy the campus at Nachusa for $300,000, renovate it at a cost of $2 million over five years, and establish a transitional day program there. It is a school with 10 classrooms, a gym, cafeteria and office space and was constructed in compliance to meet the needs of those with disabilities.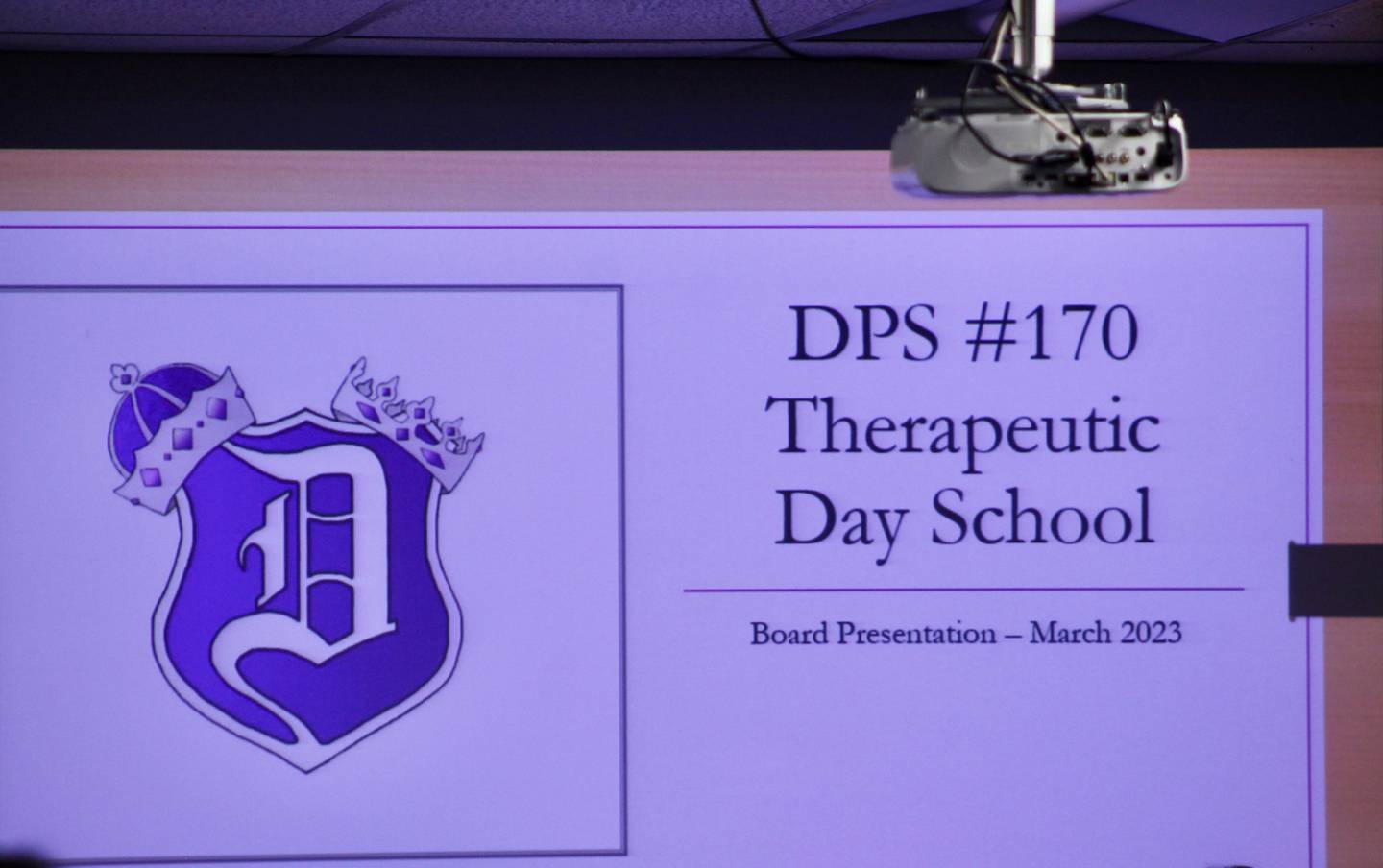 Regardless of the setting, the administration envisions that its therapeutic day school would require a high staff-to-student ratio to "provide comprehensive treatment for mental health and behavioral issues that occur during the school day while incorporating education services that facilitate ongoing academic progress."
Students would be grouped by age, not to exceed more than four years difference in accordance with Illinois requirements. Most likely, students would be grouped by kindergarten through second grade, third through fifth grades, sixth through eighth grades, and ninth through 12th grades.
Staffing would be significant. An outline of staffing needs included an on-site administrator, a regular teacher and a teacher with special education licensure for each grade band, a social-emotional team of social workers and applied behavior analysts, paraprofessionals, a physical education teacher with adaptive and regular emphasis, and access to occupational and physical therapy services as well as speech therapy services.
At the operational level, it would require custodial maintenance and food service personnel.
The program also would run concurrently alongside an alternative learning options program, which provides instruction to middle school and high school students who require a hybrid learning environment. ALOP teachers and paraprofessionals would be distinct from the main therapeutic day school. At present, ALOP would reach out to another 20 or so students.
Business manager Marc Campbell provided a summary of operational costs for the program. Estimates indicate that salary and benefits for teachers would be $1.4 million, curriculum and tech supplies would cost $50,000, operational and maintenance salaries would be $53,000, and other maintenance expenses would be $87,500.
Campbell added that there are additional considerations, especially in regard to setting up at Nachusa. It boils down to adding an additional campus, which means stretching out and possibly postponing some maintenance projects at existing facilities over time.
Although there are likely cost savings in terms of transportation, they are dependent upon many variables, including how many and which combination of students transition back to Dixon.
Board Vice President Rachel Cocar said that she appreciated the thought behind the proposal.
"And the honesty," she said, "that it really isn't all about the cost, it's about the fidelity of the education we are offering to our students."
Board member Melissa Gates said, "I've been a huge advocate for this for a long time. I'm loving this."
She did want clarification from the administration that this program was not intended to put all students with individual educational plans in a behavioral setting.
Empen said the district has about 500 students with IEPs, and about 90% of them can be programmed in the general education setting.
Campbell said that even under the Nachusa option, at the most, the district only could accommodate about 100 students for therapeutic day school.
On the other hand, Campbell said 25 students was not enough to make the financial investment work in the long term. Opening it up to tuition-paying students from other schools would be required.
Board Secretary Brandon Rogers asked Campbell to provide a projection of costs between the status quo and the Nachusa option for the next five years. Campbell said he would comply.
Board member Kathleen Schaefer asked about the challenge of hiring for these specialized educators during a teacher shortage and, more broadly, a worker shortage.
Empen admitted that it would take a concerted effort and take "a lot of recruiting."
Corena Steinmeyer of the Lee County Special Education Association was in attendance to answer specifics from the board.
Steinmeyer said students get outplaced from the district for a variety of reasons, although it is typically for social-emotional needs.
A therapeutic day school at Dixon would not include all of the outplacement referrals. For example, Steinmeyer said there are two students, one at the Illinois School for the Deaf and one at a program for students with hearing loss in Rockford, that likely would stay on the track they are on.
She said there are Dixon students placed at eight different locations, each one with its own philosophy, culture and area of emphasis.
Not all such referral schools are at an extreme distance. The CDH Educational Center at the former Lincoln School in Dixon usually accepts students requiring attention to autism, for example.
But now that there are waiting lists at many of these facilities, the best the district can do is arrange tutoring, which is not optimal, Steinmeyer said.
Steinmeyer shared with the board that when the evaluation team has the initial discussions with parents about outplacement, transportation is one of the family's biggest concerns. A therapeutic day program in Dixon would be well-received, Steinmeyer said.
"I think the majority of parents would say, 'Hallelujah!' " Steinmeyer said. "They ask us all the time: Why don't you have this?"
Special meetings
The board announced Thursday that it would meet in a special session at 6 p.m. Monday for the purpose of a student disciplinary case. Public comment requests must be emailed to the board president or superintendent by noon Monday.