OREGON – An Ogle County judge will decide later this month if cellphone data analysis that purports to show Duane Meyer was in Byron at the time his ex-wife was killed will be allowed at his trial.
It's the third attempt on the defense's part to get the cellphone data tossed.
Meyer, 40, of Stillman Valley is in jail on $10 million bond, charged with four counts of first-degree murder, two counts of aggravated arson and one count of concealment of a homicidal death in connection with the Oct. 19, 2016, house fire in Byron which Maggie Meyer, 31, was found dead and their son, 3-year-old Amos Meyer, died.
Meyer told investigators he was not in Byron on Oct. 18. FBI analyst Joseph Rascke has cellphone tower data that shows otherwise, the prosecution said.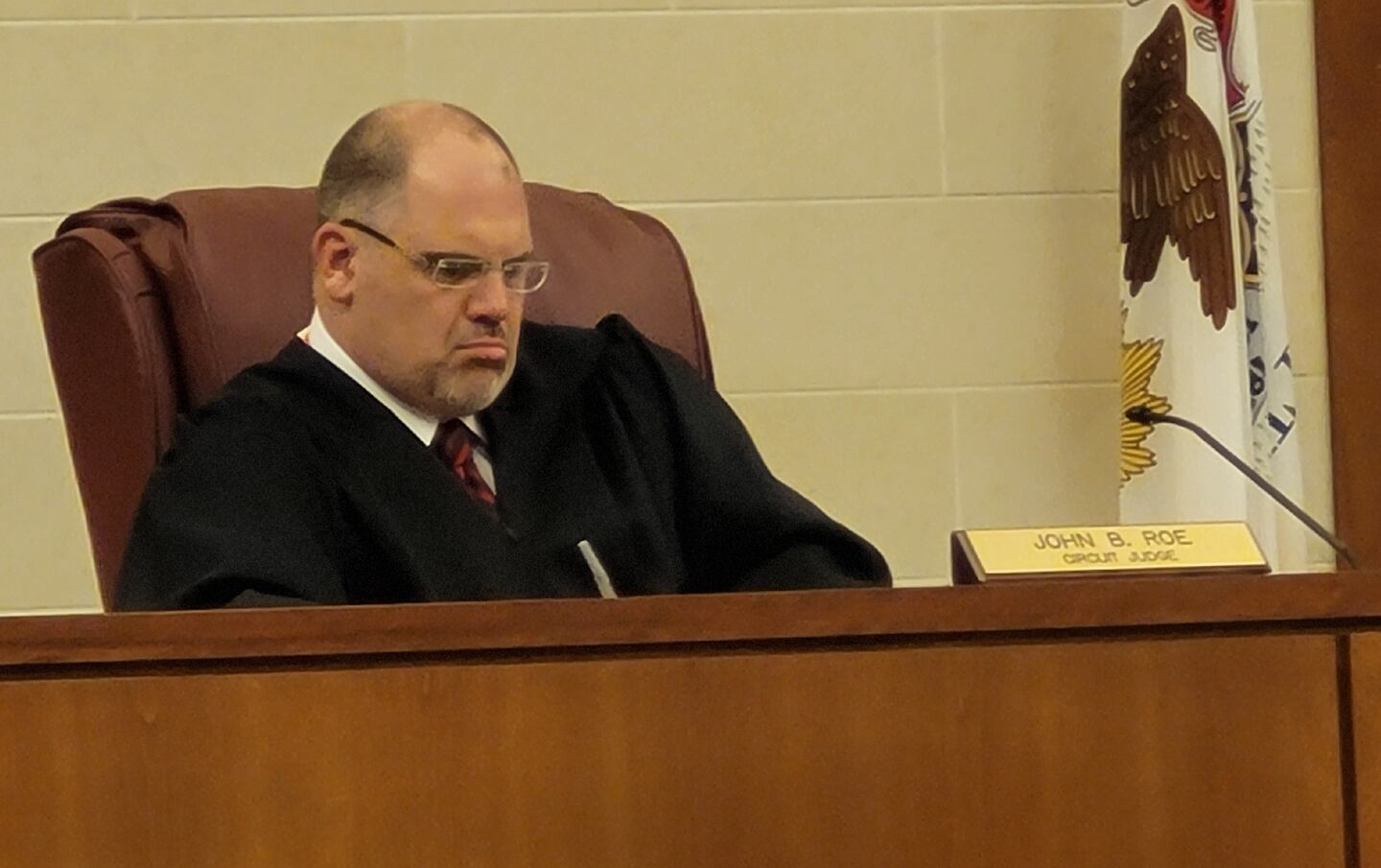 Meyer said he arrived at the home about 6:30 that morning to pick up Amos. He found the house on fire, grabbed Amos from a room upstairs and tried to resuscitate him on the front lawn; the boy was pronounced dead a short time later at a Rockford hospital.
Maggie's body was found on a couch on the first floor.
According to the prosecution, the data on Meyer's phone showed that it was hitting off the cell tower on Barker Road in Byron from 5 p.m. to about 10:30 p.m. on Oct. 18.
After that, it was sending a signal to the cell tower on East Hales Corner Road in Stillman Valley.
At 11 a.m. the next day, on Oct. 19, a detective spoke to Meyer at his parents' house on East Hales Corner Road in Byron. Meyer told the detective that he was at his family's farm in Chana until 11 a.m. on Oct. 18, then went to his home in Stillman Valley. He said he left around 5 p.m. to go bow-hunting on the farm.
He was in Chana until about 9 p.m., then went back to his Stillman Valley home, were he stayed until about 6 a.m. the next morning, when he left to pick up Amos.
Chana is outside the Barker Road tower coverage area.
State's Attorney Mike Rock and Assistant State's Attorney Matthew Leisten want to introduce maps and testimony by Rascke, a member of the FBI's cellular analyst support team, who "plotted the estimated locations" of Meyer's cellphone on Oct. 18 and 19, using methods he has employed in hundreds of cases.
Such analytical evidence has been allowed in state and federal courts for well over a decade, and Rascke has testified multiple times as an expert in cell-site analysis, despite defense objections, Leisten told Judge John "Ben" Roe.
He cited several cases involving Rascke in which the reliability of cell-site analysis and Rascke's qualifications to perform such an analysis were upheld.
It would be "preposterous" for a court in Ogle County to disallow evidence and expert testimony that's been ruled admissible over and over again in state and federal courts, Leisten said.
In his motion asking the judge to exclude Rascke's maps and testimony, defense attorney Christopher DeRango, of Rockford, argues that the cellphone records Rascke uses are "Palmer records," or records that were prepared by a company, in this case, Verizon, for the sole purpose of litigation, not records created during the normal course of business for reasons that benefit the business.
That's from a Supreme Court ruling in Palmer V. Hoffman, which found that when records are created solely for the purpose of proving something in court, and not as a matter of a business' day-to-day routine, that business has no reason to ensure their accuracy, and so the records are not reliable and therefore not admissible.
He cites a report from his own expert, Manfred Schenk of Cherry Biometrics Inc. in Falls Church, Virginia, a telecommunications engineer who "designed the cellphone system for the entire country," DeRango said.
Schneck calls cellphone tower evidence junk science that cannot reliably place a suspect near a cell tower.
In his report, prepared for DeRango, Schenk also asserts that the call detail records, one of two kinds of data that Rascke relies on, are Palmer records, produced by Verizon only because of a subpoena.
"No business entity within the cellular provider's organization needs call detail records for a single subscriber. The organization has no business interest or need to ensure the perfect accuracy of this ad hoc report," Schenk said in his report.
In addition, cell tower data cannot pinpoint the precise location of a cellphone, and in fact can be off anywhere from 0 to 21 or more miles – roughly the square mileage of Rhode Island. The data is so ambiguous and imprecise that it should not be allowed in court, Schneck said in his report.
Roe set an Oct. 27 hearing to render his decision.
Roe already has denied other defense motions to toss cellphone evidence.
On Nov. 8, 2021, DeRango argued that Illinois State Police special investigator Nate Macklin and other law enforcement officers made "an end run" around Meyer's constitutional rights not obtaining the proper warrant to obtain Meyer's cellphone information from Verizon, a claim the judge rejected on Dec. 6.
On Jan. 12, DeRango filed a motion seeking a hearing to reconsider the ruling, which Roe denied June 1.
Also on Nov. 8, 2021, DeRango filed a motion seeking a Franks hearing, asking the judge to decide whether a law enforcement officer knowingly, or with reckless disregard for the truth, used false information to obtain the search warrant.
The request for the hearing was denied on Feb. 28.