There were a lot of question marks surrounding the Sterling softball program coming into the 2023 season. When you've won 10 straight regional titles, there is always going to be some preseason scrutiny.
Along with the usual interest in personnel, potential lineups and wonderings about how the Golden Warriors could keep the streak going, there was also the question of how smooth the transition would be to a new coach, with former assistant Donnie Dittmar taking over the team.
That answer came fairly quickly, as Sterling won its first five games, eight of its first 10, and 16 of its first 20. The offense was clicking from the start, scoring at least seven runs in 13 of those games, and hitting double-digits eight times.
And after a lull near the end of the regular season, the Warriors answered again in the postseason, rolling to their 11th consecutive regional title and nearly advancing to the Elite Eight for the fifth time in the last 10 seasons.
Along the way, Dittmar oversaw a team that had starters from every year in school and had different players step up at various times throughout the season, mixing and matching his personnel throughout the entire season to put Sterling in the best possible position game in and game out.
In his first season as head coach, Dittmar is the Sauk Valley Media Coach of the Year.
•••
Dittmar knew what he had from the start. As an assistant coach the past three seasons, and a youth coach for several years before that, he knew the talent at his disposal. With only one starter graduating from the 2022 team, the pieces were there. The question was how they would all fit together.
In addition to the returning varsity players – some of whom were still only sophomores themselves – there were also a few new freshmen thrown into the mix. But once the Warriors got onto the diamond, it didn't seem to matter who was out there.
"We had a group from every age level, and my biggest concern was the lack of experience together coming into the year, and how the kids would play under those varsity circumstances. But I just felt that they jelled really well as far as being different age groups; once as we got out here and started playing, it didn't seem like there were a bunch of different classes out here," Dittmar said. "And that was one of my things from the very beginning, telling them, 'Hey, we're all one team, it doesn't matter what age you are, you have a role and we're going to support that.' I think the upperclassmen did a really good job of bringing all those groups together."
Part of that stemmed from the fact that senior captains Katie Dittmar, Lauren Jacobs and Ellie Leigh and junior captain Sienna Stingley had all been through the same thing as the younger players. All four were underclassmen on the 2021 team that finished third at state, and knew what it was like to try and adapt to playing with and against older, more experienced players.
"We were in that position, and I think it definitely helped that we got to experience being younger players on varsity," Katie Dittmar said. "We had learned how to talk to the younger girls and make it so they were comfortable and happy. I think we just really pushed each other as a team, and it was nice for some of the younger girls to know they could be friends with upperclassmen and not be scared. We were just really close as a team."
With much of the team having played together in 2022, it could have been difficult to incorporate some new faces into the mix. But the younger players' ability and knowledge of the game helped make it easier.
"The underclassmen just had to understand that us upperclassmen have been through it before, have been to state, have that experience, and they just needed to trust us with certain things," Leigh said. "We'd give them a heads up about a team or a pitcher that we knew from before, and they'd listen. It was definitely easier because we had girls who know how to play softball and had the softball IQ we needed."
The fact that the new coach was a familiar face also had a calming effect on the Warriors.
"I thought it was a super smooth transition with Donnie as coach," Jacobs said. "I think since a lot of us were the basically the same team from last year, we already kind of had that bond and were able to expand on it more this year. We were more able to build trust with each other because we worked a lot on communication and building team chemistry, and I felt like we were ready to go right from the start."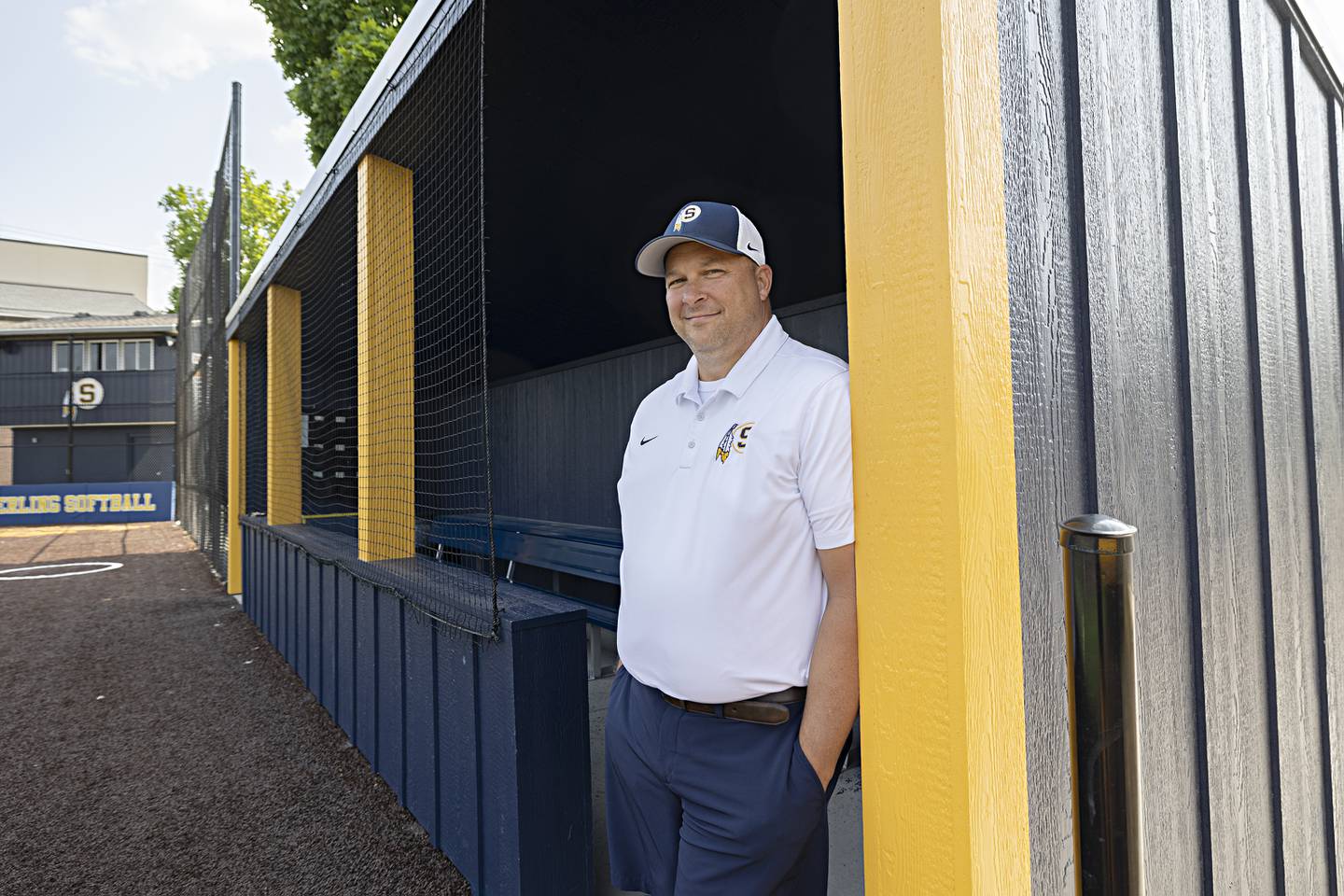 The versatility of this year's roster was also on display. Several of the players could play multiple positions in the field and also be comfortable anywhere in the batting order, and coach Dittmar had the luxury of moving people around the diamond and up and down the lineup.
He also was able to give some players games off because the depth and talent on the bench was such that he could plug in a new face and get good results.
"Going back to last year, I felt like we looked at it like, 'Hey, this is what we've got, and we've got to keep these kids playing here.' This year, I was able to move kids in and out if I needed to," coach Dittmar said. "We played with pretty much the same type of lineup for the most part, with small changes here and there, just based on maybe who was playing better or who was hitting better. But they were very versatile; I always had two spots for every kid where I could put them, which I think was a big help for us this year, for sure."
The stellar pitching of Stingley – and Leigh was also strong when she got the call to the circle – made coach Dittmar much more comfortable tweaking the lineup.
He also changed things around based on who was hitting well at any given point of the season. Several Sterling hitters went through hot streaks, and it seemed like whoever got inserted into the lineup took advantage of the opportunity.
"When somebody was hot – and it would've been nice to have everybody hot at the same time; the regional is when they finally came together – but that showed during the season that every kid had a chance to get hot and be the big bat for awhile," coach Dittmar said. "You can look back and say for this two-week stretch these three girls were carrying the team, and it just seemed like we had a different group step up and do that throughout the season. So we weren't relying on the same person all the time, there were different people stepping up all the time."
•••
The offense was there from the start. Six different players hit home runs in a season-opening win over Dixon, and a comeback victory over Sherrard in Game 2 showed the Warriors right off the bat what they could accomplish if they worked together and trusted each other.
"I think after the comeback win against Sherrard, we knew we had potential. We just had to stick together as a team and not give up if we were down or struggling," Jacobs said. "As a team, we were always encouraging each other and not dragging each other down, just giving confidence to each other. I think we all had faith that we could do it because we knew our teammates were with us and behind us."
The Warriors scored 55 runs in their first five games, and after wins of 15-0 over Alleman and 11-0 over Orion in early May, they were 20-6 with a 203-86 scoring advantage, averaging 7.8 runs per game.
"I will tell you that it started from the very beginning. I think it was Sherrard, our second game of the year, we were down big and we had a big inning to come back and win. I started to think that if we continued with solid pitching and we had the ability to put a lot of runs or big innings on the board, that we could play with anybody," coach Dittmar said. "Although we did go through a little bit of a lull there, especially down the stretch – and I think that just came down to just too many games in a short span, too many weeks with four or more games – I think it really came together there at the end. There were different times throughout the season, especially early on, that I thought, 'Wow, we can really do something,' and then you start wondering a little bit as you get in that lull, and then I started seeing it again at the end, and was thinking, 'I think we can really do this.'"
The lull hit over the final 10 days of the regular season. It started with a 10-0 loss at home to Geneseo in the Western Big 6 title game when both teams came in with 11-2 conference records. That was the start of a 1-5 stretch to end the season, which ended with home losses to Peoria Notre Dame, LaSalle-Peru and Metamora in a three-day span.
But that's when the Warriors were able to take a breath and turn their focus forward.
"I think it helped that we ended the regular season with tough games against Peoria Notre Dame, Metamora and L-P, because it was nice to see some really good competition right before the postseason," Katie Dittmar said. "That's when we really kicked it into gear. We realized that this is it for some of us, and we really wanted to play for each other and make it as far as we could, keep it going as long as possible."
Playing four games a week for five of the final six weeks of the season creates a situation where players just put their heads down and play. The chance to reset and refocus going into the postseason, and prepare for each game with practices instead of more games, proved to be just what the doctor ordered.
"After the first couple of games early in the season, when we came out with hot bats, we knew that if we could just keep that alive, we could go far," Leigh said. "Then we hit a little rough patch. We got second in conference to Geneseo, and after that loss, we told ourselves that we didn't want to lose like that again. Also, the underclassmen wanted to make it special for us seniors."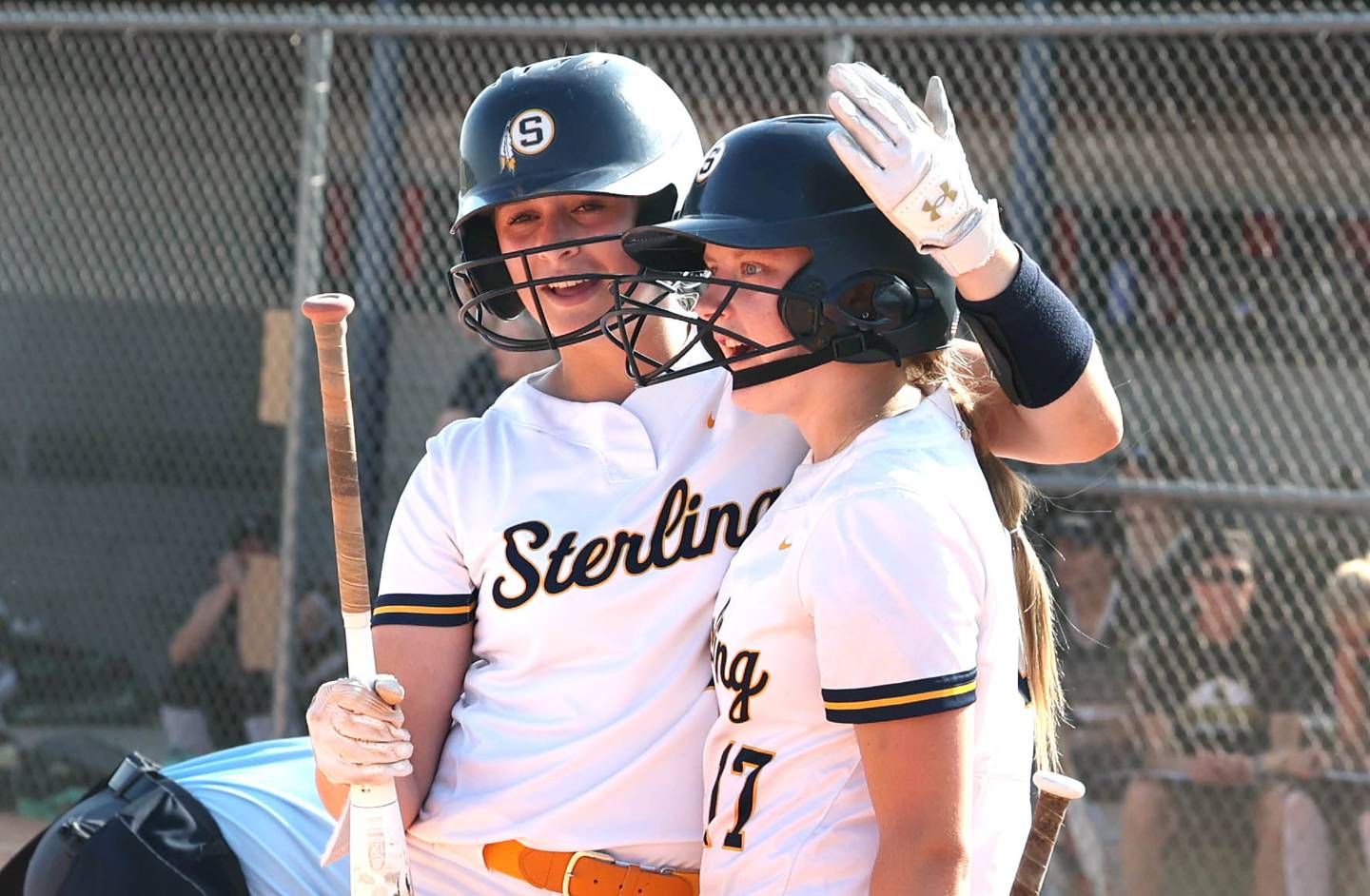 Sterling rolled through the regional, defeating Boylan 16-0 and Belvidere 11-0. A 3-0 win over Woodstock North set up a sectional title game against Sycamore, and the Warriors led 5-4 going into the bottom of the seventh before the Spartans came back for to win.
The heartbreaking finish didn't take anything away from what the Warriors accomplished during a 24-12 season. It also proved coach Dittmar right about his preseason expectations for his team.
"I just think that we build for the postseason; we want to win conference along the way, we want to win the games against the other local teams around here, but I think as the season went on, we just continued to get better and the confidence kept brewing, and I really think it came together at the end," he said. "The girls knew that it's one loss and you're done, so those are games you've got to bring your best. We've had 11 straight regional championships now. I think that goes to show that we really build during the season to be playing our best ball at the end of the year."
•••
One of the best parts of the season for coach Dittmar was having his daughter on the team. He was an assistant coach when daughter Riley was a senior, and was able to be next to Katie as the head coach for her senior season.
"It was a great experience," he said. "Being able to coach both of them, I wouldn't trade it for anything."
While it can be easy to get lost in the day-to-day operations as the season wears on, he said he made sure to take a few moments here and there to savor the opportunity that he had to be there with Katie.
She tried to do the same.
"It was a lot more fun for me personally this season, because he's my dad. It doesn't get any better than that," Katie Dittmar said. "Even though you clash with coaches at times, I'm glad he was the coach for my last season.
"I remember when he came home and told us that he had applied for the job in the first place, I was so excited. It was everything I hoped it would be with him coaching us this season."
Now, coach Dittmar will turn his attention to next season. He loses four seniors – the three captains and Aubri Menchaca – but still has lots of returning players with varsity experience.
He plans on taking the same approach and belief into next spring as he had to start this one – and hopefully the players will pick up on it even more quickly in 2024.
"I would say that the one thing I wish the girls would get is a little more confident to start the season, because I don't think they knew how good we could be," he said. "I had a bigger vision and could see that it was a pretty solid team, and I think that they didn't realize it until later on. I knew coming in that if the kids got into the spots that they needed to be, that we would definitely have a good team. I wish they would've seen it from the beginning.
"But definitely going into next season, we'll have a lot of the core kids back. Everybody got some good experience this year, and everybody can contribute at different times and be confident and comfortable out there. I think it's really going to be a fun season next year."