BELVIDERE – With the pressure Sterling was putting on with the bats, and the way junior Sienna Stingley was pitching, it felt like only a matter of time before the Golden Warriors broke through against Woodstock North.
Stingley pitched a one-hitter and also provided the big blow with her bat with a two-out, two-run double in the top of the fifth inning as Sterling topped the Thunder 3-0 on Tuesday in their Class 3A Belvidere North Sectional semifinal.
"These last two games, we've had the speaker on bus for the ride up here – it's basically a party bus – and there's just so much energy from the get-go, and I just love it. It's so fun," Stingley said. "I just think that we all put the confidence in each other."
Stingley was in complete control in the circle for Sterling (24-11), allowing just two baserunners in the game and striking out 14 without a walk. Pitching coach Larry Rice said he didn't think she missed a spot all game.
Norah Mungle was the first Woodstock North hitter to reach base when her ground ball with two outs in the bottom of the fourth took a bad hop as Sterling shortstop Katie Taylor tried to field it. But Stingley struck out the next hitter to end that inning.
JoJo Vermett broke up the no hitter with two outs in the bottom of the seventh, hitting the first pitch down the right-field line for a double. But another strikeout – on the eighth pitch to Krista Herrmann after she fouled off two two-strike pitches and worked the count full – ended the game and sent the Golden Warriors into the sectional title game against the winner of Wednesday's semifinal between Sycamore and Kaneland.
"She makes it really easy for me behind the plate," sophomore catcher Marley Sechrest said of Stingley. "She came in really strong, really confident, just throwing pitches and not getting caught up in her own thoughts in her head. She was just going out there and playing loose and having fun."
Vermett was just as stingy in the circle as Stingley. Despite Sterling having a baserunner in every inning except the sixth, the Woodstock North junior didn't give in. She allowed three runs and six hits, striking out seven and walking four.
"I was just trying to get up [in the count]. I know they weren't really attacking the first half of the game, so once I got up, I could use pitcher's pitches and see what they were willing to chase when I'm up in the count," Vermett said.
Sterling finally broke the scoreless tie in the top of the fifth. Vermett got a strikeout and a flyout to start, but then she walked Mya Lira and Lauren Jacobs. Stingley made the free passes hurt, pounding a two-run double into right-center field.
"I just missed my spot, and she hit it," Vermett said.
Sechrest then followed with her second double of the game to drive in courtesy runner Aubri Menchaca, as Woodstock North left fielder Allyson Schaid tried to make an over-the-shoulder catch near the fence but couldn't corral it.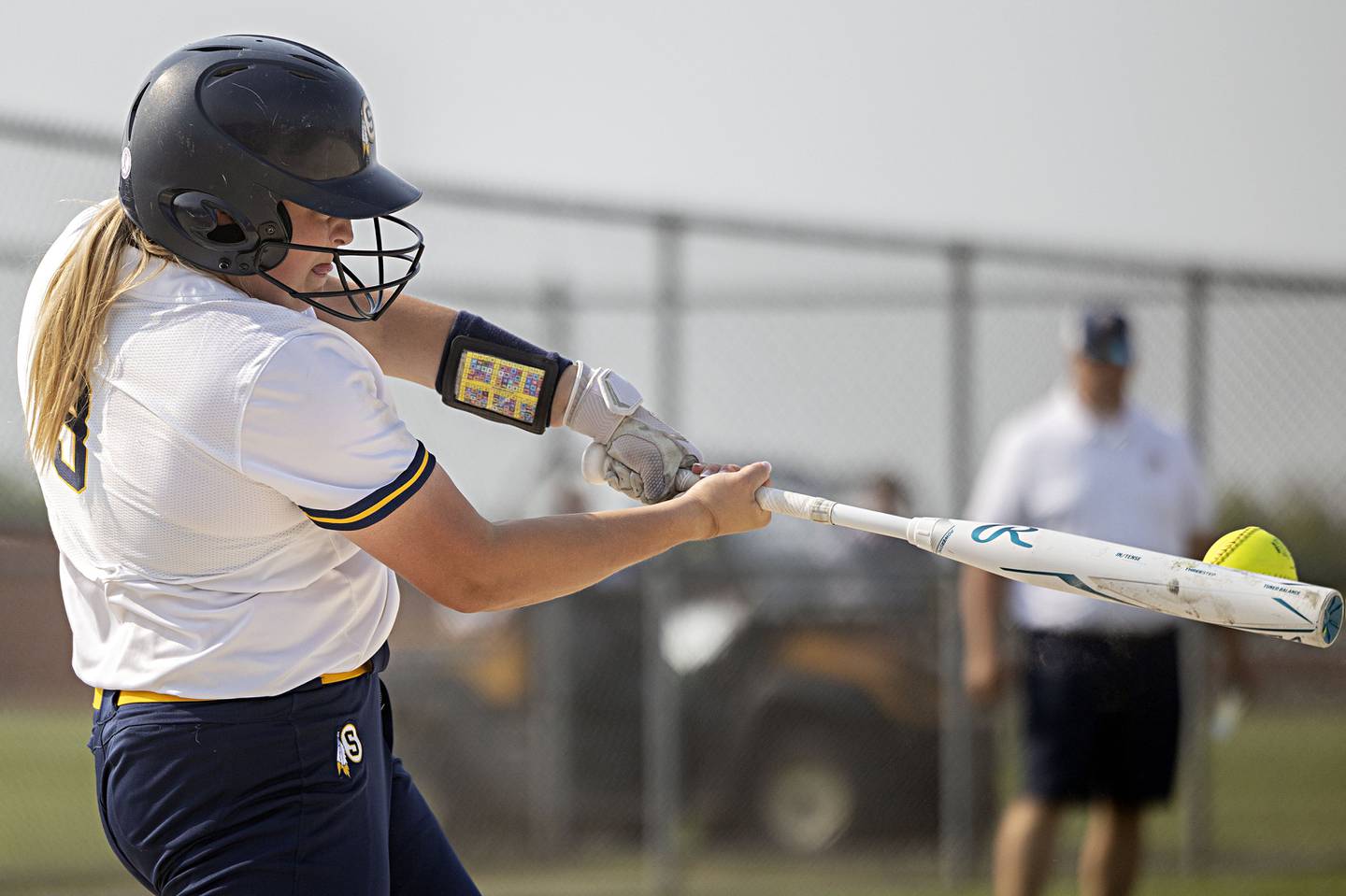 The two-out blows were what the Warriors had been waiting for, and Stingley said it's always a team effort behind whoever comes up with those clutch hits.
"I think the key is just believing in each other, and handing the bat off to each other and just being headstrong," Stingley said. "Seeing the pitcher a few times, that also really helps, and after every at-bat, we're telling each other where the pitches are at, what she's throwing, just helping each other out. We're just seeing what she's throwing and taking it wherever it needs to go, and it goes back to trusting each other and just being smart players."
Not surprisingly, it was the third time through the order when Sterling was able to finally break through. Patience early on led to more aggressive at-bats later in the game; the Warriors had three hits on the first pitch of at-bats, while the two big doubles came on the second pitch, and their other hit on the third pitch.
"I felt like it took us a little bit to get going, but I feel like that's the usual for us. We just see the pitcher a couple of times, and then I feel like we all gained our confidence and we just kept on handing the bat off to each other, I guess, and trusting each other just to keep it going," Sechrest said. "I feel like as the game went on, we all read her first pitches coming in were strikes, and we all gained confidence to know that we can go up there looking for that first pitch and hit it. We just all trusted each other to go up there and do what we usually do."
Stingley and Sechrest each had two hits for Sterling, and Sechrest had two doubles. After offensive explosions produced 27 runs in their two regional wins, the Warriors only needed three in this one.
Woodstock North interim coach Maddie Ferguson credited Vermett's strong pitching and an errorless defense behind her with keeping a potent offense in check.
"It was just the couple of big hits for them, and they were right in the gaps. We've got to defend the best way we can, and they found holes," Ferguson said. "Our defense has always been pretty solid throughout the season, and that's really been our strength. The area we've really been working on his trying to string those hits together; Friday [in the regional final], they were hitting for us and we were doing an awesome job, but that momentum just wasn't here for us today, and that's sometimes the way it works out."
Vermett said the key was the Thunder (14-15) riding high after winning the regional title for the second straight season.
"Just having the momentum from our last game. We had really good defense and a lot of offense in that game, just everyone doing what they needed to, so that momentum pushing us through just really pulled into this game," Vermett said. "We fought hard, we just couldn't get this one."
While Sterling moves on, Woodstock North saw its season end despite battling through every inning and every at-bat in what turned out to be the Thunder's season finale.
"It's kind of been the theme for this group of girls, from last year too. These girls worked so hard this season, and we usually are able to dig deep and have a lot of heart to find it," Ferguson said. "We were putting it all out there today, especially defensively – and at the plate, especially in the later innings, our girls were really having some awesome at-bats, really fighting until the end. Lots of foul balls, trying to keep her working, get her tired, tying to find that mistake and be able to capitalize on that. But ultimately, their pitcher was throwing a heck of a game as well, and we just couldn't string them along."