STERLING – After tight starts in both sets Monday night at Musgrove Fieldhouse, the Sterling volleyball team was able to pull away toward the end each time for a 25-18, 25-16 win over former NCIC foe La Salle-Peru.
In the opening set, it was Ohio State commit Grace Egan who started the surge as the Golden Warriors opened up a gap. In the second set, it was another Egan kill that snapped an 11-all tie, then kills by Kathryn Rowzee and Katie Dittmar down the stretch that helped extend the margin.
"We definitely played as a team more," said Egan, who had a match-high 19 kills. "We moved the set around, mixed up our hitting, and we knew that we can trust Katie to get more kills for us in the middle, make it easier for us other hitters on the outside. Kathryn played well at the net, too, and we got a lot of people involved and contributing tonight.
"They served us pretty well, but I thought we did a good job of getting our offense in system tonight."
The first set was tied at 3 and 6 before a back-row kill from Egan and a block and two kills from Rowzee in a five-point span gave Sterling (14-16-1) a 12-8 lead. After a roll shot by Camryn Piscia and a Sterling error brought L-P (9-22) within 12-10, Egan followed a Cavaliers a service error with consecutive kills, then answered a kill by L-P's Sarah Peters with another spike before Julia Thormeyer served an ace.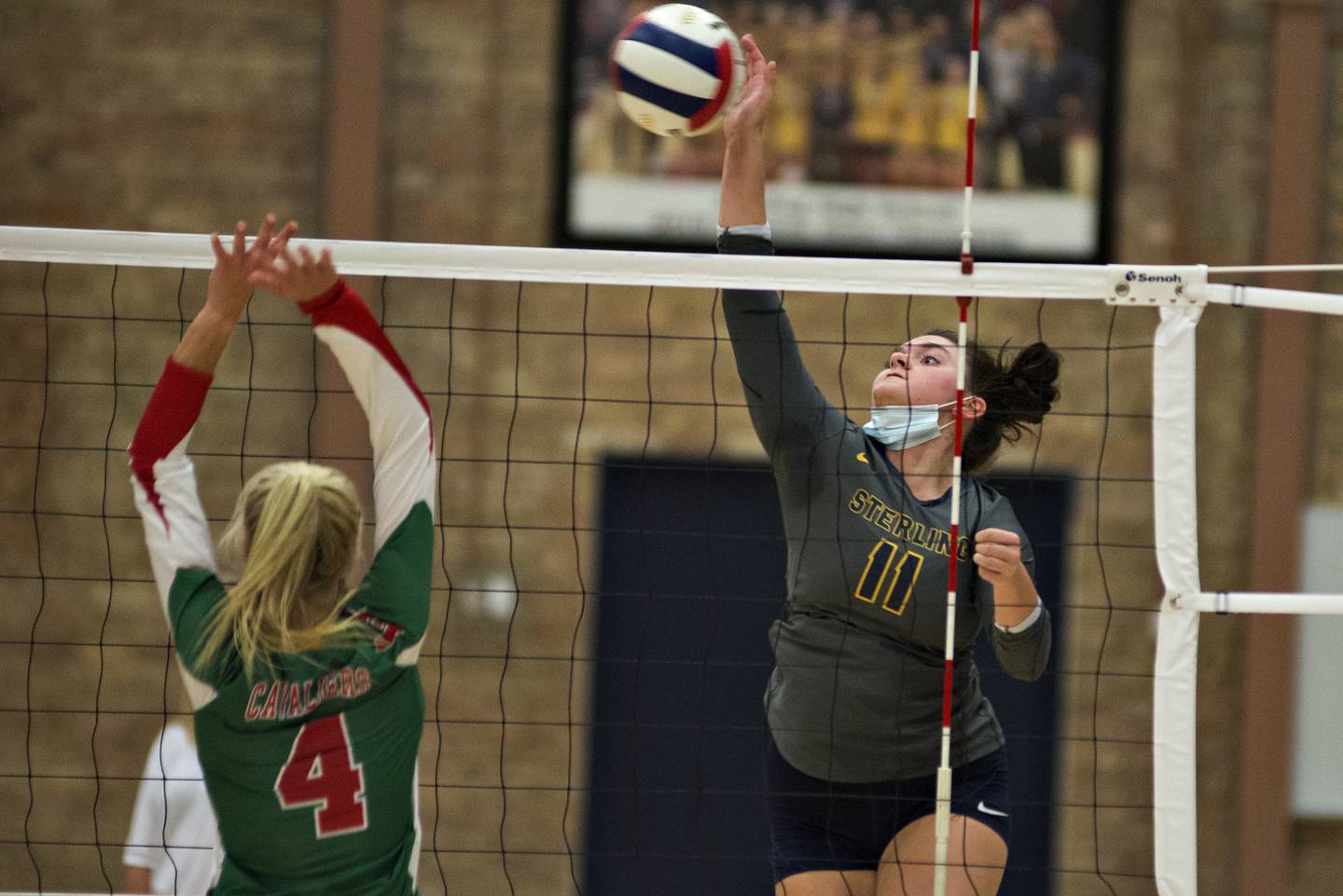 Another roll shot by Avery Urbanski that found the floor was answered by another Egan kill, then she and Madalyn Freeman traded kills before Piscia took care of an overpass and Sterling hit the ball out of bounds to make it 21-16.
But an ace by libero Karmen Weinrich and a kill by Dittmar on an overpass stretched the lead to 23-16. A kill by Piscia and an ace by Reena Stevens brought the Cavaliers back within 23-18, but an L-P hitting error and a double-hit violation ended the set.
While scoring 13 of the final 21 points in the opening set, Sterling was able to get into system more often. That keyed the final surge in both sets.
"It was so nice to see, and the games are so much more fun when we can get in system and run our offense," said Weinrich, who was honored before the match as the lone senior on Sterling's roster this season. "We do a lot better when we're talking on the floor and having fun. As long as we're cheering each other on, we play really well together."
The second set was tied at 9-all on a kill by Peters, then 10-all on a kill by Egan, then 11-all after a Sterling service error. But Egan's kill made it 12-11 Sterling, then L-P had three straight hitting errors.
Peters got a kill after a Cavaliers timeout, then a Sterling hitting error brought L-P back within 15-13. But a kill and an ace by Egan on back-to-back points made it 17-13, then Rowzee and Urbanski traded kills for an 18-15 Sterling lead.
Dittmar then sandwiched two kills from the middle around an L-P error, and it was 21-15 Warriors.
"Sterling is a very good team. We played with them up to 16, 17 points and then a play here, a play there, they got momentum, and they finished both sets on runs," La Salle-Peru coach Mark Haberkorn said. "I'm very happy with the way we played. We competed, we've just got to play hard for 25 points – and against this team, sometimes it's a lot easier said than done."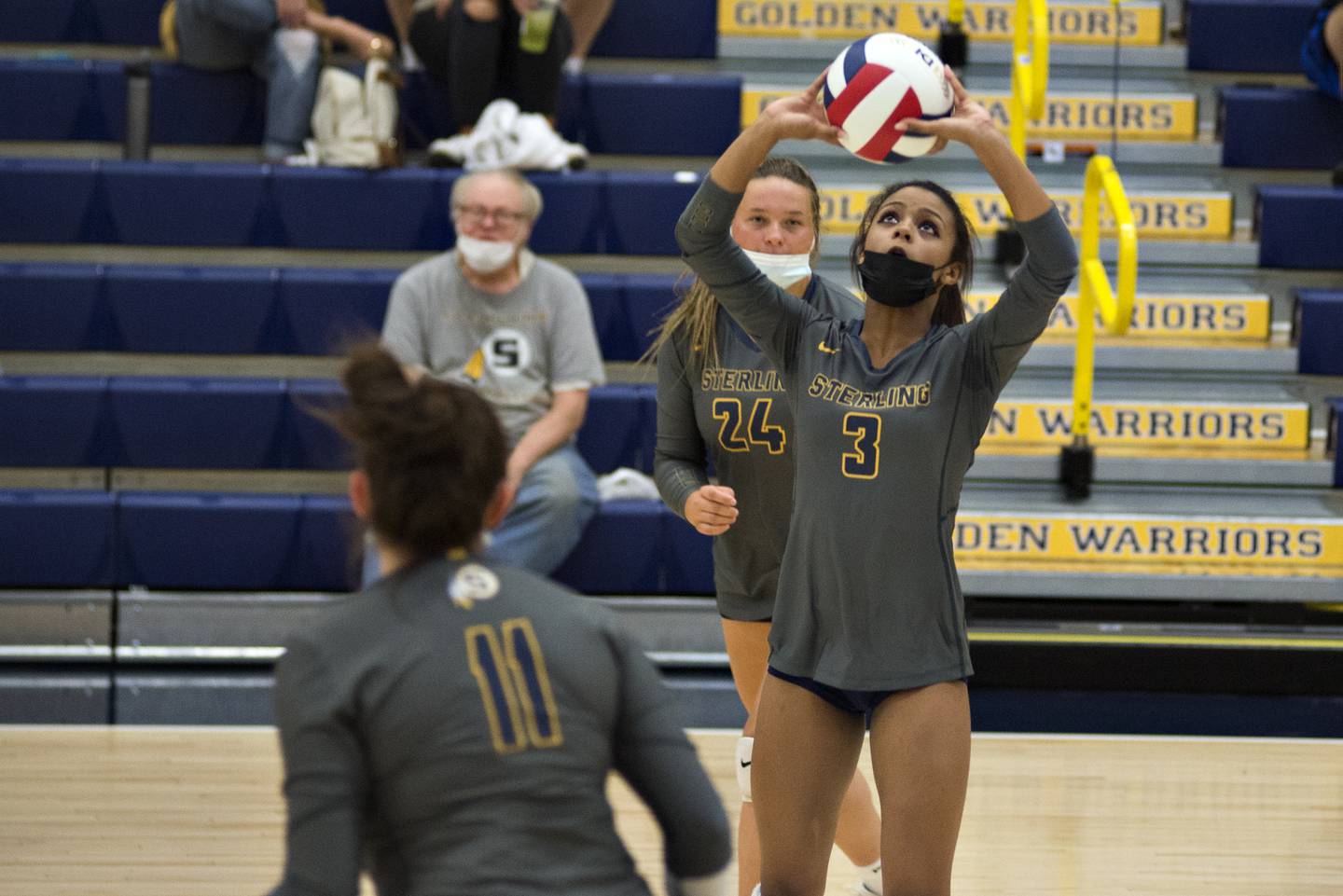 After a Cavaliers timeout the teams traded errors, then Egan spiked a kill, Emma Smith served an ace, and Dittmar finished the match with another kill from the middle.
"You saw the separation, especially in the back half of each set, and that shows some poise from our team," Sterling coach Dale Dykeman said. "Sometimes when a team is persistent and does a lot of the things L-P did tonight, when those teams hang around they tend to hang around until the end of the match and they really frustrate you. I think it showed a lot of poise for the girls to be able to pull away. They weren't huge runs, but it was enough to get some separation at the end of each set."
Weinrich finished with 12 digs and two aces, and Rowzee and Dittmer both added five kills for Sterling. Delali Amankwa had 29 assists, and Smith also served a pair of aces.
Peters had six kills, and Piscia had five for La Salle-Peru. Urbanski had eight assists and six points, and Katherine Sowers added seven assists and six points. Libero Taylor Martyn finished with eight points and seven digs for the Cavaliers.
It was the sixth straight win for Sterling, and the 301st for Dykeman at SHS. He hit the 300-win mark Thursday, reaching the milestone on the the same night his mentor Sonya Baldwin – the Lewistown coach who got Dykeman into coaching in the first place when he was her student teacher.
Dykeman attributed the wining streak to the players finding their niches on the team.
"Some kids have come in, some of those older – I use the word older, but Karmen's the only senior on the floor – and more experienced kids that have been playing all season, they're filling in and doing their jobs extremely well," he said. "And younger kids are coming off the bench, accepting their roles and bringing energy to the floor that we feed off of. We're really playing the best volleyball we've played all year right now, and everybody's just really bought into the their job and doing it as well as they can."