CHARLESTON – On the biggest stage of the season, several area girls track and field athletes shined bright on the blue track at Eastern Illinois University's O'Brien Field in Thursday's Class 1A state preliminaries.
The Sauk Valley will be represented in the state finals in 10 events, with Amboy's Elly Jones and Fulton's Lauren Mahoney leading the way by qualifying for finals in two events each.
Jones, who competed in four events Thursday, advanced to Saturday in half of them. She was the ninth and final qualifier in the 100-meter hurdles, as her time of 15.87 seconds was easily into the field; the next fastest time was 16.10.
The Amboy sophomore will also be part of the triple jump finals, as her leap of 10.33 meters ranks ninth out of the 12 finalists.
"I feel like I have more chances, because last year was just one and done. This year, I definitely get to take my time more and focus," Jones said.
Running next to Altamont's Grace Nelson, who won in 14.18 seconds – the fastest prelim time by 0.44 seconds – Jones finished quite a bit behind in the heat but pushed into second place with a time that got her into the finals.
"I just kept looking at her and pushing as hard as I could to each hurdle, and that's why I think I pulled out second," Jones said. "She's a really good athlete, so I think it was really good to run against her, because I've never run against someone that fast, except for last year at state. It was really cool."
Mahoney was the ninth and final qualifier in the 100, as her 12.61 was 0.07 faster than the 10th-fastest time. She also teamed with Abbigail Thyne, Annaka Hackett and Mikayla Gazo to advance in the 4x200.
"The 4x100, obviously the jitters were there. We were still kind of getting in the mindset of the day. We kind of screwed up our second handoff over there, but we still ran probably an average time in that race like we've run all season, so it wasn't too bad," she said, breaking down her busy day. "My 100, I didn't have the best start, but I caught up and made it to finals, so that was a good run. The 4x2, that was probably our best run of the day, and we got into the finals in that too.
"In the 4x400, that was hard, it took a lot. Overall, I'm just really proud of all of us for giving it our all."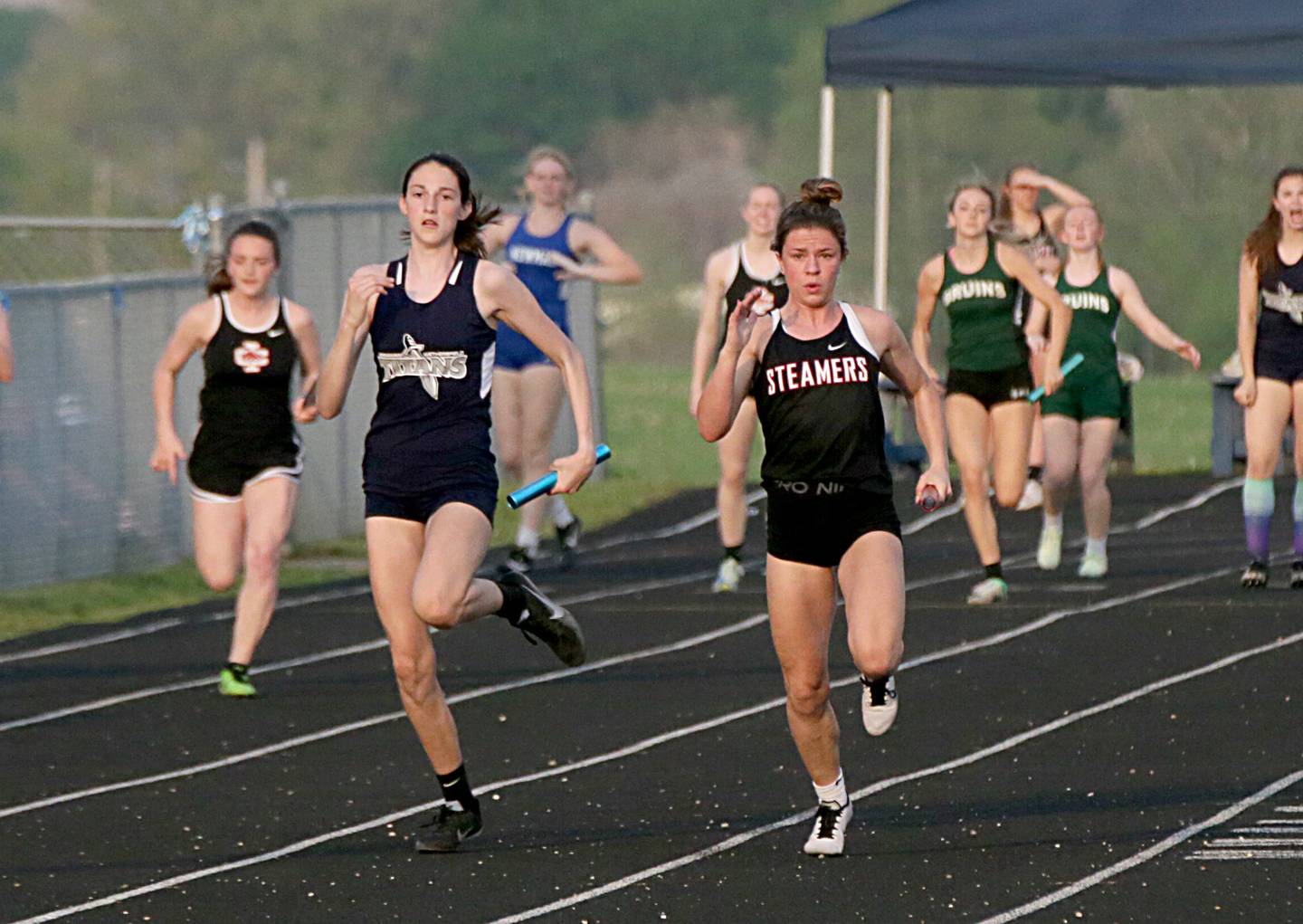 The 4x200 wasn't just the best run of the day for the Steamers, it was nearly the best run in school history. Their 1:47.93 was just off the school record of 1:47.6, and the Fulton foursome is excited to have another shot at it Saturday as the No. 8 seed.
"For the 4x2, our goal is to beat the school record," Mikayla Gazo said. "Now we've got a second chance to do it Saturday."
Gazo, who like Mahoney ran in the 4x100, the 4x200 and the 4x400, said she felt like the good result in the 4x200 helped her make up for a bad handoff in the 4x100.
"I feel like there's more pressure running down here, because if we did it all to get here and didn't run good races, we did it for nothing," she said. "So that was a lot of pressure, and I messed up the handoff in the 4x1, so that was my fault. Then I was really nervous in the 4x2 because of it; I didn't want to do it again, because I let my team down and I don't like that. It makes me mad. But we got it done in the 4x2, so it feels better now."
Oregon senior Jenae Bothe is sitting in the catbird seat in the shot put, as her heave of 13.17 meters was 0.96 meters (3 feet, 2 inches) farther than anyone else. The prelim marks carry over to the finals, which means someone else has to beat 13.17 on Saturday, or Bothe will be crowned state champion.
Her first toss was 11.73, then she hit 12.4 with her second before popping the big one in her final attempt.
"They were pretty progressive. My first one, I got in and knew I had made it to finals, so I thought, 'OK, let's add some,' and then I got a little farther, and I was feeling really good," she said. "So I thought, 'Just go for it,' and that allowed me to get that big one. That's the farthest I've thrown in over a month, probably."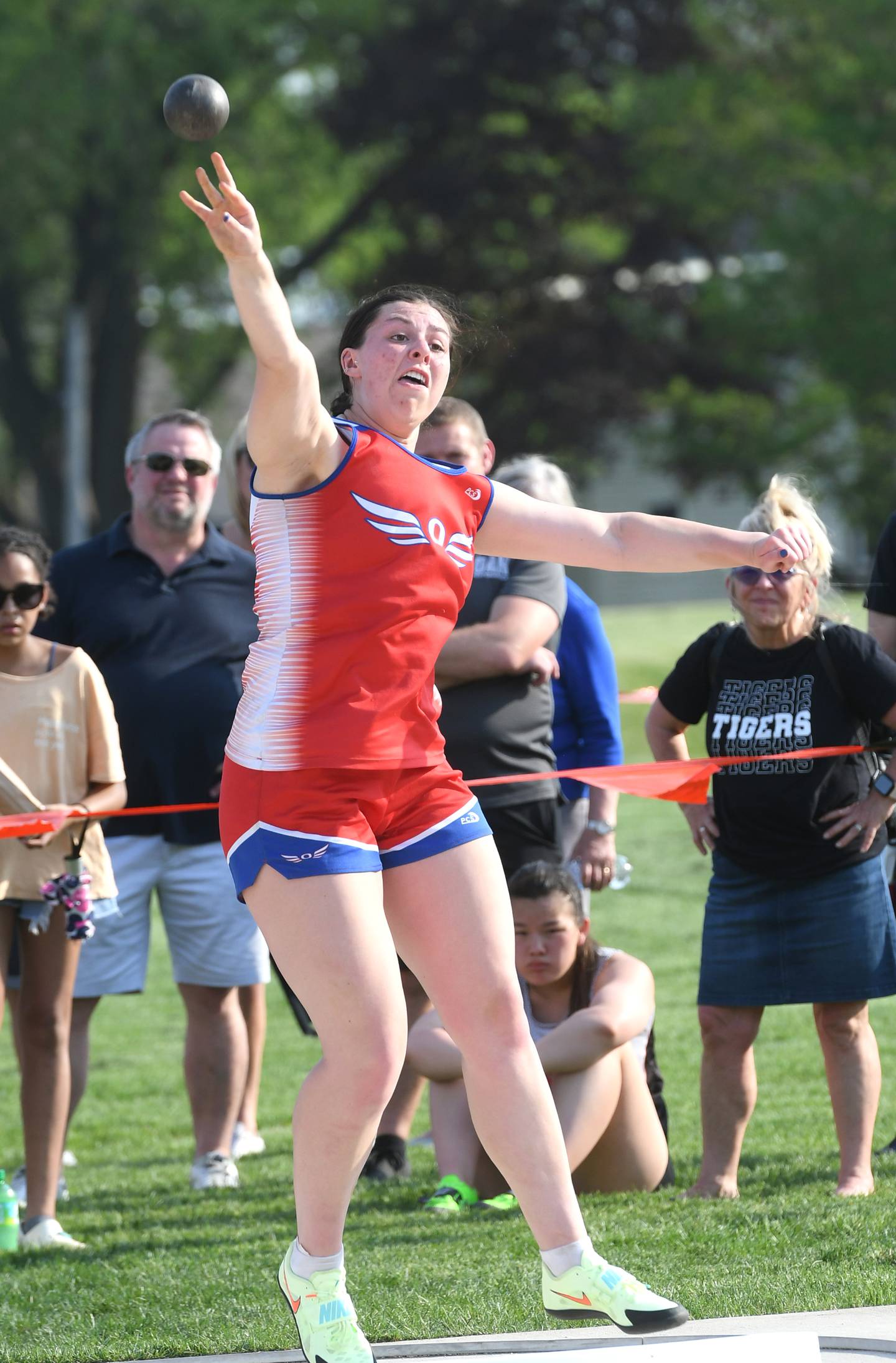 After breaking school records in the shot put and discus this season, Bothe said she was definitely feeling a little more weight on her shoulders this weekend. But she's proud of the way she's handling it.
"Yeah, 100% there's been a lot of pressure, but I've been really working hard on trying not to let it get to me, because in the past I have crumbled a little bit – really just not impressed with some of my past performances – so that was probably my No. 1 goal going in, just being able to deal with the nerves," she said. "And I know all these girls, so it's really nice to be familiar with everybody, and it was very comfortable, which is good."
Bothe will be joined in the shot put finals by Forreston-Polo's Sydni Badertscher, who sits in fifth place after a heave of 11.37 meters. She hit that in her second throw and shared a high-five with Bothe afterward.
"My second throw was definitely my best out of them, and it felt good to pop one like that," she said before hurrying off to compete in the discus. "After the first throw, all my anxiety went away, and the second one was great."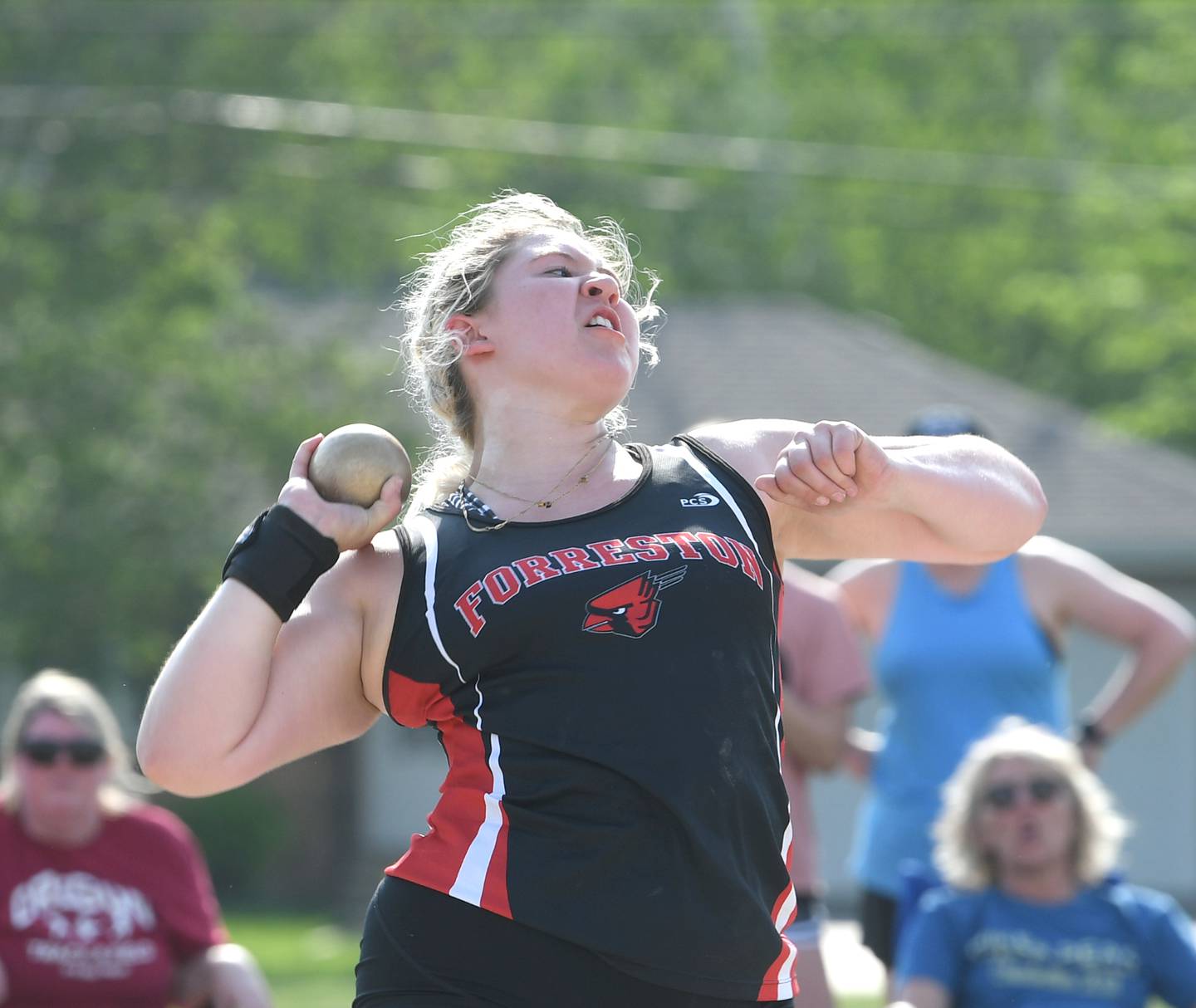 Letrese Buisker also advanced to Saturday for Forreston-Polo, clearing 1.55 meters in the high jump on her second try to move into the finals. She's ready to get after it again this weekend.
"It's amazing. I love the high jump, and to be able to go down to state a second year, it's even better. I get that experience, so next year, I can come down here again," she said. "Once you know that you've made finals, the adrenaline is there, and a hunger, because you want more and more. It made me want more, because I'm only a sophomore and it's amazing to be down here, but to go to finals and maybe even medal, it would be even better."
Amboy-LaMoille-Ohio-AFC will also be represented in the finals by Lauren Althaus, who finished strong in the 400 to advance. The 1:00.83 broke the school record she shared with her older sister, Ashley, and got her the ninth and final spot in the finals.
"It's so great to break that record, and it's funny because my sister and I shared it," Althaus said. "I wasn't sure if I made the finals, but regardless of that, if that was my last race, I gave it everything I got. I've been doing this for the past seven years, running that race, putting my heart and soul into that race, and it's a mental and physical challenge, that's for sure. I know that I'm ending this season on a high note."
West Carroll's Emma Randecker clocked a 26.64 seconds in the 200 dash, and she's seeded seventh heading into the finals. The freshman was happy with her final race of the day after missing the finals in the 100, and was a bit in awe of the competition in Charleston.
"It's crazy, all the great runners here. It definitely pushes me to go way faster," she said. "It was a little rough at first; my 100, I didn't have a very good start, so I got behind right off the bat. But I felt pretty good in the 200."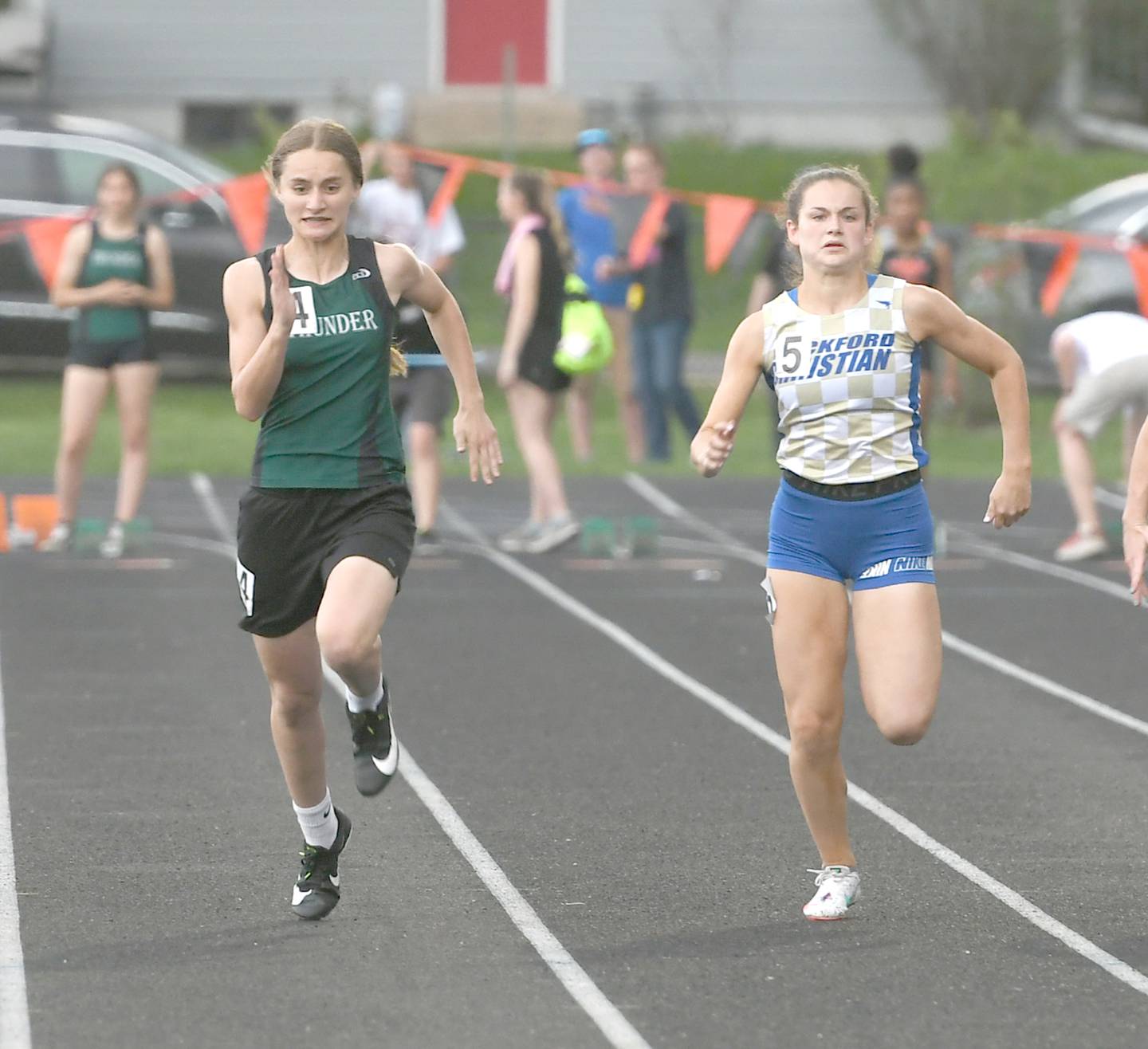 Erie-Prophetstown's Riley Packer set a PR in the 800 and qualified in the 12th and final spot in the event for Saturday. Her time of 2:25.93 was 2.19 seconds faster than the next runner.
She was most proud of the effort after running the anchor leg of the 4x800 earlier in the day, where the Panthers had a PR of more than 10 seconds but didn't qualify for finals. It was a double she hadn't previously done in warmer weather.
"I was really anxious and nervous before. It was my first time running a 4x8 at state and then the 800; in the past years when I've come here, I've always run the open 8, then last year for the first time the 4x4. So I wasn't used to not having a ton of recovery time like I usually do, I guess. I've run 4x8s all year, but this is one of the hottest we've had, so that was just really different," she said. "I was getting supernervous and superanxious, and I did cry a little bit, but it's OK. It all ended up being good, and I just had to keep telling myself to run my race and worry about my own time and not worry about everyone else, and the tough competition.
"We were talking a bunch about finals this week, and how that's our goal. But my mom has always told me that the big thing is just to get to state, everything else is just bonus at that point. Don't stress too much; obviously, everybody wants to go to finals, wants to do well enough and make it, but I was just trying to focus on what I could control in my own race."
Local athletes competed in several other events in the 1A state prelims, but did not advance to the finals.
Jones missed moving on in the 300 hurdles (14th, 50.20 seconds) and the long jump (15th, 4.90 meters), and Althaus didn't advance in the 200 (21st, 27.85 seconds) for the Clippers.
Bothe and Badertscher both missed the finals in the discus, as Bothe was 16th (33.23 meters) and Baderstcher placed 18th (32.19). Erie-Prophetstown's Brianna Neumiller was 27th (28.64).
Kennedy Buck missed out in three events. The Erie-Prophetstown sophomore finished 14th in the 400 (1:01.36), 18th in the 200 (27.61 seconds), and 19th in the shot put (10.30 meters).
"I started with shot put, and it was OK. I didn't PR or anything, but it was my best throwing of the season, consistency-wise. And my 400 was pretty good," she said. "Then I gave it all I had to try and make the finals in the 200."
Oregon's Sophie Stender tied for 13th in the 100 hurdles (16.39 seconds), and Hawks freshman Sonya Plescia did not make opening height in the pole vault. E-P's Hayley Wuebben also missed the opening height in the vault, and Panthers teammate Olivia Purvis tied for 17th (2.90 meters).
Fulton missed the finals in its other three relays. The team of Miraya Pessman, Thyne, Gazo and Mahoney was 15th in the 4x100 (51.53 seconds); the quartet of Brooklyn Brennan, Pessman, Mahoney and Gazo took 22nd in the 4x400 (4:21.90); and the foursome of Kali Brewer, Aliya Bueno, Olivia Knott and Jasmine Moreland finished 24th (11:17.48).
Erie-Prophetstown's 4x800 team of Dylan Chandler, Jade Nickerson, Jillian Norman and Packer finished 14th (10:24.55).
Newman sophomore Jess Johns did not clear opening height in the high jump, and Buisker missed the finals in the 100 hurdles (26th, 18.25 seconds) and 300 hurdles (16th, 50.30).
Randecker missed the finals in the 100 (17th, 12.76 seconds), while West Carroll teammates Olivia Shelly took 20th in the triple jump (9.57 meters) and Kylie Hill was 31st in the long jump (4.48 meters).