STERLING – The Dixon Duchesses looked to be in postseason form Thursday afternoon against the Sterling Golden Warriors. With a doubles sweep and a singles split, the Duchesses prevailed 4-1 on Sterling's senior night.
[ Photos: Sterling vs Dixon tennis ]
Dixon's Leah Stees and Arielle Tefiku got the ball rolling with a 6-1, 6-3 win over Fareeda Alkhalaf and Sadie Hendrix at No. 1 doubles.
For Stees and Tefiku, it was all about staying consistent and mentally locked in.
"Staying focused [was important for us], and we work really well together," Stees said.
"I think our biggest success is consistency," Tefiku said. "We just stayed consistent."
Rachel Lance and Brooklyn Arjes kept the momentum moving with a 6-0, 6-2 victory over Avery Moran and Caylee Lions at No. 2 doubles.
At No. 3 doubles, Siena Kemmeren and Lily Herrera ensured Dixon's victory, defeating Alex Calderon and Teagan Morris 6-2, 6-0.
The best matches were saved for last. The No. 1 and No. 2 singles matches went into tiebreakers. For almost two hours, the Dixon and Sterling singles players went back and forth.
At No. 1 singles, Grace Ferguson defeated Ellie Aitken 7-5, 1-6, 10-5 for Dixon's fourth win. Facing a familiar opponent, Ferguson knew precisely what to expect and used it to her advantage.
"I think staying consistent [was key], but also having guts and trying to take winners when I could. Making sure my first serve was in like 70% of the time and just having fun," Ferguson said. "I do lessons with [Ellie] all throughout the summer, and I've done it for many years, so I'm pretty familiar with her playing style, and I play her all the time."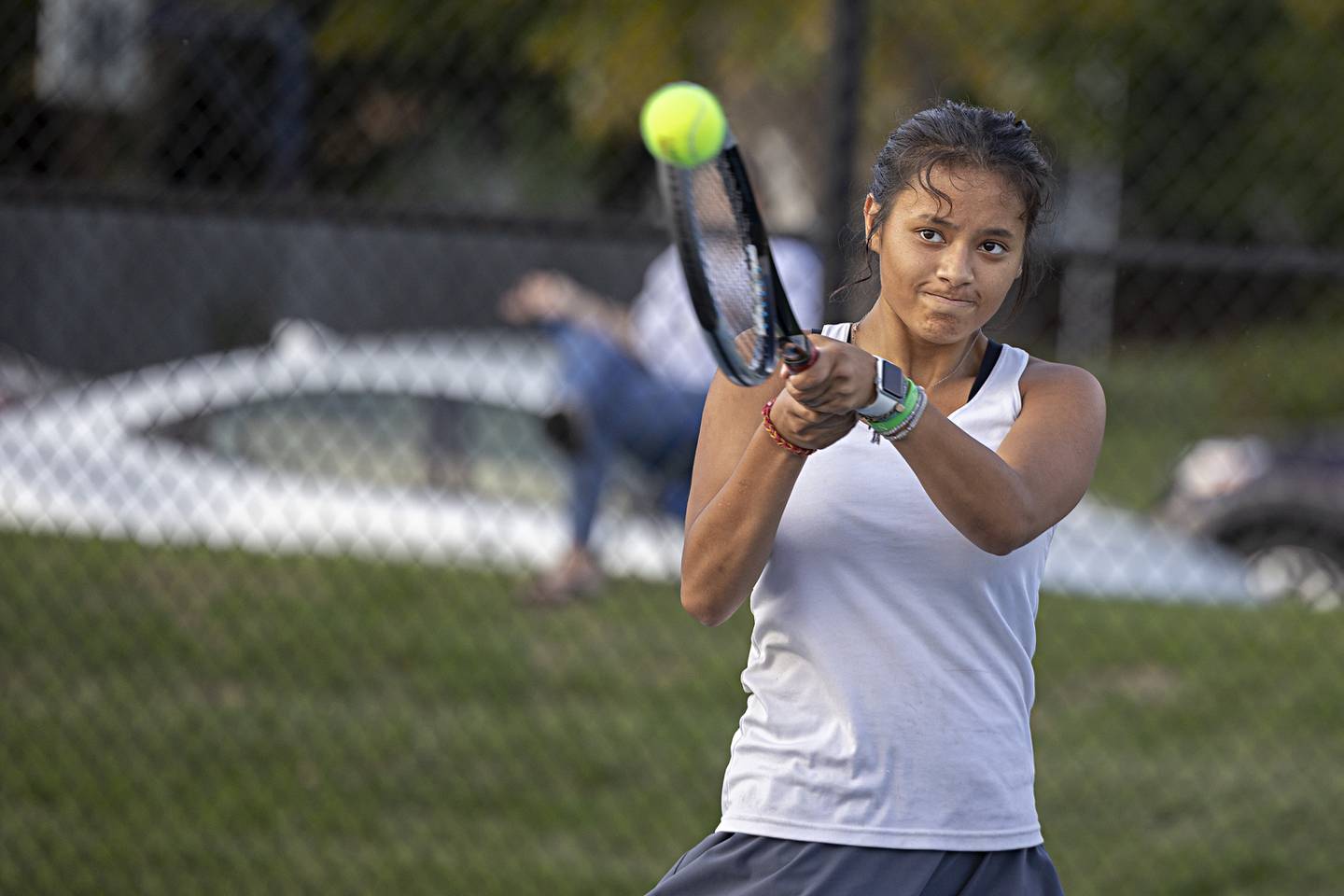 At No. 2 singles, Sterling's Layla Tablante won 0-6, 6-2, 10-7 over Addison Arjes. After the first set, Arjes seemed to be firmly in control, but Tablante showed her resilience to force the tiebreaker and pull out the win.
"Honestly, just not getting in my own head. Staying really focused. Trying not to think about the negatives of everything [was key for me]," Tablante said.