When the Dixon girls soccer team hosted Sterling this past season, there were a few instances where the best players in the history of both programs were literally battling for the ball.
Despite playing forward the rest of the season, Sterling senior Ellie Gasso played fullback against Dixon in both meetings this spring. The first was an 8-0 Dixon win in the season opener at Sauk Valley Community College; the second was a 9-2 Dixon win in the Class 2A regional semifinals at A.C. Bowers Field.
The reason for the position switch: the Golden Warriors were trying to slow down Duchesses star forward Taylor Harrison. And while it didn't really work out for Sterling – Harrison scored four goals in the opener and five in the regional semi – there were still those moments when area soccer fans got to see the best going head to head.
It's a rare treat when two local teams' career record holders are on the field at the same time, let alone squaring off one-on-one.
Harrison and Gasso rewrote the record books at their schools: they are both the all-time leading goal-scorers in their programs' histories, and not only that, they're both also the single-season scoring leaders, and each scored six goals in a game during this COVID-shortened season.
Oh, and the recent graduates were also teammates on the Rockford Raptors club team. How scary is that for opponents?
"I think the reason why we both had such great seasons, great careers, was that we had other people pushing us," Gasso said. "A huge part of our success is that we've been playing club soccer since sixth grade, and iron sharpens iron. Club soccer has the best players at each age group, and you just get better and better the more you play with the best.
"We were both in an environment where you have to keep getting better or you'll get passed by. Being stagnant is not an option, so you just keep working hard and improving."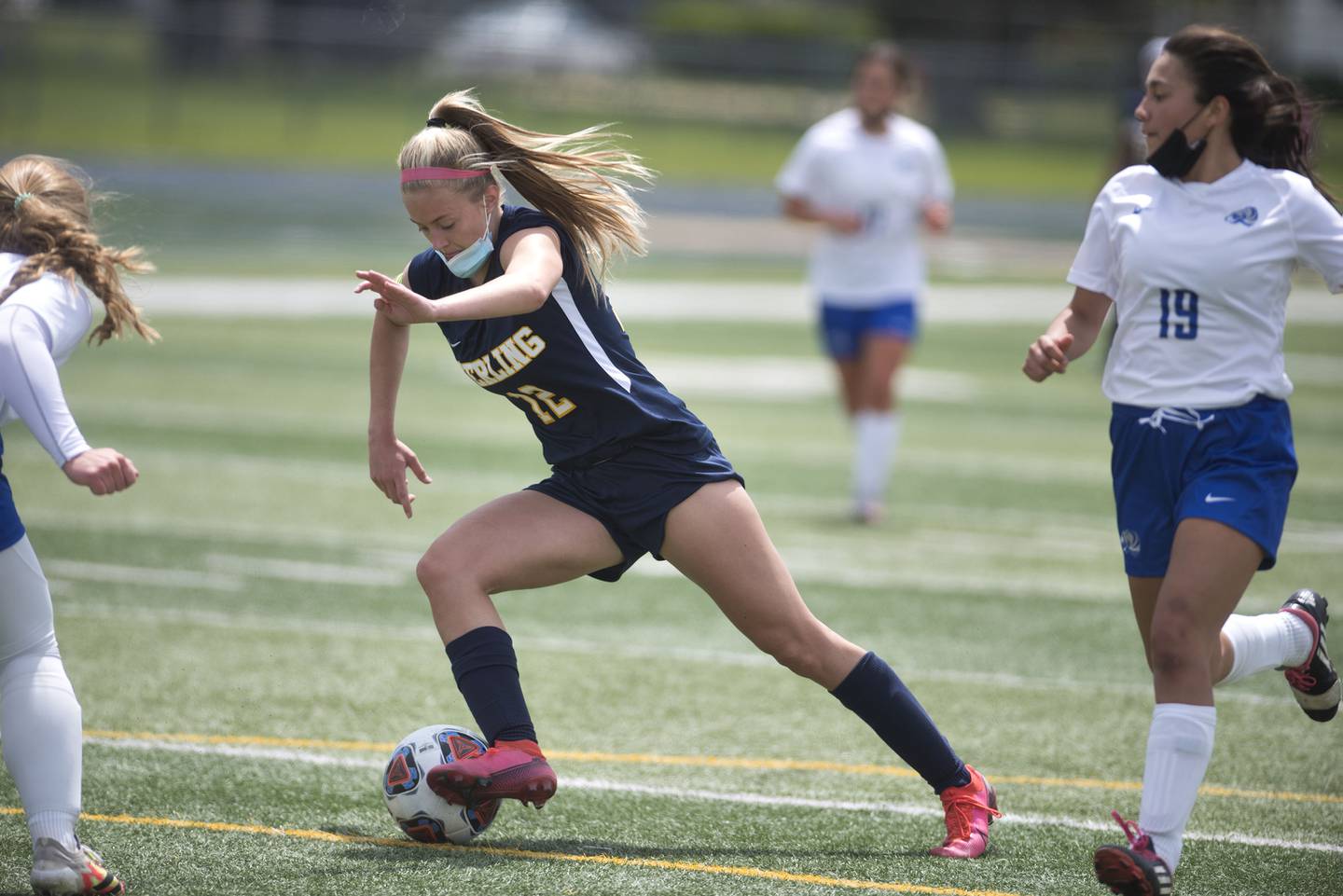 Gasso scored 76 goals in her Golden Warriors career, and her 29 goals as a sophomore in 2019 are also a school record. She scored 26 this spring, including a 6-goal game on May 18 against Galesburg; that broke her own single-game record of five goals set in 2019.
Her prowess earned her much praise from opposing coaches and players – and Harrison is one of her biggest fans.
"We spend more time with each other than I do with my family, and it's great to see her succeed," Harrison said of Gasso. "You always want your teammates to succeed, even if they are your opponent sometimes, and Ellie always works hard and gives it her all. She has speed and plays aggressive, and she's a great player because she's going to do everything she can to help her team find a way to come out on top."
Gasso is equally effusive in her praise for Harrison.
"She might be the best player I've ever played with," Gasso said. "She's everywhere, the kind of player who never gives up. She's a powerhouse in the middle, with these ninja legs; even though she's never the tallest or biggest player out there, she always wins the ball. If I see Taylor in the middle, I just know she's going to get the ball, and I just start my run forward because I know she'll find me if I get open.
"She just always finds a way to win. She has the mental determination to win and the physical talent to back it up."
Harrison's stats are staggering. Her 146 career goals are 19 more than Lauren Chacon's old school record, and she set both the single-season goals and assists records twice. She scored 57 goals as a sophomore in 2019, then tallied 59 this past season, scoring a goal in every game – in about half as many games.
She netted 6 goals against Rockford Lutheran on May 13, and had four 5-goal games, four 4-goal games, and three other hat tricks to lead the Duchesses to a 14-2 record, a perfect run to the Big Northern Conference championship, and a regional title.
She also has the school record with 77 career assists, and set the single-season assist record with 29 as a freshman in 2018 – then broke that with 31 as a sophomore. She has since been passed by her best friend and teammate Abby Goff, who dished 33 assists this spring.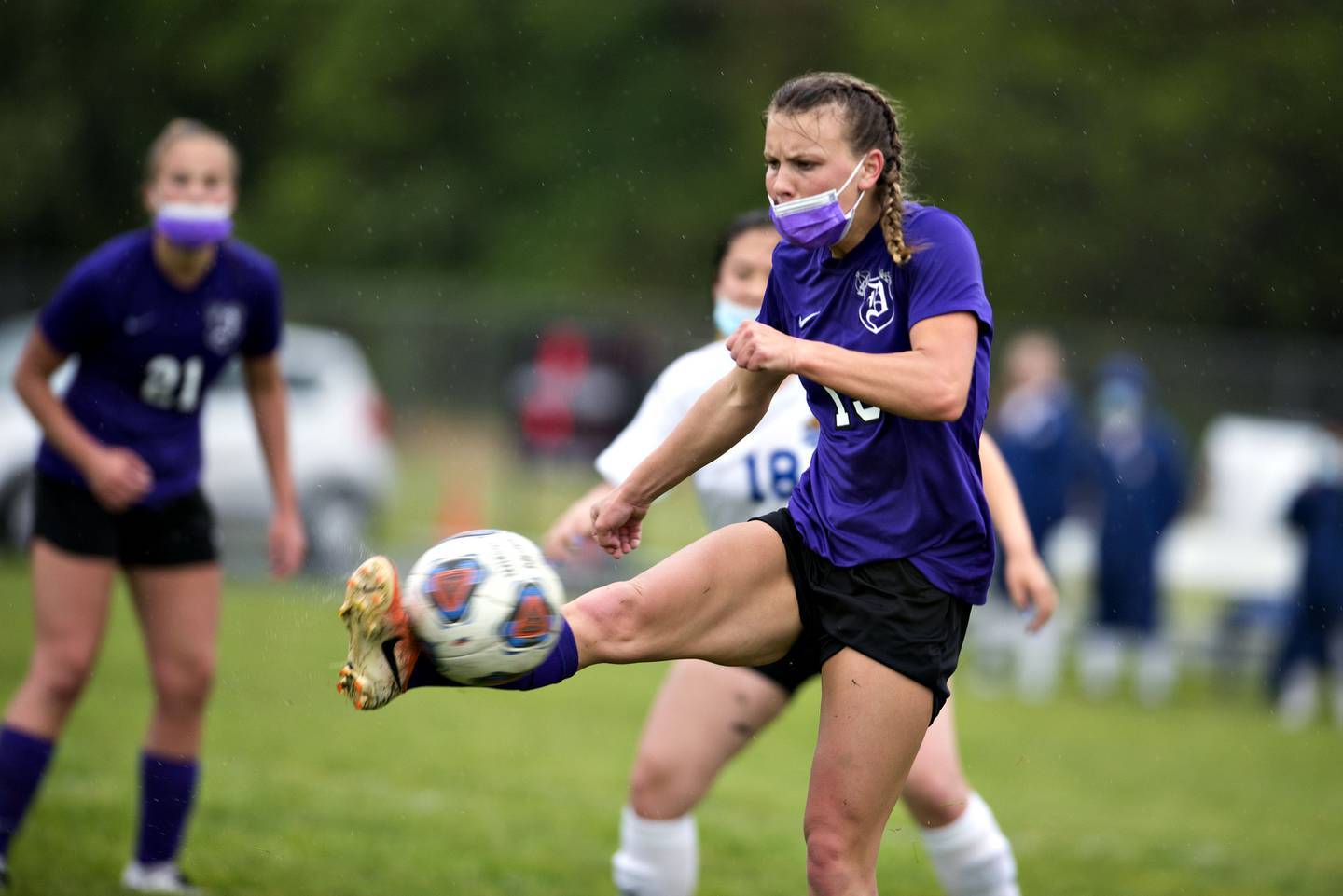 Harrison's prowess earned her All-State honors by the Illinois High School Soccer Coaches Association, and she ranked so highly on that squad that she was named to the All-Midwest Region team, the first time a player from the area has earned a spot on that squad.
"It's definitely a great honor; I didn't even know it was a thing until Mahmoud [Etemadi, the Dixon head coach] started talking about it," Harrison said. "It just means so much to me. I really put in a lot of hard work, and it's good to see it all paid off."
As impressive as both players are on the field, it's their demeanor and attitude that really stands out. Both are team-first players, and are just as excited to see teammates have success as they are to have a great game themselves.
So it's no surprise at all that the thing each is most proud of during their high school careers is leaving a legacy for those coming after them.
For the Duchesses, it was a second regional title in three seasons – they lost 2020 to the pandemic – and yet another Big Northern Conference crown.
"It's a great feeling, and I'm glad we left a mark – not only me, but the rest of the team as well," Harrison said. "We won regionals multiple times, been the conference champs for a while now, and were able to keep things going for the girls who played before us – the girls who were role models to us – and show them that we were able to continue the success they started and pass on the lessons they taught us.
"I'll be happy to look back on these times and think about the games we had and the memories we made. We accomplished so much as a team and on a personal level, and I'm proud of the way things turned out for us. We'll always have that together, and that's just really special."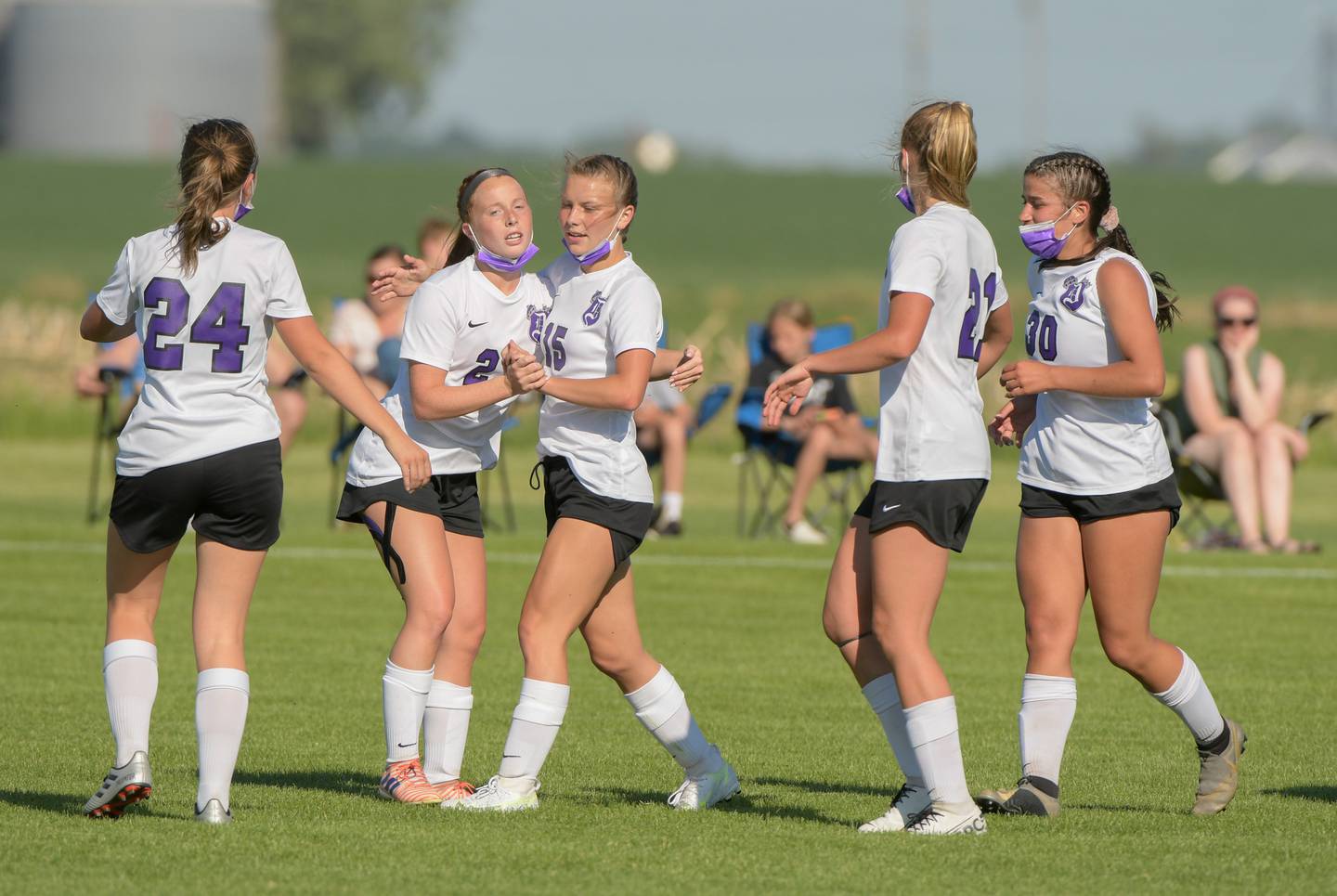 In Sterling, it was about surpassing expectations and proving to the Western Big 6 Conference – and the Golden Warriors themselves – that they could compete and build a winning program. The Warriors' 6-10 season included a four-game winning streak and four shutout victories, finding their footing after a slow start due to some players being in COVID quarantine to open the season.
"It was very exciting to see what we could do once we got all our players back and were able to work with the whole team," Gasso said. "We got our formations set, we got used to playing together, and we really got a run going. It was nice to show that when everybody puts in the work, we are capable of success. It's fun to leave a legacy and make an impact and have people remember you for a while.
"Historically, our program hasn't been a huge powerhouse, but it was nice to confirm that we are capable of playing at a high level and setting the tone for future years."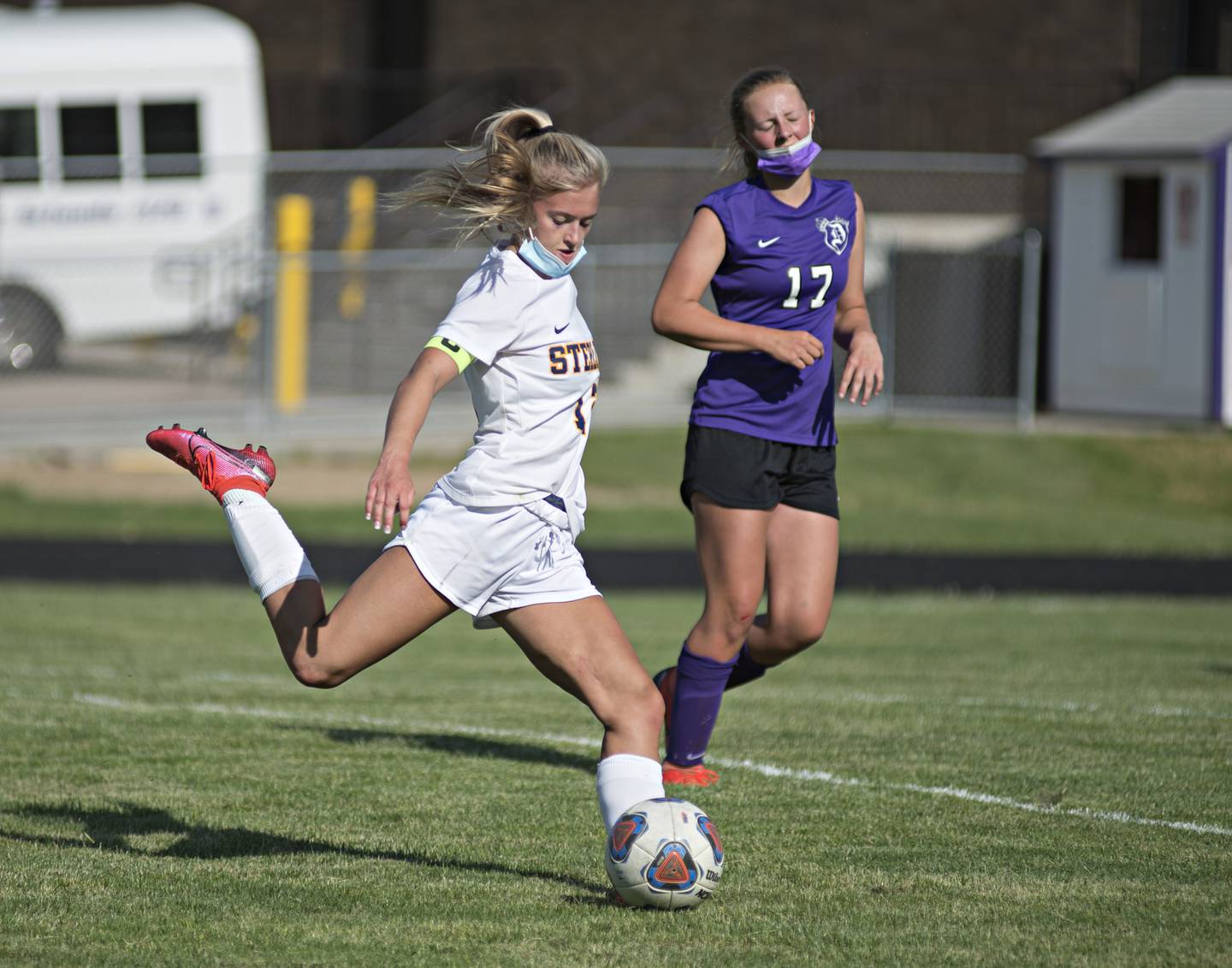 Now, both players are ready to take the next step – and ironically, for a pair of girls who have been intertwined as both club teammates and rivals from high schools just 10 miles apart, they will continue to be in the same soccer sphere: Harrison will play this fall at Loyola University, while Gasso will lace up her cleats for the University of Illinois-Chicago – two Division I schools which are about 11 miles apart.
And that's not all. After starting and ending her season against Harrison this spring, Gasso will start her collegiate career against her friend when Loyola and UIC clash in their first preseason game on Aug. 10.
"Taylor's always my first game," Gasso joked. "But it'll be fun to be close enough so I can see what she's going to do. She's one of those players you know is going to do great things, and I'll be able to say that I used to play with her."
Harrison says she's looking forward to following Gasso's exploits as well, and thinks the two will still be in close contact throughout their time in college.
And also like Gasso, Harrison is excited to attack the next chapter in her soccer career and see what kind of success she can have at the collegiate level.
"Loyola is definitely a very competitive team that seems to do great things every year, and I'm excited to be stepping into a team like that," Harrison said. "For me personally, it's about adapting well to the college environment and stepping up at the college level, earning minutes as a freshman and building form there.
"I'm excited, but nervous at the same time. I'm ready to take on a new challenge, but it's nerve-wracking, too. I'm just excited to see what the next few years have in store."