When Shelby Veltrop first stepped onto the basketball court as a member of the Morrison Fillies, she was more like a deer in the headlights than the future all-time scoring, rebounding and blocks leader in program history.
As a freshman, she wasn't yet 6-foot-3 – and she hadn't yet packed on any muscle to deal with the older, stronger girls she was going up against in the low blocks.
"I'm still pretty skinny, but I was way skinnier, I was awkward and terrified, and I had no confidence in myself whatsoever," Veltrop recalled. "I just knew I had to play, so I kind of just went out there and tried my best. But we lost every game, and it kind of hurt my ego a little bit.
"I would never have imagined that I would come this far, seeing how I was when I was a freshman. The transformation that I've had … it's just been crazy."
She's come a long way indeed. She played in 94 games – and started them all – in her four-year varsity career, never missing a game due to injury or illness. She's a three-time first-team Three Rivers all-conference performer – unanimous each of the last two seasons – and was a second-team pick as a freshman. She averaged a double-double each of the last three seasons, and was named an all-stater by both the Associated Press and the Illinois Basketball Coaches Association each of the last two years.
And oh yeah, she's also atop the Fillies' career leaderboard with 1,394 points, 944 rebounds and 356 blocked shots; she broke Sarah Backus' scoring and rebounding marks less than a week apart in late January and early February.
Veltrop capped her stellar career with her best season yet, leading the area in scoring (19 points per game) and blocked shots (3.8 per game), and finishing second in rebounding (11.3 per game) and tied for fourth in assists (3.2 per game).
But more importantly to her, she and younger sister Camryn led the Fillies to their first 20-win season since 2007, and to the first regional title appearance since the 2015-16 season. The 23 wins this year followed an 18-win season last year, marking the first back-to-back winning seasons for Morrison girls basketball since 2014-15 and 2015-16.
For all the reasons listed above, Shelby Veltrop is the 2022-23 Sauk Valley Media Girls Basketball Player of the Year.
•••
Even before she got into high school, Veltrop caught the eye of Morrison head coach Kerry Grim. While watching Veltrop and her classmates play in a summer league as eighth graders, Grim saw what the future would hold for the Fillies.
"I absolutely 100% knew those kids were what was going to build the program, and I knew it from the time I took the position six years ago," Grim said. "I was watching this group in eight grade out at Westwood playing, and so I kind of knew the kids that I was looking at.
"And the more I got to know Shelby and the more I found out about her from just her first summer season before high school started, I knew she was the total package, the real deal, and just an all-around outstanding student, outstanding person in general, and just has that inner drive and that gut instinct to continually be a student of the game. She's definitely that, and you couldn't ask for more."
Veltrop didn't immediately start off with the varsity team, going through her first summer workouts as a high schooler with the fresh-soph team. But it wasn't long before Grim moved her up.
"Before the season started, I realized that there was no way she was going to get better at the fresh-soph level, and with the personnel I had on my team at the time, it would've been a huge disservice to Shelby and the team in general, and the program, to leave her down," Grim said. "Originally, it would've been nice to leave her with her classmates and let them gel for a year, but watching her skill level and her development just within that first summer, I knew that she was going to start varsity at that point."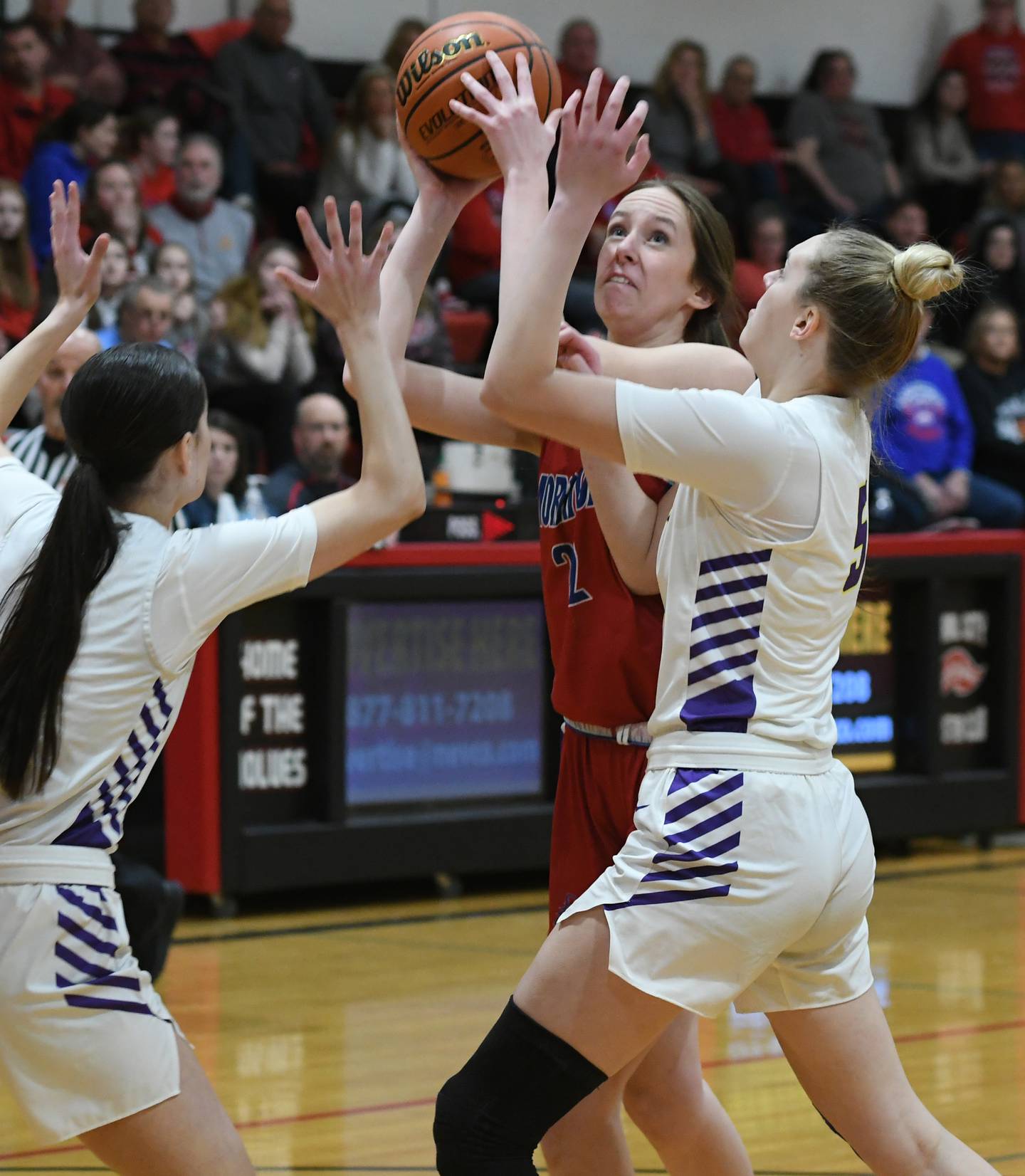 The early days for Veltrop and the Fillies were rough. A team relying on a timid freshman still finding her way struggled to win games, and her sophomore season was even tougher after the COVID pandemic wiped out all but 10 games; Morrison lost them all.
But Veltrop was proving Grim's decision to mover her up to varsity to be the right one. She averaged 10.1 points, 8.7 rebounds and 3.1 blocks per game as a freshman, then 12.2 points, 11.4 rebounds, 5.1 blocks and 2.9 assists in her abbreviated sophomore season.
And while the wins weren't there in 2021, that season did end up setting the foundation for future success.
"We had said all along that I was bringing the sophomores up that season. Shelby was already here, and she and her classmates really were the better athletes out of the group that I had at the time, and we said everything during that COVID year was to work toward our future," Grim said.
It worked. Morrison went 18-6 in 2021-22, with Veltrop averaging 16 points, 10 rebounds, four assists and 3.6 blocks per game. A tough loss to Eastland in a 1A regional semifinal to end her junior year motivated the Fillies even more, and they finished 23-9 this season and made it to the regional finals, where they lost to a tough Orangeville team.
•••
When asked about her goals, it's pretty telling that Shelby Veltrop's answer is all about the team.
Her goal wasn't to be the all-time leading scorer, or to average a certain number of rebounds, or block a certain number of shots. It was to see the hard work she and her teammates had been putting in the previous two seasons turn into victories.
Joined by freshman sister Camryn last season, the Fillies saw the turnaround they had been looking for.
"Sophomore to junior year, the goal was definitely to just win some games, because we did not win much at all. So at first, my goal was to win," Shelby Veltrop said. "Then junior year, when we started winning more, it was so exciting. We had kind of a heartbreaking loss to the season last year; we got upset in the regional. Last year, Camryn and I both had pretty good achievements, but it was more important for me to win. So after last season, we had the goal set in mind that we could even win more."
Led by the Veltrop twin towers, Morrison picked up right where it left off in 2022, starting this season strong and tying for second-most wins in a season in program history – and the postseason accolades came rolling in.
"We really wanted a regional championship, but didn't quite make it – but we're still proud of how we did as a team, and then it's also exciting when the season's over to see the awards coming in for both Camryn and I, and we even had another girl on our team, Diana Robbins, get honorable mention all-conference; that was exciting too," Veltrop said. "You don't really want to say, 'Oh, my goal is to get first-team all-conference and make the Sauk Valley All-Area Team or whatever, but that's exciting to see when it happens, because you work really hard to be a better player and it's a nice reward at the end."
The fact that Veltrop was more focused on team-oriented goals than individual honors was no surprise to anyone around her. In fact, Grim would've been shocked if the first words out of Veltrop's mouth when asked about her goals hadn't been about winning games.
"She's 100% a team player. She's definitely that kid who her biggest goal is winning games," Grim said. "She hates to lose; the reason why she plays basketball is to win games, and she doesn't play for personal accolades at all – although she definitely deserves the ones that she gets."
With that attitude, it's easy to see why the individual scoring, rebounding and blocks records weren't front and center in Veltrop's mind. In fact, she really had no idea what those records were, or that she was even close to breaking them.
And now, even when she's the one atop those career lists, it's still not something she thinks about too much.
"No, it was never on my mind, I didn't even know I was close to 1,000 points this year, at all. I didn't know the record, either," Veltrop said. "Once we knew I was getting closer, my dad started looking up the numbers and said, 'Oh, you're going to be the all-time leading scorer soon.' I never knew that I was close – and I didn't really care about it that much, either, as I was coming up on it. It's cool when you get it, but you don't really worry about it before it happens – and I bet Camryn will break them. I would be happy for her; I wouldn't care if she broke them."
•••
Even with all the growth as a player and a team, Veltrop's biggest joy of the last two seasons has been the chance to play basketball with her younger sister.
Entering Shelby's junior season, there was little doubt that Camryn would join her on varsity. But Shelby still relished the chance to help Camryn adjust to the level of play, something she herself went through two seasons earlier.
And to be honest, she was also happy to have another post player for opposing defenses to focus on.
"It was so helpful to get Camryn with us; she helps a lot with taking the pressure off of me sometimes," Veltrop said. "I'm going to miss playing with my sister a lot. When I think about high school basketball, one of my favorite parts was playing with her. We're best friends – we fight a lot, too – but we're only two years apart, so we're super close on and off the court. I feel like I could push her a little bit, and she could push me too sometimes. She would get kind of mad at me sometimes and wouldn't really want to listen to what I say, but I'd tell her, 'Camryn, I'm older than you, so you just have to listen a little bit.'
"But that's probably what I'm most thankful for, besides having Miss Grim for four years, is getting two years to play with my sister; I also had my dad on the bench as the JV coach, so that was pretty exciting, too. I'm so thankful that we had two years together, just very grateful for that."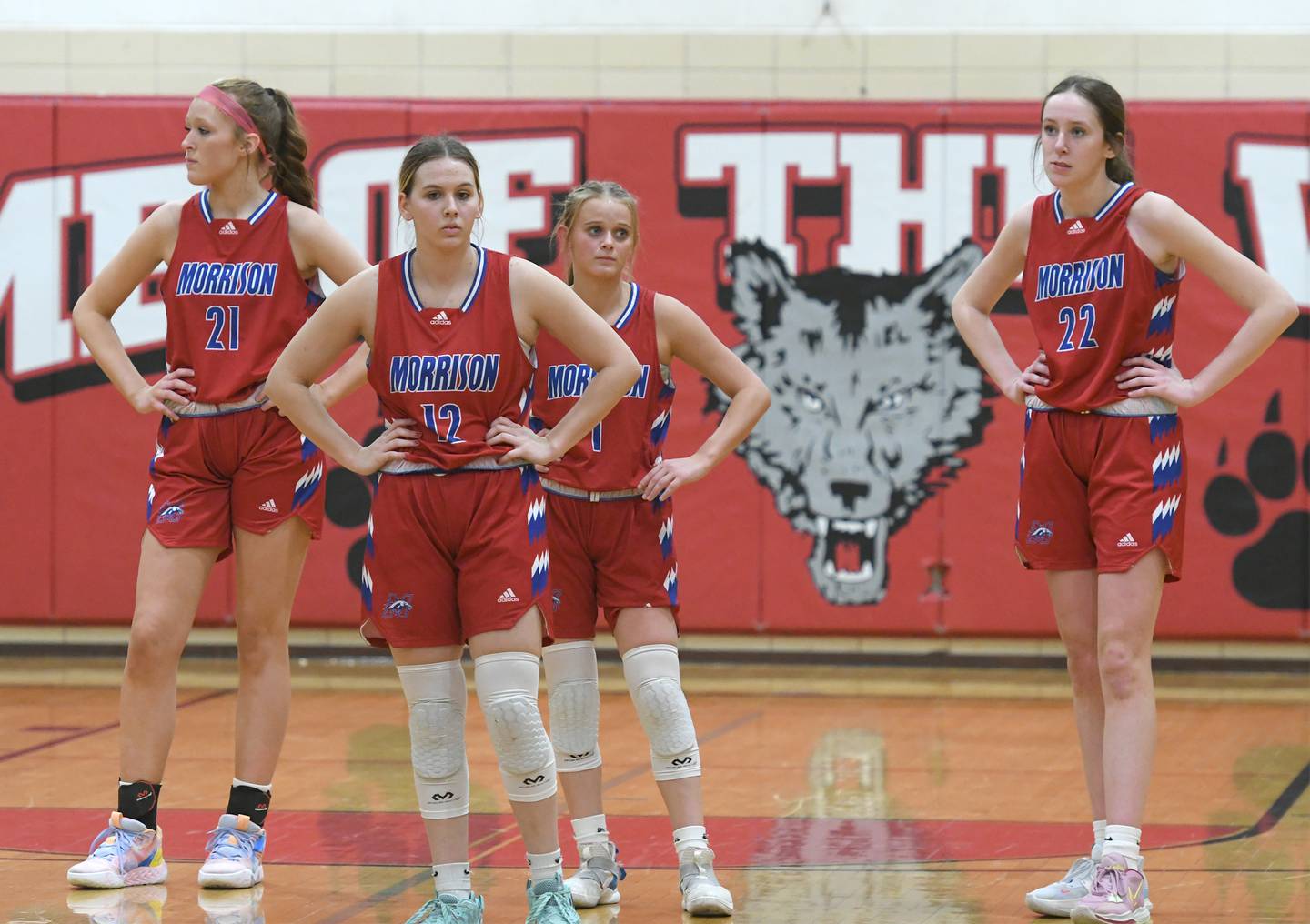 Their father, Todd, was a standout at Rock Falls, and their mother, Kelly (née Venema), was a post player at Morrison. Both girls have already passed or will pass Kelly on the Fillies' all-time career lists for rebounds and blocked shots.
Having that pedigree is certainly a plus, but Grim believes it's the pairing of those genes with her mindset and work ethic that has made Shelby Veltrop the best to ever wear the Morrison uniform.
"I think probably Shelby has the biggest inner motor and self drive and passion for the game of basketball. She eats, drinks and sleeps basketball; it means a lot to her, and to have that kind of passion for the game – and she does get out and push other people to be better. She just makes everybody around her a better ballplayer," Grim said. "She has the work ethic like no other player I've coached before; I don't think a lot of people understand or see all the extra effort and work and offseason work that she puts in. She will work on anything you tell her to, and she just has that drive to continue to get better all the time. Once she gets to a certain point in what she wants to do, she never settles for that; she's always trying to get better, always trying to improve her game, always trying to learn more about the game."
•••
The approach Veltrop has taken to improve herself and help her team get better will be beneficial as she gets ready to play at the next level. She is one of several area seniors who will play at Sauk Valley Community College next season, and she's already looking forward to it.
"I'm ready to be done with high school, so I'm really excited to go to Sauk and play. I think it'll be a new atmosphere, a new challenge, and be a lot of fun," Veltrop said. "High school basketball is so fun, but I'm excited to play in college, too. And to play with other people who work really hard and love basketball – not that people don't work hard here but college is totally different, and it's only the best high schoolers at the next level."
Before that, Veltrop will take a breath and look back at a high school career filled with cherished memories and fun times on the court. For a player who breathes basketball, she admits that it's tough to take for the first few days after the season ends – and it's even tougher as a senior. But she also enjoys the perspective that comes with the closing of a chapter in her basketball journey.
"You take it for granted while you're in it, when you kind of get stressed a little bit and wrapped up in the business of the season, looking forward to the next game and preparing for it in practice everyday," she said. "When I looked back once the season was over, the day after you're so sad; you just go home and you have nothing to do. It's honestly depressing, kind of, for me, going to school without having basketball to play. You're working the whole season and then it's just over, like that, so that's really sad. But I'm still able to look back and know that we had a good season, and I had fun, and I had a good senior season, so I'm happy with how it went."
Grim is maybe even happier than Veltrop. Being able to watch her transform from that timid freshman into the senior leader she has become both on and off the court has been something Grim has enjoyed immensely.
"To see her develop from where she was her freshman year, just strength-wise and getting stronger and developing her all-around game, has been fun to watch. From only being able to play underneath to now shooting 3-point shots, she really has developed her game all-around," Grim said. "And she definitely is that total team package. She's a great leader, she leads by example, she makes everybody around her step their game up because she has that love and that passion, and it just makes everybody around her better. That has been an immense blessing ever since she's come up to play varsity as a freshman, really. You really couldn't ask for more as far as being a leader, and she's just a super good kid in general."