STERLING – The Newman Comets trailed the Riverdale Rams by seven points halfway through Thursday evening's game in Sterling.
With a halftime adjustment to their defense and better handling of Riverdale's ball pressure, they flipped the script in the second half, winning the scoring margin by 10 points and taking a 43-40 Three Rivers crossover victory on their home court.
[ Photos of Newman vs. Riverdale girls basketball ]
The Comets (7-20) trailed the Rams 34-30 at the start of the fourth quarter, but after a layup by Riverdale's Carrieanne Hungate, they went on a 7-0 run and took the lead for good.
"We wanted to win," Newman junior guard Madison Duhon said. "We were in this game the whole time, so I think when we saw the fourth-quarter score, we were like, 'We got it.' And we ran with it."
With 7:02 to play in the final quarter, Hungate answered a Duhon layup in the first 40 seconds with one of her own, pushing the Riverdale lead to 36-32. But Newman scored seven straight points over the next 2:19 to take the control of the game.
A Jess Johns putback made it a two-point game with 5:39 to go, then Lucy Oetting bounced in a left-wing 3 for a 37-36 Newman lead. A second Johns putback stretched it a 39-36 with 4:43 to go, before Hungate hit two free throws to make it a one-point game just past the four-minute mark.
With a short-range shot about 30 seconds later, Johns pushed the lead back to 41-38. With 2:39 to go, Oetting stole an errant Riverdale pass and scored on the fast break for a 43-38 lead. From there, the Comets just needed to lock down on defense, and that's exactly what they did.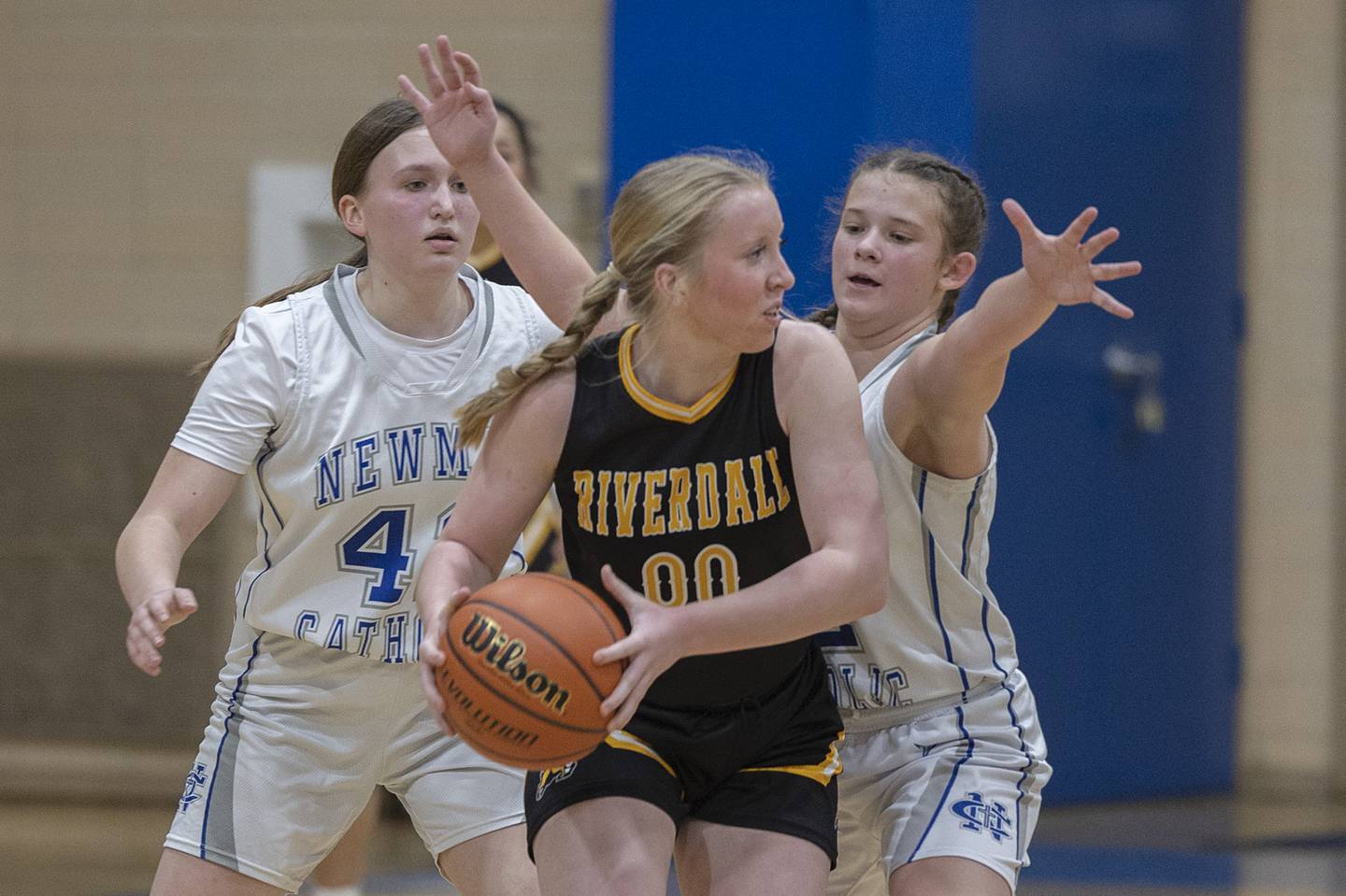 Hungate snagged an offensive rebound over the heads of two Newman players and put it back in to make it a 43-40 game with about 20 seconds left. Although the Comets came up empty on their next possession, Pyper TerBush stole an errant pass to the post in the last three seconds, sealing the win.
"They were taking a lot of outside shots, which they didn't really seem to be hitting," Johns said about how Newman won the fourth quarter. "We got a lot of their rebounds, and we just tried to slow it down and wait for open shots instead of just trying to chuck it up there."
The Comets and Rams (5-20) traded baskets up to a 6-6 tie in the first quarter, before RyaLynn Grant got a steal and coast-to-coast layup to put Riverdale ahead 8-6. Oetting hit the first of two free throws with just under a minute left, and the first quarter concluded with the Rams up by one point.
Through the first 3:44 of the second quarter, the teams traded baskets to a 13-13 tie. A Hungate left-wing 3 gave Riverdale a 16-13 lead with 4:53 to play, then Kayleigh Hartson nabbed a steal and scored a fast-break layup 16 seconds later, and Hungate hit a short-range jumper off a Mya Dalaska inbounds pass for a 20-13 advantage with 4:03 remaining.
The Rams led 24-17 at halftime.
"I think we got tired. We were playing a 1-3-1, and it's tiring," Duhon said of the second-quarter struggles. "We don't have a big enough bench to constantly sub girls in and out, so we're all gonna be tired no matter what. But we pushed through it really well."
"We started out in a new defense, and that defense is pretty tiring. We've never really ran it for more than two or three minutes in practice," Johns added. "I think it started out pretty good, it kept the lead pretty short for them, but then as time went on, we got more tired and that left more shots open."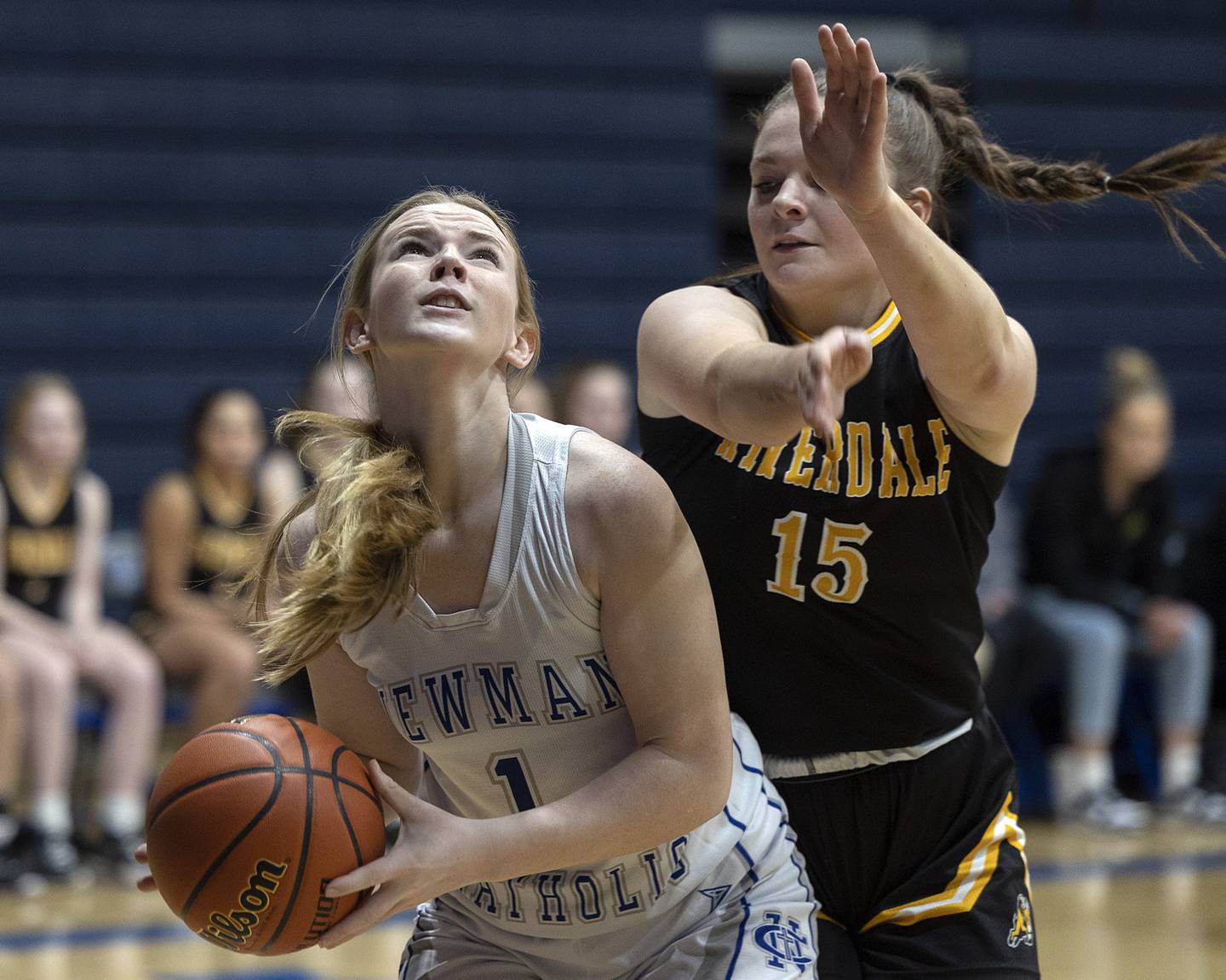 Crystal Craigmiles hit a pair of free throws and Hartson buried a left-wing 3 around a Johns putback for a 29-19 Riverdale lead in the first 1:25 of the third quarter, but Newman found its counterpunch shortly after. A Duhon mid-range jumper followed by an Oetting strip-steal and fast-break assist to Duhon cut the deficit to 29-25 with just over four minutes left.
TerBush banked in a short-range jumper off a Helen Papoccia kick-out pass in the last three seconds, and Newman's deficit was down to 34-30 at the end of the third.
"We just kept going. We had that hustle in us," Oetting said. "At halftime, we got chewed out, and it motivated us."
With the switch from 1-3-1 to 2-3 zone in the second half, Oetting said she was able to conserve more energy – and that allowed her to play with more aggressiveness on the defense end.
The freshman guard nabbed five steals in the second half, and sparked at least three fast-breaks to shift the momentum in Newman's favor. Her final steal and fast-break layup pushed the lead to five points in the last three minutes.
"I think that kind of changed the pace of the game, because if she didn't have those fast breaks and those layups, then we would've been down by however much," Johns said. "I think that kind of sped up the game. I think that's what we needed, was to beat them down the floor and get those fast breaks."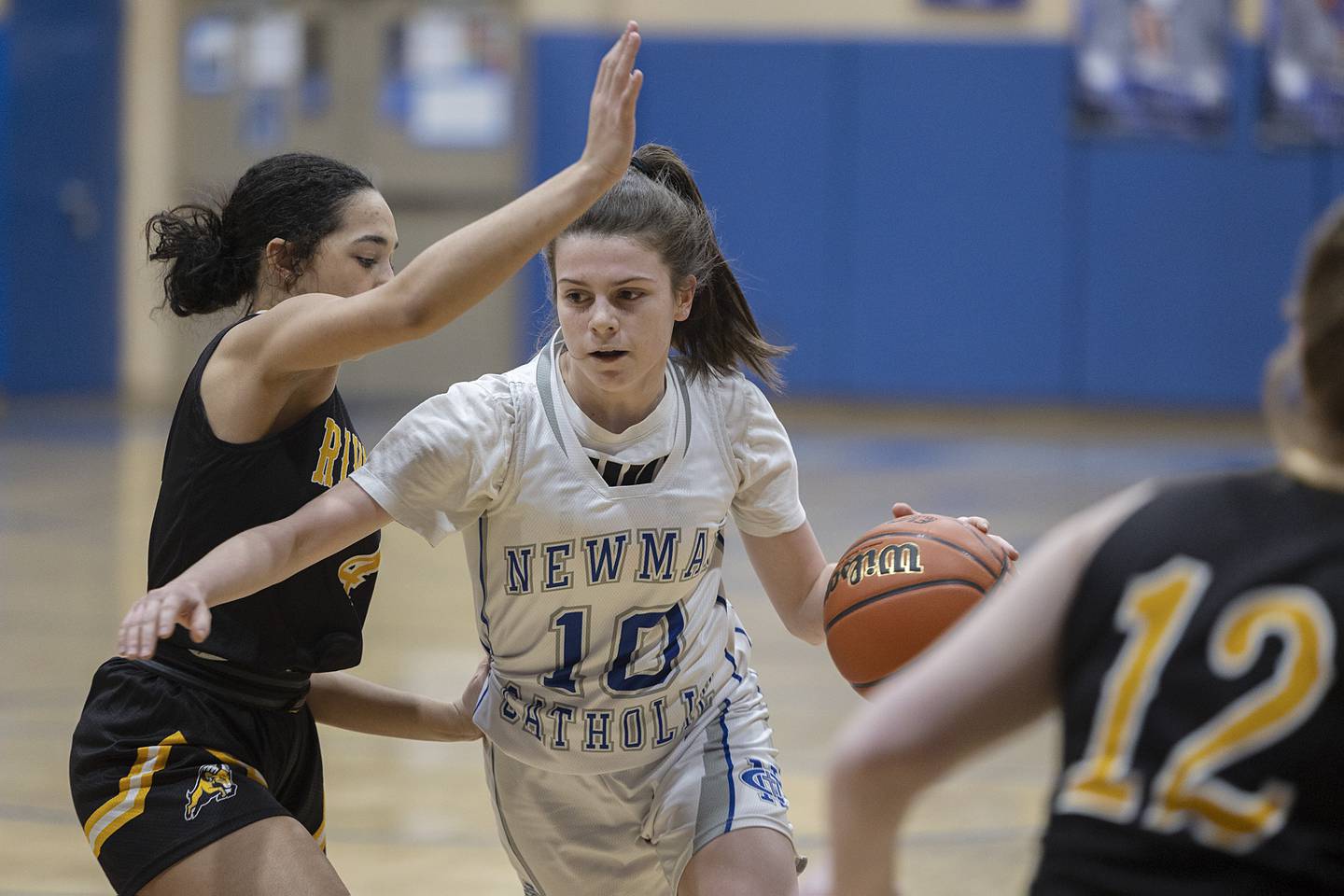 Johns led the Comets with 15 points, 14 rebounds, an assist, a steal and a block. Oetting had 12 points, eight steals, five rebounds and three assists. Duhon totaled 10 points, two rebounds and two assists.
Hungate paced the Rams with 16 points, seven rebounds and three steals, while Grant added eight points and two steals.
"We moved the ball pretty well and got good shots [in the first half]. Played pretty good defense as well," Riverdale coach Jay Hatch said. "We didn't do those things we were doing in the first half [in the second half], and they made their shots when they were open, which they didn't always do in the first half. That added up to us not coming out on the right side of the scoreboard."