STERLING – Despite a large margin of victory in their first game this season, the Bureau Valley Storm knew that Newman wasn't going to be a pushover on its home court in their Three Rivers East rematch Monday night.
The Comets gave BV all it could handle, leading much of the game, but the Storm found a way to pull out a 43-41 victory in Sterling.
[ Photos from Newman vs. Bureau Valley girls basketball ]
Bureau Valley (10-14, 6-2 TRAC East) had a few players step up and make plays in key situations, as Lynzie Cady, Taylor Neuhalfen, Kate Salisbury and Kate Stoller all scored in the fourth quarter to keep the game close until the end.
"Before the game, we talked about how they've improved a lot since the last time we played them, and we just couldn't go in thinking we had the game won already," Salisbury said. "At the end of the game, we told each other to stay calm and collected, and just play smart, and it's nice to know that someone can just step in and help us make plays."
Cady's basket off a Neuhalfen assist tied the score with 5:36 to go, then Neuhalfen scored 27 seconds later to give the Storm a 37-36 lead with 5:09 to play.
Salisbury then scored off a Cady assist for a 39-37 lead with 4:41 to go, before Newman's Helen Papoccia hit two free throws to tie the game a minute later. Salisbury's free throw with 2:36 left made it 40-39 BV, but the Madison Duhon hit two free throws with 1:44 remaining for a 41-40 Newman lead.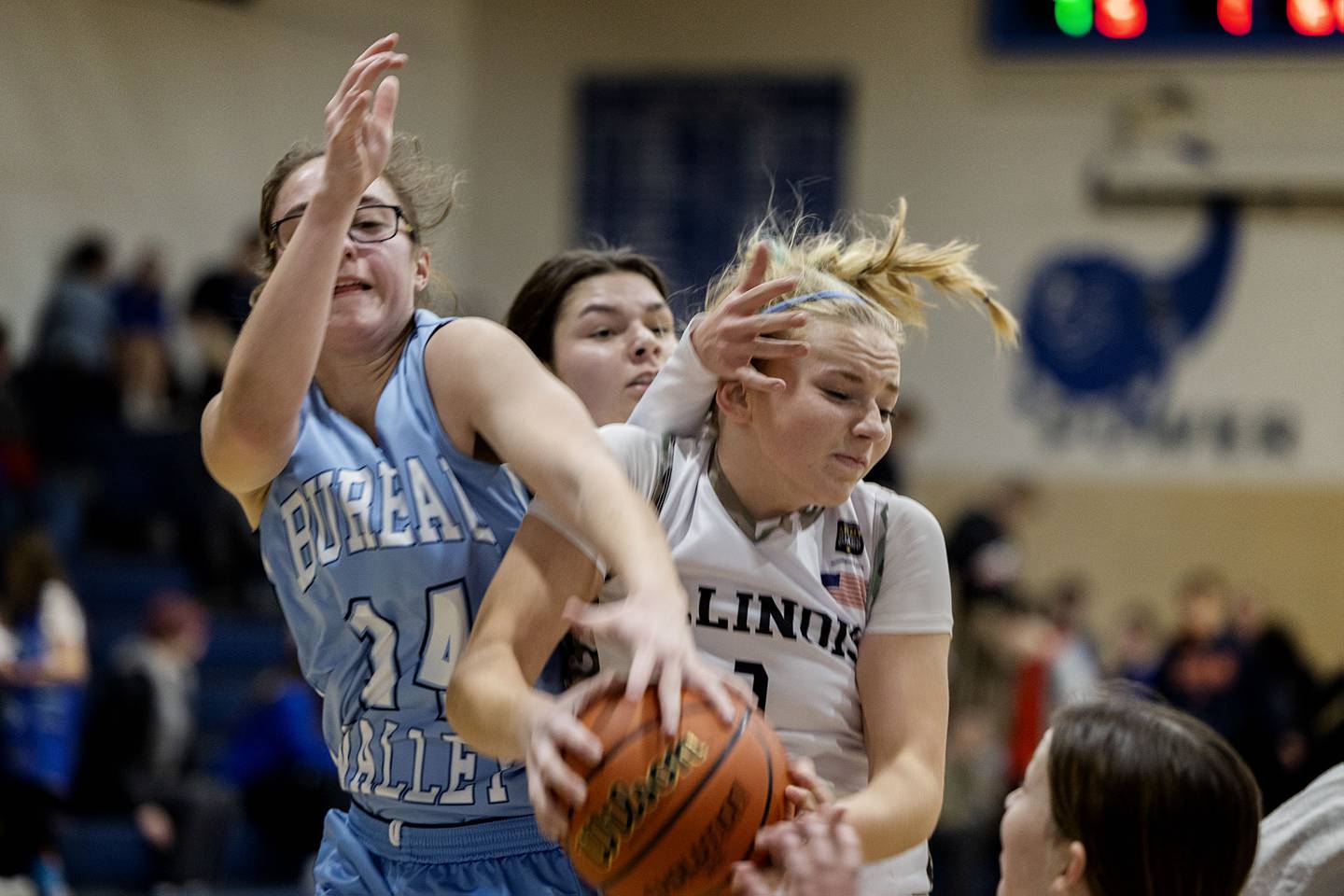 The Comets (6-18, 3-5) scored only one basket in the fourth quarter – a 3-pointer by Lucy Oetting less than two minutes in for a 35-33 lead. Everything else came at the free-throw line.
"I think our effort was there, but I think we didn't execute our plays very well; it was a lot of just kind of running around and trying to find the open person – which sometimes that works, but not tonight," Newman's Jess Johns said.
The thing that was working for Newman was their defense and rebounding. The Comets played a 2-3 zone for much of the night, and it affected BV's rhythm on offense. Newman also grabbed 12 offensive rebounds and snagged 23 defensive boards, and got eight second-chance points to BV's 1.
"We are scrappy, and we like to dive for everything when it's on the ground. We go hard at every ball, try to make those hustle plays," Lucy Oetting said. "Our defense was really good, and we got a lot of steals. And our post player, Jess Johns, did a really good job on their big girl."
But in the end, it was the Storm defense coming up big. A steal by Cady with about a minute to go gave Bureau Valley a chance to take the lead, and Stoller hit a pair of free throws with 50.4 seconds left to do just that.
Then the Storm held Newman to another empty possession, and Salisbury hit the front end of a 1-and-1 for a two-point lead with 9.4 seconds remaining. The Comets didn't get a good look in their final trip down the court.
"One of our best things is our token defense, and we practice it all the time. At the end of games, we can put that token defense on and make them make mistakes, get some steals for us and score some key points," Stoller said.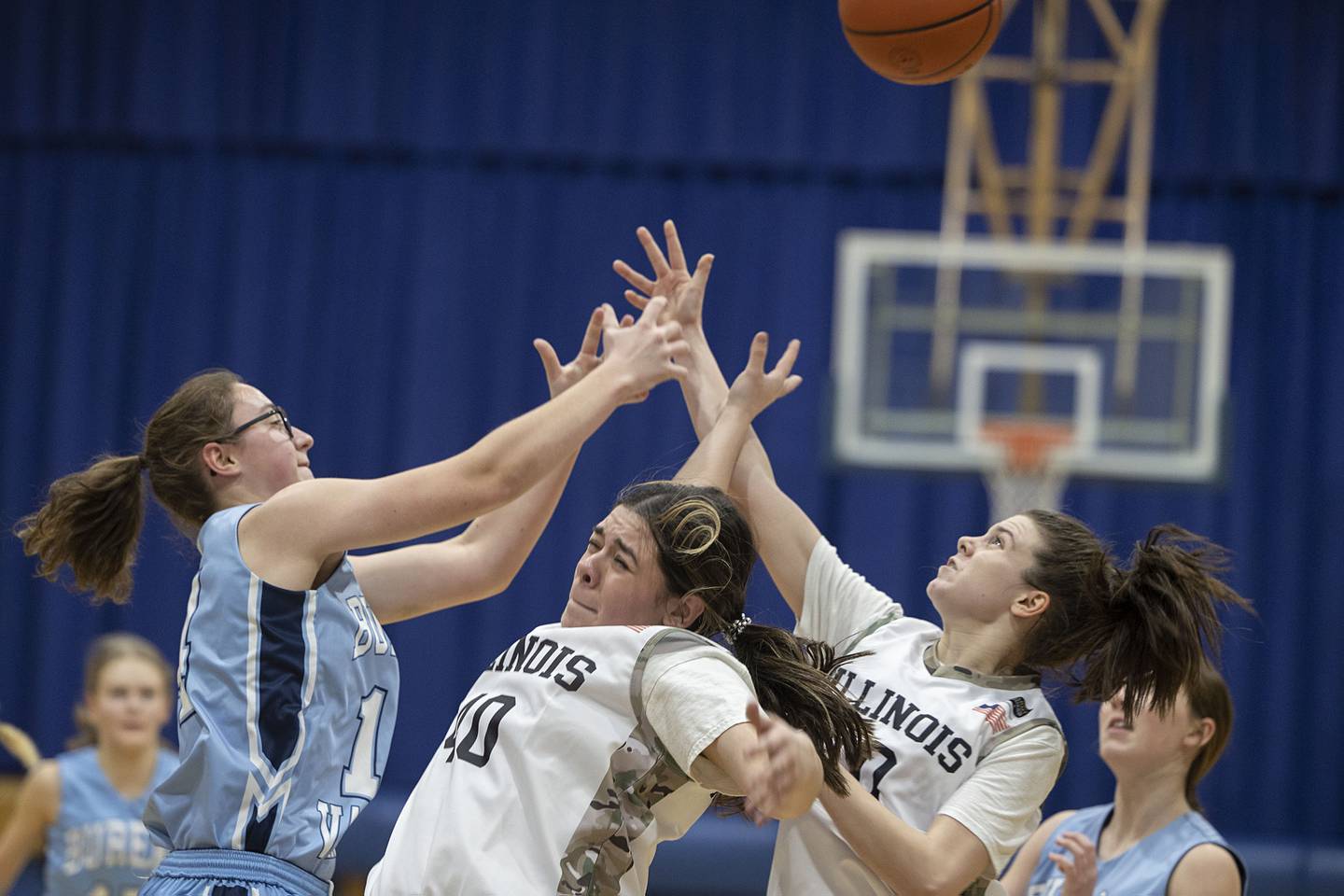 Early on, Newman jumped out to a 9-4 lead on back-to-back baskets by Johns inside, off post feeds from Papoccia and Oetting. But a three-point play late in the first quarter by Stoller got BV going, and the teams traded baskets for much of the next two quarters.
Newman led 20-17 at halftime, but the Storm got back-to-back baskets from Neuhalfen early in the third to tie the game 23-23, then Salisbury knocked down a 3 and Alaina Wasilewski converted a three-point play for a 30-27 lead with 2:48 left in the third.
"We were able to finally find some cuts that were working. We changed our offense to a 5-out instead of a 1-3-1, and from there we just kind of made our cuts and found our open spots, and then hit our cutters as they made it through," Stoller said about the surges. "A lot of times, once one person gets up we all get up, and we just kind of keep it rolling for a while. As soon as one person gets down, we go right back and we pick them up, and then we just keep going on the game."
Oetting hit a runner in the lane for the Comets, then after free throws by Salisbury and Ryley Egan stretched the BV lead back to three, Duhon lobbed a pass over the top to Johns on the low block, who pump-faked and then scored with 16 seconds left to make it a 33-32 BV lead heading into the fourth.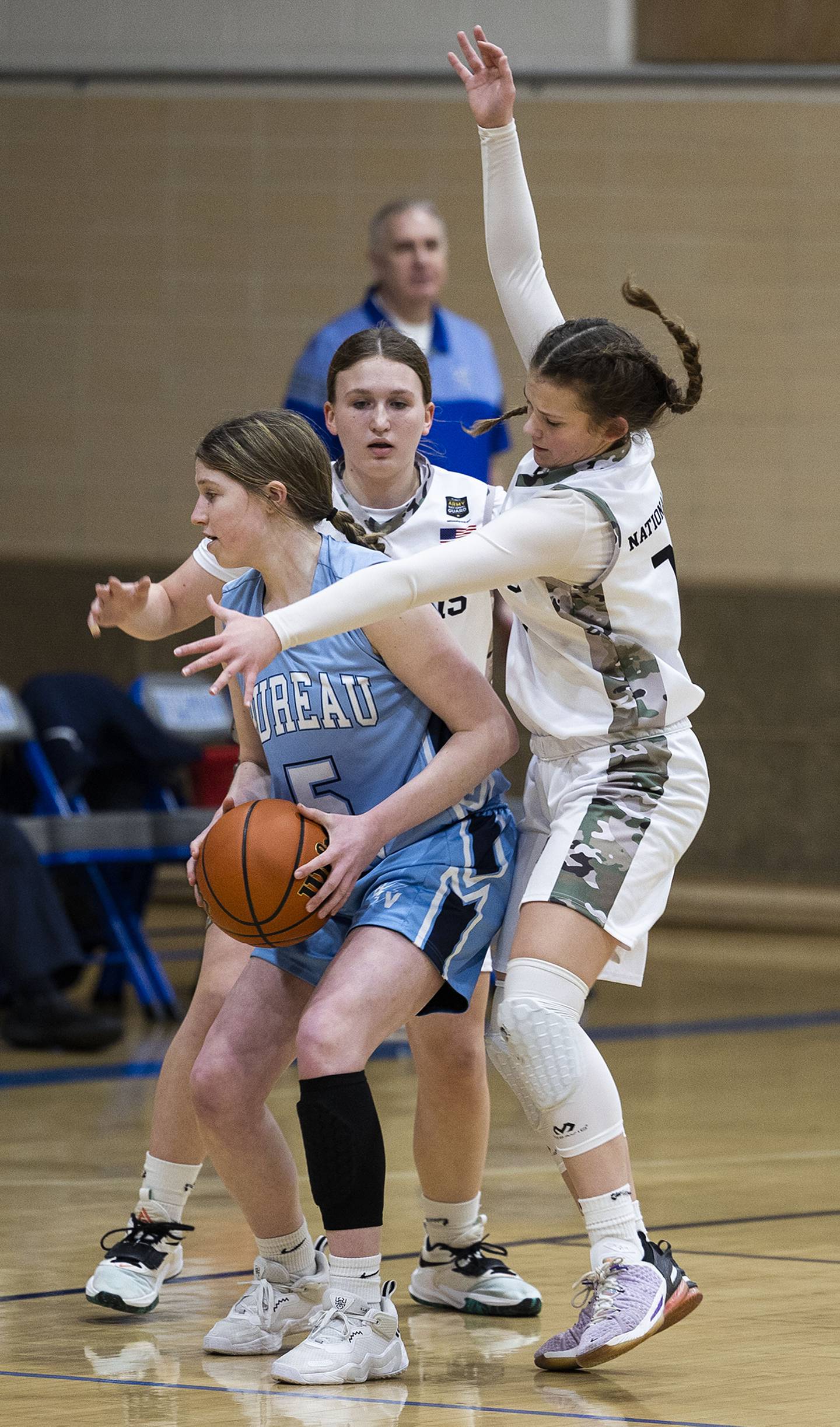 Salisbury and Stoller both finished with 12 points and five rebounds for the Storm; Stoller nabbed four steals, and Salisbury dished two assists. Neuhalfen added nine points and three rebounds, Wasilewski had five points and three rebounds, and Cady chipped in two points, eight rebounds and four steals. Lesleigh Maynard added two points and two assists for BV.
Johns led all players with 18 points and 16 rebounds, and Papoccia, Oetting and Duhon scored six points each for Newman. Duhon added five rebounds and five assists, Oetting nabbed six steals, and Papoccia pulled down three rebounds and dished a pair of assists. Lauryn Francque chipped in five points and five rebounds for the Comets
Missed layups and free throws hurt Newman all night, and Johns pointed to herself as one of the culprits. But she also said that being so close after all those missed opportunities is a boost for a young, shorthanded Comets team which tends to look on the positive side of things more often than not.
"We had a lot of missed free throws and layups – myself included – and if we were to make those easy shots and take those easy points, I think we would've won this game by a lot," Johns said. "I think that also kind of adds to it that as much as it sucks to lose, it's kind of in our heads that we could've won this game.
"At the beginning of the year, we lost by 18 to them, and this is also kind of a mark to see how far we've come. That also helps our confidence, because we know we're building toward something and seeing our hard work pay off."