ROCK FALLS – Local rivals both looking for their first win of the season faced off at Tabor Gym on Thursday night, and Rock Falls jumped out to a double-digit lead and never looked back to beat Newman 54-19 in a Geneseo Thanksgiving Tournament game.
The Rockets (1-2) scored the game's first 14 points, led 24-8 by halftime, then opened the third quarter with a 13-1 run to take a 37-9 lead with 1:25 left in the period.
Rock Falls' pressure defense was too much for the Comets (0-3), who committed 29 turnovers. The Rockets had 20 steals, and took 55 shots compared to 33 for Newman.
[ Photos from Rock Falls vs. Newman girls basketball ]
Balance was the buzzword for Rock Falls. Five players scored at least eight points and grabbed at least six rebounds, and six players had at least two assists.
"I think that shows our communication. We went in the locker room and talked about some things, and realized that we needed to work better as a team in order to score, and I think that's what we did," senior point guard Brooke Howard said. "We talked, we screened for each other, we passed well, and we were there on the help-side defense. That's big for us when we can have that balance."
Claire Bickett had 11 points, seven rebounds and three assists, and Howard stuffed the stat sheet with 10 points, seven steals, six rebounds and three assists. Emily Lego finished with eight points, 10 rebounds, five blocks and two assists, Taylor Reyna added eight points, nine rebounds, three assists and two steals, and Katie Thatcher chipped in eight points, six rebounds and two assists off the bench.
Starter Jacee Sigel hit a 3-pointer, nabbed seven steals and dished three assists for the Rockets, who had 17 assists on 22 baskets, and nearly as many offensive rebounds (24) as defensive (25).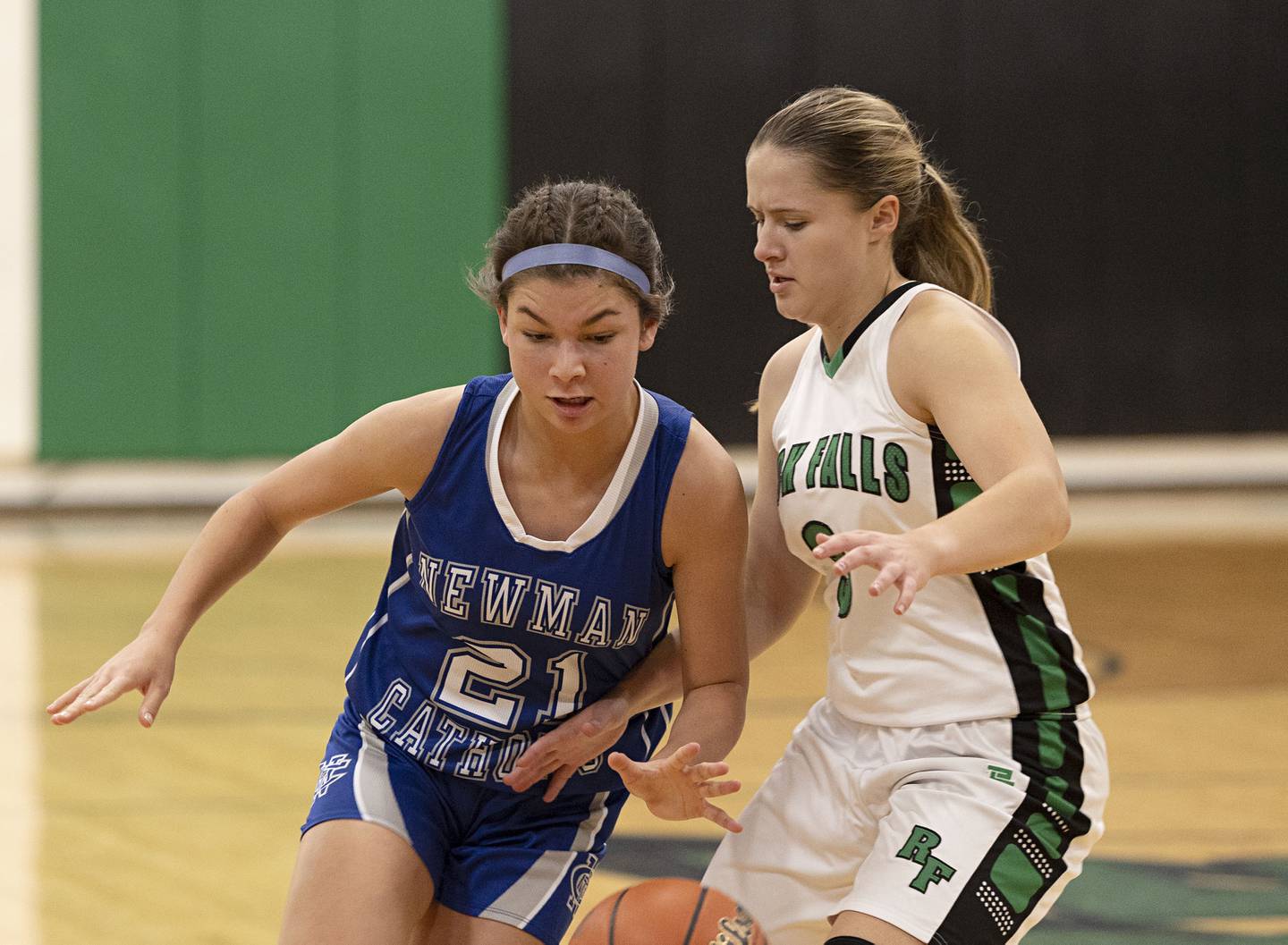 Howard, Thatcher and Sigel hit 3s in the opening 14-0 run, then Howard went coast-to-coast off a steal after Newman broke the ice with a Jess Johns 3 for a 16-3 Rock Falls edge in the game's first 7:04.
But things slowed down in the second quarter, as the teams went 4:29 without a field goal after a Bickett up-and-under move was answered by Madison Duhon's 3 to get Newman within 18-6 just 36 seconds into the period. Lego's post-to-post pass to Bickett broke that cold stretch, then Howard hit Thatcher for a bucket to answer a pull-up jumper on the baseline by Newman's Pyper Terbush to give Rock Falls the 16-point margin at the break.
"The production and the numbers, that's exactly what we're looking for," Rock Falls coach Daniel Herrera said. "It took a while, and the effort in terms of getting to that point, I don't think we're too pleased with. We practice so much harder, and as coaches we expect that to happen a little bit quicker sometimes.
"I realize this is only game No. 3 for us, and it was a nice effort by the girls and I'm proud of the way they competed and played. I just wish it didn't take quite so long to get going, though."
The only scoring in the first 4:35 of the third quarter was a Lego basket inside off a Howard post feed, but a putback by 5-foot-2 Elizabeth Lombardo witjh 3:25 left in the period seemed to spark the Rockets. Reyna snagged a loose ball and scored inside, then Thatcher threw a pretty pass up the court on a runout that Howard turned into a three-point play for a 33-8 lead. Howard then fed Reyna for another basket, and Reyna found Thatcher on a pretty baseline cut for a 28-point lead late in the third.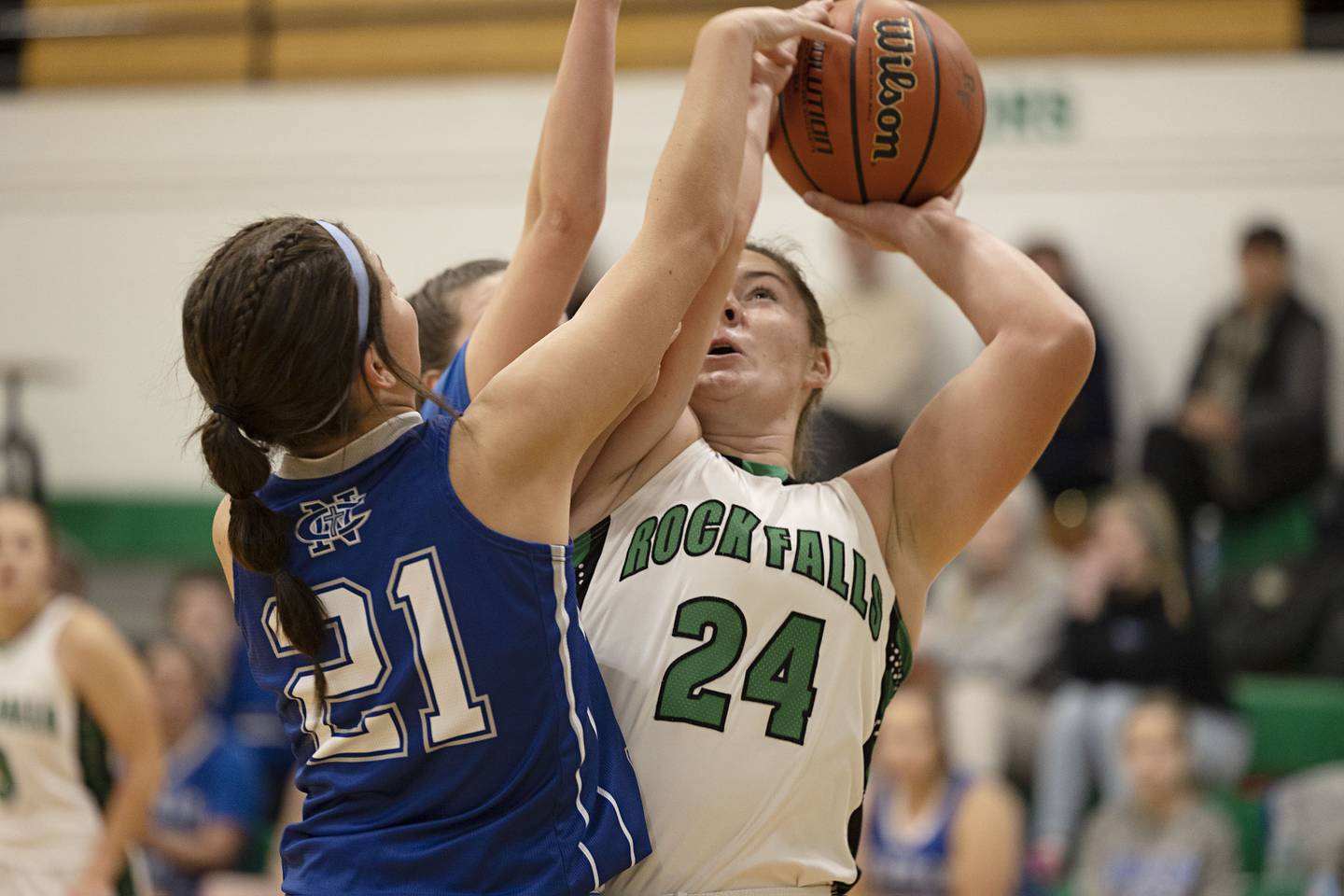 Newman was held to one field goal and three free throws in the quarter, and committed eight turnovers as Rock Falls ratcheted up the defense.
"Holding them off the boards and forcing them into tough shots is key," Howard said. "If we can get them to dribble a lot, the more they'll make errors, and when we get up on them with our press, it causes a lot of pressure and we can make things happen."
Duhon's layup off a steal under the basket to open the fourth period was the Comets' final field goal, and Rock Falls closed the game with an 11-0 run over the final 5:47. Bickett scored twice inside in the finishing surge, and had a pretty drive-and-dish assist on a Lego layup. Lombardo fed Kacie Witherow for a basket, then got a hockey assist on Reyna's feed down low to Alma Cid for the Rockets' final two baskets.
Johns led the Comets with seven points and six steals, and also grabbed three rebounds. Duhon had five points, six rebounds and two steals, and Lucy Oetting finished with three points, three rebounds and two steals.
Newman shot 5-for-33 for the game compared to Rock Falls' 22-for-55, and both teams struggled a bit at the free-throw line; the Rockets were 7-for-21, and the Comets shot 7-for-16.
"We kind of had a lid over the bucket for the first three quarters, and if some of those would've dropped, it would've been a different game," Newman coach Kevin Malley said. "I really was proud of their effort on defense; they played great defense with a height differential. Our JV walked away with a win, then some of them had to come play another game, and they still played hard all night long. So there are definitely some positives to take away from this game."