OTTAWA – When two evenly matched teams meet, there is a very good chance the game is going to go down to the wire – maybe even extra time – and the squad that makes the most plays is going to come out on top.
That was the case during Wednesday night's girls basketball game at Kingman Gym, as both the Dixon Duchesses and Ottawa Pirates came into the matchup undefeated.
The two battled to a 41-all deadlock through regulation – with Ottawa's potential game-winning shot bouncing off the rim at buzzer – before Dixon outscored the Pirates 10-5 in overtime to claim an exciting 51-46 victory.
The teams were knotted 43-43 with just over two minutes remaining in the extra four-minute period when the Duchesses' Harvest Day scored on a drive down the lane. Rylee Pfoutz followed with a 3-pointer from the left wing that banked in, and Sam Tourtillott swished a pair of free throws to make it 50-43.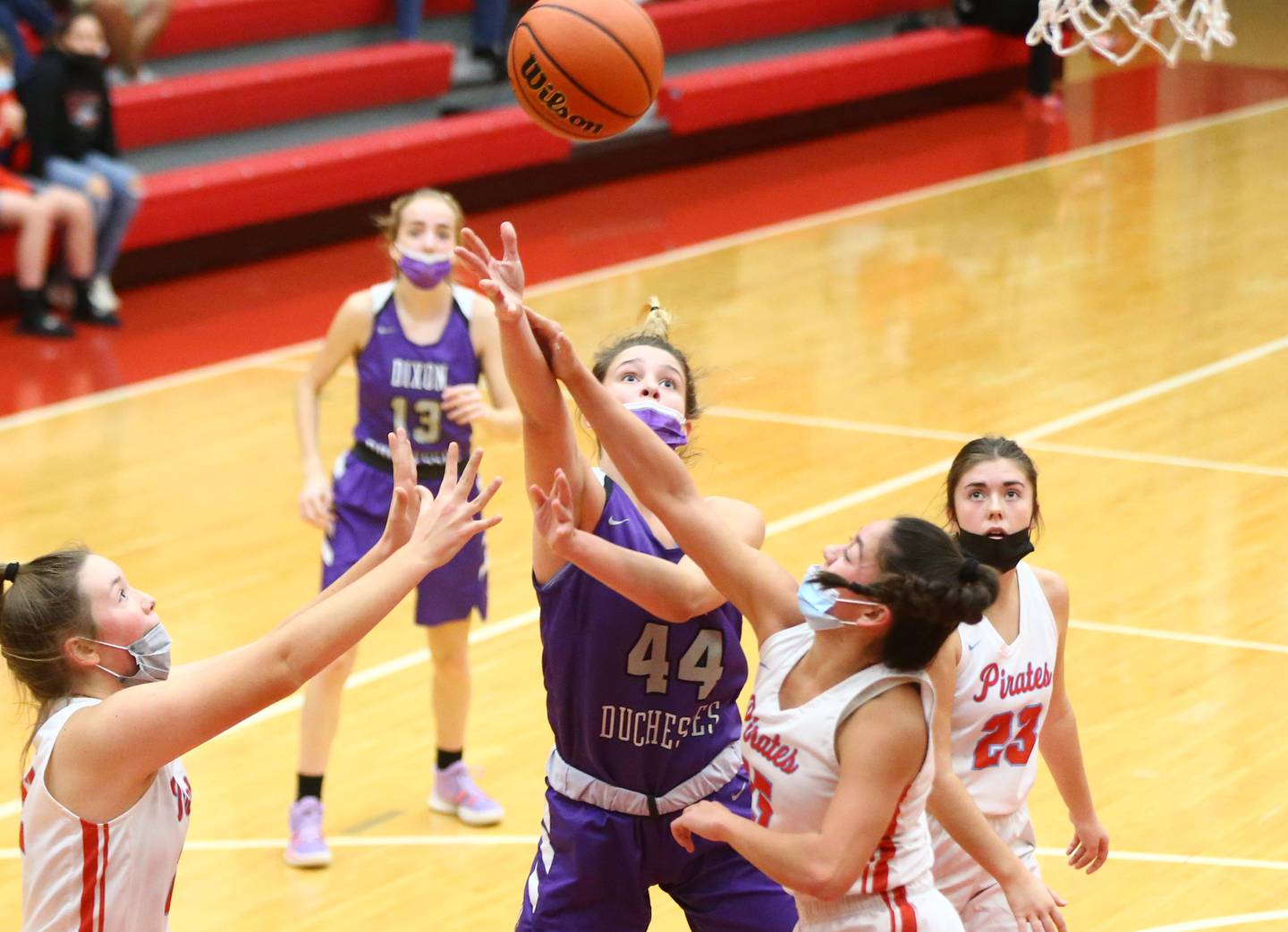 In the final minute, Ottawa (6-1) used two free throws by Ella Marvel and another by Cheyenne Joachim to get within four, but could not get any closer.
"Dixon is very well-coached and very organized in what they do. I agree with [Dixon coach] Luke [Ravlin], we are two teams that are very much alike in a lot of ways," Ottawa coach Brent Moore said. "I thought both teams executed on both ends of the floor, but we have to make sure when we get to the rim that we either finish or make our free throws [7-for-15].
"That really hurt us tonight, and they executed better down the stretch than we did."
Brooke Waddell, who sank six 3-pointers for a game-high 18 points for Ottawa, had a shot from beyond the arc just rim off at the end of regulation. Marvel finished with 11 points, eight rebounds and four assists, while Joachim netted eight points and a game-best 13 rebounds.
"We ran our delay, and then Brooke got a great look at the end of regulation out of a timeout," said Moore, as his team finished 9-for-31 from 3-point range. "We executed the play exactly how we wanted it to go, but it just didn't fall."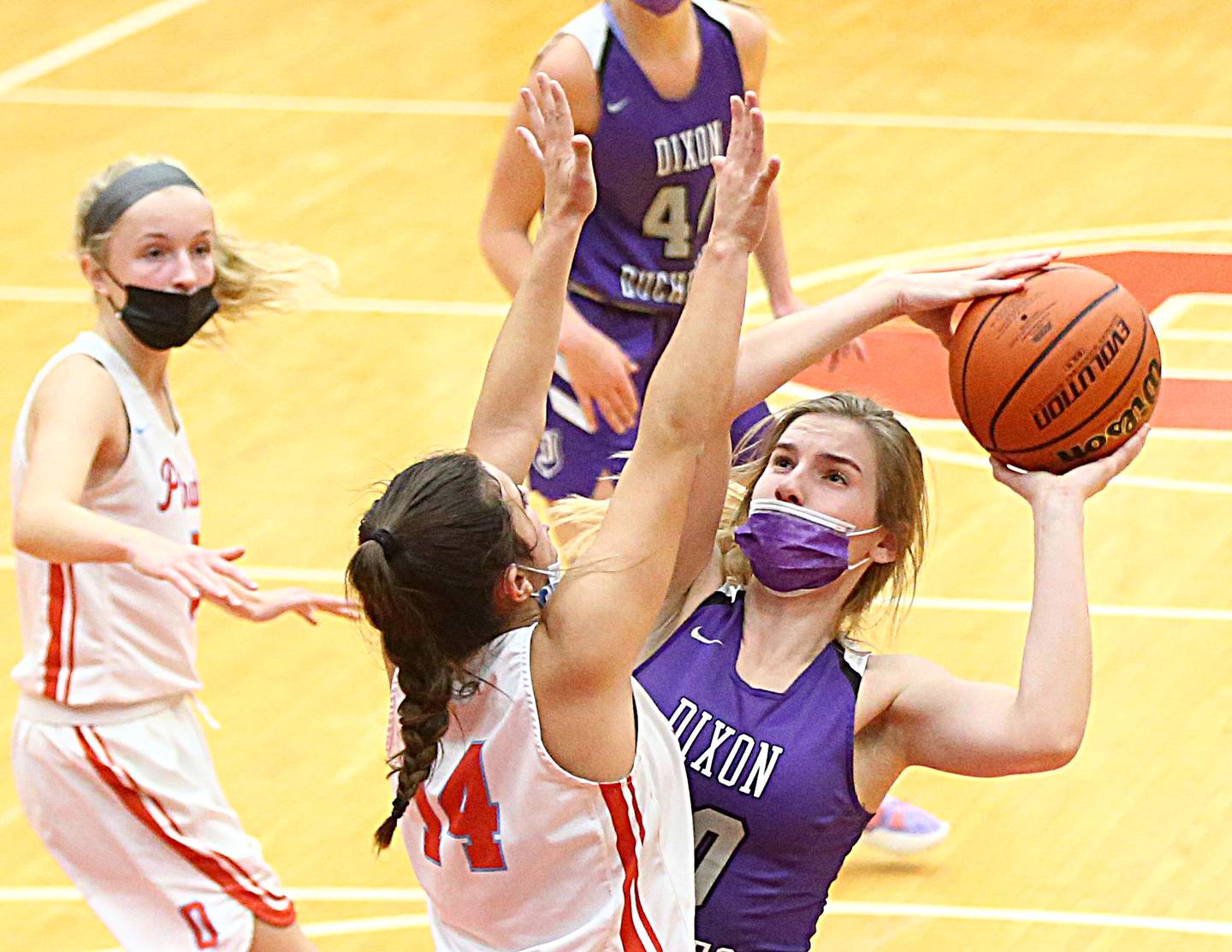 Dixon (6-0), which trailed 13-6 after one quarter and 19-16 at halftime, but led 32-31 after three, was led by Tourtillott's 14 points (12-of-14 from the free-throw line), five rebounds, four assists and three steals. Pfoutz posted 13 points and four boards, while Day finished with 11 points.
"We knew coming into tonight that Ottawa is a well-coached, top-notch basketball team that is going to run their stuff well, play together, and play with discipline," Ravlin said. "Our teams are similar in many ways, and we knew it was going to be a great battle.
"[Ottawa] is an incredibly good team, and this was a very good early season test for both of us. It was a true quality girls basketball game."
Dixon had a 38-33 lead with three minutes left in regulation, but back-to-back 3-pointers by Waddell and a drive by Marvel offset three points from Day.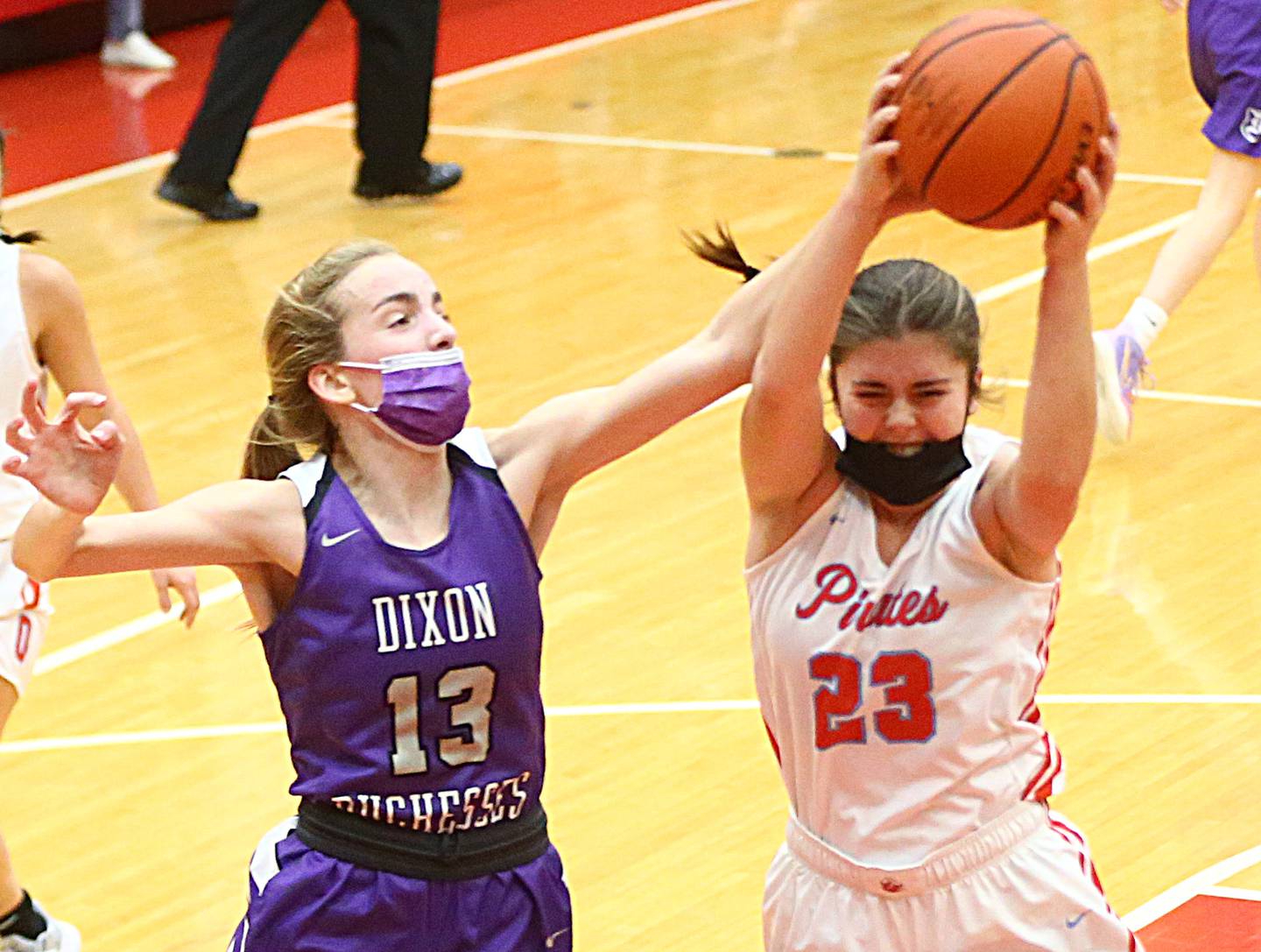 "Our defense down in the paint needs to be a little better than it was tonight," Moore said. "Cheyenne was extremely good in the paint for us, but our help-side defense wasn't where it needed to be. Dixon was able to get too many clean drives down the lane, or we were late recovering, fouled them and put them to the line, and they converted [17-for-21]."
Ottawa begins Interstate Eight Conference play Saturday night, traveling to take on Morris. Dixon begins its Big Northern Conference slate on Friday at 7 p.m., hosting Genoa-Kingston.
"I thought the big key for us was we really started getting on the glass after the first quarter, because we allowed too many second-chance opportunities in the opening eight minutes," Ravlin said. "I thought from start to finish tonight, we stayed patient in our offense and were able to get good shots and the ones we wanted."