ROCK FALLS – All season long, the Newman wrestling team has found a way to erase deficits and dominate duals.
In Tuesday night's Class 1A Rock Falls Dual Team Sectional against Harvard, the Comets found a hill that was just a little too steep to climb.
With the dual starting at 195 pounds, Newman fell into a big hole and couldn't quite dig out of it when it reached the heart of its lineup, and the result was a 43-28 loss to the Hornets.
"We start most of our duals down by like 35 points, and we always seem to come back," said Carter Rude, exaggerating a bit, "so we were still holding onto a little bit of hope until we were mathematically out of it."
The dual started at 195 pounds, and the Comets found themselves down 24-0 after a pair of Harvard pins (Nathan Rosas over Dylan Garland in 1:12 at 195 and Gerardo Cortez over Hayden Witt in 2:49 at 285) and a pair of Newman forfeits (220, 106).
The 113-pound bout also helped set the tone for the Hornets, as their usual 106-pounder, Brian Hernandez, wrestled up a weight class to take on Newman's Briar Ivey. Both qualified for the IHSA Individual State Meet this past weekend, and both notched wins there.
Hernandez recorded a pair of takedowns and back points to take a 7-1 lead through the first period. Ivey battled back with a pair of takedowns and an escape, but Hernandez held on for an 8-6 win and a 27-0 Harvard lead.
"Brian's win was probably the biggest of the matches, because he's bumping up from 106 to their 113-pounder, they're both state qualifiers and they both won a match at state, so they're both pretty equal," Harvard coach David Schultz said. "And when you're pretty equal like that and you're going up a weight, it's a challenge, and he really wrestled well and was able to pull out a win for us there, which was great."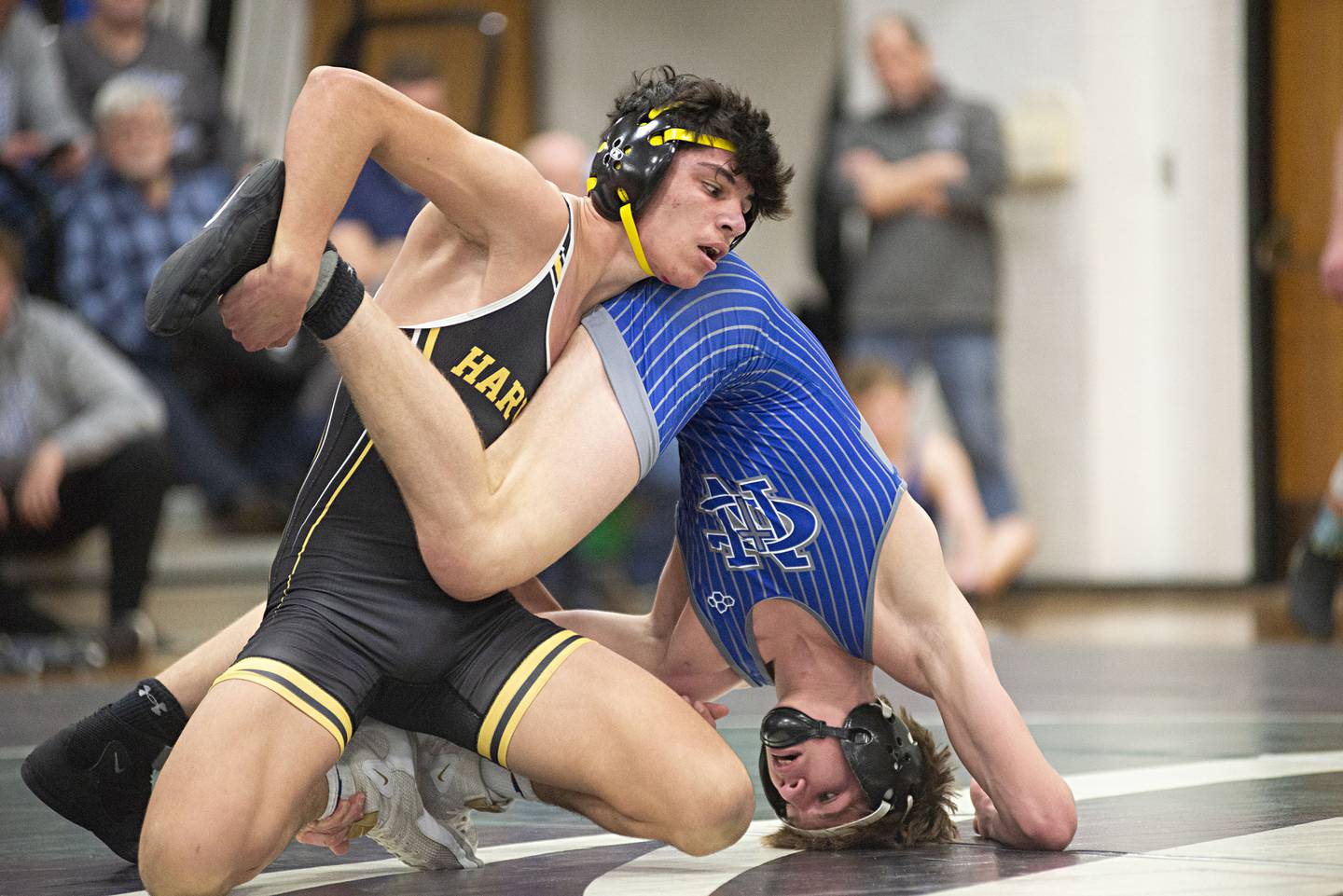 The Comets came out swinging through the heart of their order, winning the four consecutive bouts and five of the next six to cut the deficit to 31-22 with three bouts remaining.
Brady Grennan started the string of wins with a pin of Connor Flores in 49 seconds at 120 pounds, then Carter Rude won an 18-6 major decision over Marques Merida at 126.
"I thought that we were going to have a really good chance of winning, and that 113 to 138 was going to be at least all majors – and I was hoping all pins," Grennan said. "But it just didn't work out like that."
At 132, Daniel Kelly rallied from a 5-3 deficit early in the third period to defeat Aidan Gomez 7-6, and 138-pounder Will Rude followed with a pin of Daniel Rosas in 2:58 to cut Newman's deficit to just eight points, 27-19, with five bouts to go.
"I knew it was going to be a close final team score no matter what, and I knew I had to get a pin to make it as close as possible," Rude said. "I went out with a head full of steam trying to get that pin as fast as possible."
Ivan Rosas won an 11-2 major decision over Brendan Tunink at 145 to stop the Comets' streak, but Mason Glaudel followed with a 9-3 win over Kaden Vest at 152, getting Newman within nine (31-22) with three bouts left.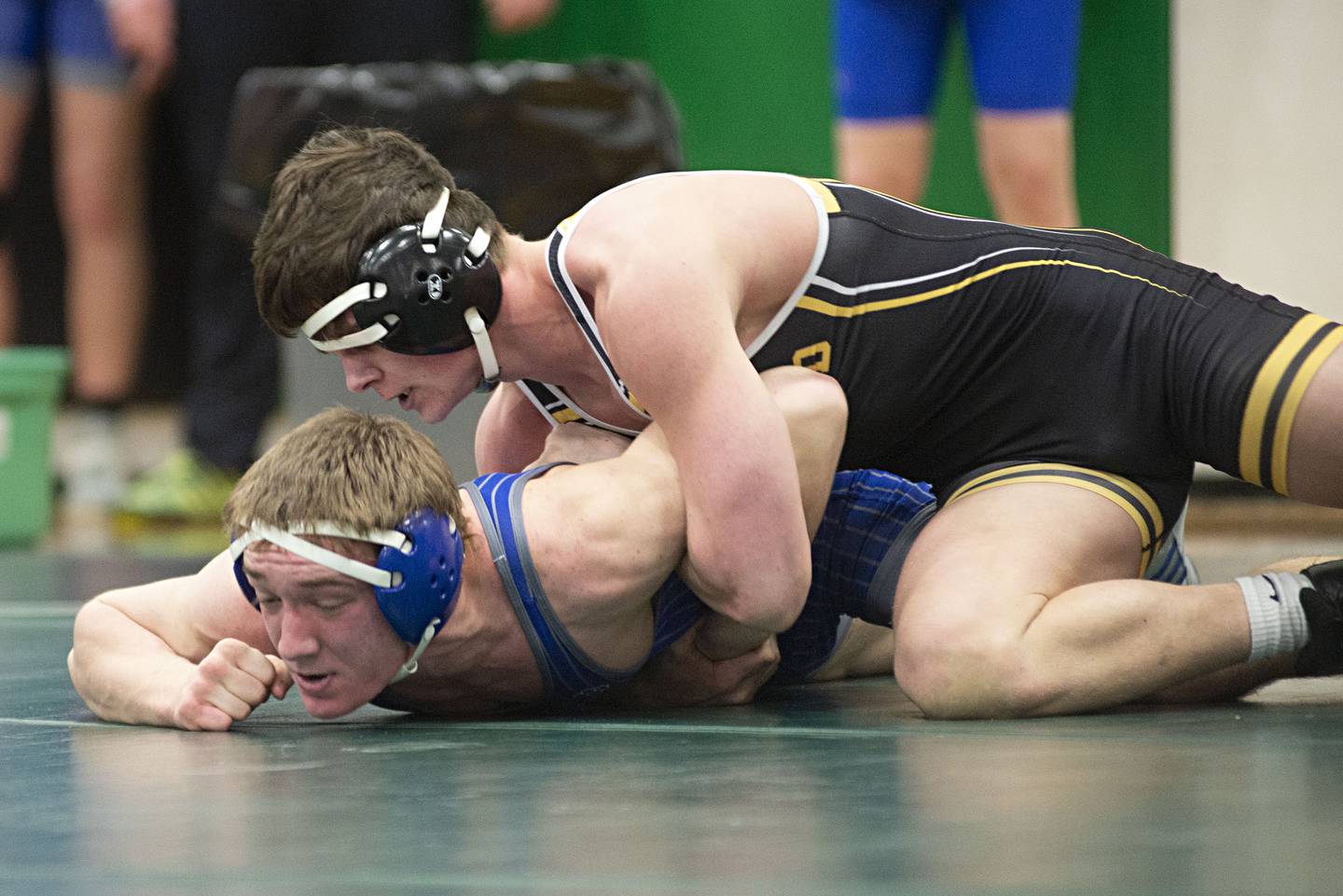 But Bailey Livdahl, another individual state qualifier for the Hornets, put things to rest in the next bout at 160. He pinned Tom Powers in 1:36 to give Harvard an insurmountable 37-22 led with only two bouts remaining.
"I love being in that position. I've been there a lot of times. It wasn't anything new, and I got it done to help my team move on," Livdahl said. "I went out there and worked my ass off to get the pin, we got the win, and now we're heading down to Bloomington."
"That helps, having a guy that's pretty reliable for us there, and is able to go out and get pins if we need it," Schultz added. "He did a really good job for us."
Newman's Hunter Luyando pinned Caden Scott in 1:25 at 170 pounds, before Harvard's Gabe Sanchez pinned Chris Accardi at 182 to finish off the victory.
In the end, the big lead was all that the Hornets could have hoped for.
"We like to come out strong and take that good lead … make sure everybody has a calm mindset going into their match, make sure nobody feels any unnecessary pressure, try to keep a calm mind and make sure we wrestle our match," Hernandez said. "Newman always has good wrestlers, and we know their lineup is solid. Our lineup was solid too, and we always go out and try to be the better wrestler in our match. We just want to prove that we're better than our opponent."
"Getting that lead was huge. We knew that their strength was at the lower weights … we knew they were really tough down there," Schultz added. "We knew that we were going to have to have our big guys come through for us in a couple matches, and they pulled out some big matches for us."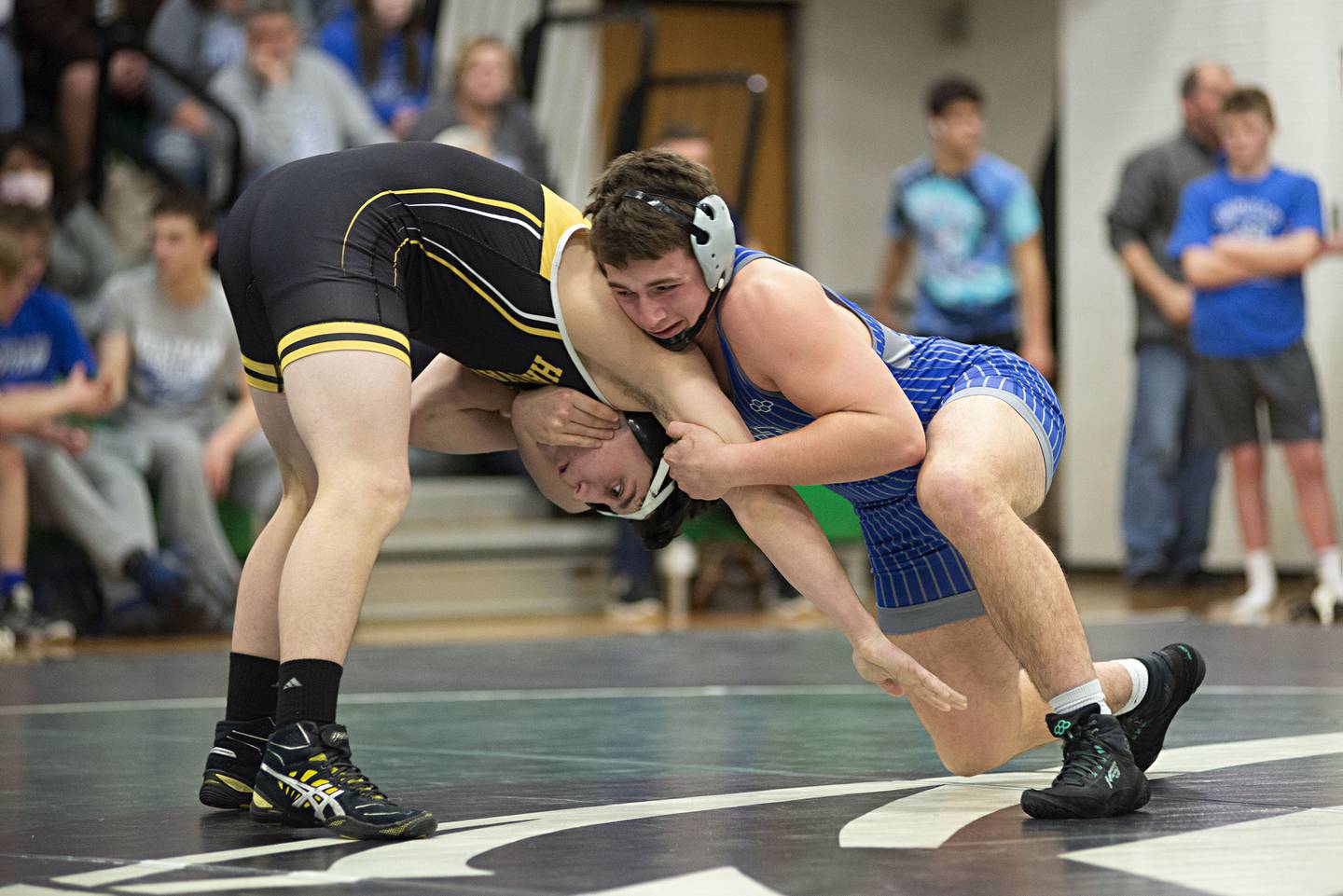 The loss was bittersweet for the Comets, who were sad to see the season end one step short of the IHSA Dual Team State Meet this weekend in Bloomington, but also happy to be wrestling as a team at the sectional after not having fielded a full-enough lineup the past several years to even be in this position.
"I'm just thankful that I finally had a full team after three years of six kids, so it's really nice to go out seeing that we had a full room," senior Will Rude said. "I'm proud of every single person on this team who stuck with it to the end. Especially Tom Powers, a senior in his first year, and no one in the room worked harder than him. I couldn't be prouder of my friend for really sticking it through to the end and giving it his all."
For the younger guys in the lineup, it was a glimpse of potential things to come – and the capper of a strong season that they'd like to carry over the momentum from to next winter.
"I've never really been a part of a dual team, and it's just nice seeing all the first-year kids come out, and we actually performed well and got far as a team," sophomore Carter Rude said. "Individually, we had a couple kids place at state, and it was a really nice year. It was fun.
"It's exciting coming over here to put on a show for all the people and all the fans watching," added Grennan, also a sophomore. "It's exciting to actually make it this far."