CHARLESTON – Entering finals seeded outside of a top-nine medal, the Newman 4x800-meter relay team knew it had to put together one final strong race to end the season.
So Kenny Boesen and Wyatt Widolff kept the Comets in touch with the main pack, and Lucas Schaab and Lucas Simpson made up several spots to win the sixth-place medal at the IHSA Class 1A State Track & Field finals on Saturday at Eastern Illinois University's O'Brien Field.
Morrison's Brady Anderson finished fifth in the 100, while Milledgeville-Eastland's Kacen Jonson placed eighth in the 110 hurdles; Bureau Valley's Elijah House matched that feat in the 800.
Newman was seeded 11th after prelims in the 4x800, and needed to move up two spots to win a medal. Boesen and Widolff stayed right in that 11th spot for the first two legs, but they kept close enough to the main group to give Schaab and Simpson a chance.
"I really haven't been running my best all year, I've been trying to figure out the groove. But today I just told myself to try to get up with the top guys and try to hold it for as long as I can," Boesen said. "I tried my best and for 600 I held it, then the last 200 I started to fall back, so I'm glad all the other guys picked up off my mistakes."
"I just tried to hold on and make as much improvement as I could, just move up the line and try to make it the best race for our 3 and 4 runners," Widolff said. "I think I ran OK today; I don't know because I haven't seen my time yet, but I'm pretty satisfied with sixth place."
Schaab got the baton in 11th place and held his spot through the first lap, then made his move in the second lap. He handed off to Simpson in a tie for seventh place.
"[Kenny and Wyatt] set us up really well. That second leg really got me as close as Wyatt could to them, and I tried to execute with what he gave me," Schaab said. "The first half, I just tried to hang in there and close the distance as much as I could. Then the second lap, I just tried to pass as many people as I could to put Lucas in the best position. I knew he wouldn't lose any spots, but I'm surprised how good he finished there."
After sitting in eighth place for his first lap, Simpson kicked it in gear around the final curve to pull away from a challenger behind him and blow past two runners ahead to finish in 8:12.47 – a whopping 9.5 seconds faster than the Comets' time in prelims.
"Since we were seeded 11th, we all had to run our best. And when I saw Lucas get close enough for me to catch the guys ahead of us, I knew I had to force it to help my team get sixth place," Simpson said. "I just used the people in front of me to block the wind that was there, and when I knew I could pass them, I started surging over the last 200 and just caught as many as I could at the end."
The race was the finale for Boesen, a senior, and he was happy to earn a spot on the medal stand.
"It's a pretty good feeling," he said. "I'm glad I ended my high school career with a medal."
Morrison freshman Anderson is just starting his career, and he finished the 200 in 11.07 seconds to finish fifth. He was guaranteed a medal, as only nine advance to the finals, so he had a specific time in mind as he ran.
"I was mainly just looking for a good place, but I was trying to get under 11 [seconds]. I've was battling the entire season and almost got under, but couldn't quite make it," he said. "It's pretty cool. There's not anything else I could really ask for, just coming back next year and competing better, getting a better place. You can never really be too happy with fifth place, so this makes me hungry to get back and do better."
Milledgeville senior Johnson was happy just to run in the finals, and he finished his career with an eighth-place medal after finishing the 110 hurdles in 15.80 seconds.
"It was OK. It wasn't anything close to a PR, so I was disappointed in that, but it's still awesome to medal," he said. "Last year, I came in 30th, probably. This year, I came in and made finals, which is a huge accomplishment. It was a little bit disappointing today, but I'm glad to be here."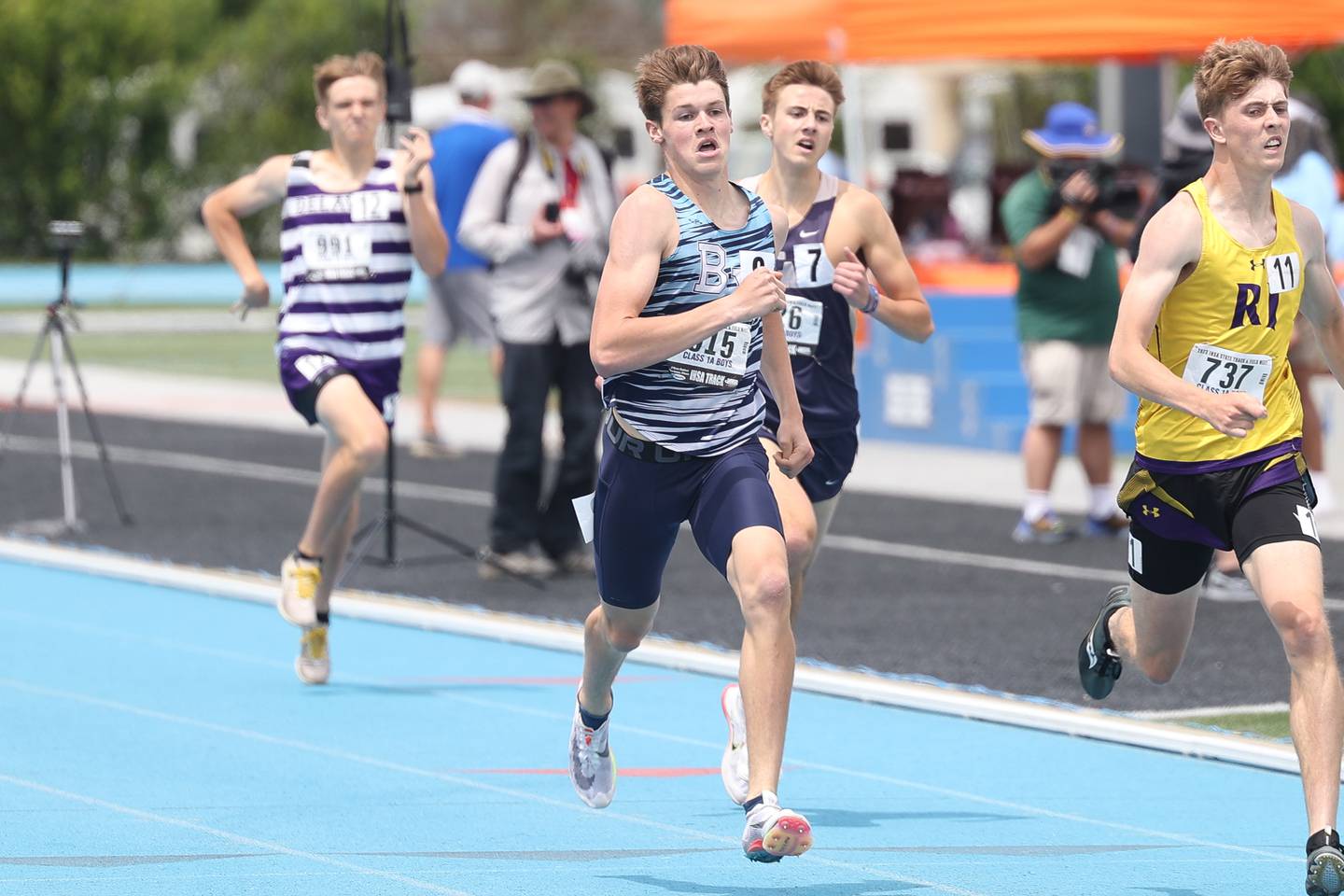 BV senior House was a little bummed out about his eighth-place finish in the 800, but realized soon afterward that in a strong field on a tough event, taking home a medal was a good achievement. He clocked a 1:57.85.
"It's all right. I definitely was hoping to do a little better. The race didn't go how I planned, but it never really does. But the 800 meters is a guts race, so love it or hate it. It means a lot to win a medal," he said. "The plan was to get in about second or third, hang on until the last 200, and then kick on them. I ended up being probably ninth – it was kind of hard to tell, we were bunched up. It was hard to tell how the race was going to go since right off the bat, we had a kid hit the rail and fall. On the 300 ([meter mark], I stepped weird – I don't know if I got hit or someone came in – I stepped off to the side and I landed on my leg wrong.
"Eighth place is eighth place, though, and I just wanted to medal and have a good race."
Dixon's Aaron Conderman took 13th place in the Class 2A 3,200, clocking a 9:44.26. Running in the slower of the two heats, he raced out to the lead on the first lap and stayed in the top five the whole race, but missed out on a medal by less than eight seconds.
"I knew I could do it, because a month and a half ago or so, I ran a 9:36, so I knew I had the ability," Conderman said. "I was trying to stick with the leaders, but I found that with 800 to go, I started to kick, but [Champaign Central's] Caleb Matthias was putting up a fight, and we were right neck-and-neck and we were kind of bumping each other and I was kind of getting knocked off my stride. I probably should've gone with the leader when he made a move, and I wish I could've gone a little faster. But I'm pretty happy."
The sophomore has been running for the past few weeks with fractures in his right clavicle after a collision in a JV meet against Oregon caused Conderman to trip. He says the injury doesn't cause him any pain when he runs, but "I think it too a little out of me for the end of the season."
Fulton's Braiden Damhoff took 10th in the 1A shot put with toss of 14.98 meters, missing out on a medal by just .06 meters.