STERLING – There's nothing like a friendly rivalry to get the competitive juices flowing in a mid-week swimming dual meet.
The Byron co-op visited the Duis Center to take on Sterling on Tuesday afternoon, and both teams were looking to have some fun against some familiar faces – as well as cut some time and come away with bragging rights.
The Water Warriors won the dual 87-72, taking first place in five individual events and two relays.
"For dual meets, the goal is just basically be on your times – and get the win, of course," said Sterling's Skylar Drolema, who was part of three race wins. "We lost a lot of seniors from last year – 12, I think – so it's kind of a struggle to win meets now. Burt we're getting the hang of it; we've only lost one dual meet this season.
"Other than that, just come out and have some fun, get ready for sectionals next month."
Drolema won the 50 freestyle (23.77 seconds) and 100 free (52.12), and teamed with Peter Garland, Connor Pham and Conner Porter to win the 200 freestyle relay (1:36.34). Porter added wins in the 200 IM (2:16.97) and 500 freestyle (5:18.78), and Garland won the 200 freestyle (2:00.86) and joined Dale Johnson, Jack Graves and Evan Scott to take the 400 free relay (3:55.26).
Drolema, Scott, Pham and Porter swam to second in the 200 medley relay (1:47.00), and Scott also took second in the 200 IM (2:23.36).
"I'd say the two goals are probably to cut time and to get first place, or top three for sure, just to get points to score for the team," Garland said. "I think it's fun because Byron's close to us, and I've known most of those kids for a while, and it's always fun to win against them."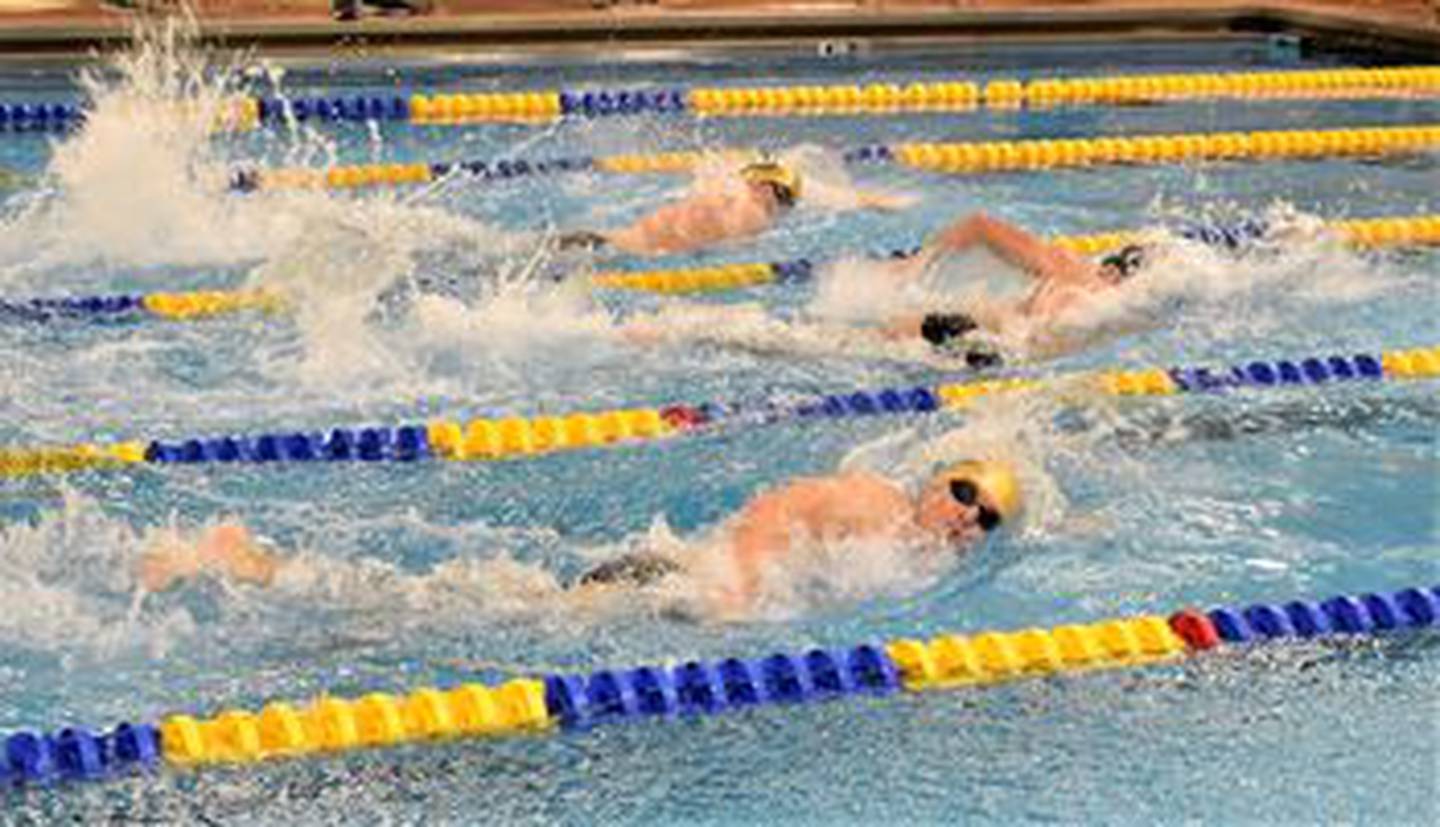 Porter was one of five Warriors to drop times, cutting .77 seconds in the 500 free. He lapped his two competitors in the 20-lap race and finished more than 75 yards ahead of the competition.
He said the best part of dual meets is to be able to experiment with different things during a long race like the 500, to find what works best for the bigger meets.
"I cut time in the 500, like .7 or something like that, and I like that; I prefer to do that than adding time. Obviously the goal is to win, stay ahead and swim well," Porter said. "Definitely in the 500, do more dolphin kicks and do more breakouts. I can work on things, try new things, see what's fastest."
Dixon freshman Gage Helfrich, who swims for the Byron co-op, says he takes the same approach. He won the 100 butterfly (2:10.5) and the 100 breaststroke (1:05.19), dropping his season-best time in the butterfly by .69 seconds.
He also swam a leg on the winning 200 medley relay (1:44.64) while teaming with Levi Schamper, Nathan Bell and Tyson Politsch.
"My goal is to try my hardest, and work on the little things that I can perfect for sectionals or the state meet," Helfrich said. "Meets like this are really quick, so you get tired easily, so you're not going to race your fastest. But I can work on little things like not breathing out of the turns, getting good underwater, things that can help you, so at the big meets, when you have more rest, you can do those a lot easier and go faster. And it's nice to win a couple of races, too."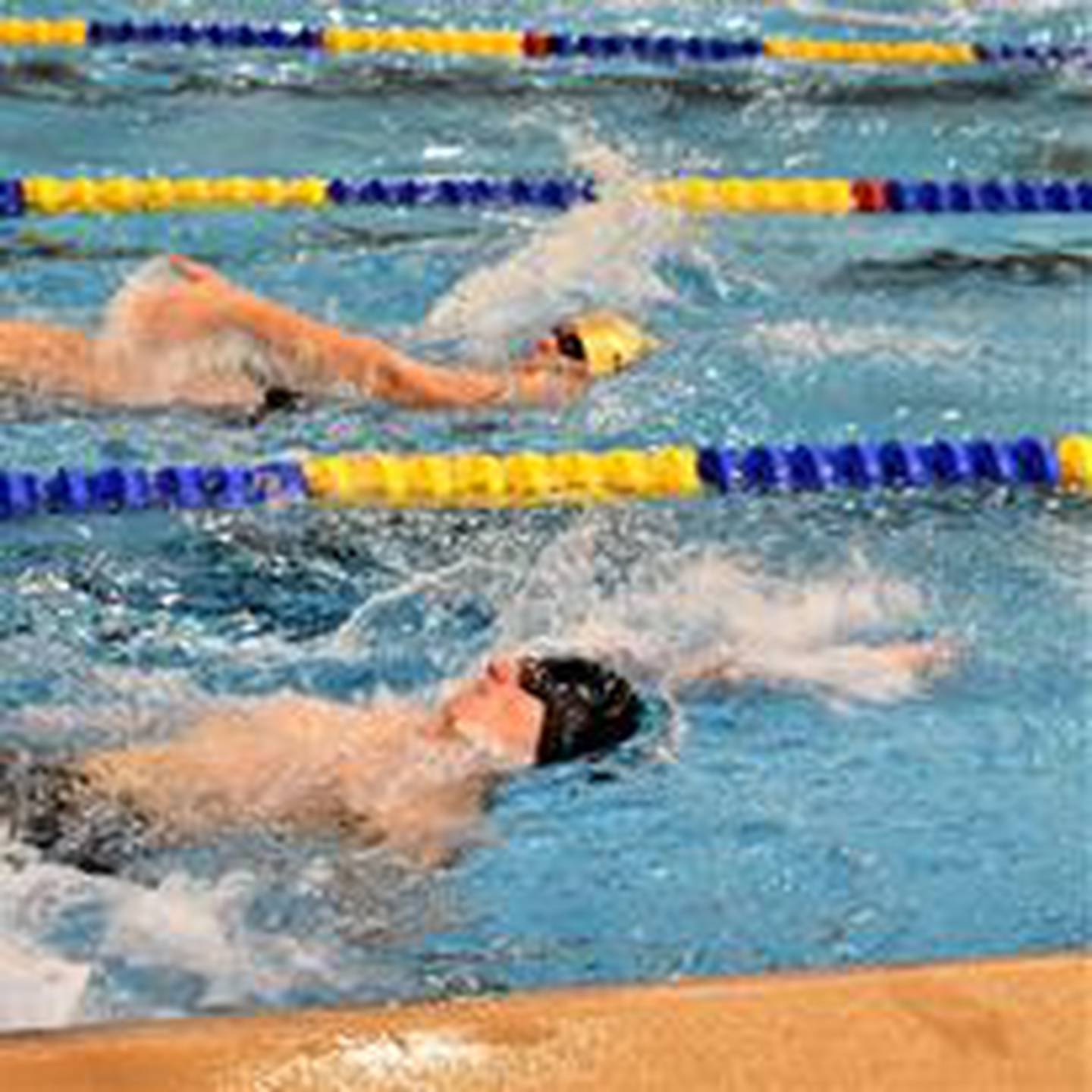 Schamper added a win in the 100 backstroke (57.47), and said he enjoys the annual clash with Sterling as a fun way to work on his events in a race setting instead of just in practice.
"We've been swimming with these guys for 10 years, so it's just fun to get out and swim with them, get some bragging right over who wins," said Schamper, who also cut .21 seconds off his season-best time in the 50 freestyle (24.44). "It's really just practice for the big meets, I feel. Just kind of get used to the water, get some competition."
Byron swam faster times in three other individual events and the 200 freestyle relay. Helfrich, Schamper, Bell and Politsch took second in the 200 free relay in 1:36.64 – a whopping 9.51 seconds faster than their seed time coming in.
Politsch also took second in the 50 freestyle (23.89 seconds) and the 100 backstroke (1:02.25); he improved by .3 seconds in the 50 free. Bell was second in the 100 butterfly (59.77) and 100 breaststroke (1:07.71), and Andrew Payne took second in the 200 freestyle (2:10.50) and 500 free (6:04.87), cutting 3.96 seconds off his previous best time in the 500.
"It's really just about working your way through and trying to get your times down as far as you possibly can before the big meets come," Politsch said. "It's really important to get your technique down and get those races ready for when the big meets come, so you can go out in those and actually go as fast as you possibly can. That's the most important part, is being able to perform at those huge meets, and these meets really help with that."
Kade Politsch dropped .71 seconds off his 100 freestyle time, swimming a 54.10 to take second in that event. He teamed with Kevin Maldonado, Garrett Zimmerman and Keanan McDevitt to take second in the 400 freestyle relay (4:07.73).
Sterling's Patrick Riley and Hunter Lofgren both cut time in two individual events each. Riley swam his season-best times in the 200 IM (2:24.85, dropped 1.2 seconds) and the 100 backstroke (1:04.14, dropped .26 seconds), and Lofgren was faster in the 100 freestyle (1:04.28, dropped .08 seconds) and the 100 backstroke (1:14.97, dropped .04 seconds). Two other Warriors also cut time in events: Johnson in the 200 freestyle (2:10.82, dropped .9 seconds) and Brandeis Shore in the 50 freestyle (28.56 seconds, dropped .41 seconds).