DIXON – Bradyn Langloss and his Dixon soccer teammates have seen plenty of good scoring chances thwarted by strong defense or just plain bad luck already this season.
But the senior forward finally got a bounce to go his way Thursday afternoon at Sauk Valley C.C., and it led to his hat trick in the Dukes' 3-1 win over Byron in a Big Northern Conference game.
Dixon (5-4-1) led 1-0 at halftime after Langloss turned a pretty pass forward by Luis Xique into a goal in the 26th minute. It was the culmination of a relentless attack after a few chances were saved by Byron goalkeeper Nick Drake and his fullbacks.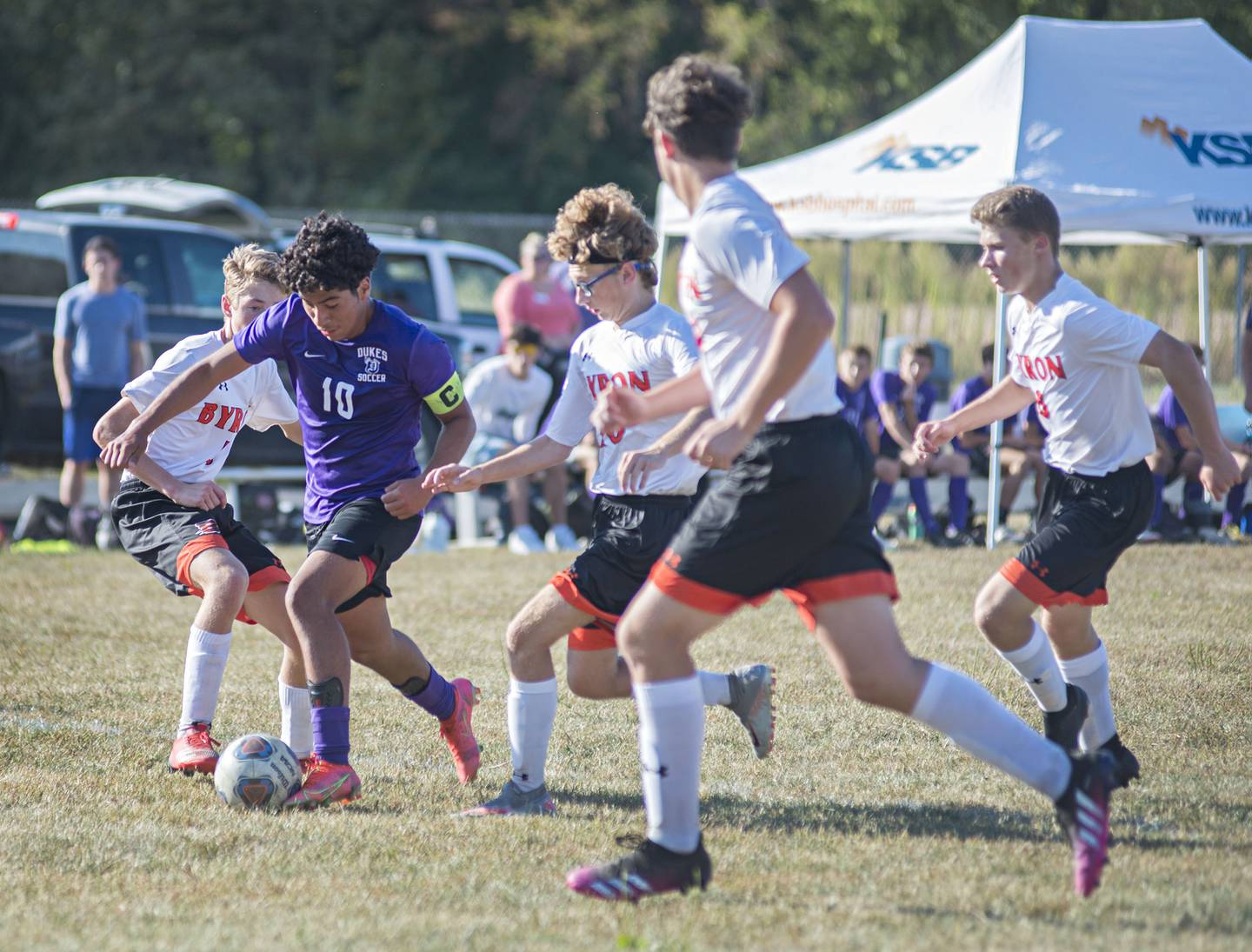 But Byron's Joseph Reiche tied the game with a goal in the 58th minute on a breakaway goal off a counterattack, slipping the only shot the Tigers put on goal the whole game past Dixon keeper Rex Blackburn.
The Dukes didn't let too much time pass before answering. Langloss was the beneficiary of another pretty pass, this one from Lucas Healy, and he drilled a bomb into the net with 16:43 to play, banging in the shot off the bottom of the crossbar in the upper righthand corner.
"I'll tell you what, there have been some saves against Bradyn that have been unbelievable, or unlucky – bad hops, hitting the wrong part of the post or whatever – but he hit that one today and you couldn't have drawn it up any better," Dixon coach Josh Brigl said. "There's nothing you can do as a keeper; it kissed the bar right at the top corner. Everything about it was great, and he just shrugged it off like it was nothing. But it's definitely good to get a few of those finally."
Langloss finished off his hat trick in the final minute, beating Byron keeper Drake to a pass ahead from Jayden Jimenez and tapping it into the empty net with 21.4 seconds remaining.
"I think that after we realized they were still in the game, we all knew we had to kick it up a notch, just keep fighting," said Langloss, who notched the fifth hat trick of his career, and first this season. "It was nice to get that go-ahead goal, and then another late in the game. It was a nice cushion."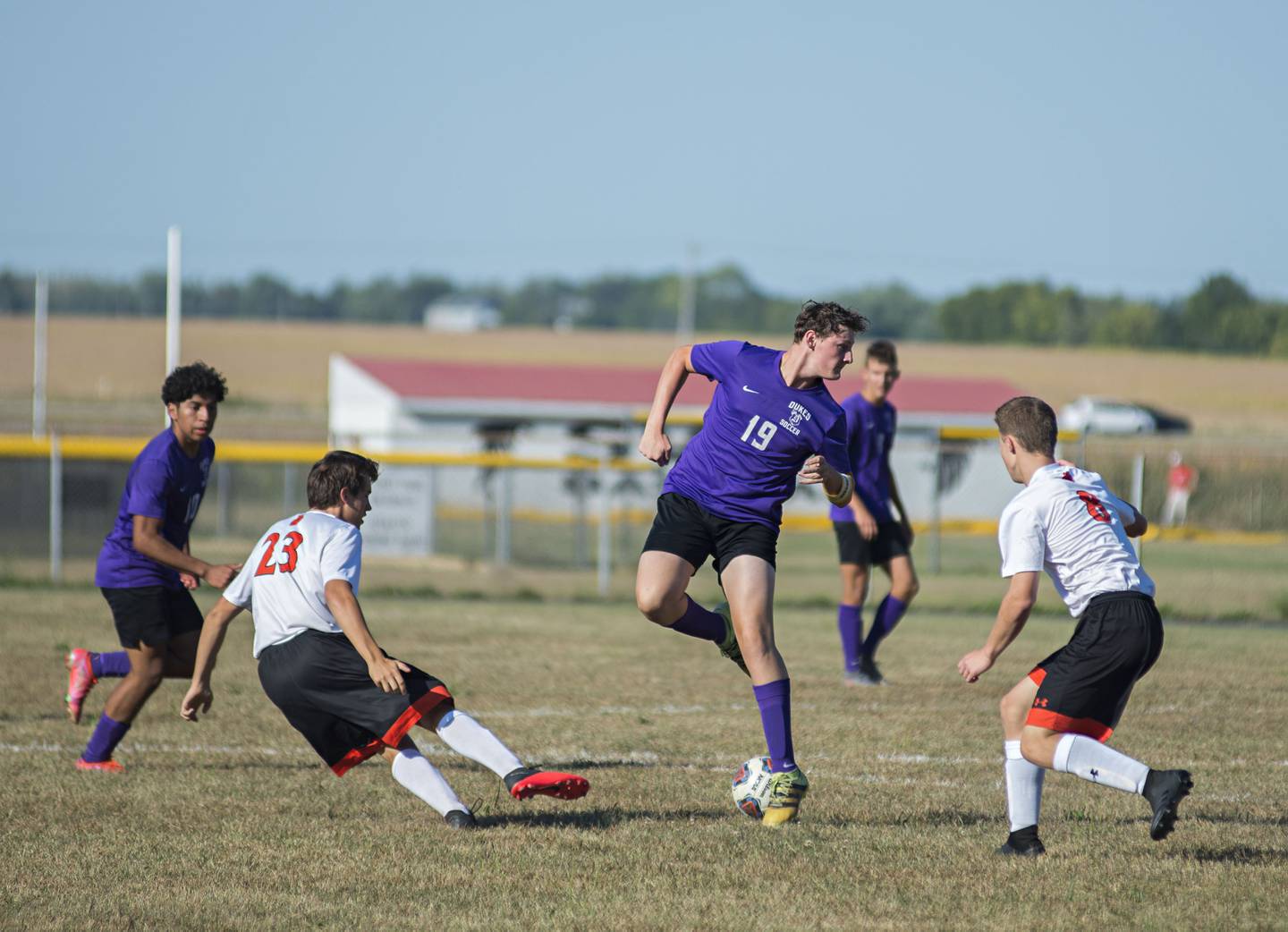 Dixon outshot Byron 18-6, with a 9-1 edge on goal. Drake made six saves for the Tigers.
"Nick was phenomenal back there," Byron coach Andy Stavnem said. "He's upset because he gets hit with a hard shot at the top net, what are you going to do with that? He's in position, that's just a tough shot."
The win came with the Dukes using a different formation. Missing starters Jacob Duet (illness), Landon Juckel (injury) and Walker Tilton (broken sternum), Brigl decided to change from the usual 4-4-2 (four fullbacks, four midfielders, two forwards) to a 4-5-1.
"We tried to reconfigure how we make things work, and we thought maybe it would be best to Bradyn up top by himself, move Lucas [Healy] and Luis [Xique] right in the middle of the field to control together, and keep Kristian [Prather] right behind them and really let the three central midfielders work together.
"In the 4-4-2, I can only put two of my better midfielders in the center, and I wanted to put three, so we subtracted a forward, told Bradyn to stay high and stop checking back, and it made a big difference. Lucas and Luis are both great distributors, Kristian's got great touch, and they really helped control and settle the midfield, and Bradyn got dangerous."
The move seemed to work, as Dixon controlled possession for a vast majority of the game. Byron got the breakaway goal and had a few other forays into Dukes territory, but most of them were turned back at edge of the penalty box.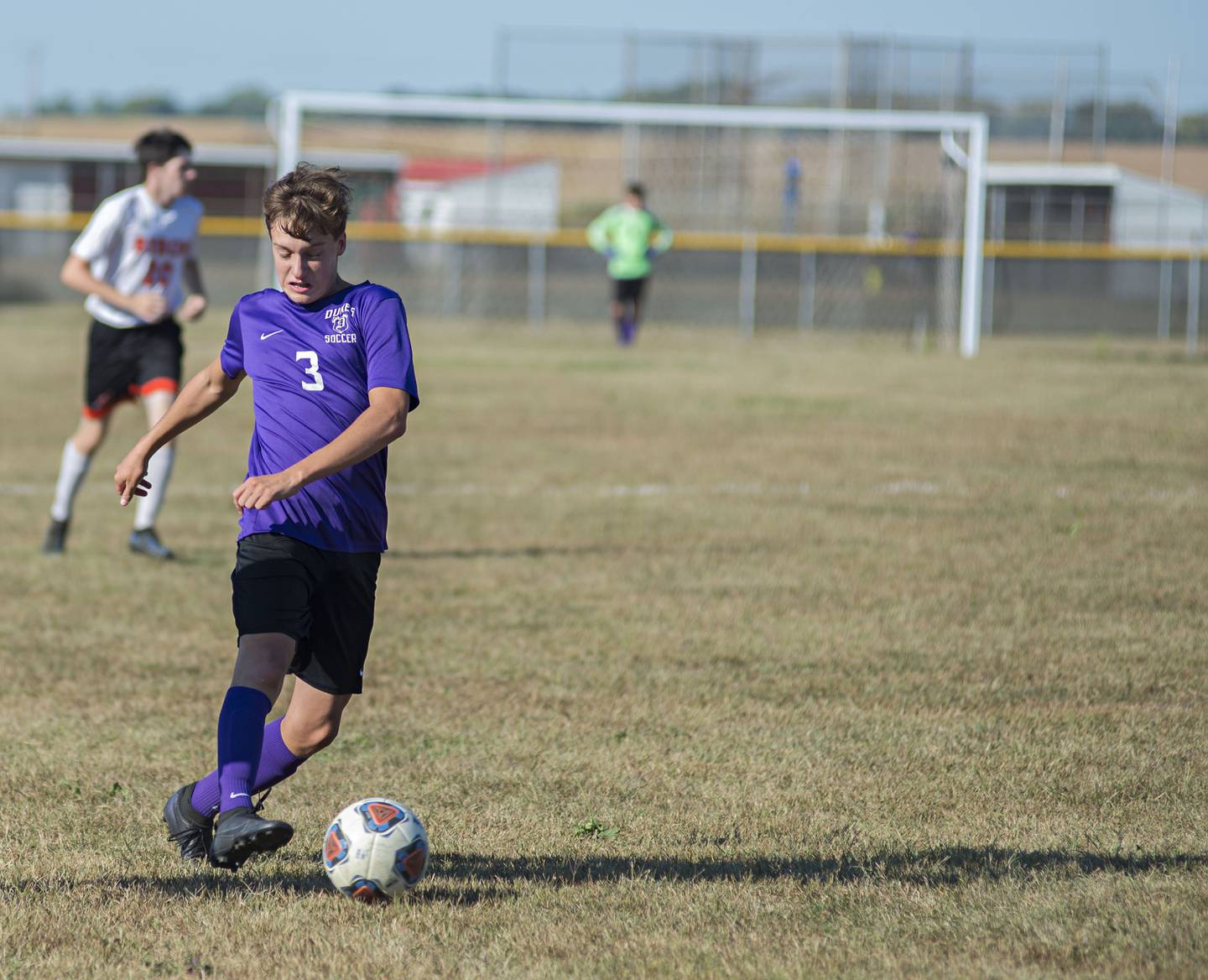 Damien Beck subbed in for Blackburn in the net, and stopped a potential scoring chance late in the game. He raced a Byron player to the ball, and tapped it away every so slightly, then was able to cover the ball before the Byron player could adjust.
The effort in the second half – especially after the equalizer – was the subject of Brigl's postgame speech.
"It's beautiful. Our midfield played great today," Langloss said. "The way that we played in the second half, moving the ball around and playing simple soccer, that's all that needs to happen. When we move the ball amongst ourselves instead of just taking it on by ourselves, it just connects.
"We just have to keep our mojo going, use this as a little bit of momentum and get some more wins in our grip."
The Tigers were happy with their effort as well, forcing Dixon to really work to get chances and then capitalize on them. Their coach just wishes they could've stayed a little bit sharper after tying the score.
"I think we scored and then got happy, got complacent," Stavnem said. "We needed to stay more compact and take away their angles. But we played hard, fought hard. They probably had better skill, we just played sound defense and tried to take away what we could.
"We just have to keep moving forward, keep learning."