PEORIA – Coming into Saturday's Class 2A cross country state finals, Sterling sophomore Dale Johnson and Dixon sophomore Emma Smith had their sights set pretty high.
Both accomplished their missions, earning All-State honors with top-25 finishes.
Johnson, whose time and place were initially posted incorrectly, finished seventh in the 2A boys race in 15:04.92. The results originally listed him in 192nd place in 16:58, but the error was discovered later in the day and corrected.
"Before the race, there was a problem with the bib number they gave me, so I had to get a new one, so that was the issue," Johnson said.
He didn't let it bother him, going out quickly with the lead pack and setting a new personal-best time on the Detweiller Park course.
"I was pretty nervous before the race, but I'm happy with the result. Finishing seventh in the state as a sophomore is pretty good," Johnson said. "I was told to expect a fast first mile, so the race went almost as expected, but it still went faster than I thought. The pace was faster than I had ever done on that course, and I'm really happy with the new PR on that course."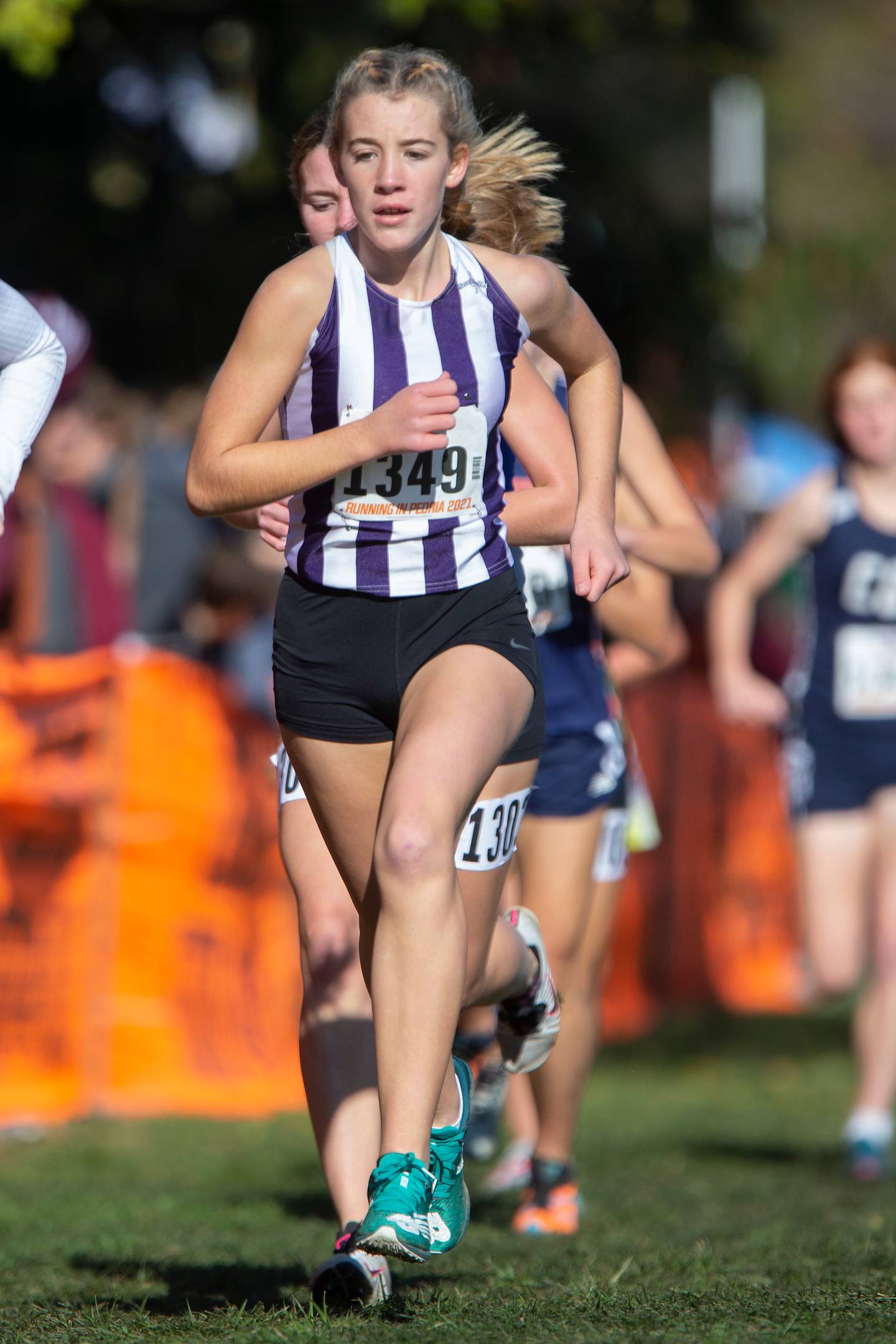 Smith had the goal to finish in the top 20, and she crossed the finish line in 16th place with a new personal-best time of 17:47.77.
"It was very fun, and I was excited going into the race," Smith said. "It was a bummer I couldn't race with my team, but they were all there and it was great having them to cheer me on.
"My plan was to stay with the chase pack, just follow them and see what happens – and my coaches said I executed the plan perfectly. It was a really fast race."
Carbondale's Alex Partlow won the boys race in 14:11.96, while Chicago Latin's Ava Parekh won the girls race in 16:23.88. Oak Park Fenwick scored 120 points to take home the 2A boys title, and Grayslake Central won the 2A girls team title with 148 points.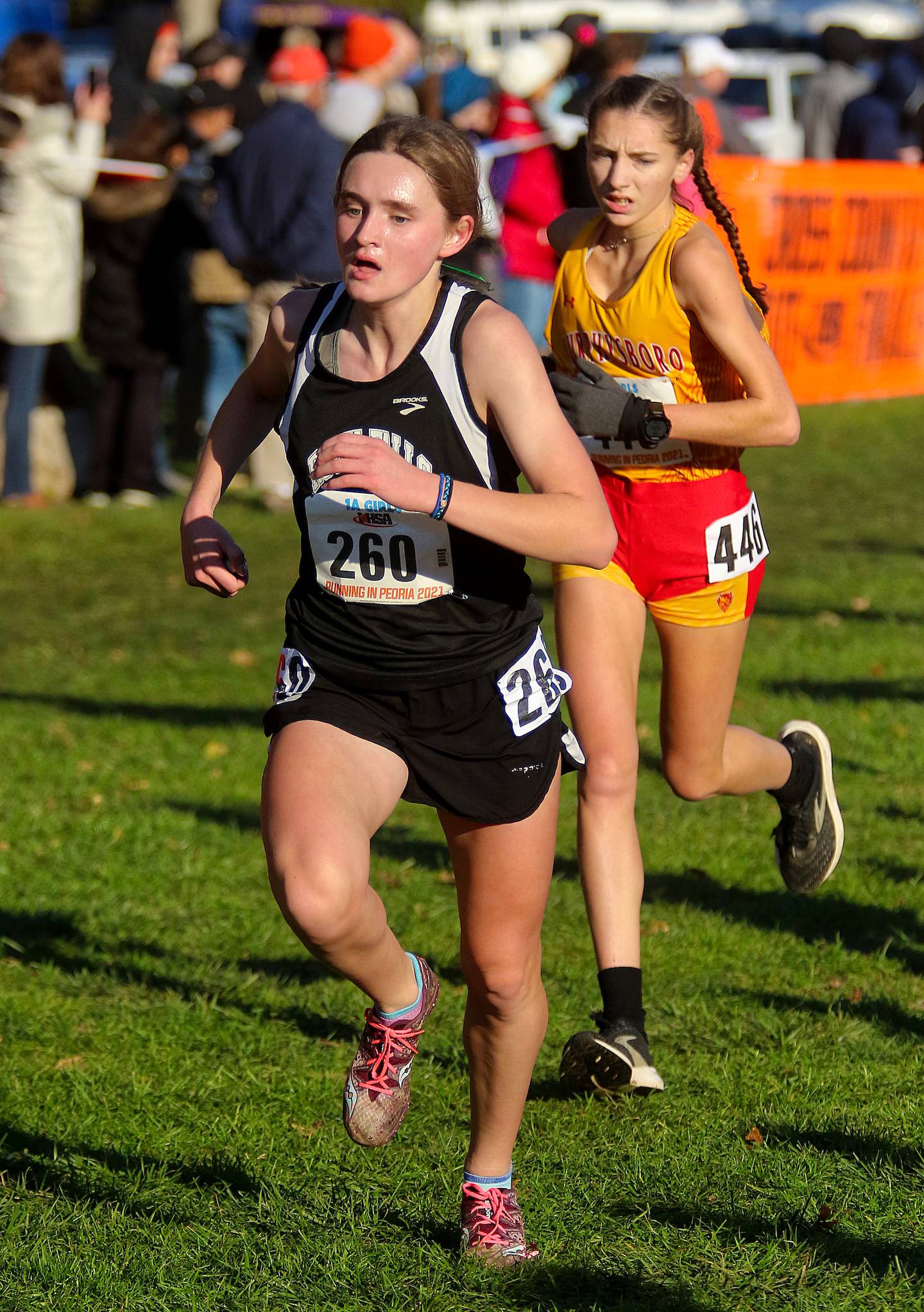 In the Class 1A girls race, Rock Falls finished 21st as a team with 530 points. Tolono Unity won the team title with 126 points, while Winnebago was runner-up with 138. Aurora Rosary's Lianna Surtz won the race in 17:21.45.
Tayli Hultin led the Rockets in 58th place (19:07.20), with Hana Ford finishing 106th (19:39.66) and Calin Gaulrapp taking 168th (20:32.63). Gracie Rippy was 192nd (21:01.39), Brooke Howard finished 209th (21:25.86), Emily Spooner took 222nd (21:47.24), and Emam Hultin placed 250th (23:30.15).
Oregon freshman Ella Dannhorn finished 149th in 20:10.11.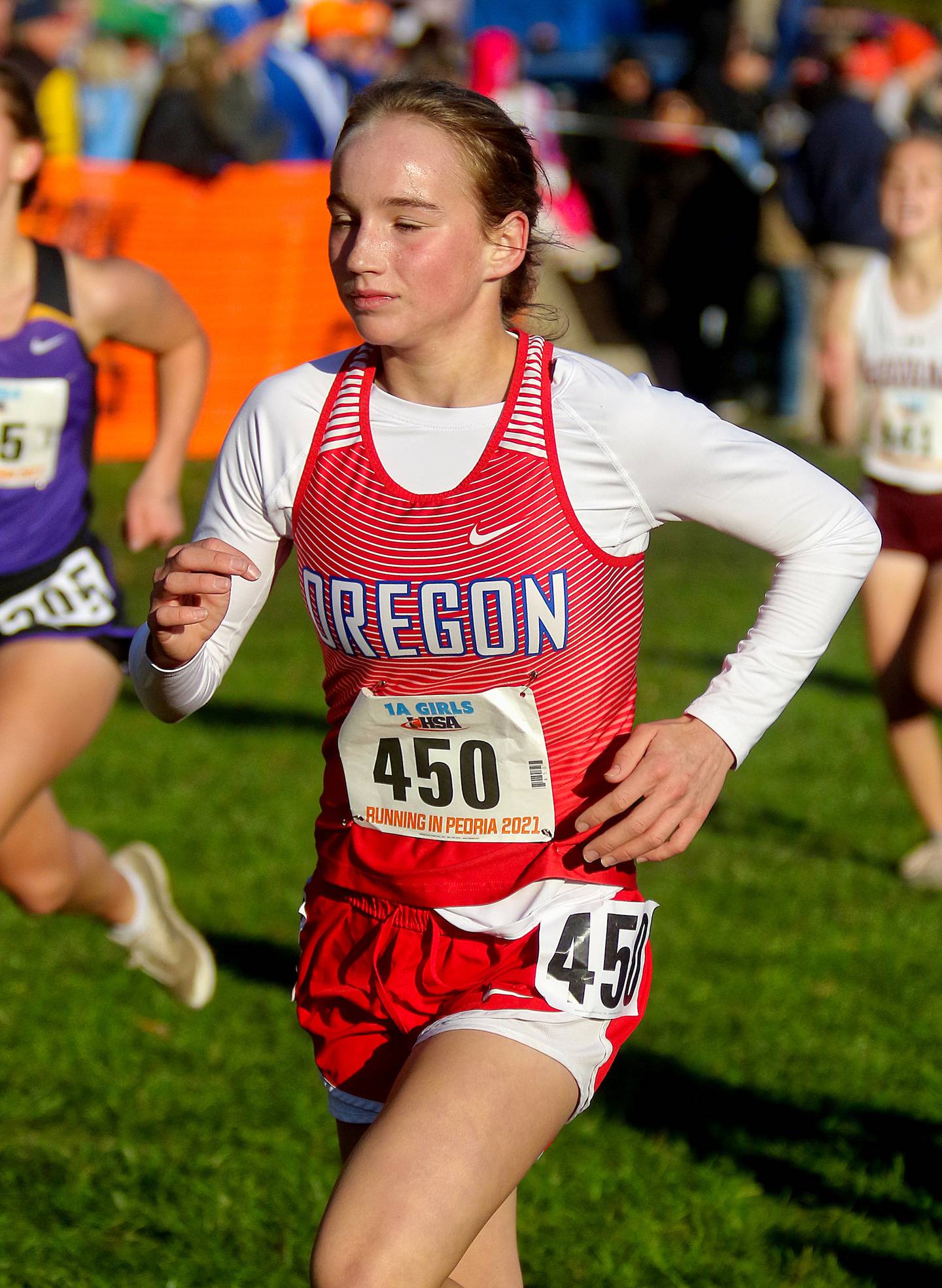 In Class 1A, Ohio's Brock Loftus just missed out on All-State honors by two seconds, finishing 26th in 15:36.83. He led the Amboy-LaMoille-Ohio co-op to 22nd as a team with 468 points; Chicago Latin won the title with 165 points. Paxton-Buckley-Loda's Ryder James won the race in 14:16.89.
Loftus was disappointed to miss All-State by so close a margin, but still ran a personal-best time in his final high school race.
"It was pretty quick from the gun, and it was a good race," Loftus said. "I was really hoping to get All-State, but I missed it by one sport and that was really hard. But I had PR, and it was a really good race."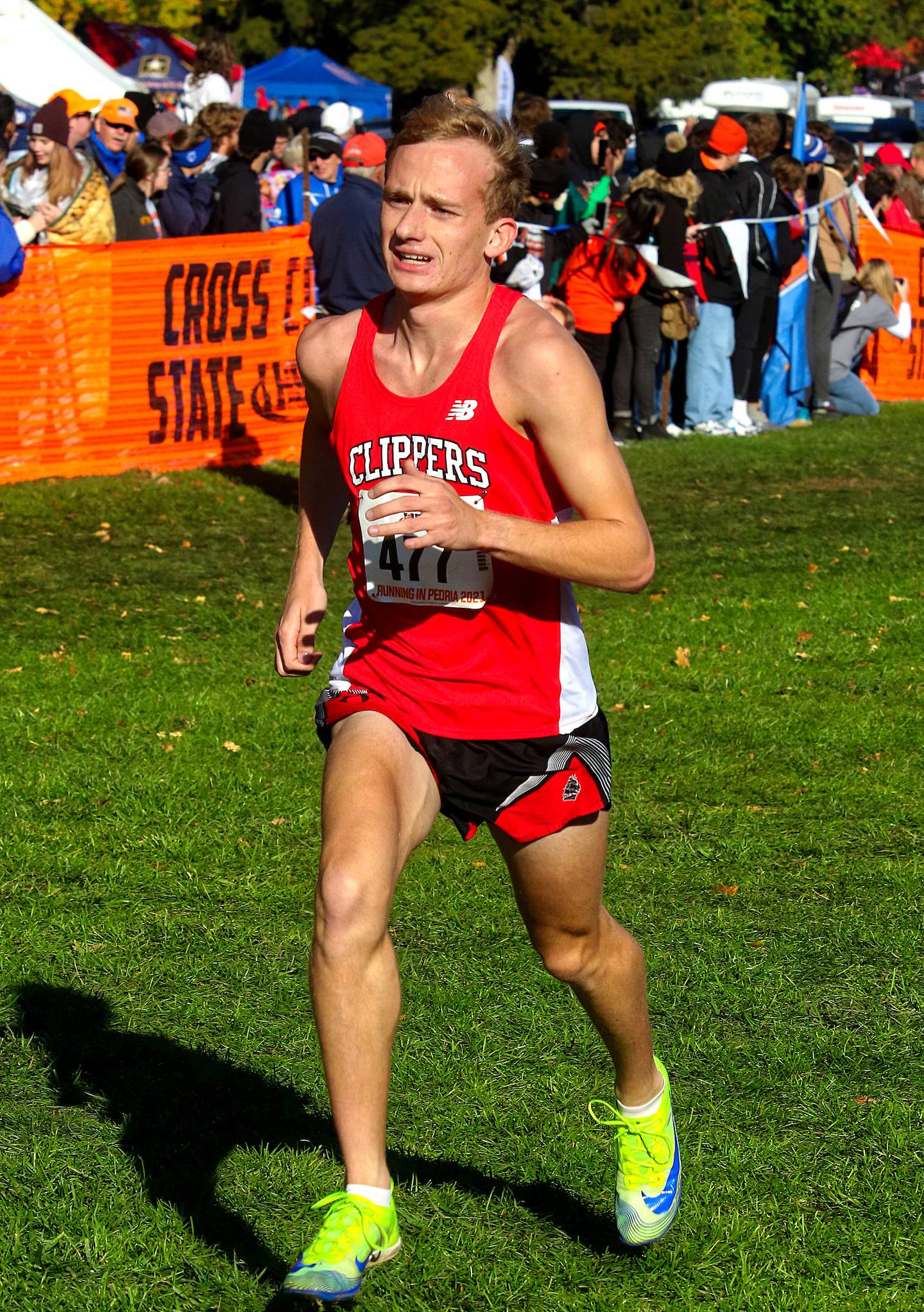 The Clippers also got an 82nd-place finish from Kyler McNinch (16:24.14) and a 90th from Ian Eller (16:25.17). Other runners were Charlie Dickinson (215th, 17:44.24), Wyatt Lundquist (218th, 17:45.32), Garrett Pertell (222nd, 17:49.85), and Andruw Jones (239th, 18:15.38).
It was the culmination of a career-long dream for Loftus and teammates to run at state as a team.
"It was really awesome. We've been working so hard since I've been in high school, and even before that," Loftus said. "We had never made it as a team in program history, and it was everything to be the first ones to do it. It was great just to finish it all out that way."
Newman finished in 24th (551 points), and Erie-Prophetstown placed 30th (777).
The Comets were led by Lucas Simpson in 120th place (16:43.12), Thomas Powers in 135th (16:48.88), and Lucas Schaab in 140th (16:50.69). Other runners were Ken Boesen (178th, 17:09.36), Carver Grummert (195th, 17:21.28), Kaden Welty (196th, 17:24.47), and Espen Hammes (250th, 18:38.07).
The Panthers' top runners were Jacob Gibson in 181st (17:12.96) and Lucas Dreisbach in 182nd (17:13.42). Victor Bonnell (194th, 17:19.60), Andrew Bomleny (225th, 17:53.90), Aiden Jepson (238th, 18:12.17), Zeke Weidel (242nd, 18:22.20), and Wyatt Goosens (246th, 18:31.21) also ran for E-P.
Bureau Valley's Elijah House finished 156th in 16:57.93, while Polo's Carson Jones placed 163rd in 17:02.98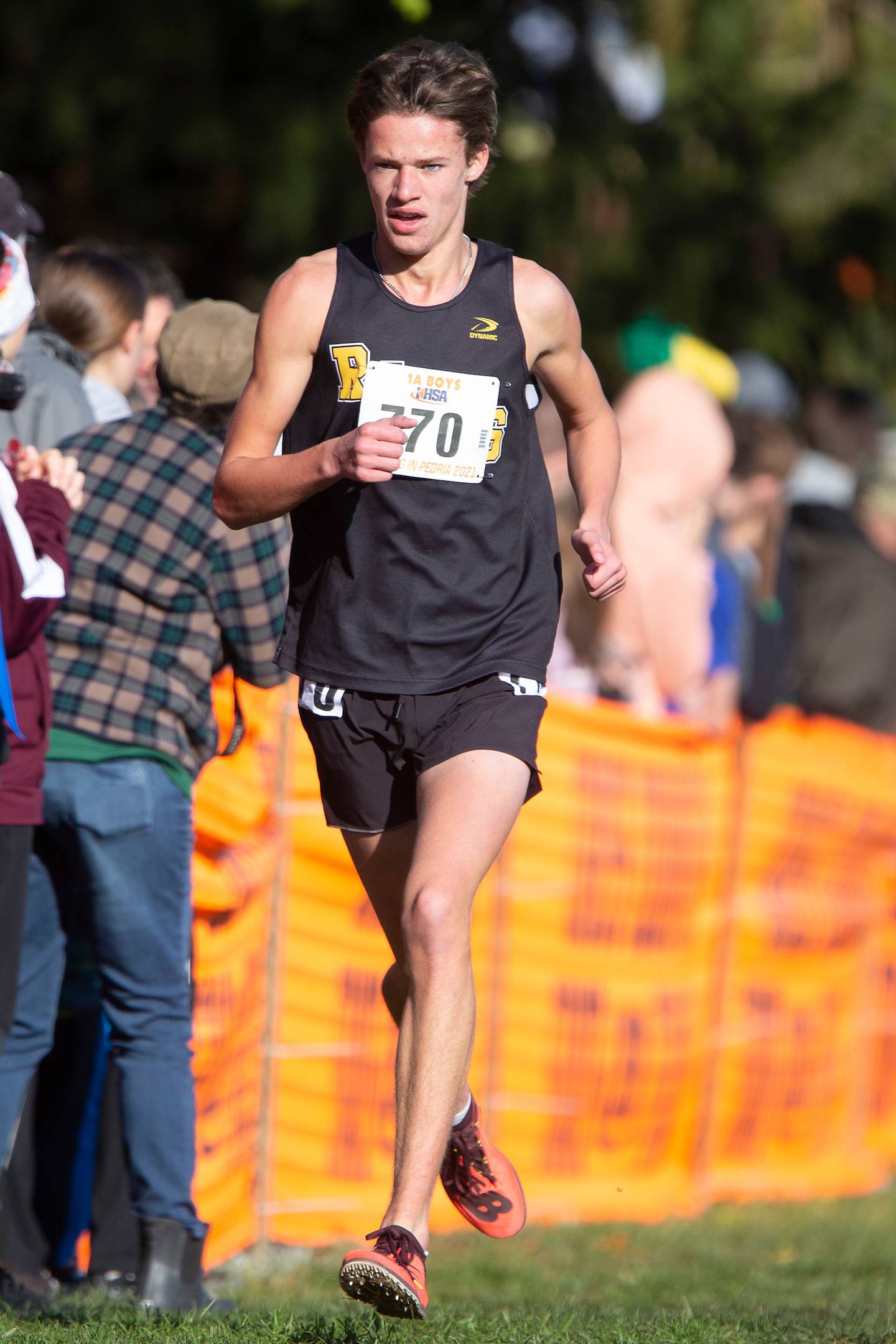 Riverdale placed 11th as a team, led by All-State performances from Tommy Murray, who placed ninth in a time of 15:17.01, and Landis Musser, who finished 24th in 15:33.91.
"The race went out so fast and I knew I had to hang on," Murray said. "The weather was perfect for racing, but it was so fast. I was hoping to be around the top ten, and then to get ninth is even better. This entire experience is so motivating for next year, and I'm already looking forward to that. I learned a lot today."
Rounding out the scoring for the Rams was Peyton Sand (108th, 16:34.48), Cameron Overton (149th, 16:54.07) and Caden Ludin (169th, 17:04.49).
"This was our first time to qualify as a team in school history, and I'm super proud of this team," Riverdale coach Kevin Claus said. "To experience this for the first time can be mind-blowing, yet our kids really performed well, and to be 11th in the state is great."