ROCK FALLS – The Rockford Lutheran Crusaders came out with guns blazing Friday night against the Rock Falls Rockets.
In the first quarter alone, they hit five 3-pointers and built a 16-point lead. After running the fast break repeatedly for the next three quarters, they cruised to a 91-67 Big Northern Conference win at Tabor Gym.
[ Photos of Rock Falls vs. Rockford Lutheran boys basketball ]
Senior point guard Walt Hill Jr. led the first-quarter charge, scoring 13 of the Crusaders' 32 points in the opening period.
The Rockets turned the ball over three straight times to open the game, and Lutheran (17-8, 5-0 BNC) capitalized with a 6-0 run in the first 1:29. That start more or less set the tone for the game.
Kuitim Heald hit a left-wing 3 to pull Rock Falls (10-15, 2-3 BNC) within 10-6 with 5:27 to go, but the deficit only deepened from there. Vontez Dent buried a top-of-the-key 3 17 seconds later, then Blake Broege hit a deep shot from the right corner for a 16-6 Lutheran lead on the next possession.
Dent said the early 3-point barrage was part of the game plan.
"Going into the game, we were looking to drive the ball and kick out, shoot open 3s," he said. "They were jumping in every time because they couldn't stay in front of us."
In the last two minutes, Hill hit a right-wing 3, then got a fast-break layup off a Kyng Hughes steal and bounce-pass assist across the lane. Lutheran led 32-16 after the first quarter.
Heald knocked down 3s from the left and right wings to open the second quarter, drawing the Rockets within 32-22, then Gavin Sands took a Euro step around a defender and hit a layup to get it to 33-24 just under the six-minute mark. But Lutheran surged with a 23-12 run to finish the first half.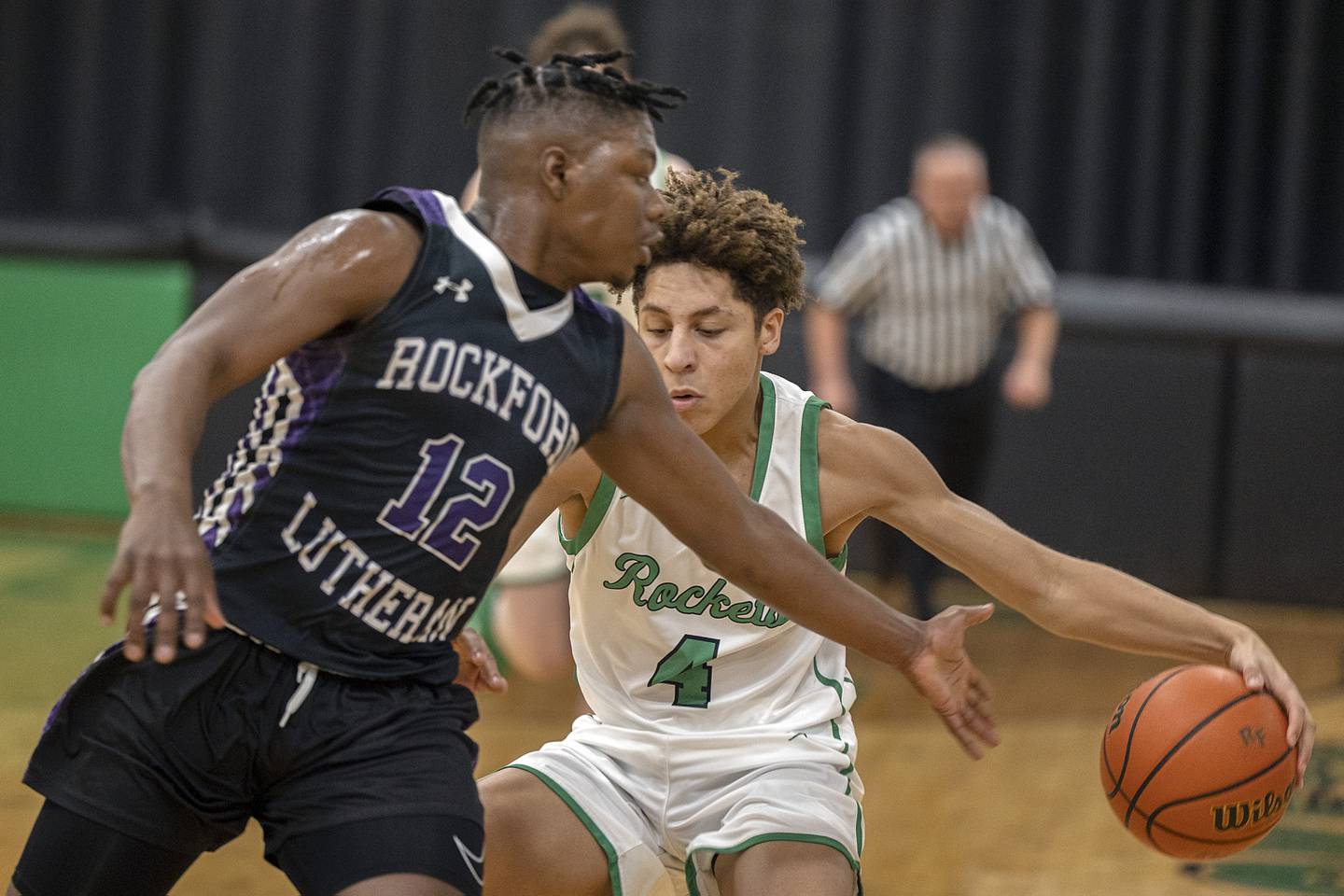 Dent scored 10 of his 25 points in the second quarter. With 5:20 to go, he hit a top-of-the-key 3 off his own steal for a 40-26 lead, then with about 20 seconds left, he rattled in a right-wing 3 to stretch it to 54-35.
"Their guarding ability is pretty good, especially full court, face-guarding people," Heald said. "It's just hard to get open, especially because they have so much energy. They're fast everywhere. Fast on defense, fast on offense. It's hard."
Heald hit the first of two free throws with 19.8 seconds remaining, then Dent got to the hoop in the last three seconds for a 56-36 halftime lead.
Hill scored 20 points in the first half, and Dent added 17 points before the break.
"We were playing really good defense in the first quarter, and it led into the second quarter as well," Dent said. "We were getting out on the break and running hard. We were shooting the ball really well, and that's what led to us getting all those points."
"Our defensive rotations were kind of slow," Rock Falls coach Zach Sandrock said. "We've been working on getting in a gap and gap coverage and then helping the helper, and I thought we got caught either looking at the ball too much or got caught looking at our guy too much, and that killed us. They're athletic, they're great shooting from the outside, so it's hard to compete when you're not playing perfect on the defensive end. Against those guys, you've gotta play perfect on the defensive end."
In the third quarter, the Crusaders matched the Rockets basket-for-basket to preserve their 20-point halftime lead.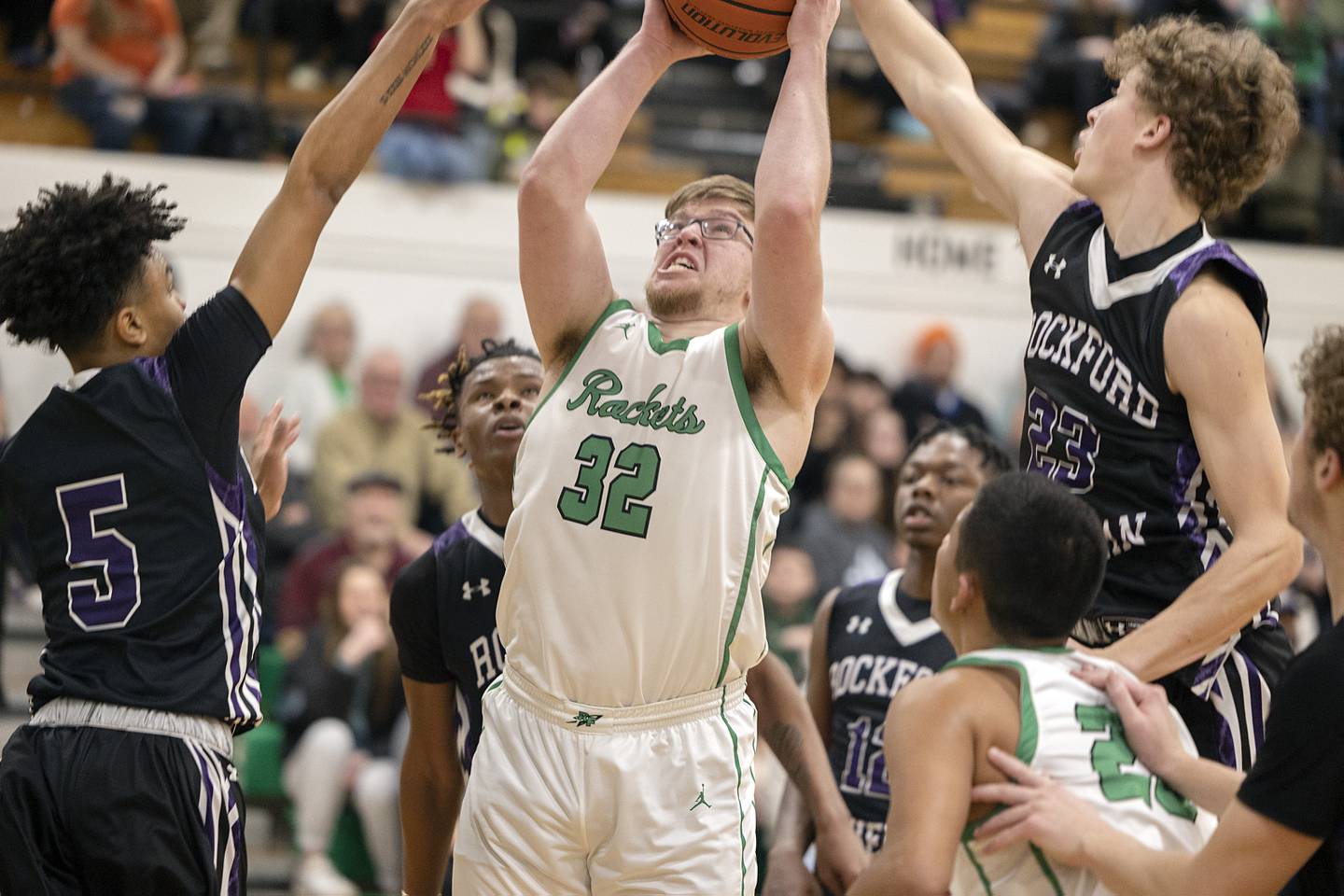 Rock Falls got within 62-49 after Chevy Bates completed a three-point play around the five-minute mark, and put back an Aydan Goff missed 3 with 3:04 remaining. But Lutheran surged again in the final minutes. Broege buried a right-corner 3 in the final minute, and the Crusaders took a 73-53 lead into the fourth quarter.
"What went wrong is they're a very fast team, and we didn't hustle back on defense," Heald said. "They run a lot during offense and it tired us out, and then we just weren't getting back on defense. And shots weren't falling."
A Sands right-wing 3 cut the deficit to 75-59 with 7:03 to play, but the Crusaders finished the game on a 16-8 run.
Lutheran applied ball pressure all game, and repeatedly hurried the Rockets. With 20 forced turnovers and an athletic lineup, the Crusaders were able to consistently capitalize with fast-break points.
"Coach [Tom Guse] emphasizes ball pressure all the time. He wants us to get up on them, and when they get on the side, to trap the ball," Dent said. "And that's really a big amount of our points, because we got out in transition, and we got to score."
Heald led Rock Falls with 23 points, eight rebounds, five assists, two blocks and a steal. Bates totaled 15 points, 10 rebounds and two assists, Sands had nine points, two rebounds, two assists and two steals, and Goff added seven points, three rebounds and a block.
Hill paced Rockford Lutheran with 26 points, seven assists and four rebounds. Dent chipped in 25 points, 10 rebounds, four steals and a block, and Broege tallied 14 points, eight rebounds and three assists. Marquise Haynes added 14 points and two rebounds.