AMBOY – The Polo Marcos trailed the Amboy Clippers by two points after the first quarter Wednesday night in Amboy, but after a 12-2 second-quarter run, the game was theirs to lose.
In the second half, the Clippers more than doubled their first-half offensive output, but the Marcos got the stops they needed to down the stretch, and hung on to win 38-34.
[ Photos from Amboy vs. Polo boys basketball ]
The first quarter was back and forth the entire way. Polo (10-14, 3-3 NUIC) started the game on a 4-0 run, then Amboy (3-20) responded with eight straight points. The first quarter continued to seesaw from there.
Carter Merdian hit the back end of a one-and-one to pull the Marcos within three with 1:21 to go, then Nolan Hahn drained a left-wing 3 to knot the game at 8-8 shortly after the one-minute mark.
With 16 seconds to go, Eddie Jones split two defenders on a drive to the basket, then laid the ball in for a 10-8 Amboy lead to finish the first quarter.
"I think our energy started kicking in more," Polo junior guard/forward Brock Soltow said about what changed from the first quarter to the second. "We just walked in the first quarter not knowing what we were going to do. And then the second quarter, we thought, 'We gotta get it going.'"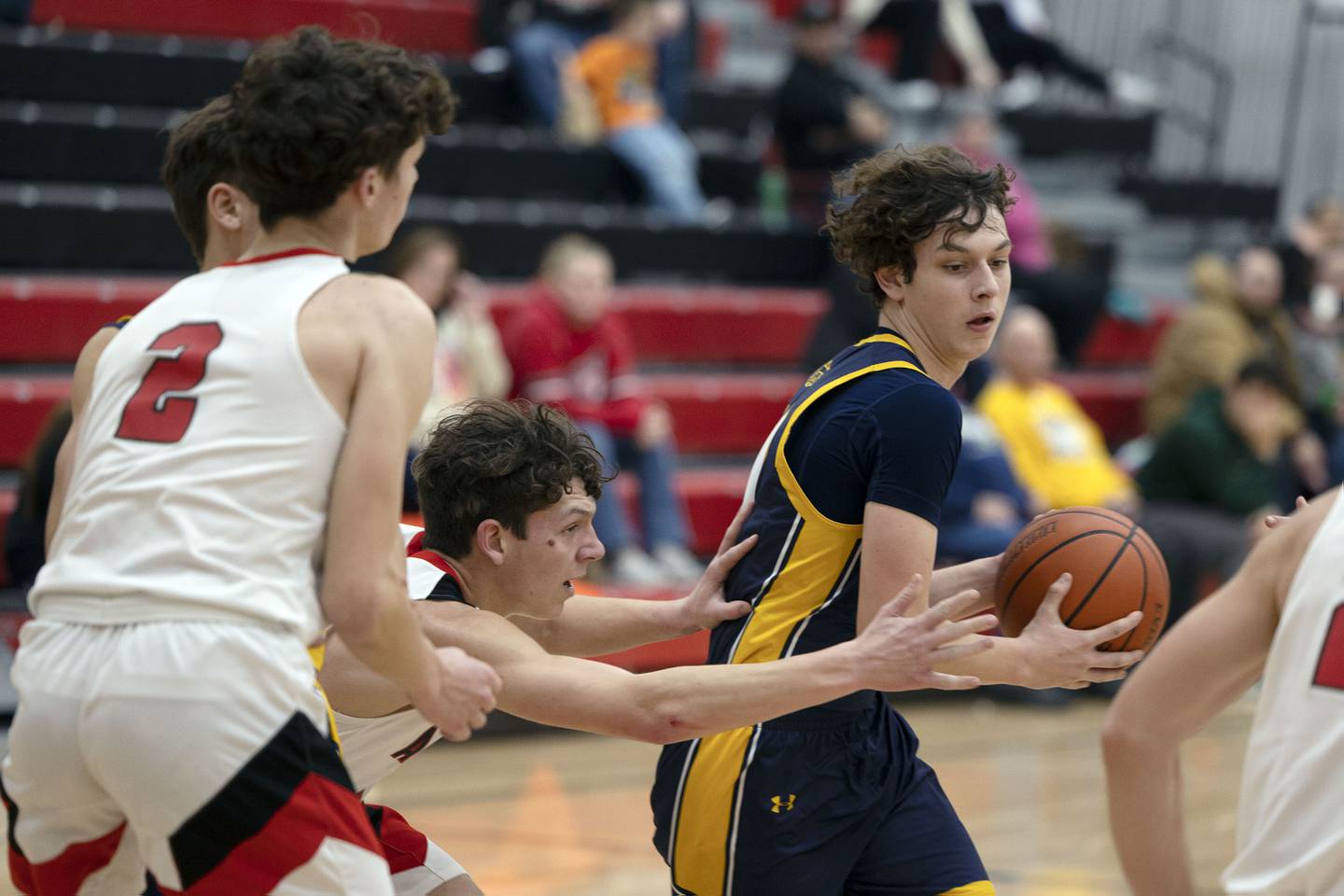 The Clippers opened the second quarter with a Jones layup off a Troy Anderson feed for a 12-8 advantage with 6:36 remaining, but Polo scored the next 12 points and allowed zero for the remainder of the half.
A Hahn steal and coast-to-coast layup regained the lead at 14-12, then Merdian dribbled behind his back near the left wing and slithered between collapsing zone defenders for a layup and a 16-12 Polo lead with 3:33 on the clock. Soltow attacked the middle of the lane and hit a floater to make it 18-12 Marcos a little less than a minute later, then Merdian spun under the basket on a baseline drive and dumped a pass to Cayden Webster for a layup to go up 20-12 with 16 seconds left.
"Our defensive intensity picked up very much, and that was huge. They only scored two points in the second quarter," Merdian said. "That gave us a huge lead going into halftime, and we felt comfortable at halftime, especially with our defense playing how it was."
Amboy scored the first five points of the third quarter to draw within 20-17, as Eddie Jones made a free throw, Anderson hit a layup, and Wes Wilson buried a mid-range jumper off a Kyler McNinch inbounds pass in the first 1:50.
But Soltow scored eight points between 5:16 and 2:05, fueling a 10-2 run for a 30-22 Polo lead.
Soltow started the run by tipping a pass to himself near midcourt, drawing a foul on the fast break and hitting two free throws for a 22-17 lead. Just 16 seconds later, Soltow hit Webster for a layup on a baseline cut for a seven-point lead, then completed a pair of three-point plays over the next two minutes to stretch it to 30-22.
"We weren't really able to get stops," Anderson said. "We weren't playing team defense."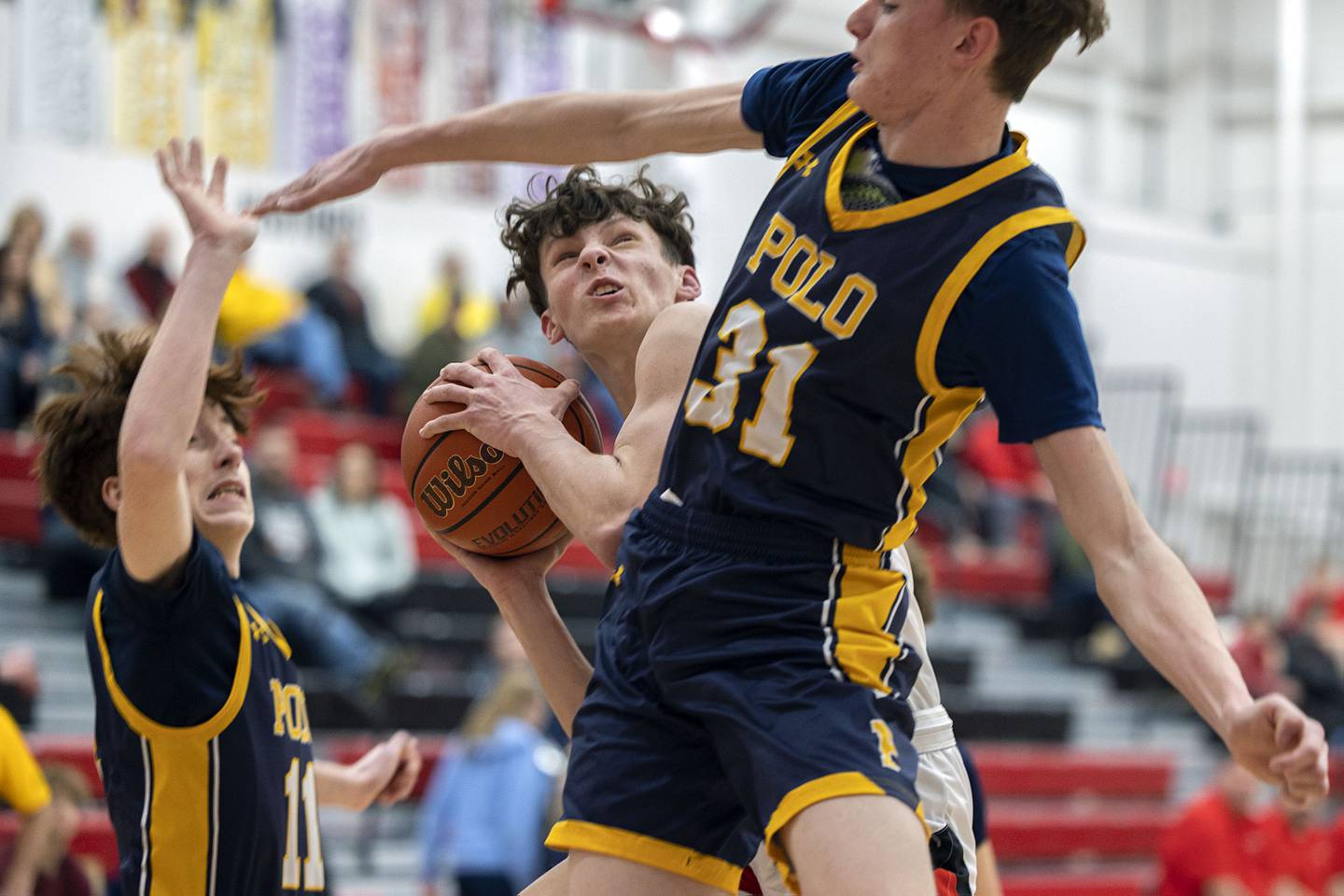 Amboy cut it to 30-26 after a McNinch steal and fast-break assist to Anderson with about 20 seconds left, but four points was the smallest deficit it could achieve in the last nine minutes.
Soltow opened the fourth quarter with a putback off his own miss to go up 32-26, and Merdian drove baseline and hit Webster on a cut for a 34-28 lead with 4:56 to play.
Anderson found Eddie Jones with a bounce pass on a back-door cut to pull within 34-30 with 3:01 to play, and that score held for the next two minutes, as Polo missed six straight free throws.
Soltow ended the scoring drought by hitting the first of two free throws with just under a minute remaining, then Carson Jones hit the second of two free throws for a 36-30 lead with 31.9 seconds left.
Eddie Jones got to the hoop to pull Amboy within 36-32 just 10 seconds later, but Soltow avoided an intentional foul on the next possession and threw a pass about two-thirds of the length of the court to a wide-open Carson Jones under the basket, who laid in for a 38-34 lead in the last 12 seconds.
The Marcos missed 9 of 12 free-throw attempts in the fourth quarter, but allowed only four points in the last three minutes.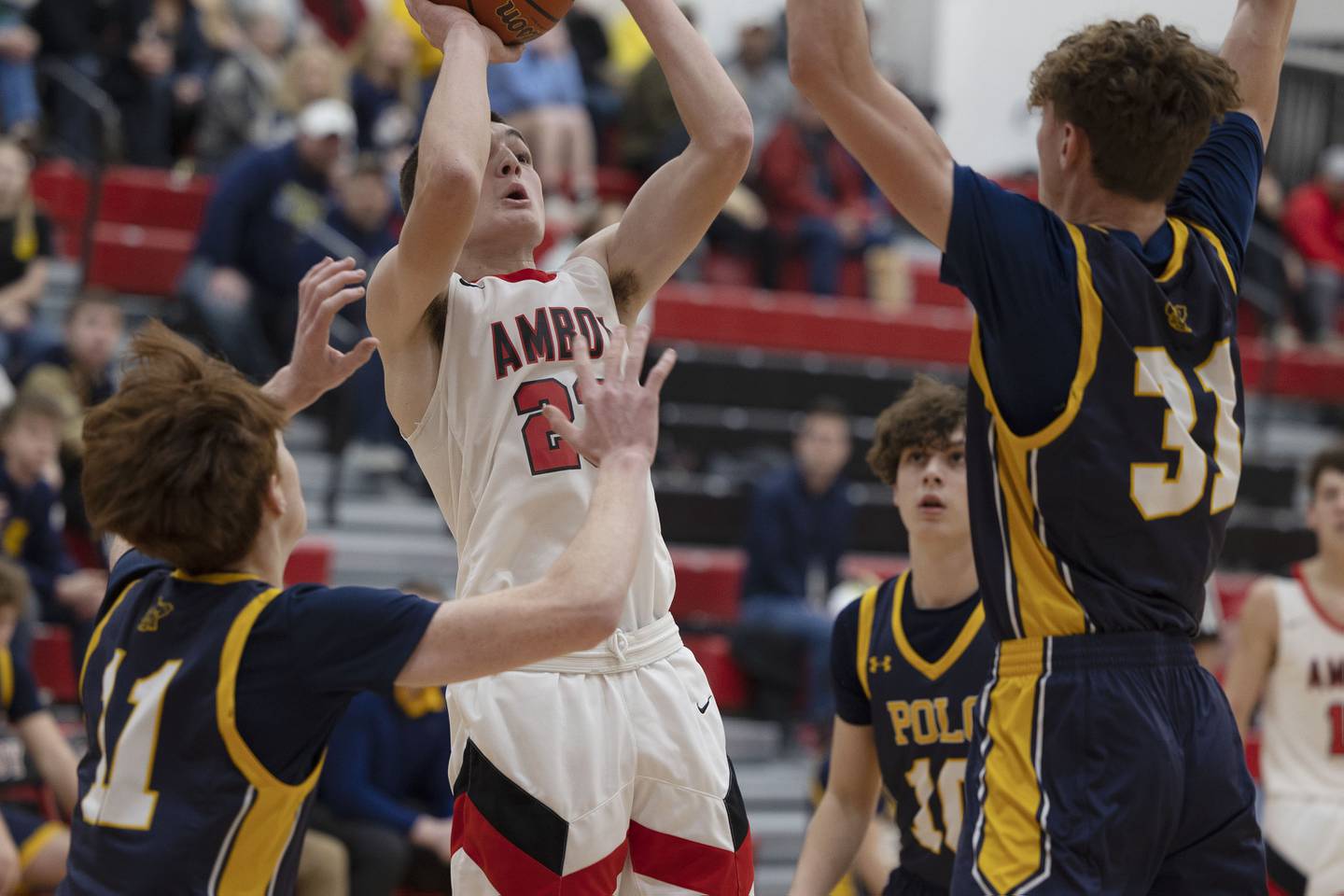 "Stops. Defense was huge in the fourth quarter, in the whole game," Merdian said, explaining how Polo overcame the missed free throws. "We struggle with free throws, have all year. We need to get better at those. Especially when it comes to regionals and stuff like that, we can't be missing all those free throws."
Added Soltow: "Just playing with energy on defense and locking in our heads and not screwing up on anything else."
Soltow paced Polo with 15 points, five rebounds, three assists and three steals, and Merdian tallied seven points, six rebounds, four assists and four steals. Webster had six points, four rebounds and three steals, and Hahn chipped in three points, five rebounds and two steals.
Eddie Jones led Amboy with 17 points, three rebounds and two steals, while Anderson totaled 13 points, six rebounds, two assists and one steal. McNinch compiled two points, two rebounds, five assists, two steals and one block, and Wilson added two points, five rebounds, two steals and one assist.