OREGON – Under Liz Green, the Erie-Prophetstown cross-country program has always been an environment of caring for one another. That attribute played dividends, as both boys and girls teams advanced to the IHSA state meet.
"We gave a speech on the bus about the world being full of givers and takers," Green said. "The message we left them with is be a giver for your team."
That spiritual message was contagious, as every team member, whether competing or not, did all they could to build each other up. One of those was senior Jillian Norman, who was in a boot and couldn't run because of a potential injury.
"It's really disappointing for me, but I am so proud and excited for the team," Norman said.
The boys have qualified before, but this is the first time the girls team will be headed to Detweiller Park in Peoria, site of the state meet.
The top six teams advanced and E-P made it by the narrowest of margins, defeating Rockford Christian 197-199 for the sixth spot.
"It's crazy," Green said. "The girls have worked so hard and deserve this."
It was freshman Sarah Link leading the way with an individual eighth-place finish in a time of 20:23. In a close race for first, Evelyn O'Connor of Seneca beat Emily Downing of Cambridge 19:07-19:09.
For Link, the day was even more special, as she celebrated her 15th birthday with some of her best friends. More critically, she passed three runners in the last mile.
"It's so much fun being here today and it helps having all the support we do," Link said.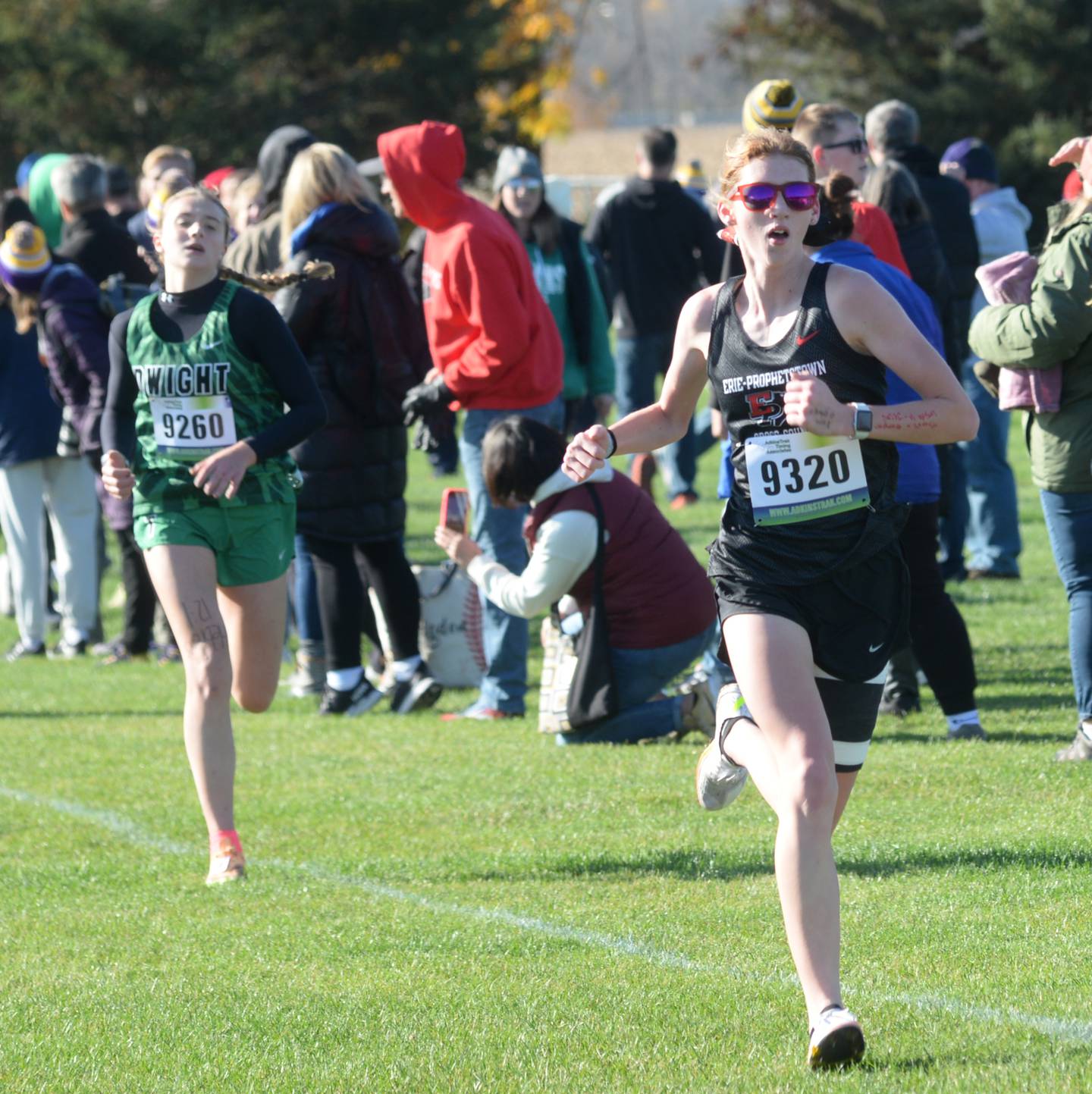 Finishing in 28th was fellow freshman Jessie Deneve (21:34) on the 3-mile Park West course. Other E-P scorers were junior Chloe Slock (22:20), senior Clara Ashdown (23:08) and freshman Alana Little (23:16).
"Alana's time was the fastest she's ever run," Green said. "She was motivated because her grandmother is dying from cancer."
Perennial power Winnebago, who took a huge loss to graduation, still took the team title with 99 points. Sectional favorite Sherrard did not make it out of the regional. Their No. 1 runner collapsed before finishing and another runner was absent, thus leaving them with four finishers, one short of what was needed to score as a team, which greatly aided E-P's chances at the sectional.
Among other area teams, Port Byron Riverdale was 8th, Lanark Eastland 13th and Oregon 18th out of 19 teams.
"Our girls have been trendsetters," Riverdale coach Kevin Claus said. "They have not had a full team since 2004 and this is the first time at a sectional for us."
For Oregon, two-time state qualifier Ella Danhorn finished 37th place with 17th place the cutoff for individuals not on a qualifying team.
The E-P boys had a bit more breathing room than the girls with 126 points for fifth place, compared to 179 for sixth-place Sterling Newman. Rock Island was odd man out with 189.
In a close battle for first between the usual suspects, it was Rockford Christian with 80, Riverdale 86 and Winnebago 92.
Charlie Link paced E-P with a sixth-place showing out of 152 competitors. Junior Nicolai Martino (16:04) of 'Bago upset senior Weston Forward (16:16) of RC for the individual championship.
For E-P, it was trio of seniors leading the way, with Lucas Dreisbach (17:30) in 23rd and Tyson Skinner (17:45) in 28th joining Link as top scorers.
"I'm in shock," Link said. "This is my first time going to state since I was in 8th grade."
E-P went as a team in 2021, but Link was sick and last year, he missing competing as an individual due to injury.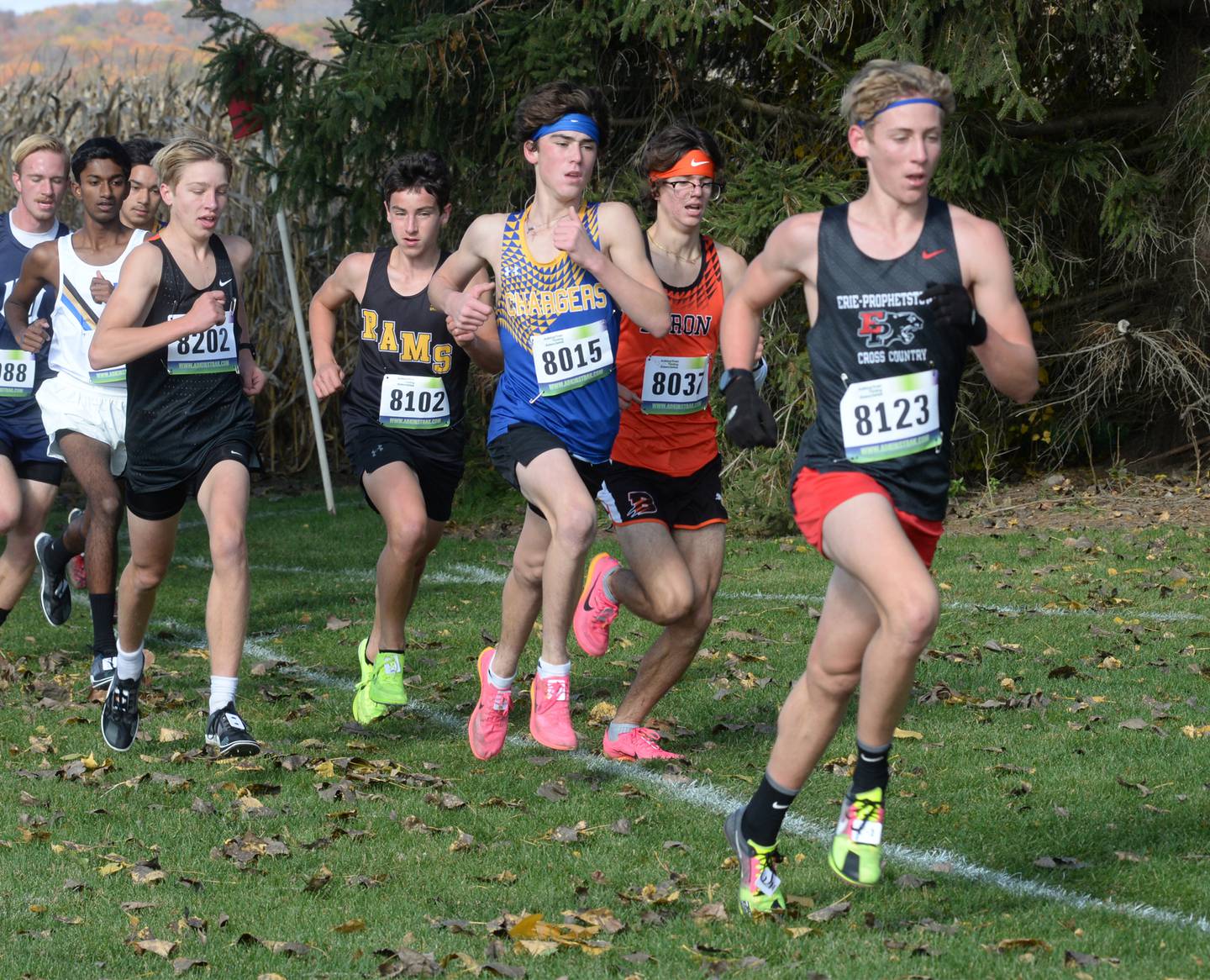 Gus Schultz and Wyatt Goosens also scored for E-P. The only area individual qualifier was West Carroll sophomore Roscoe Davies, who was 14th in 17:10.
Lucas Schaab (16:59) and Lucas Simpson (17:11) went 11th and 15th for Newman. Joining them as scorers were Wyatt Widolff, Carver Grummert and Zachery DeForest.
"Our No. 6 (DeForest) stepped up for us," Simpson said.
The regular No. 5 runner, Rico Hernandez, was sick and DeForest played a key role in whether or not the Comets advanced.
"With our No. 5 out, I knew it was going to be tighter than what I thought it would have been." Newman coach Pat Warkins said. "I can't complain. Everyone ran well and I'm glad we squeaked in."
Since 2008, it was the 12th state qualifying as a team, a mark that helps perpetuate tradition.
"A lot of it ends up with kids having that expectation," Warkins said. "They don't want to be the ones to let it down. There's a lot of difference going down as a team instead of as individuals. It's not the same if you're the only one there from your team."
Riverdale was pleased to qualify after losing four of its five top runners from the 2022 state runner-up squad. Sophomore Braedon Bode looks to be the next star runner with a fifth place at 16:27.
This is an extremely resilient team," coach Kevin Claus said. "After losing so much, I wasn't sure at the start of the season how we would do."