STERLING – More than 350 varsity runners competed in the Rock River Run at Hoover Park on Saturday, as crowds of onlookers waited and watched at the finish line behind Woodlawn Arts Academy on a slightly chilly, overcast morning.
A total of 23 schools were represented at the midseason cross country meet, including Dixon, Sterling, Rock Falls and Eastland. There were 16 teams competing in the girls race, while 22 teams competed in the boys race.
[ Photos from the Rock River Run ]
Rock Falls' Hana Ford, who took second at the Twin Cities Meet on the same course less than two weeks prior, outpaced 174 runners for a first-place finish, recording a time of 18:39.20. East Moline's Rubi Tapia-Macias ran an 18:44.20 for second, and Dixon's Emma Smith was right behind her, clocking an 18:48.70 for third.
"It felt good, but while running, it felt kind of draining and really hard," Ford said. "But I pushed through it."
Smith, who was the top female runner at the Reagan Run 5K this summer, was a little disappointed in her effort, despite the favorable placing.
"Not the best," she said. "I was looking for first the whole time, and then I just got in my head and didn't finish as good as I wanted to."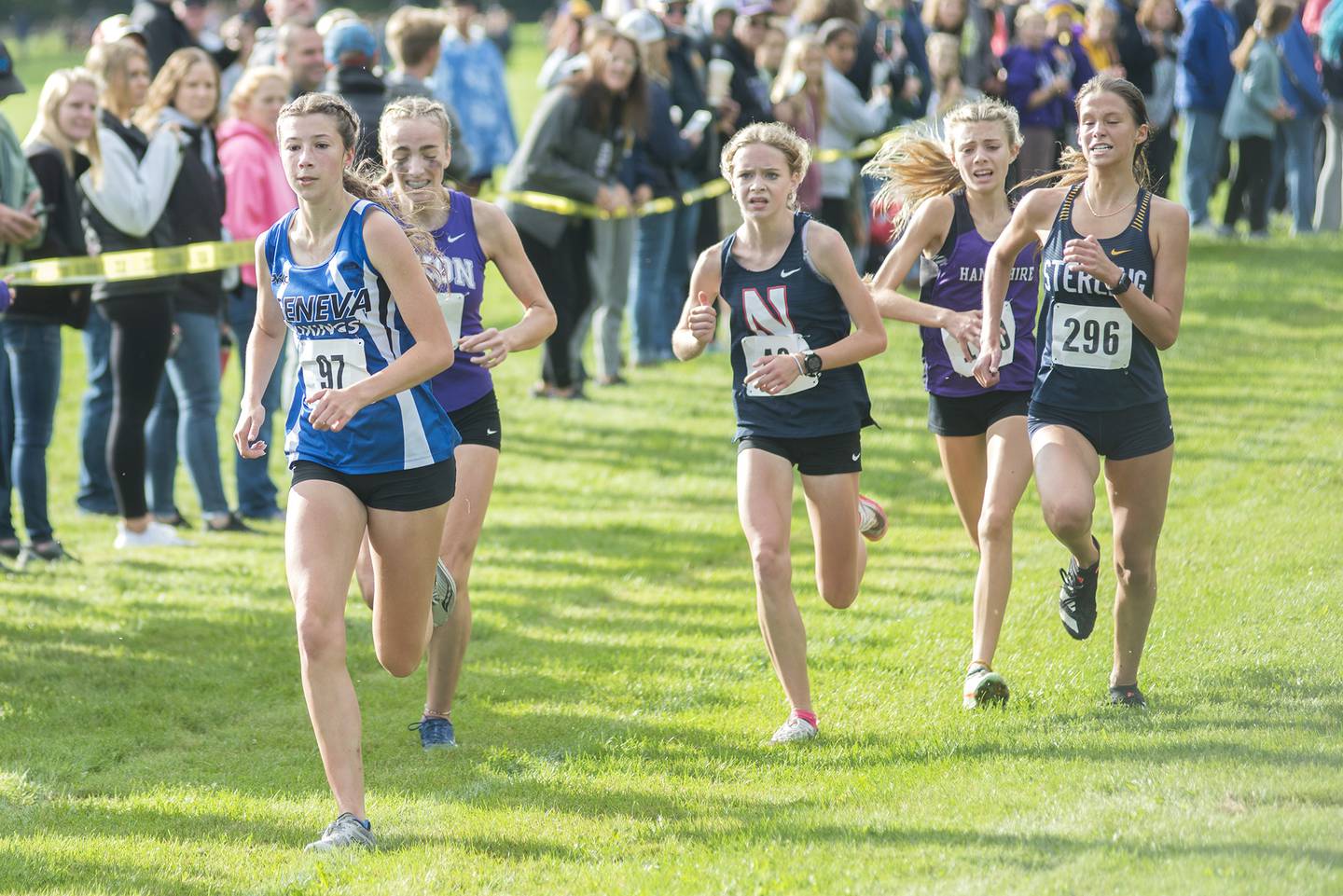 As a team, the Duchesses dominated their field, landing four runners in the top 10, seven in the top 20, and nine in the top 50. Dixon's 33 points was by far the best score of the girls' teams; runner-up Hampshire scored 118.
Kate Boss ran a 19:00.20 for fourth, Emily Conderman ran a 19:11.50 for sixth, and Kait Knipple clocked a 19:22.70 for eighth as the other top-10 Dixon runners.
Hannah Steinmeyer registered a 12th-place finish for the Duchesses with a 19:39.80, Keeley Mick came in 13th with a 19:42.10, and Kamryn Rogers clocked a 19:50.40 for 20th. Olivia Arduini (32nd, 20:14.70) and Teyla Wendt (47th, 20:49.90) also finished in the top 50 for Dixon.
Ariel Hernandez and Kat Scott had the second and third top-25 finishes for Rock Falls, with Hernandez in 14th with a 19:43.20, and Scott in 25th with a 19:59.80.
Sterling's Rhylee Wade took ninth with a 19:23.00, and teammates Delia Block (18th, 19:46.20) and Megan Gingrich (38th, 20:31.30) also finished in the top 40. The Golden Warriors' 163 points slotted them fifth in the 16-team girls field, while Rock Falls' 170 placed it in seventh.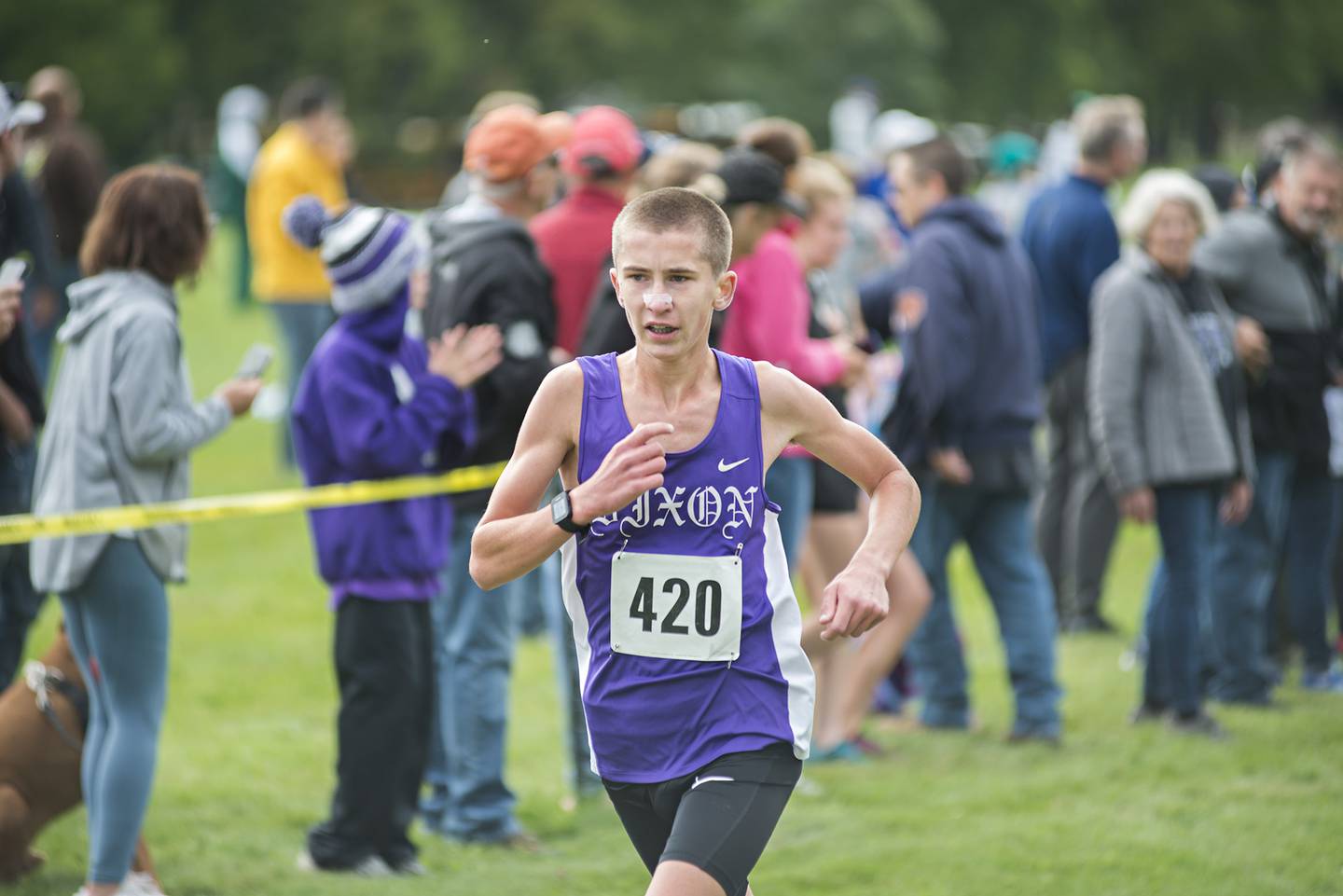 In the boys race, Geneva and Sycamore led the field with 86 and 99. Dixon finished sixth with 217, Sterling was ninth with 269, Rock Falls was 14th with 343, and Eastland came in 22nd with 580.
Dixon's Aaron Conderman was the top local finisher in the boys race, placing eighth in the field of 191 with a 16:07.10.
"I was proud of myself. It wasn't as fast of a meet, and I still got like two seconds off my best time, so I felt pretty good about that," Conderman said. "I can definitely go under 16 in the next meet."
Dixon's Jack Johnson secured 20th with a 16:34.40, and teammate Jacksen Ortgiesen ran a 17:05.20 for 39th.
Jose Gomez was Rock Falls' lone top-50 finisher, running a 16:40.00 for 22nd.
Parker Janssen set a personal record to pace Sterling, clocking a 16:43.00 to secure 25th.
"I remember hearing I was in about 25th place, and I was like, 'Well, I'd like to get higher up.' That didn't happen, but I still got my lifetime PR: 16:43," Janssen said. "I've been wanting to get under 16:45 since about June 1st, and I've worked for it pretty much every day."
Eastland's boys placed 22nd with 580 points, as Hudson Groezinger was the Cougars' lone top-100 finisher in 79th (18:01.00). The girls did not field a full team, but had a pair of top-100 runners in Leslie Mayne (85th, 22:07.60) and Delaney Wilhelms (91st, 22:20.90).