The Rock Falls volleyball team defeated Yorkville Christian 25-21, 25-15 in a nonconference road match Thursday evening.
Claire Bickett had 10 kills and five digs, Denali Stonitsch dished 13 assists, and Emily Lego added four kills, two blocks and 13 service points for the Rockets. Nicolette Udell finished with four kills and five digs, Rylee Johnson had two kills and a block, Sophia Moeller added seven digs, and Carli Kobbeman chipped in six digs.
Oregon def. Harvard 25-10, 25-13: The Hawks downed the Hornets in two sets of nonconference play, powered by strong performances from Olivia Wynn, Kenna Wubenna and Ava Wight.
Wynn tallied nine assists, four kills and one ace, Wubenna compiled seven digs and six kills, and Wight added six digs, three kills and two aces for Oregon.
Polo def. Amboy 25-13, 25-15: The Marcos topped the Clippers in two sets of NUIC play.
Leaders for Polo were Lindee Poper with seven digs, six kills and three blocks, Ellie Wells with 11 digs, nine assists and two aces, and Teah Almasy with six assists, five digs, two aces and two kills. Bekah Zeigler chipped in eight digs and three kills for the Marcos, while Ali Danekas had three kills and a block, and Sydnei Rahn chipped in two kills and a block.
Emersyn Noble led Amboy with 13 digs.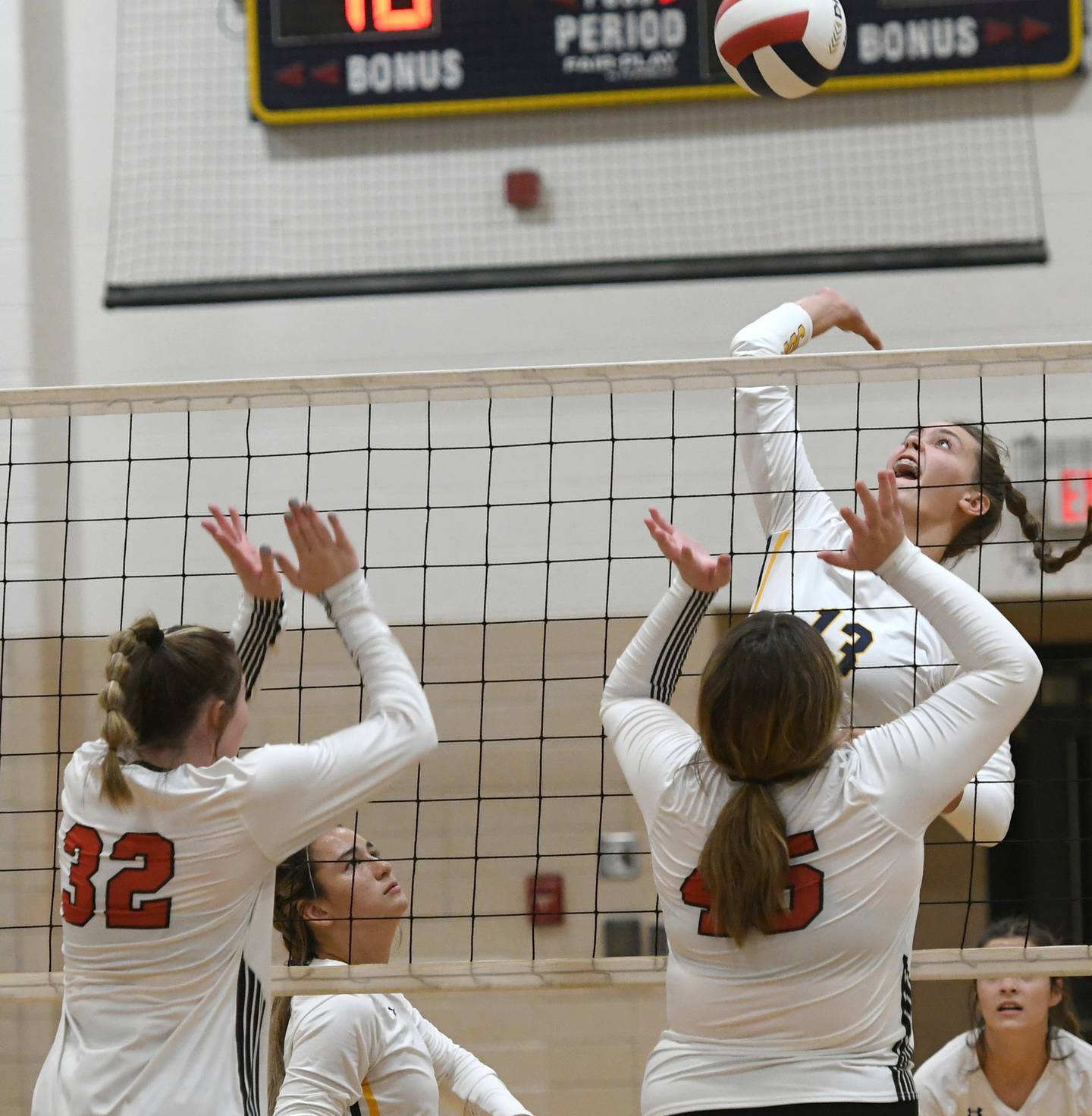 Eastland def. AFC 25-16, 25-13: The Cougars improved to 5-4 overall and 1-1 in the NUIC with a two-set victory over the Raiders.
Trixie Carroll paced Eastland with 12 kills and five digs, Quinc Haverland tallied nine kills, two aces and one block, and Jenica Stoner added 21 assists. Jocelyn Green totaled four digs and three aces, while Morgan McCullough chipped in five digs.
Sherrard def. Erie-Prophetstown 18-25 , 25-18, 25-11: After dropping the first set, the Tigers claimed two straight wins to edge the Panthers.
Leaders for E-P were Aylah Jones with six kills, Lauren Abbott with four kills and two blocks, Jamie Neumiller with 14 digs, Olivia Purvis with six digs, and Kennedy Buck with 15 assists and two blocks.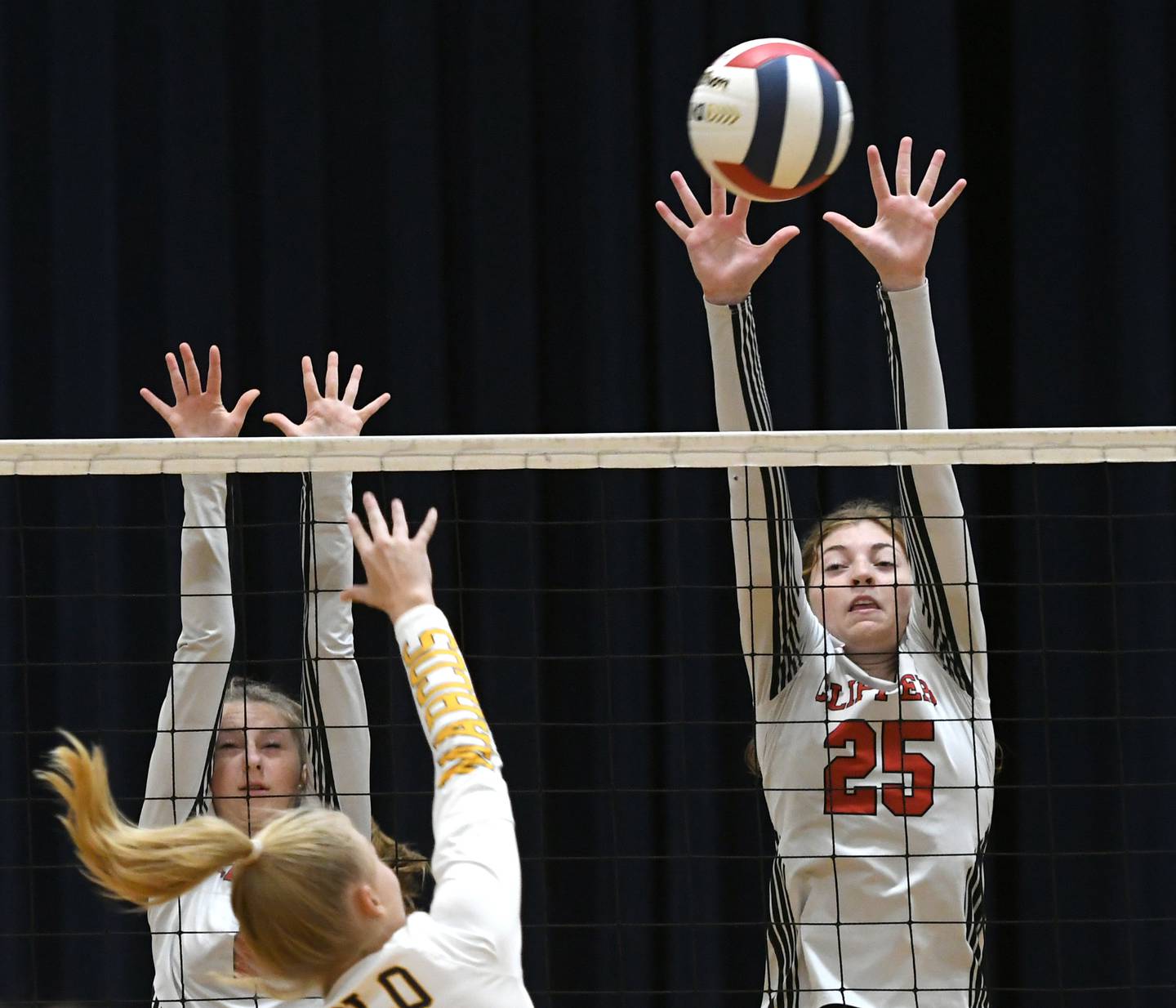 Boys soccer
Rockford Guilford 5, Sterling 2: The Golden Warriors lost a nonconference game at Roscoe Eades Stadium.
Oregon 2, Stillman Valley 0: Jacob Vegliando and Roberto Hernandez scored one goal apiece to lead the Hawks past the Cardinals, improving to 6-3-2 on the season and 2-0 in the Big Northern Conference.
Vegliando and Keaton Salisbury had one assist each for Oregon.
Gavin Morrow recorded 17 saves and got the shutout for the Hawks.
Boys golf
Sterling 179, Eastland 213: The Golden Warriors topped the Cougars in a nonconference dual at Emerald Hill.
Mason Hubbard was medalist with a 41 for Sterling. Cameron O'Brien fired a 44, Braden Hartman shot a 46, and Bryce Hartman had a 48 to round out the Warriors' team score, while Carter Morris added a 51 and Trevor Dir shot a 60.
Cooper Dollinger led Eastland with a 51, Parker Krogman fired a 52, Braden Anderson had a 53, and Keegan Strauch added a 57. Camron Huber (62) and Colton Hendrick (63) also competed for the Cougars.
Dixon 167, Stillman Valley 182: The Dukes won a Big Northern Conference dual at PrairieView, as Mason Weigle won medalist honors with an even-par 36.
Alex Harrison had a 41, and Steven Kitzman and Ben Oros both fired 45s for Dixon. Cade Hey had a 50, and Jayce Kastner added a 54.
Rock Falls 186, Oregon 202: The Rockets topped the Hawks in a Big Northern dual at Silver Ridge.
Nick Vickers was medalist with a 43 for Rock Falls, while Conner Porter and Brody VanWeelden both shot 47s, and Conner Porter added a 49. Riley Anderson fired a 51, and Colby Ward had a 64.
Dom Terlikowski led Oregon with a 49, Kylar Early had a 50, Brogan Wilkinson fired a 51, and Jackson Messenger shot a 52. Logan Sarver had a 55, and Brady Davis added a 68.
Fulton 171, Amboy 202, Lena-Winslow/Pearl City 240: The Steamers swept an NUIC triangular at Shady Oaks Country Club, while Amboy's Wes Wilson was medalist with a 40.
Also for the Clippers, Hayden Wittenauer fired a 47, Carson Barlow had a 57, Bryson Full shot a 58, and Logan O'Brien added a 73.
Reed Owen led Fulton with a 41, Dawson Price had a 42, Landon Meyers shot a 43, and Jacob Voss fired a 45. Brady Read had a 46, and Zach Winkel added a 49.
Girls golf
Dixon 222, Stillman Valley 229: Katie Drew shot a 42 as medalist to lead the Duchesses to a Big Northern win at PrairieView.
Reese Dambman fired a 48 for Dixon, while Tya Collins shot a 66, Kiana Olalde added a 68, Zoey Williams had a 75, and Saida Bajrami added an 80.
Sycamore 186, Oregon 210: The Hawks lost a nonconference dual at Silver Ridge, but Ava Hackman was medalist with a 41.
Lexi Davis fired a 51, and Aniyah Sarver and Sarah Eckardt both shot 59s for Oregon. Hailey-Jane Becker and Kendra Ehrler both added 61s.
LaSalle-Peru 232, Sterling 270: The Golden Warriors lost a nonconference dual at Senica's Oak Ridge. Emily Schwingle led Sterling with a 62.
Bureau Valley 200, Erie-Prophetstown 221, Princeton 222: The Storm swept a Three Rivers triangular at Hidden Lakes, while the Panthers split.
Callie Schoff was medalist with a 45, and Mattie Michlig fired a 49 for Bureau Valley. Cassidy Peterson and Taylor Tedesco both shot 53s, Layne Sproston fired a 54, and Lynzie Cady added a 63.
Lillian McWilliams led Erie-Prophetstown with a 54, Jaelin Hawkins fired a 55, and McKenzie Winckler and Taylor Wilson both shot 56s. Hannah Huisman (65) and Michelle Naftzger (66) also played for the Panthers.
Girls tennis
Dixon drops a pair at triangular: The Duchesses lost 3-2 to both Washington and host LaSalle-Peru in a three-team meet in LaSalle.
Against LP, Leah Stees won 6-0, 6-4 at No. 2 singles, and Arielle Tefiku and Siena Kemmeran won 6-2, 6-2 at No. 2 doubles. Olivia Gingras and Nour Alsarama lost in a third-set tiebreaker at No. 3 doubles.
Against Washington, Gingras an Alsarama won 6-2, 7-5 at No. 3 doubles, while Addison Arjes notched a 6-4, 6-3 victory at No. 1 singles. Leah Kuehl and Grace Ferguson lost a third-set tiebreaker 11-9 at No. 1 doubles.
Geneseo 4, Sterling 1: The Golden Warriors lost a Western Big 6 dual on the road. Layla Tablante picked up Sterling's lone victory at No. 1 singles, winning 6-1, 6-1.
MLB
Junis pitches well in Milwaukee: Rock Falls native Jakob Junis pitched six strong innings for the San Francisco Giants, but took the loss as the Brewers won 2-1 on Thursday afternoon at Miller Park in Milwaukee.
After the Giants started Scott Alexander, Junis took over in the second inning and allowed two earned runs and three hits over the next six innings, with four strikeouts and to walks. He left after the seventh inning, throwing 51 of his 87 pitches for strikes.
For the season, Junis is 4-5 with a 3.98 ERA in 19 appearances, including 15 starts. He has allowed 42 runs – 41 earned – and 89 hits in 92 2/3 innings, with 80 strikeouts, 20 walks and three hit batsmen.