The Sauk Valley women's tennis team notched another victory Wednesday, downing Illinois Valley 7-2 in the Skyhawks' first home match of the season.
Sydney Schott, Saryn Seeley, Meghan Van Buren and Lexi Sneek all won in both singles and doubles for the Skyhawks (5-0). Schott won 6-1, 6-0 at No. 1 singles, Seeley won 6-4, 6-1 at No. 2, Van Buren won 6-3, 6-3 at No. 4, and Sneek won 6-1, 6-2 at No. 5.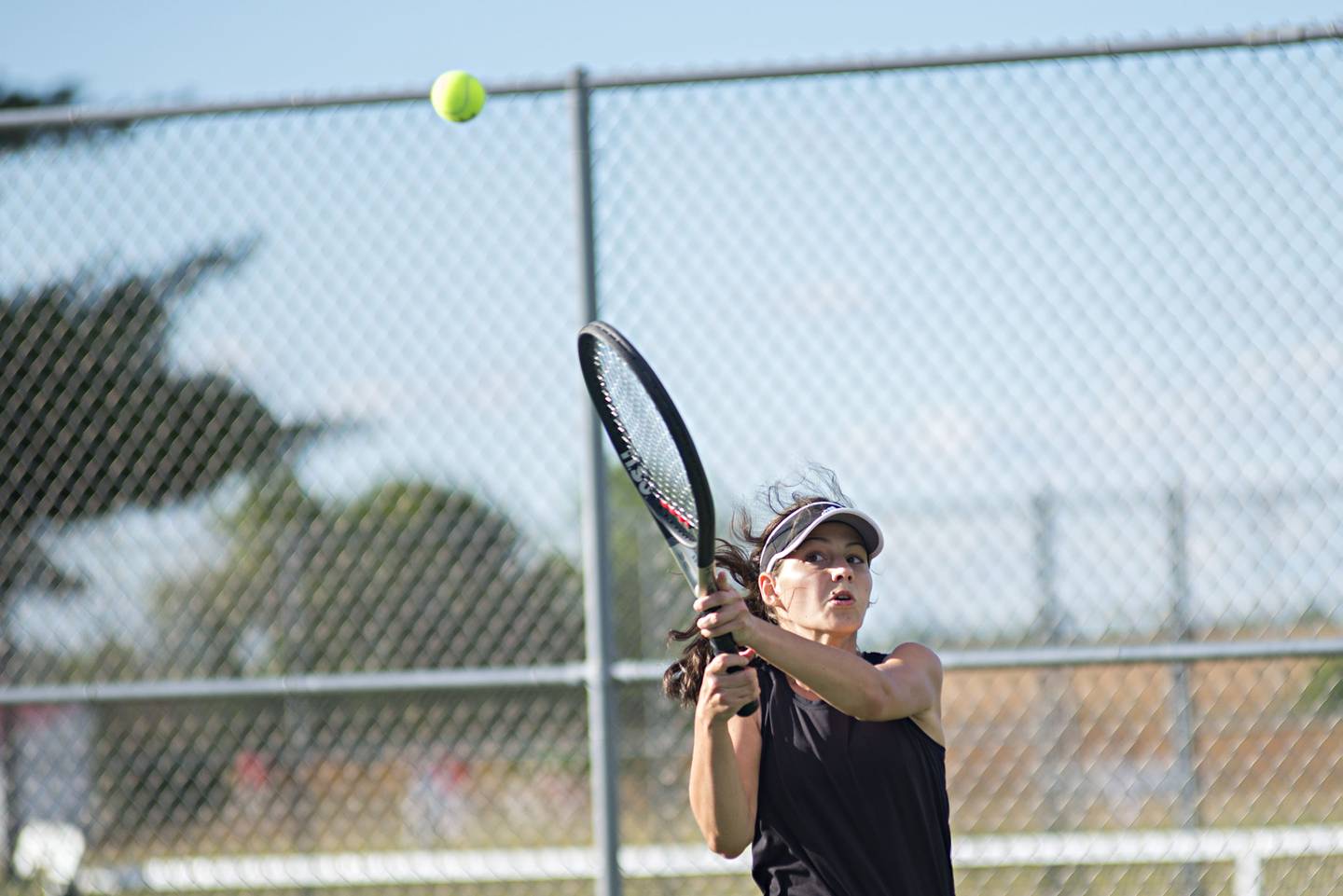 In doubles, Seeley and Sneek won 6-1, 7-5 at No. 1, while Schott and Van Buren won 6-1, 6-2 at No. 2.
Kenzie Hubbard and Olivia Pitkin avenged singles losses with a 6-4, 4-6, 11-9 win at No. 3 doubles.
Volleyball
Byron def. Dixon 25-18, 12-25, 25-14: The Duchesses dropped a Big Northern match on the road.
Ella Govig had five kills and three blocks, and Sam Tourtillott also smacked five kills for Dixon. Mallory Coley had four kills and five blocks, Olivia Cox added three kills and six blocks, and Joey Brumbly had two kills. Elena Castillo-Wetzell finished with 17 digs and three aces, Natalie Davidson added 10 digs, Hanna Lengquist had seven assists, seven digs and two aces, and Holli Miller chipped in eight assists and three digs.
Stockton def. Milledgeville 25-22, 15-25, 25-17: The Missiles (9-6) fought back in the second set, but ultimately lost an NUIC match at home.
Boys golf
Moline 160, Galesburg 169, Sterling 179: The Golden Warriors fell in a Western Big 6 triangular at Bunker Links in Galesburg.
Cam O'Brien's 42 and Dale Guerrieri's 43 led the way for Sterling, while Carter Morris (46) and Braden Hartman (48) rounded out the team score. Trevor Dir (50) and Cale Cushman (52) also played.
Galesburg's Jason Runbom was the medalist with a 2-under-par 34.
Fulton wins NUIC title: Led by medalist Ian Wiebenga, the Steamers won the NUIC Meet at Galena's Eagle Ridge North in their first year in the league.
Fulton shot a 352 to defeat Eastland by nines strokes. Amboy was sixth (390), Forreston took 12th (461), West Carroll was 13th (569), and Polo finished 14th (606).
Weibenga shot a 74 to win by six strokes over runner-up Thomas Hereau of River Ridge-Scales Mound. Eastland's Andy Anderson was third with an 80, and teammate Kellen Henze finished fifth with an 87.
Also for Fulton, Reed Owen was ninth with a 90, Brady Reed took 12th with a 92, and Landon Meyers (96) and Kyle Meinema (97) finished 20th and 21st.
Eastland's other counting scores came from Gabe York (tied for 17th, 95) and Keegan Strauch (tied for 27th, 99).
Amboy's Wes Wilson was seventh with an 88, Hayden Wittenauer took 11th (91), and Jordan Harris was 30th (100).
Polo's top score was from Cody Buskohl in a tie for 21st (97). Colton McGlynn led Forreston in a tie for 52nd (112). Erik Kice led West Carroll in 76th place (137).
Girls golf
Sterling splits in Princeton: The Golden Warriors defeated Princeton but fell to Kewanee in a triangular at Wyaton Hills.
Maddie Pink led Sterling with a 45, and Jozlyn Johnson fired a 49. The Warriors shot a 233, while Kewanee won with a 215.
Newman 160, Erie-Prophetstown 177, Bureau Valley 193: The Comets won a triangular at Lake Erie, with all three teams fielding only three golfers.
Ellie Rude was medalist with a 50, and Ashley Wierman was runner-up with a 51 for Newman. Sophia Ely added a 59.
Malory Eggers led E-P with a 52, Sabrina Soleta fired a 57, and Jaelin Hawkins had a 68.
Bureau Valley got a 60 from Cassidy Peterson, a 65 from Callie Schoff, and a 68 from Layne Sproston.
Polo second at NUIC Meet: Led by medalist Kamryn Stockton, the Marcos shot a 428 at the NUIC Meet at Eagle Ridge in Galena, finishing behind only the host Pirates (417). West Carroll took sixth (508), while Amboy, Eastland, Forreston and Fulton did not field full teams.
Stockton shot an 88 to beat Galena's Ayden Wells by two strokes. Polo also got a 12th-place finish from Kealie Wilcox (114), a 25th from Braelyn Velez (127), and a 31st from Avery Faivre (139).
Victoria Reiland led West Carroll in 14th place (116), while Eastland's Belle Lego tied for 16th (118). Forreston was led by Hannah Harvey in a tie for 18th (121), and Aspen McGlynn in 20th (122).
Amboy's top score came from Andrea Buhrow in 26th (128), while teammate Emma Dinges tied for 34th (155) with Eastland's Cheyenne Schmitt. Fulton's Aliya Bueno tied for 36th (157) with Polo's Alivia Schmidt.
Boys cross country
Comets cruise to win in Byron: Newman claimed four of the top six spots to win the title at the Byron Invite, as Tom Powers (16:20) and Lucas Simpson (16:24) finished 1-2.
Lucas Schaab was fourth (16:35) and Ken Boesen placed sixth (17:08) for the Comets, and Carver Grummert (17:44) and Kaden Welty (17:47) finished 14th and 15th as the team finished with 21 points to easily beat DeKalb (51), Byron (89), Durand (89) and Rochelle (112).
Oregon's lone varsity runner was Christopher Smith, who finished 32nd in 20:11. West Carroll's top finisher was Tyvan Hartson in 38th (20:52).
Girls cross country
Oregon's Dannhorn wins in Byron: Hawks freshman Ella Dannhorn won the Byron Invite in 19:10, as Oregon placed fifth (122 points) and Newman took sixth (127).
Ellen Hodson was next for Oregon in 28th place (24:15). Claire Crisham led Newman in 12th (21:58), and Gianna Widolff was 18th (22:42). Olivia Shelley led West Carroll in 21st (23:12).
DeKalb won the team title with 36 points, led by runner-up Annika Burchell (19:11).
Boys soccer
Oregon 9, Pecatonica 2: Joey Gelander scored five goals as the Hawks cruised to a nonconference victory.
Isaac Nelson scored two goals, and Kyle Brechon and Cruz Hernandez also scored for Oregon (7-9). Liam Dickson-Harriett and Jacob Vegliando each had a pair of assists, and Brechon and Ethan Schafer also dished assists.