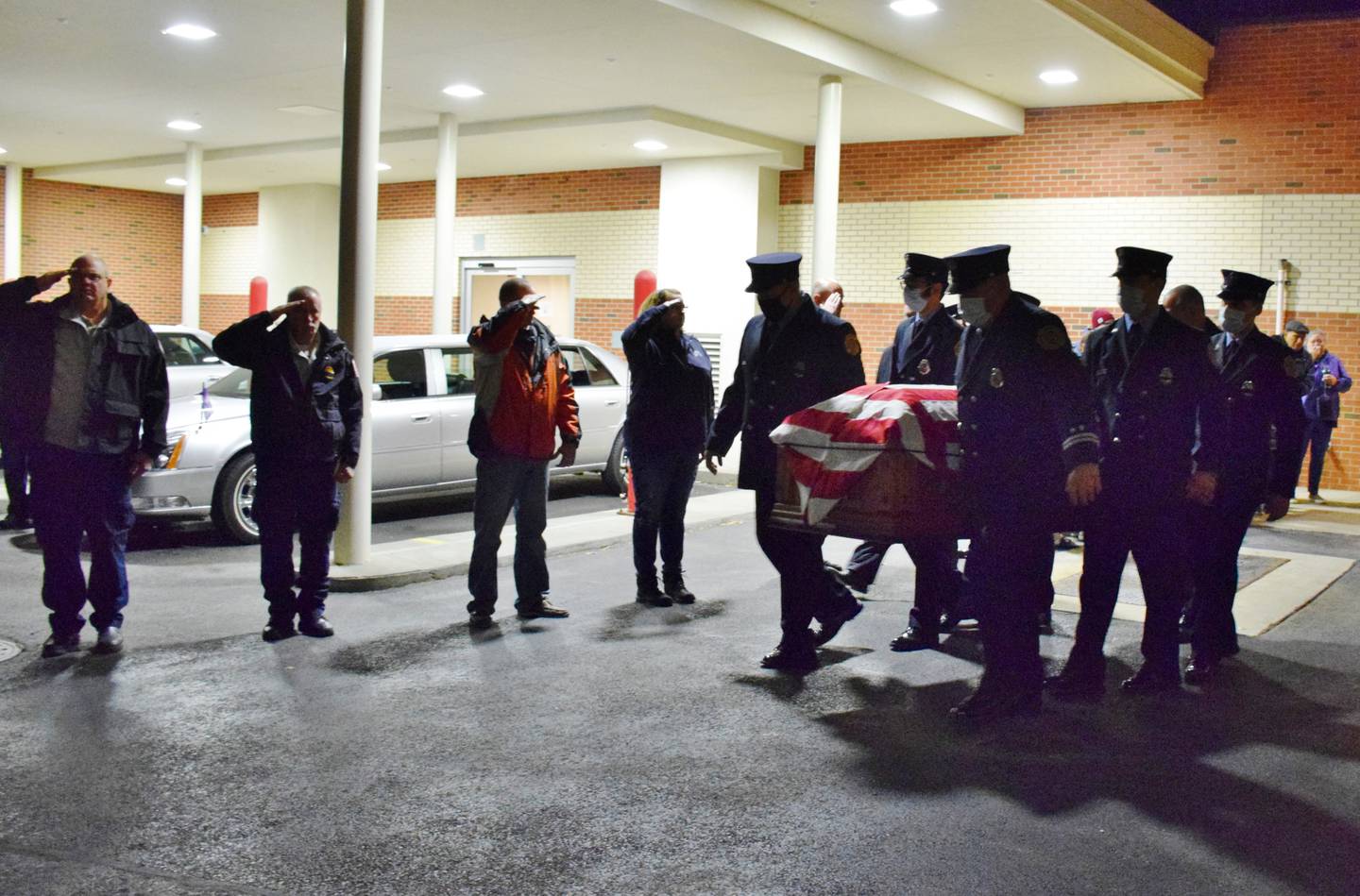 STERLING – Sterling continued Monday to mourn the loss of its native son and veteran firefighter, Lt. Garrett Ramos, who died early Saturday morning after the floor beneath him gave way while fighting a house fire in rural Rock Falls.
Ramos, 38, who was with the department nearly a decade, was posthumously promoted to captain Monday, and union Local 2031, of which he was president, has set up a fund for his wife, Britney, and their daughters Ruthie, 3, and Kepa, 2. Public funeral and memorial services are set.
Gov. JB Pritzker Monday ordered all state flags be flown at half-staff until sunset Thursday, the day of Ramos' funeral. Mayor Skip Lee also ordered all flags in Sterling to be lowered to half staff until after the service.
After learning of his death, hundreds of people lined the streets of downtown Sterling Saturday evening, many holding candles and American flags, to honor Ramos, the first Sterling firefighter to be killed in the line of duty.
The fire broke out shortly before midnight in a home at 10031 Ridge Road; 13 departments and a CGH EMS support unit responded.
After the floor collapsed, firefighters rescued Ramos, and EMS crews attempted life-saving measures en route to CGH Medical Center, where doctors continued life-saving efforts, but to no avail. He died of injuries suffered in the fall.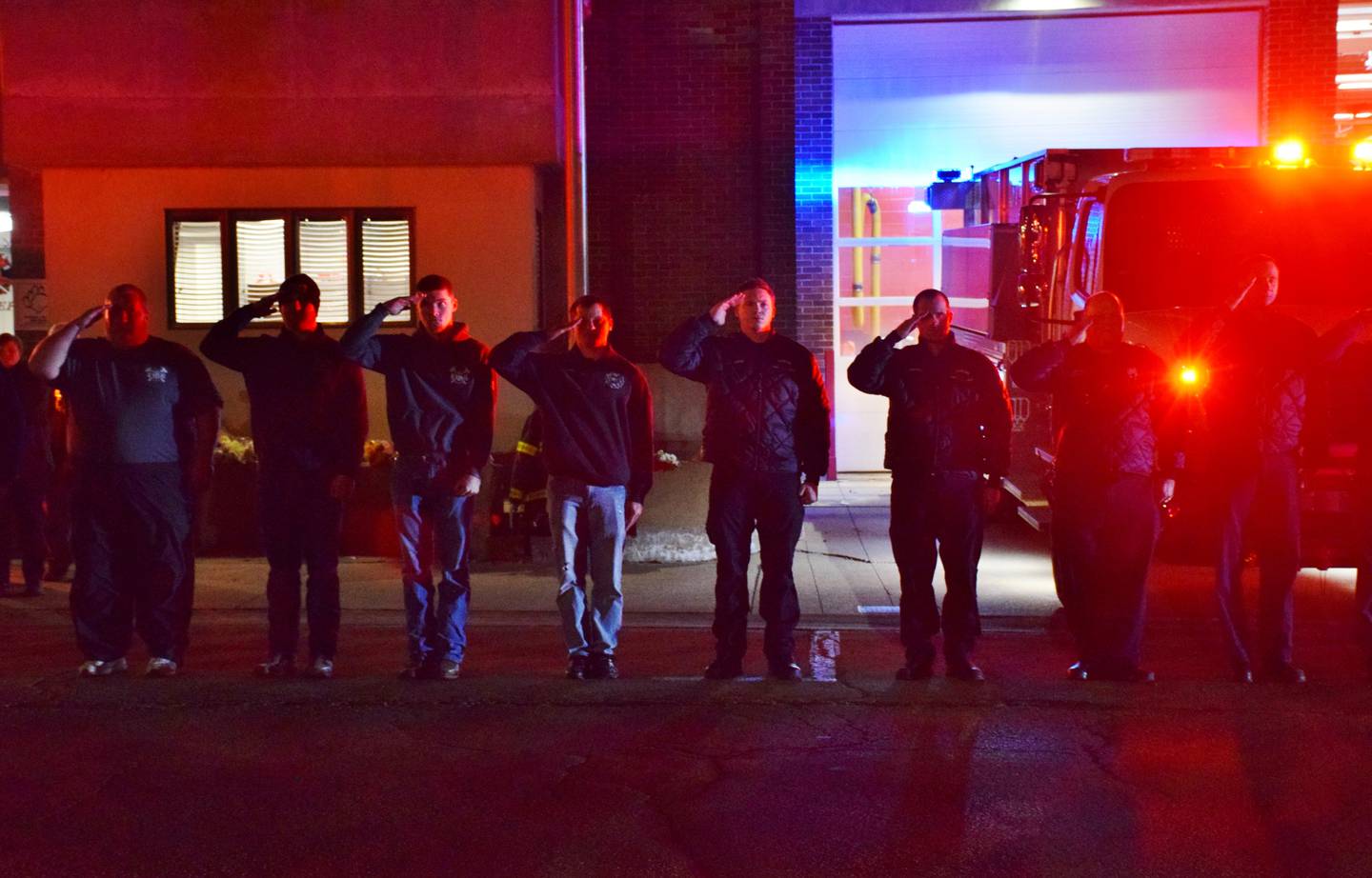 In a news conference Saturday afternoon, Police Chief Alex Chavira called Ramos' death "a devastating loss" for the city.
At 6 p.m. Saturday, the Sterling Fire Department escorted the body of Ramos from CGH Medical Center to McDonald Funeral Home in Rock Falls. The procession stopped in front of the Sterling Fire Department, where Ramos had been a firefighter since October 2012.
Members of Ramos' immediate family rode in the funeral homes' limousines during the procession. Other family members, including his aunt Mary Ramos Ortiz and his cousin Julio Ortiz, both of Dixon, stood outside the fire department holding American flags and candles.
Mary Ramos Ortiz described the community's support as "beautiful."
"I love it. It means so much," she said. "I can't believe that he's gone, though, that this is all for him. It's unbelievable."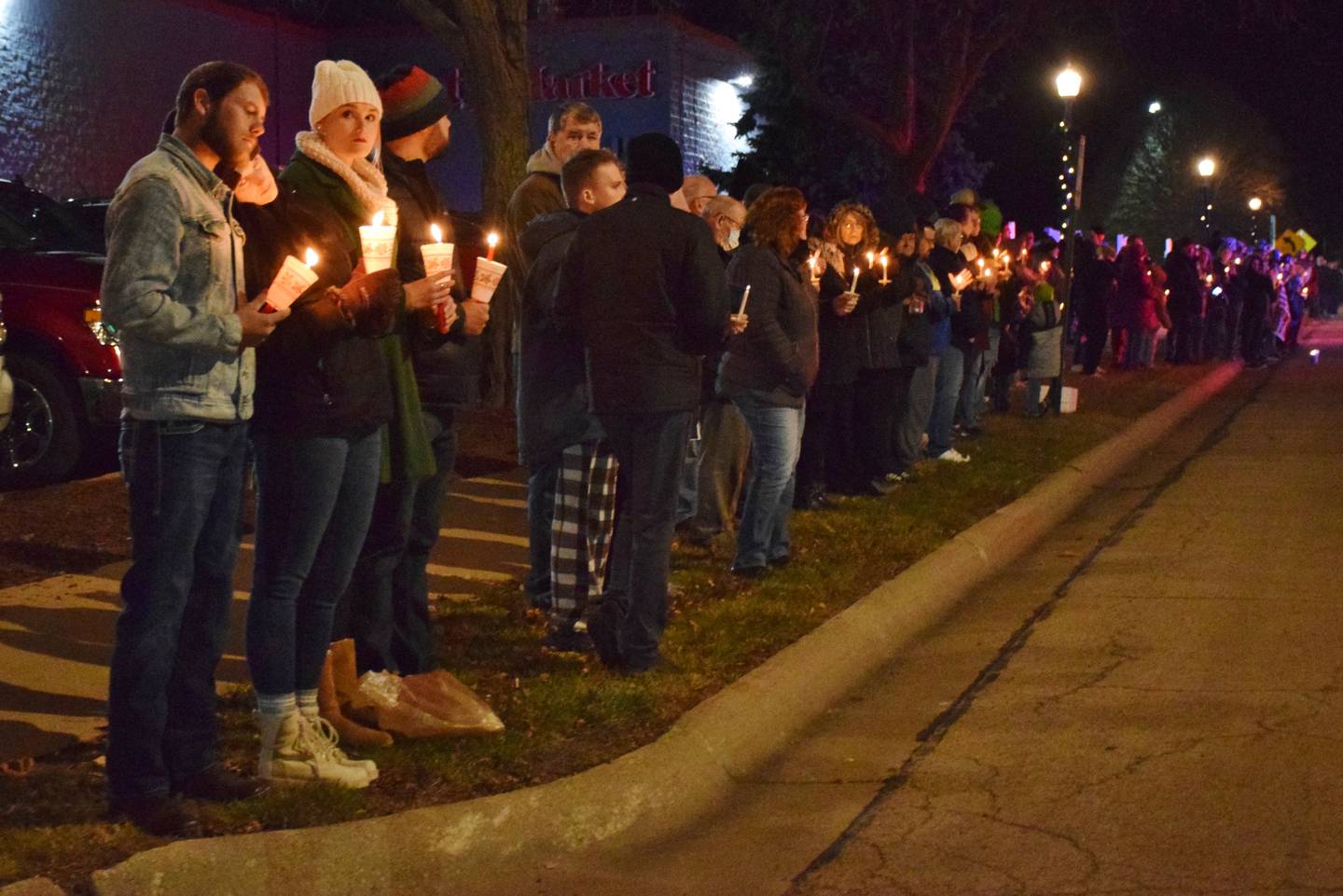 "He's a hero, that's for sure," Julio Ortiz said. "Our whole family is devastated. It's just really tough. But I'm happy the community came out to show their support. Our family is well-known in Sterling, and he was loved by everyone here."
Retired fire captains Gary Dettman and Mike Wheeler attended the procession. Both knew Ramos for years: Dettman's daughter went to high school with Ramos and Ramos served on the fire department under Wheeler.
"He was a very dedicated, hardworking young man," Dettman said. "He always strived for excellence and always did his best. He made the fire department his career, and he had all the potential in the world. He did a very demanding job greatly."
Wheeler said that Ramos was "a natural firefighter, he was so proactive and talented."
"The fire department can't ever replace him," Wheeler said. "He did so much so well."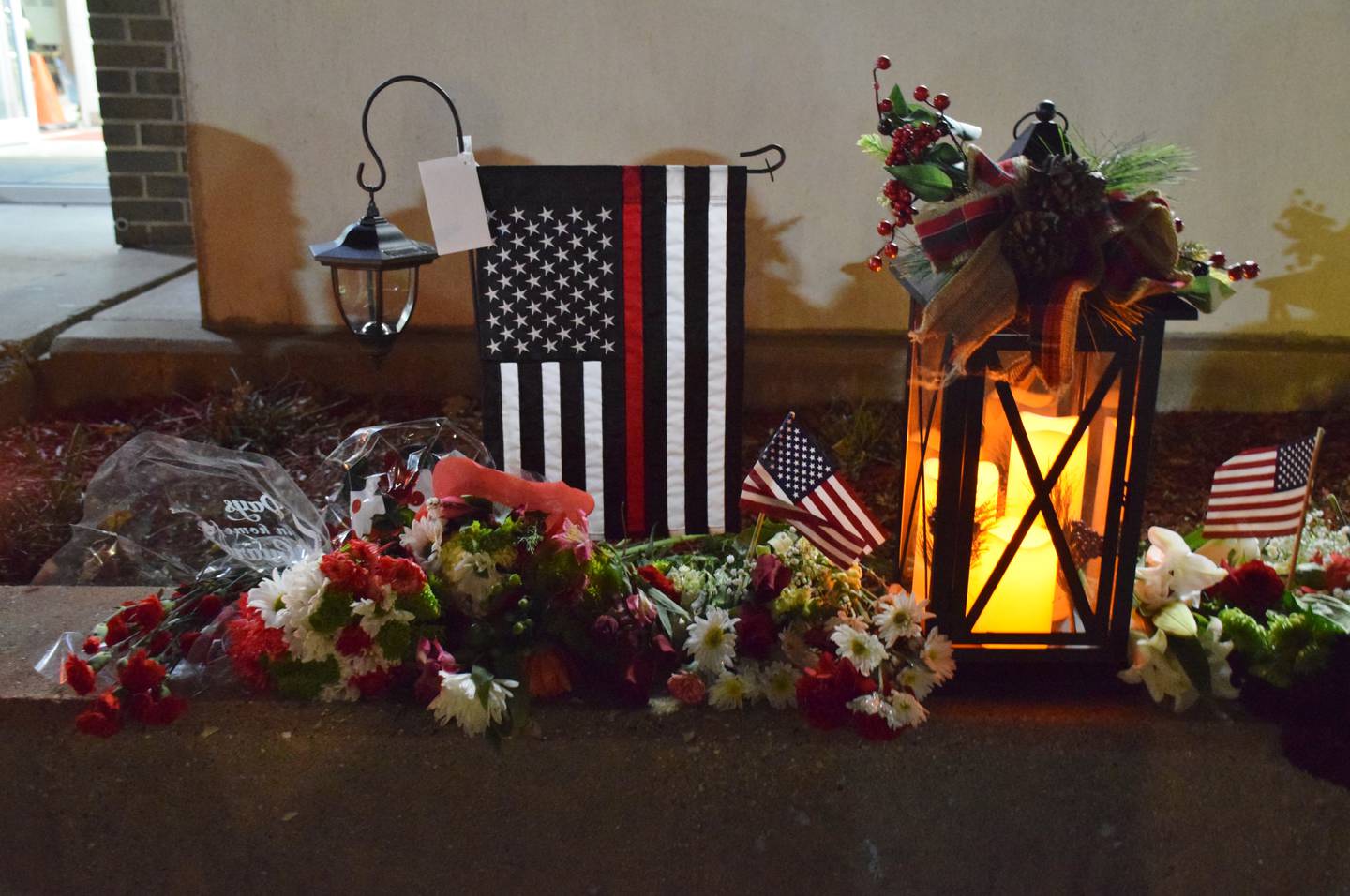 Not everybody standing vigil during the procession knew Ramos. Joan Rosengren of Sterling never met Ramos, yet she came to the fire department to honor his memory.
"I just wanted to be here," Rosengren said. "Firefighters are always there for our community, and I wanted to be here. I'm here to show support for him, for all firefighters, and all that they do for us. It's my way to say thank you."
A memorial was created outside of the Sterling Fire Department, featuring Ramos' fire jacket and boots. Flowers, candles, figurines and American flags were placed nearby.
The State Fire Marshal is investigating into the fire and Ramos' death.
Ramos was a Sterling native and 2002 Sterling High graduate. Among others, he is survived by his wife of 6 years and their daughters; his parents Ed and Jeannie Ramos; and his sister, Jennifer Brannon.
Visitation will be from 5 to 8 p.m. Wednesday at the Sterling High School Fieldhouse, 22 E. Miller Road. Uniformed personnel are asked to be at the fieldhouse at 5:30 p.m. to participate in a uniformed walk-through to honor Ramos.
Funeral services will be held at 10 a.m. Thursday at Westwood Sports Complex, 1900 Westwood Drive, off LeFevre Road. McDonald Funeral Home is handling arrangements.
That service will be followed by followed by a procession to the Main Fire Station, 110 W. Fifth St. downtown, where a fallen firefighter tribute will be conducted.
Masks are requested at all services.
Staging of equipment begins at 8:30 a.m. Thursday at Westwood. RSVP equipment and funeral attendance t0 Dave Northcutt at the department, 815-632-6680.
In lieu of flowers, the union is requesting memorials be made for his wife and children. Checks can be made out to The Garrett Ramos Memorial Fund, and dropped off at any Sauk Valley Bank branch; or made online at https://autobooks.co./pay/ramos-garrett-memorial-fund.
Also posted on the city of Sterling's Facebook page Sunday:
"As we all mourn the loss of Lt. Ramos, we are asking the community to show support by replacing your porch light with a red light.
"The Fire Department has a limited supply of lights at the main station, you may stop and get one there.
"You may also be able to pick them up at Menards, Walmart or Grummert's.
"The outpouring of love and many prayers for the Ramos family and the SFD family has been amazing and very much appreciated. We thank you from the bottom of our hearts."