JOLIET – York was minutes removed from cleaning out its dugout one final time.
It didn't end in the gleeful euphoria of winning a state championship game. It didn't end with a victory in the Class 4A third-place game, either. The sting of surrendering five runs in the top of the eighth in a 9-4 loss to New Trier to end the season June 10 in Joliet was fresh.
Hugs and handshakes were exchanged as the clanks of bats and cleats broke up a reflective murmur in the wake of a fourth-place finish.
A journey that culminated in consecutive sectional titles, watching Ryan Sloan pitch his first career varsity no-hitter in the supersectional and reaching the state semifinals for the first time in 30 years is a ride now immortalized in program history.
The 2023 York varsity baseball team was the third ever to reach state in program history that dates to at least 1920.
"We just did something that's never been done at York," Dukes coach Dave Kalal said. "Back-to-back sectional championships, a supersectional championship. ... We got our third state trophy as a baseball program. A lot of schools would love to have one state trophy or one regional plaque. Now we've got three state trophies.
"The kids knew that we were going to have a shot again this year to get back where we ended up last year [the supersectional]. That was our ultimate goal from the beginning of the season. To see their hard work come to fruition at the end of the year, obviously, this weekend didn't come out the way we wanted to, but we had the experience that we'll be able to talk about forever."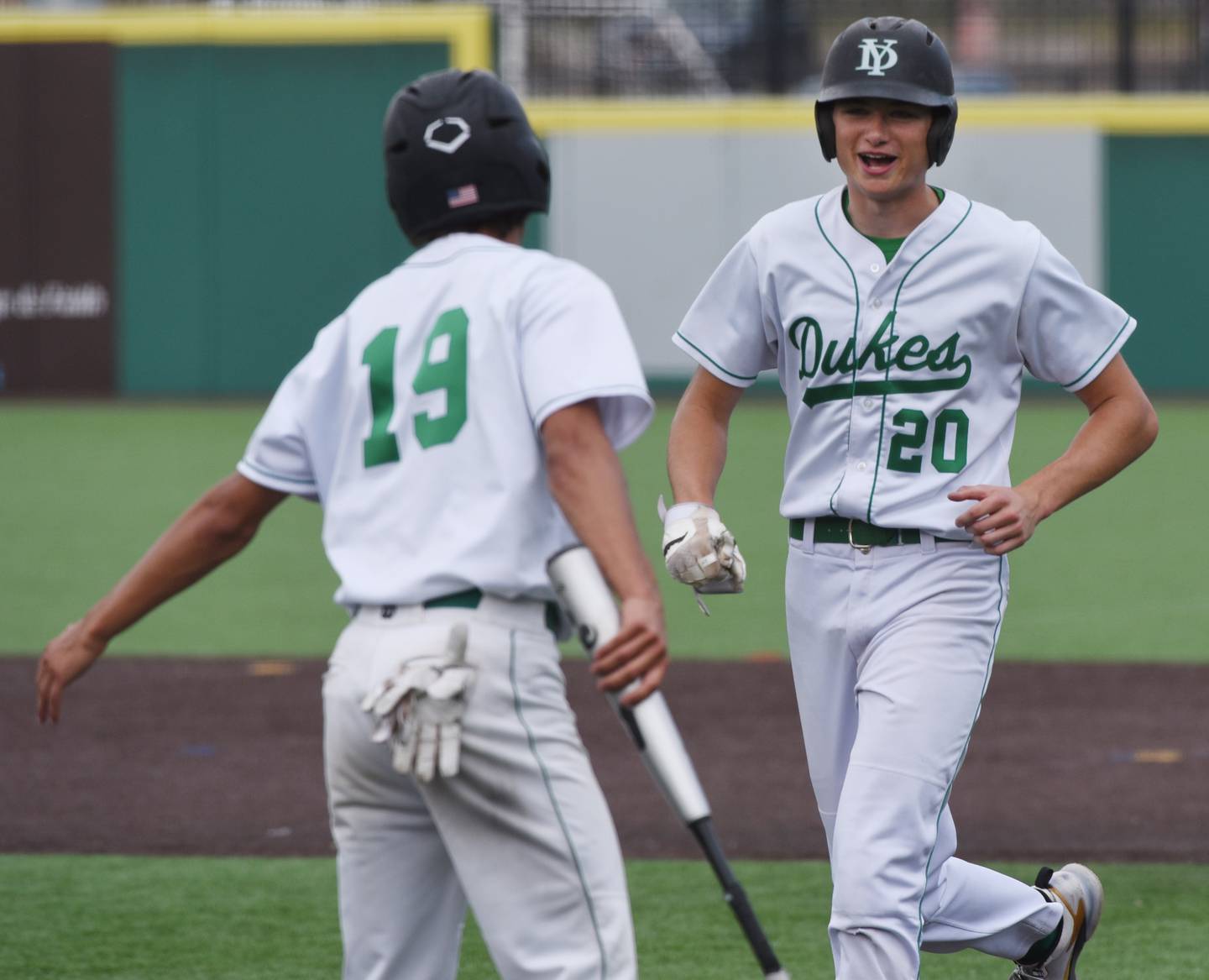 York (25-15-1) and New Trier (30-8) were deadlocked 4-4 entering the top of the eighth inning, but the Trevians ripped off five runs beginning on an RBI fielder's choice by Graham Mastros.
Brendan Stressler followed with a two-run triple, James Novakovic hit an RBI groundout and Trey Meyers delivered an RBI double to finish off the marathon game that saw New Trier use 27 players.
The Dukes took a 1-0 lead on Ryan Turner's RBI single off Trevians starting pitcher Justin Wood, the son of former Chicago Cubs star pitcher Kerry Wood.
New Trier answered with Stressler's RBI single in the third off Dukes starter Noah Hughes. Turner came through with an RBI sacrifice fly in the bottom half of the third, but New Trier's Max Miller ripped an RBI double to knot it at 2-2 in the fourth.
Hughes lasted 2 1/3 innings, allowing one run with three strikeouts.
Stressler (3-for-4, 4 RBIs) hit another RBI single in the fifth for a brief 3-2 New Trier lead, but York's Jack Braun pounded a two-run single to retake the lead. New Trier tied the game in the sixth after Miller ripped a one-out triple and Jackson McCarey brought him in with a single before the Trevians' big eighth inning.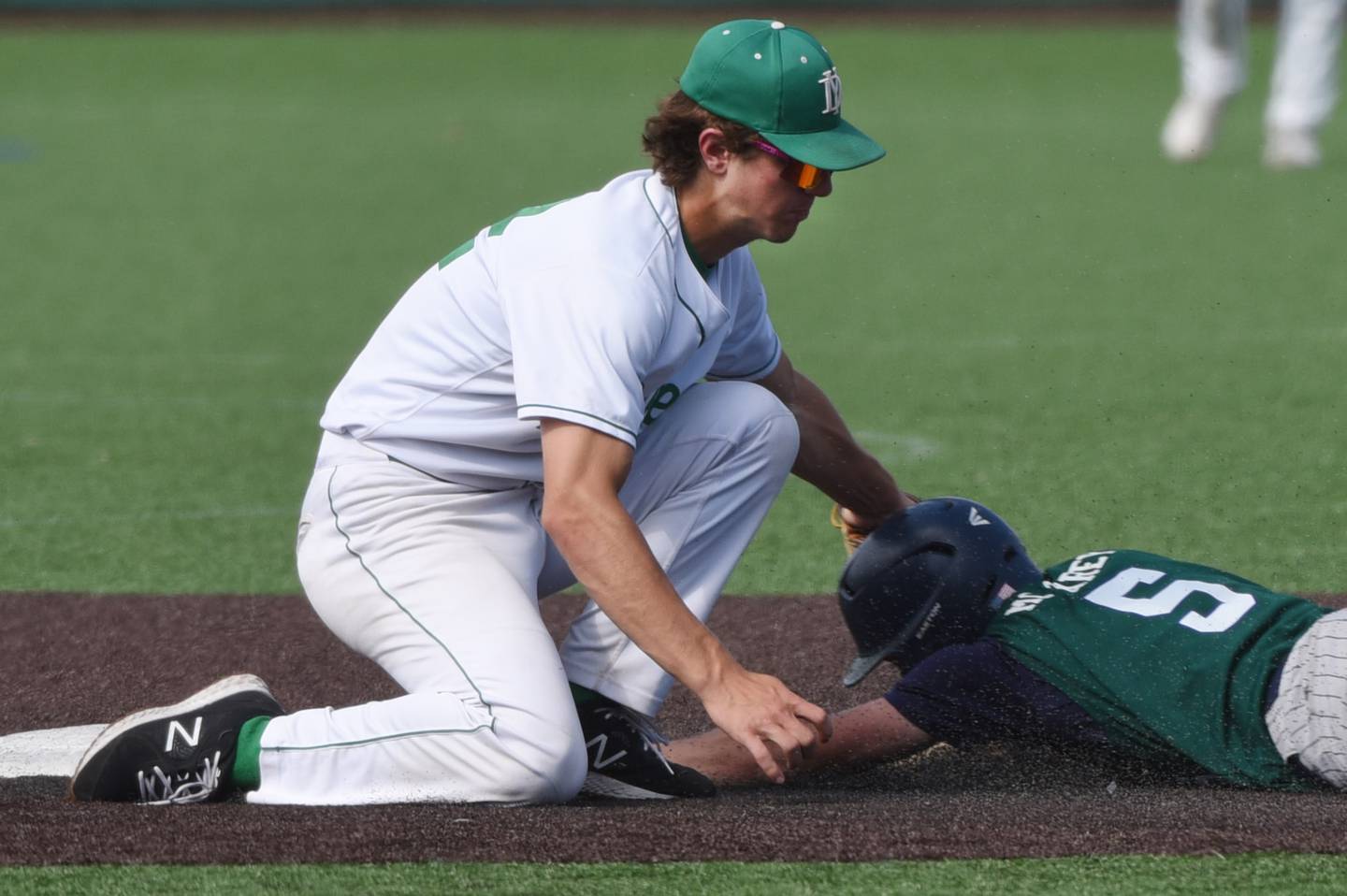 New Trier placed third for the first time in program history. Under Mike Napoleon, who has coached since 1997 and has more than 700 coaching wins, the Trevians have two first-place titles, two second-place finishes and one fourth place in 2017.
"We kind of had a down year [16-17] for us last year and I think the seniors took it upon themselves to do something about it," Napoleon said. "We talked about changing the culture, doing the little things. We started off in late October with a meeting, started lifting in December and I think the seniors getting those guys in the weight room and making it count was really important. It just carried over into the season."
Before almost every playoff game, the Dukes convened at an Elmhurst-area Egg Harbor Cafe.
"It just felt like a really strong bond with everyone on the team," said Braun, who finished 1-for-4 with two RBIs. "Everyone was pulling for one another. Everyone really wanted everyone else to succeed."
"Great relationships were built," said Turner, who finished 1-for-3 with two RBIs. "I love all the guys. I wouldn't trade it for the world. Great experience. I'm so happy we made it this far and it was just a lot of fun. I'm going to miss it.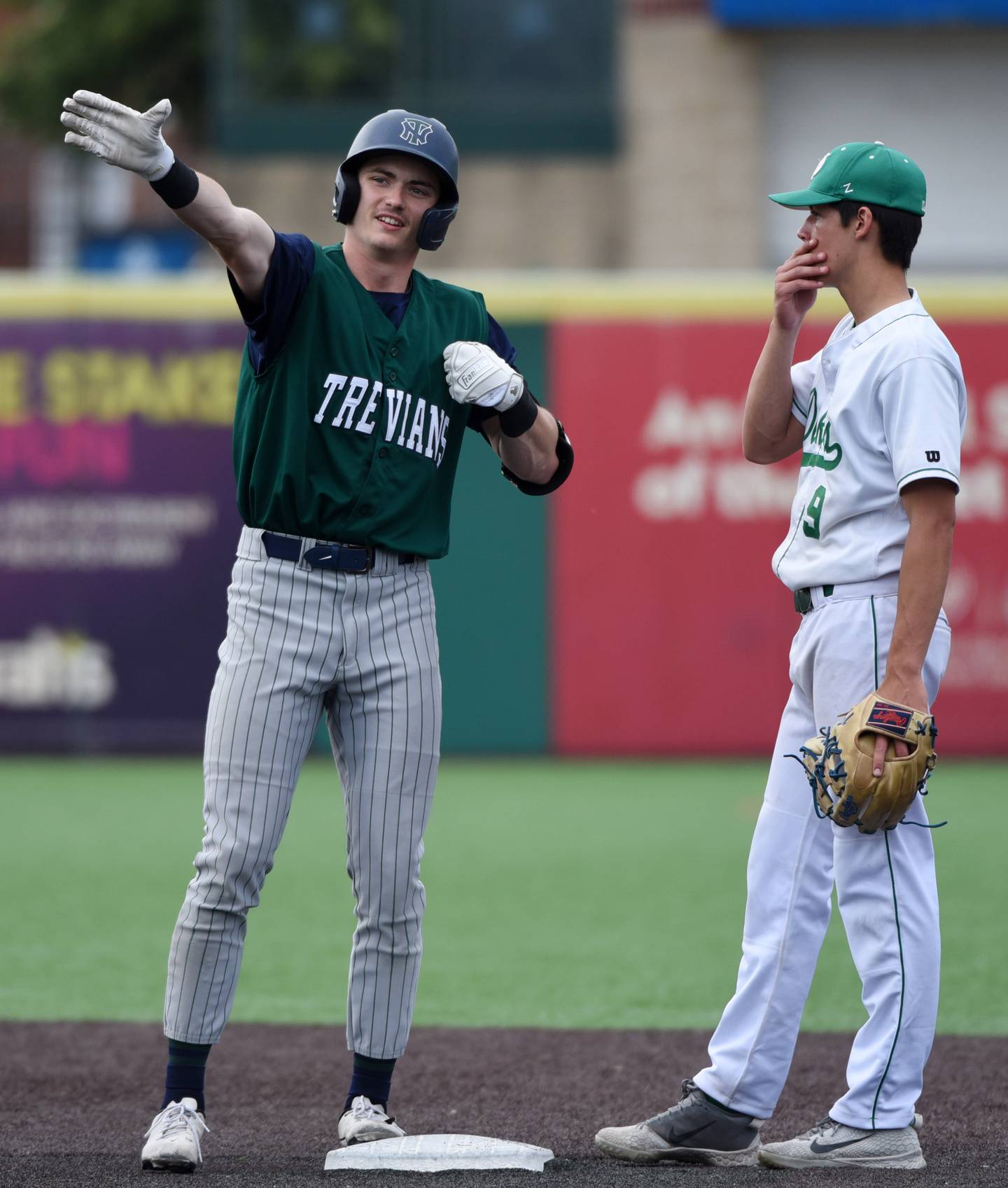 York enjoyed a state semifinal appearance in football. The energy evidently carried into the spring.
"We just had huge crowds. A lot of York students there [and] a lot of people from the [Elmhurst] community. Just means a lot to know you're playing for more than just yourself," Braun said. "You're playing for an entire town and entire community."
"Being recognized is amazing," Turner said. "Seeing all those fans out there is great. It's one thing to see your parents [in the stands] during the [regular] season, but to see your friends and all these other families [later on] is great."