GENEVA – Sparse clapping from the grandstands interspersed until Ryan Sloan's final windup was complete as history hung in the balance.
Sloan, a York junior and Wake Forest recruit, needed one final strike for a no-hitter in Monday's Class 4A supersectional game against Hononegah. A trip to the state finals – the Dukes fell short last season and hadn't done it since 1993 – was heartbeats away.
The smack of his final pitch struck York catcher Jack Rozmus' glove with definitive authority. The crowd's reaction told the rest of the story. Sloan delivered his ninth and final strikeout to Hononegah junior Drake Broege, and the Dukes poured out of the dugout in a swarm.
Sloan and York emerged with a 5-0 victory at Northwestern Medicine Field to vault them to Joliet this weekend for the state finals. The Dukes will face defending Class 4A state champion Edwardsville in a state semifinal at 3 p.m. Friday at Duly Health & Care Field.
Sloan narrowly missed a perfect game. He walked a batter with two outs in the third inning.
"I've got to thank the team," Sloan said amid the celebration of his first career varsity no-hitter. "I mean, the fielding, everything was there ... all the glory to the team. Everyone, pitching coach, fielding, everything bonded together there for that moment."
"He's made for these situations," York coach Dave Kalal said. "He's made for the big stadium. He's made for the big crowds. He's made for the big moment and he's one of our leaders this year."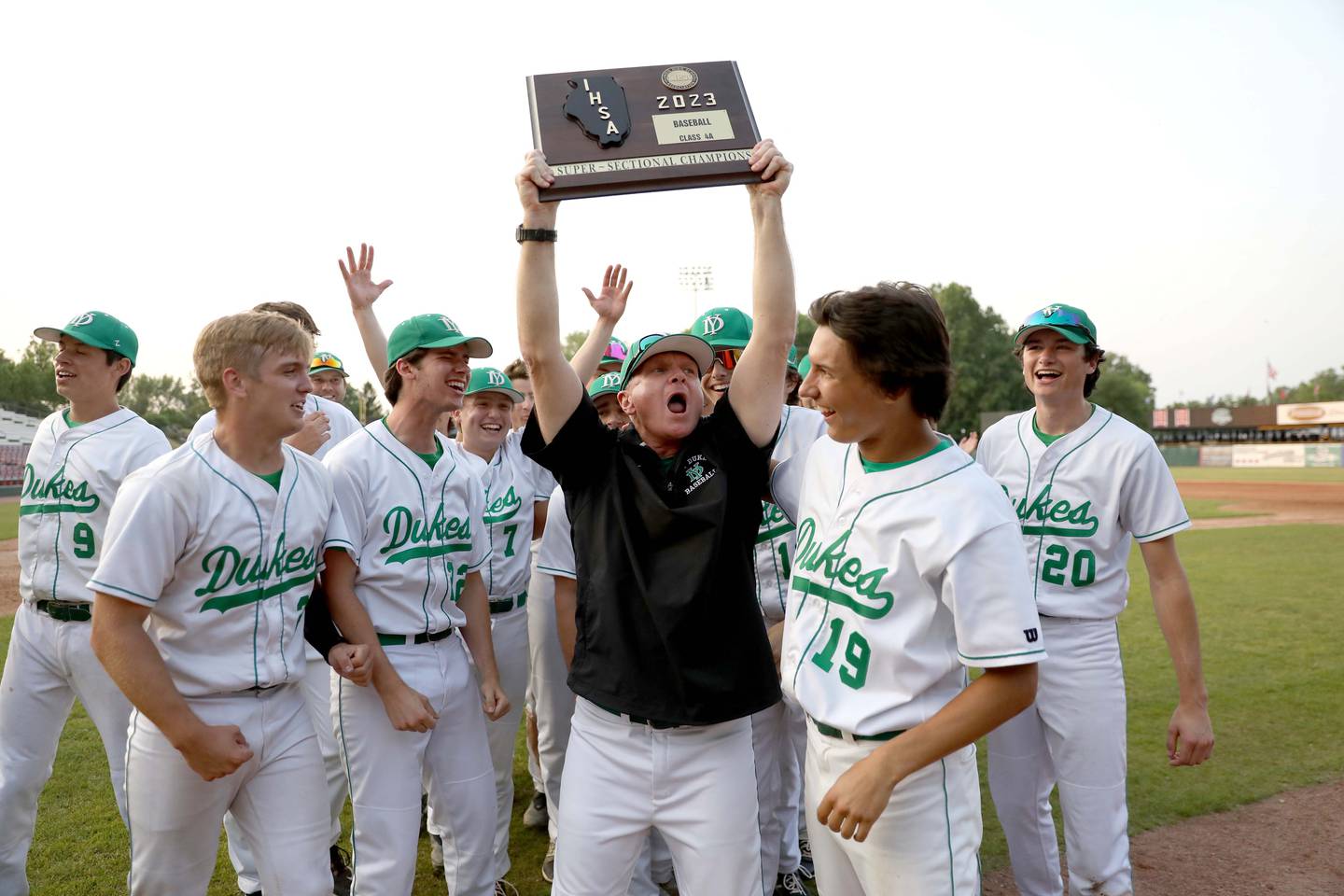 Rozmus has caught Sloan for three varsity seasons. Sloan encapsulated their friendship by holding his pointer and middle finger wrapped around one another – his "best friend on the field."
"When you've got a catcher like that, we're like that [motioning with his hand]. He's a grinder," Sloan said of Rozmus.
"My sophomore year, his freshman year, was the first time we met," Rozmus said. "We started bonding. We were two underclassmen on varsity, so that's how we stuck like glue. ... I've never been this tight with a pitcher. I trust him with everything. I love the kid and I've got all 100% trust in him to go out there and do what he just did today."
York (25-13-1) and Hononegah (29-8) were deadlocked entering the fourth inning. The Dukes managed to load the bases against freshman starter Nolan Mabie. After a strikeout, Matt Barton was hit by a pitch to bring in Chris Danko from third for a 1-0 lead. Eli Maurer followed with a sacrifice fly to score Josh Fleming.
The Dukes added three more runs in the fifth on an RBI single from Ryan Turner and Jack Braun's two-run single for a 5-0 advantage.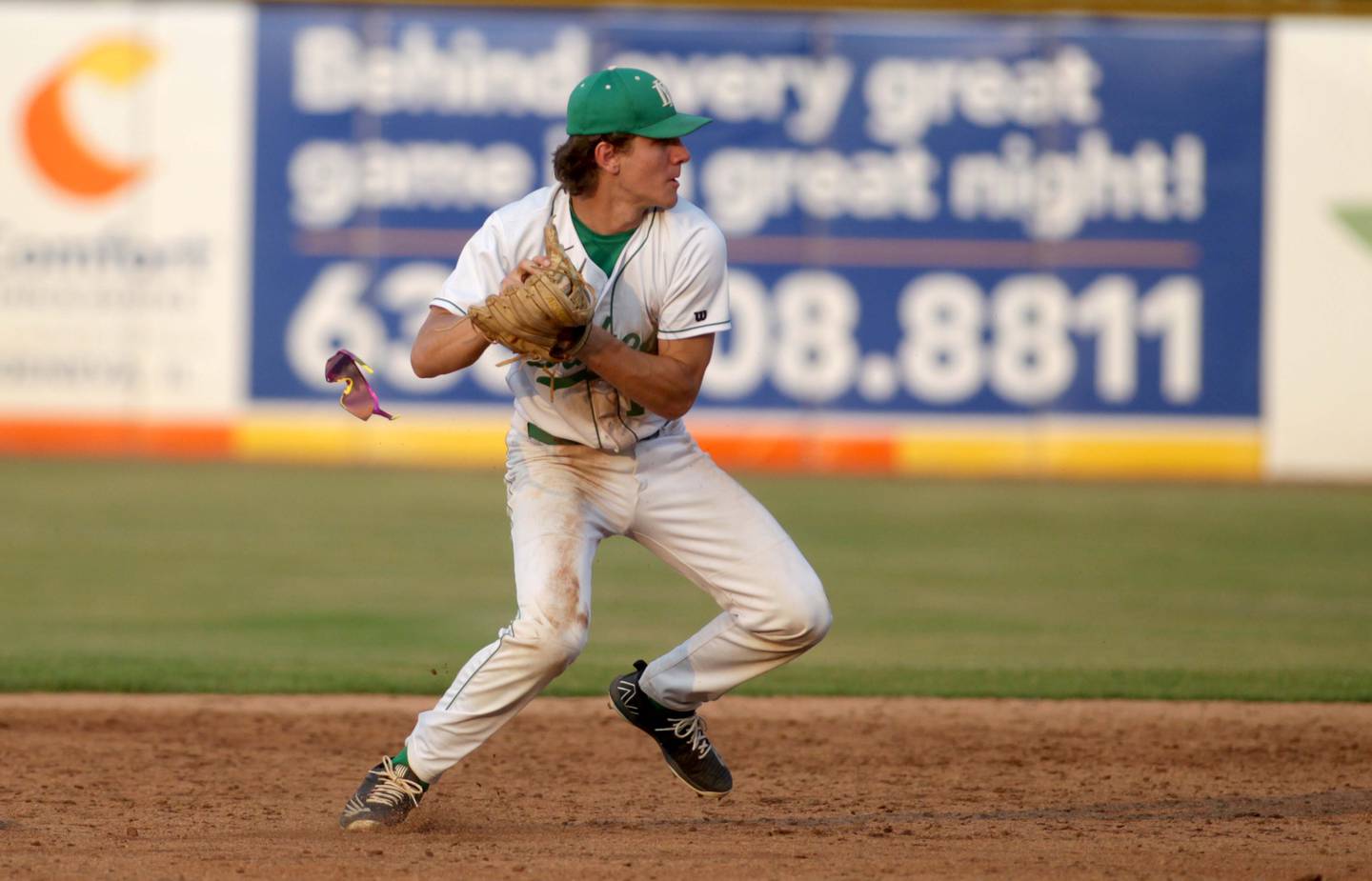 With two outs in the fifth, Sloan's piece of history came dangerously close to being spoiled on a sharp, skipping grounder up the middle by Jacob Deleo that seemingly was destined for center field. Fleming, playing shortstop, made a sprawling stop and was able to nail Deleo at first by a step.
"He's made such huge strides. Shout out to him," Sloan said. "He went from making like two errors a game to [that moment]. The biggest stage, you just give so much props to him. Even having a [tough] day at the plate, he's still able to lock in on the field and help our team out."
Hononegah had numerous hard-hit liners and fly balls to the outfield, but none could find room to fall.
"We wanted to be aggressive on fastballs early because, obviously, if he starts mixing slider, curveball, all that, [it] makes everything that much more difficult," Hononegah coach Matt Simpson said. "We swung a lot early. Unfortunately, that also kept his pitch count down a little bit. But he's a heck of a competitor. That's the only time that I've seen him throw live and he's every bit as good as advertised."
Mabie made his first varsity start Monday and finished with five strikeouts.
"I think he's thrown five or six innings," Simpson said. "Because of the way the semifinals and the sectional were set up, we weren't at full strength. He came and gave us a chance and that's really all we asked him. Throw a bunch of strikes and give our defense a chance. Keep us in it offensively and he did it for four innings and really that's all you can ask for."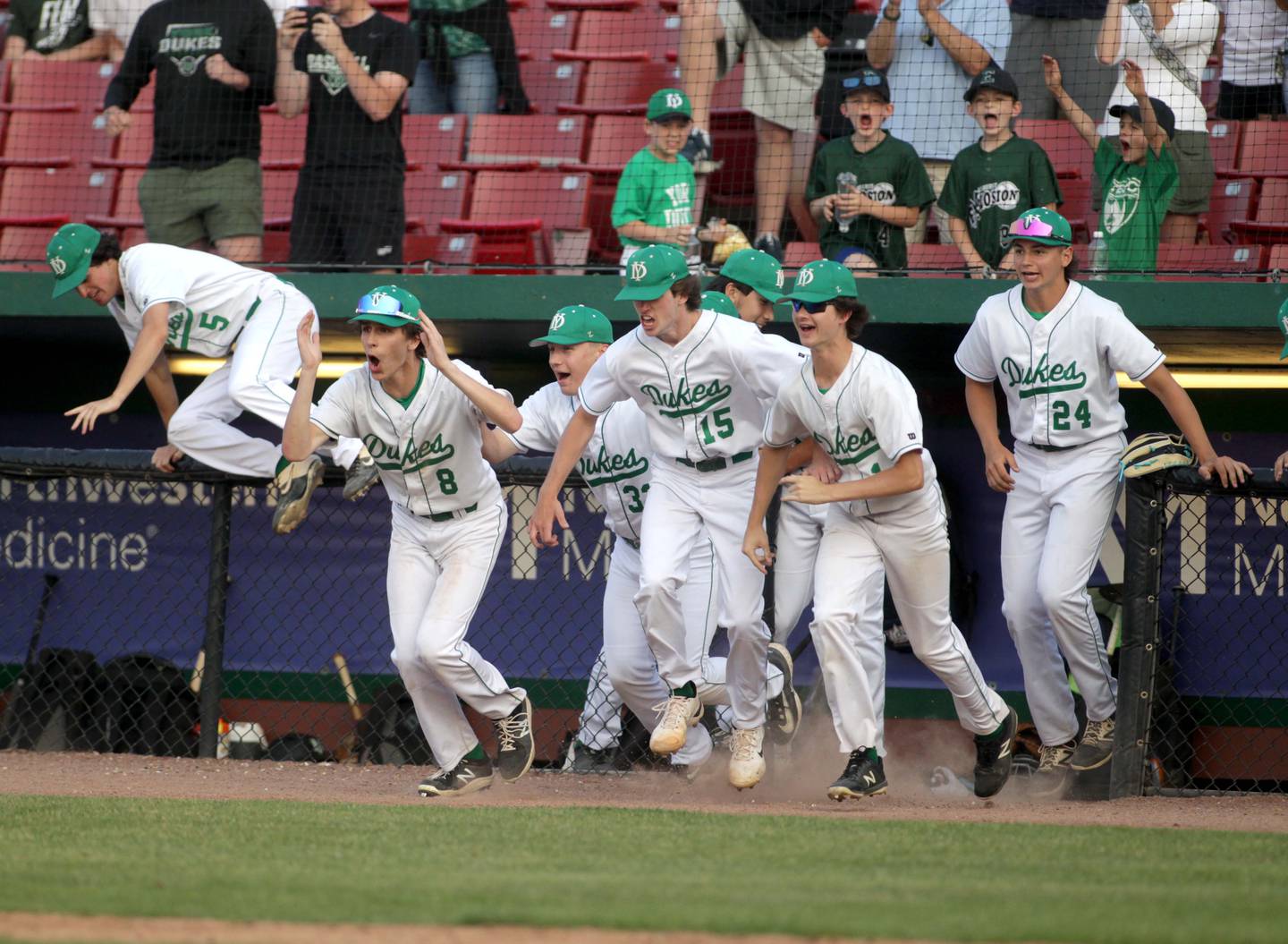 Sloan had a pair of strikeouts and a popout in each of his final two innings to stamp his moment in ink.
"We've been grinding, grinding and grinding. The kids just keep sticking with it day in, day out, year in and year out," Kalal said. "When you've got a stud on the mound like that, that helps. ... We're not done. They got to this game last year and they weren't satisfied getting here.
"This year, they wanted more. You know what? We play a heck of a schedule, heck of a conference schedule, and all of that has prepared us for this time now."