ELGIN – York coach Dave Kalal had tears welling behind his dark-tinted sunglasses as the celebration unfolded around him.
York was moments removed from defeating Batavia 4-3 in the Class 4A South Elgin Sectional final June 3.
The Dukes' mission to repeat was obvious. The path forward – and the grind to achieve it – was the difficult part.
"It took us all year to figure things out," Kalal said with a voice beginning to quiver. "We had our ups and downs like every team goes through, but they developed some resiliency over the year. They knew they were good. They knew they could compete with anybody in the state.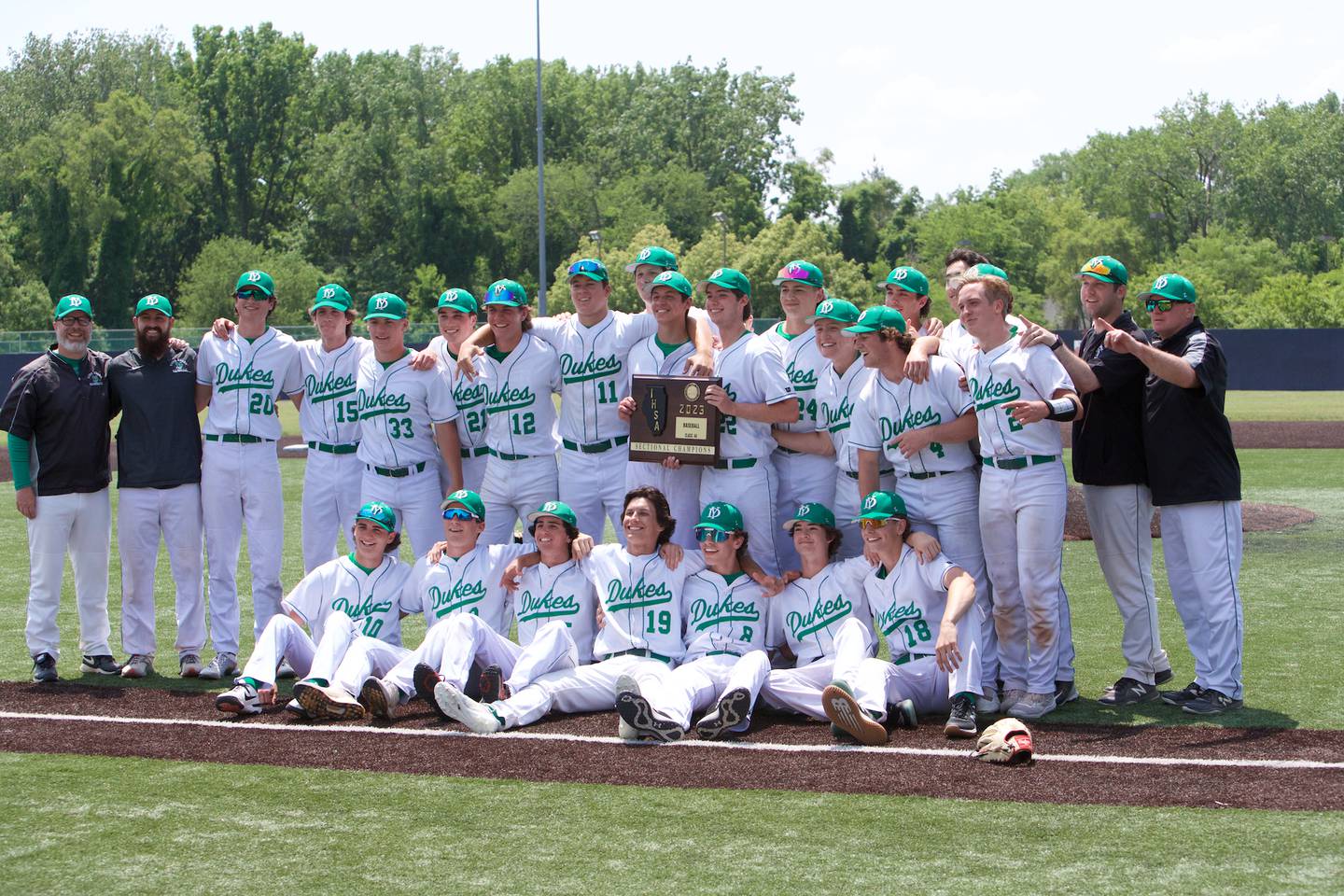 "They knew we had the [pitching] arms to do it and it took us some time to figure out our lineup. Figure out our defense and our pitching rotation – everything – they just stuck with it. They wanted to get back here."
York lost to McHenry in a supersectional last season.
"They knew how close we were last year to making it to the final four, so this team is not done," Kalal said. "They want to get back."
Batavia (19-17) took a 1-0 lead on a home run from Jackson Bland in the first inning off York starter Tommy VanDaff.
The Dukes (14-13-1) rebounded with a busy afternoon of traffic on the base paths. Ryan Turner led off the second inning with a triple and Matt Barton knocked him in to tie the game. Eli Maurer walked and Brian Filosa had an RBI single for a 2-1 Dukes lead.
In the fourth inning, Paul Reedy reached on a leadoff single. Turner hit a grounder that Batavia catcher Henry Saul scooped up and fed to first baseman Ryan Boe, but the throw to second for an attempt at a double play was offline and Reedy was safe. Jack Rozmus delivered an RBI triple and Chris Danko added another run to make it 4-1 York and chase Batavia starter Nate Nazos.
Batavia junior Ryne Woods pounded a two-out, two-run home run in the fifth to close the gap, but a groundout ended the threat. The Bulldogs got a lift from sophomore Connar Temple on the mound in the bottom half of the fifth. York managed to load the bases with no outs against senior reliever Joe Kleist, but Temple coaxed two strikeouts and forced a deep flyout to get out of the inning with no damage.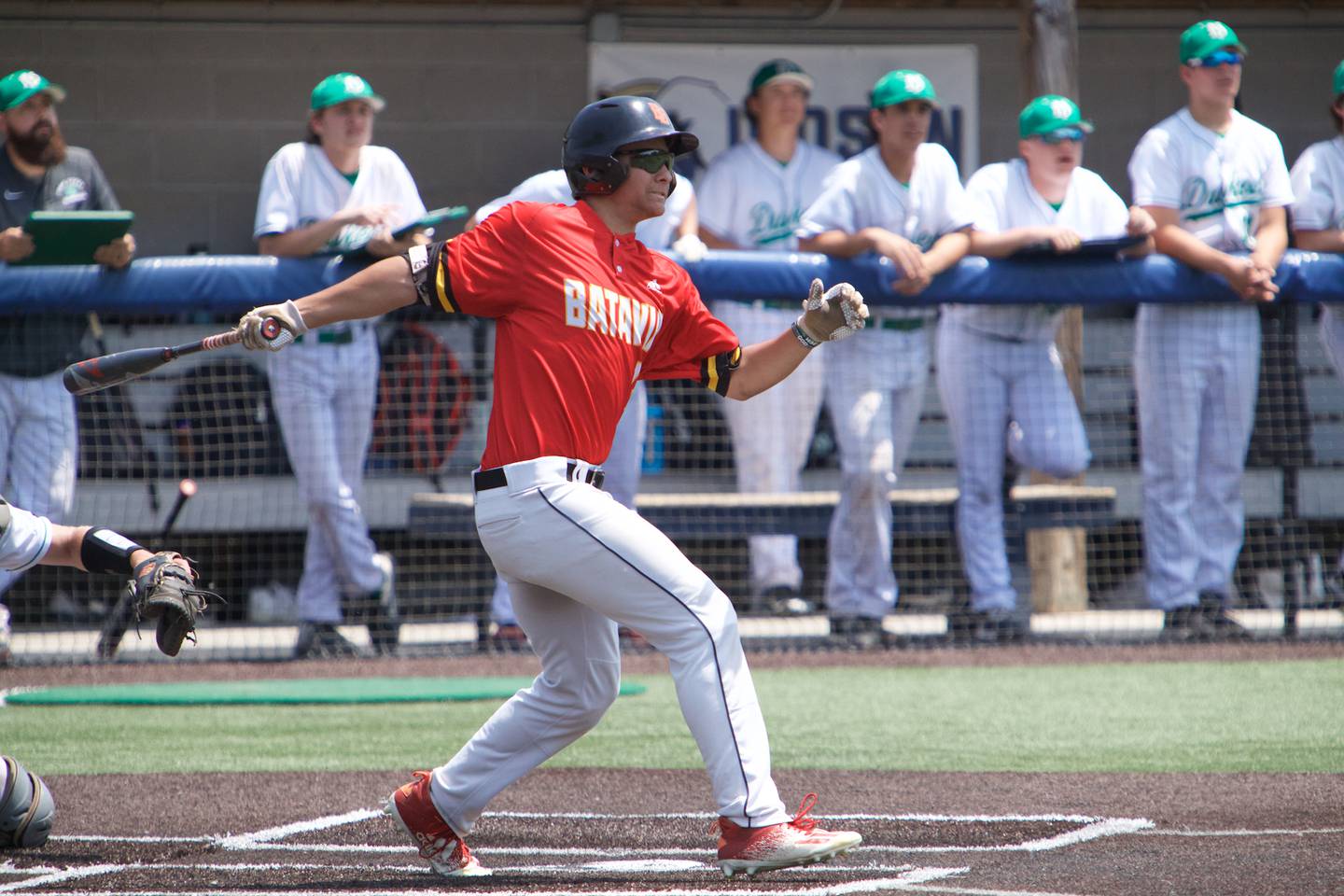 "I've caught him a lot in the season. Today was definitely what I've seen best from him," Saul said of Temple. "I don't think he tried to do too much. He just, with the support of our teammates and coming in a spot that can be pretty high pressured, I think he did a great job of staying cool and working through the batters."
Temple pitched a clean seventh inning to give his team a chance, but York closer Lucas Bormann got a groundout and had two strikeouts to end the game.
"I love being in those positions," Temple said. "I always have been since I was little. It's mainly this team. I feel comfortable with my defense and [striking] those first two guys out and the pop fly to center ... [I had a] ballhawk in center in [Andrew Gorski]. I knew he had that. Definitely not the outcome we wanted but [we gave it our best]."
Bormann, who was not on varsity last year, picked a good time to pitch some of his best work.
"It means a lot to me," Bormann said. "I put in the work and I think it's starting to show."