JOLIET – The dream to vie for York's first state baseball championship in 30 years wasn't realized, but the journey isn't over to still make a piece of history.
Entering the seventh inning of the Class 4A state semifinal against defending champion Edwardsville, and trailing by six runs, the Dukes weren't quite ready to wave their white flag just yet.
The Dukes managed to scratch across two runs through a bases loaded walks with two outs, but a tough final strikeout to freeze Paul Reedy was the final piece that sent Edwardsville back into the title game with a 7-3 victory in Joliet.
[ Photos: York vs. Edwardsville ]
"There's only two teams at the end of the year that get to win [first and third place]. We're still in the situation where we can be one of those teams, so obviously, we're not giving up," York sophomore Josh Fleming said. "There's still a game to play. It's our last game of the year. We're all, of course, going to come out and give it our best and finish the year strong."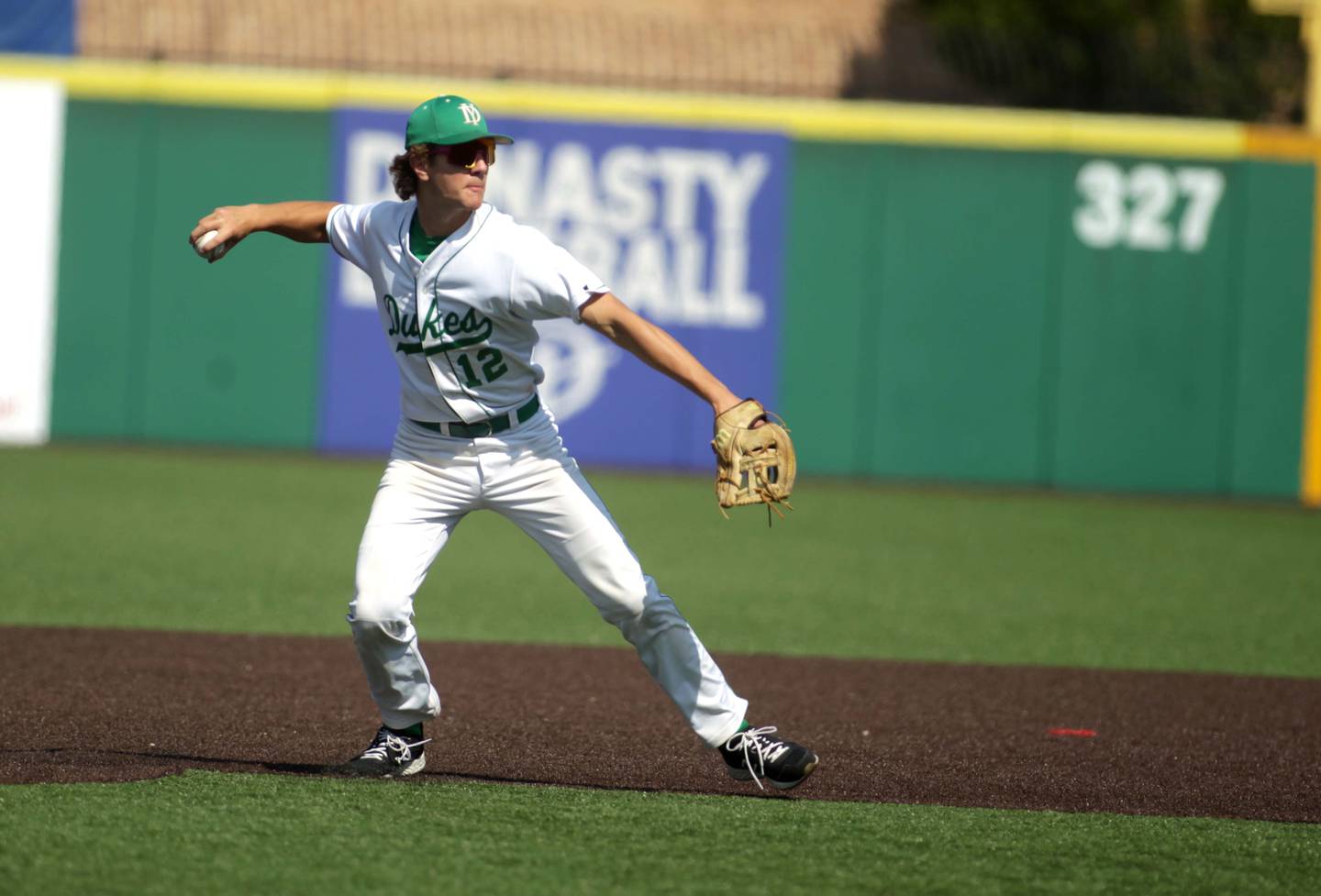 The Tigers, who will attempt to win their third state title since 2019, advanced to face the Brother Rice-New Trier winner in Saturday's championship game.
York (25-14-1), meanwhile, will face the loser at 3 p.m. Saturday for third place. With a win, it'd be the Dukes' first third place finish in program history.
Edwardsville (31-9) blitzed York starter Tommy Van Daff for five runs in the first inning, all with two outs. Caeleb Copeland ripped an RBI double and Andrew Hendrickson followed with a walk. With Lucas Huebner at the plate, Van Daff attempted to pickoff Hendrickson at first, but Copeland had enough time to motor home with the fracas away from him for the 2-0 Tigers lead.
Huebner then walked and Kayden Jennings jacked a three-run homer for the 5-0 lead, his first long ball of the year.
"You hope you can get out of that first inning without giving anything up on the board, and it just didn't happen for us," York coach Dave Kalal said. "You go down 5-0 against the defending state champions, it makes it a little bit difficult. But our kids battled."
Edwardsville starting pitcher Joe Chiarodo, a University of Alabama commit, entered Friday with a sparkling 0.98 ERA and 65 strikeouts with just seven earned runs allowed. While the Dukes managed five hits against Chiarodo, coming up with clutch hits for runs proved problematic.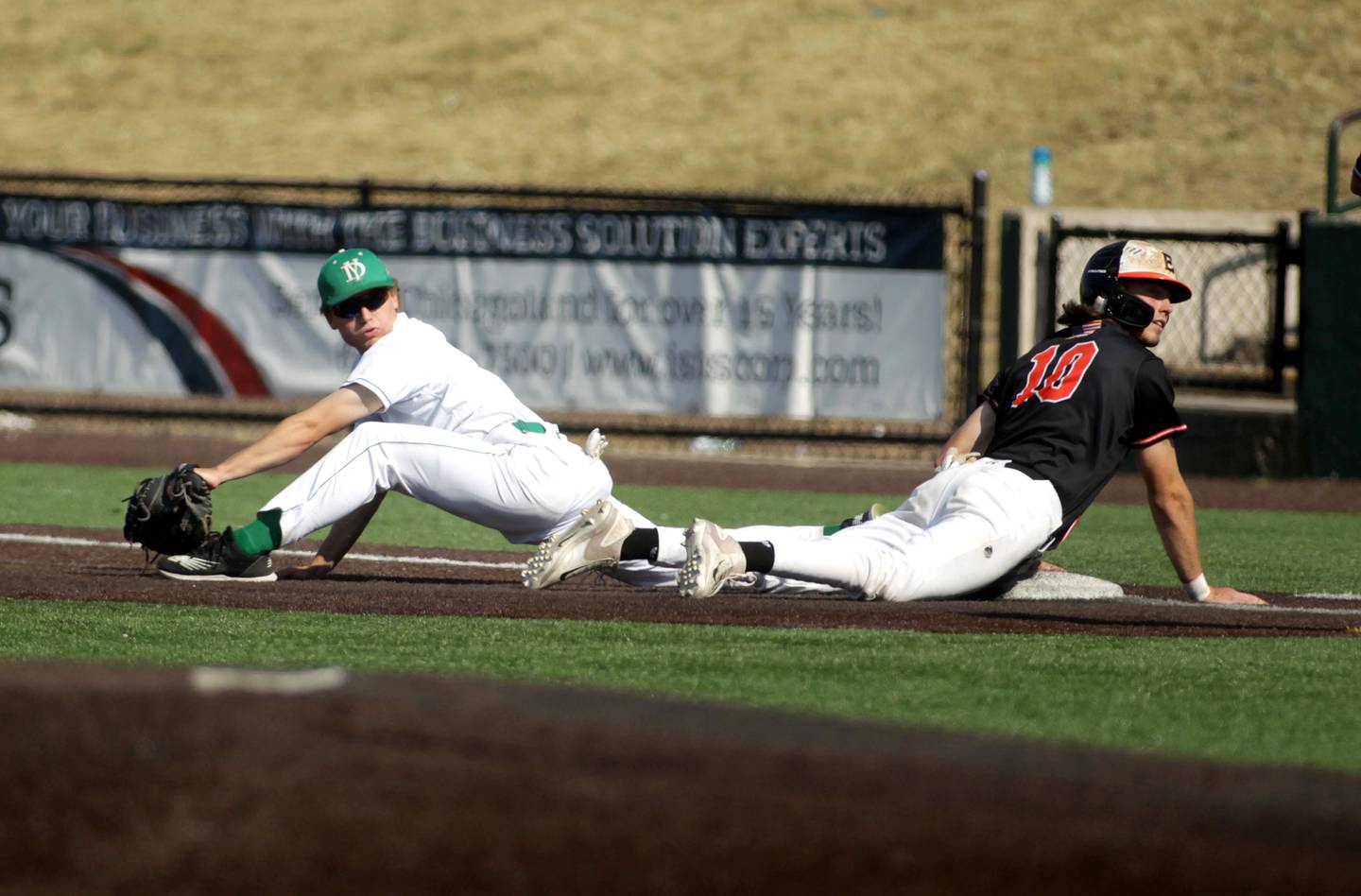 In the fourth inning, the Dukes managed to load the bases, which led to Reedy's two-out RBI single to make it 5-1 Edwardsville. Chiarodo, though, struck out Brian Filosa to end the threat.
The following inning, Jack Rozmus led off with a walk. After two strikeouts, Ryan Turner walked, but Chiarodo struck out Jack Braun for his seventh strikeout to end another chance.
Chiarodo went 5.1 innings, allowed five hits and one earned run and struck out eight with four walks.
"...We put the ball in play," Kalal said. "Seven hits today. Would've been nice to come up with some hits with some runners on base, but just wasn't meant to be today. That's baseball."
Edwardsville grabbed two more runs in the fifth on an RBI sacrifice fly by Hendrickson and an RBI single from Jennings to make it 7-1.
York saved its best rally for last.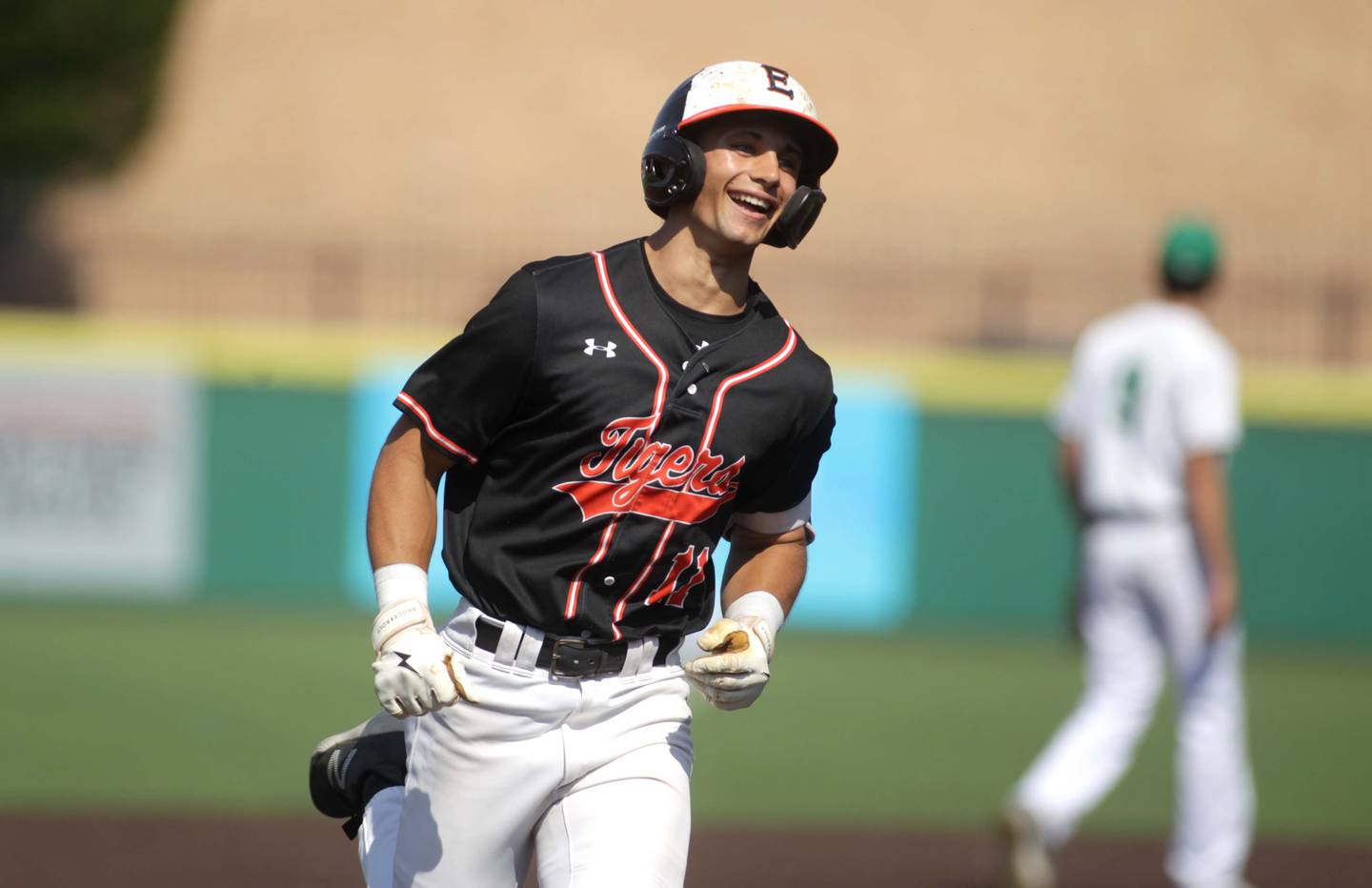 Kalal pinch-hit the top three in his lineup, which set up the strange two-out rally. Ryan Procajlo and Mason Balfanz both grounded out to open the inning. Ryan Lisowski doubled, Turner walked and Braun singled to load the bases against closer Jake Holder, who was then lifted for Tony Eberlin.
Eberlin then walked both Matt Barton and Eli Maurer to walk in runs and make it 7-3, which prompted another pitching change. Hendrickson struck out Reedy in four pitches to end the game.
"Joe showed out again on the mound and we came out hot early; just taking great at-bats," Edwardsville coach Tim Funkhouser said. "Then, KJ [Jennings] put that big thump on the ball – we've been waiting for you for a home run for you for awhile – and he saved it for a big moment there."
"Then, I thought, throughout the early parts of the game, we really took good at-bats," Funkhouser continued. "...We got the job done."
Ryan Sloan, who pitched a no-hitter for York in the supersectional, is expected to pitch in Saturday's third place game.