BURBANK – In her final days for the Hinsdale Central girls soccer team, senior Carter Knotts is savoring her memories.
Her assist to sophomore Avery Edgewater on May 26 was perhaps the best so far.
It was the game-winning goal in the Red Devils' 2-1 overtime victory over West Suburban Silver rival Lyons, the top seed, in the Class 3A Reavis Sectional final.
"What a win. What a win," an excited Knotts said. "It's amazing, especially looking at [Edgewater] from a senior's perspective, those are the moments that you remember from high school. Graduating this week has made me only reflect on the season, as well as my four years at Central. I think that moment is going to stick with her forever."
And with the Red Devils (16-7-2), who captured their first sectional title since 2015.
Hinsdale Central lost 1-0 to Lincoln-Way East (18-4) in the Andrew Supersectional on Tuesday.
The No. 3-seeded Red Devils avenged a 1-0 loss to Lyons on April 18. It was Hinsdale Central's second straight postseason win that avenged an earlier loss. The Red Devils beat York 3-0 in a sectional semifinal after losing 4-1 in the regular season.
Knotts and Ava Elliott, who scored the Red Devils' regulation goal, are the lone senior starters and tri-captains with senior reserve forward Maddy Panveno.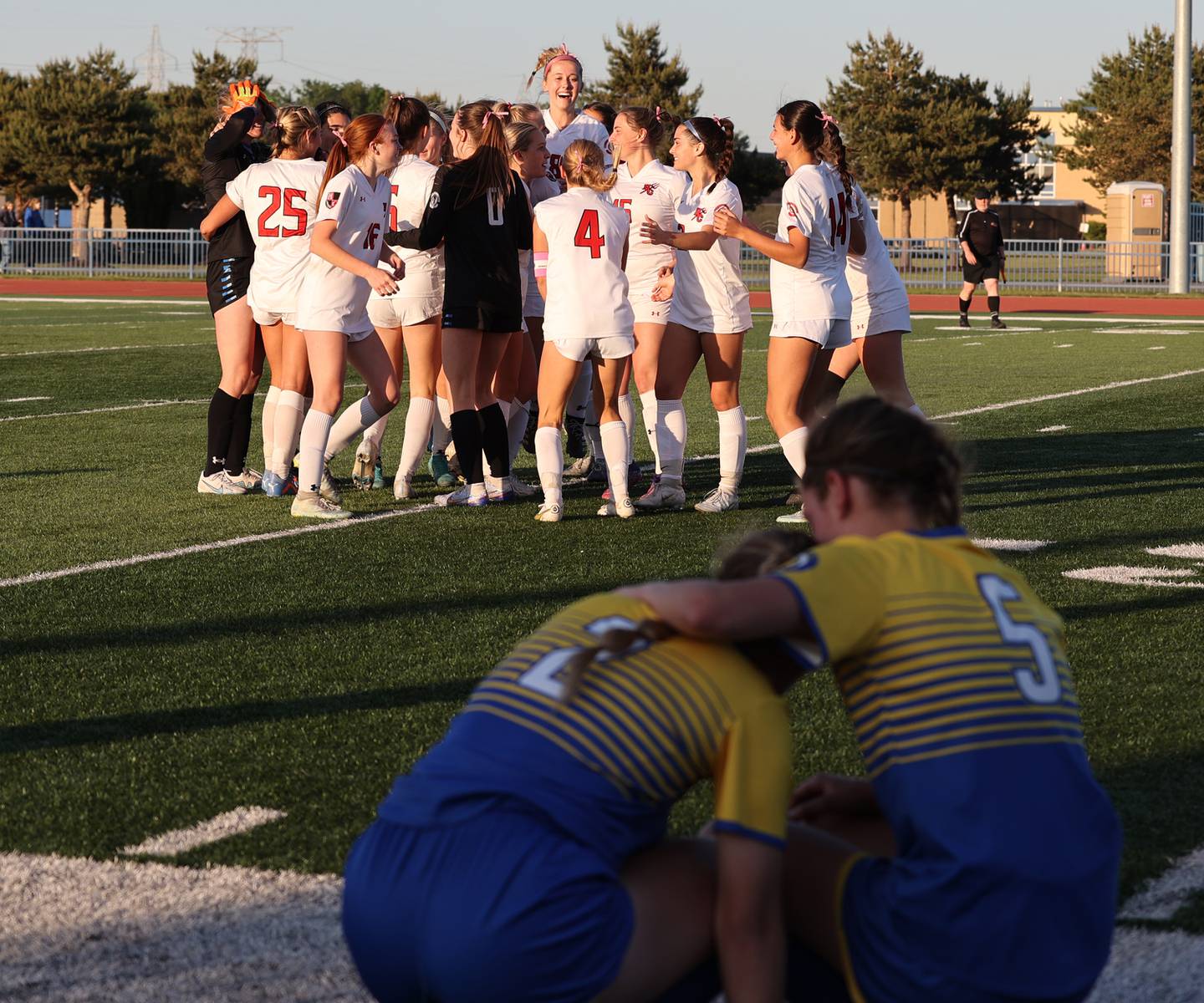 "It's an amazing feeling and to have gone this far, it's something incredible," Panveno said. "All of those years we didn't have success in the playoffs. Now having that feeling, especially playing for my school as I'm graduating, it's a nice feeling to make an impact on the school."
With 4:30 left in the first of two overtime periods, Edgewater scored with a 30-yard shot inside the near post off Knotts' pass from the left wing.
The Red Devils then withstood three shots, three free kicks and two corner kicks in the second overtime period by the Lions (21-2-1).
"We're confident in what we've got going. You could have seniors starting. You could have top-six [rated] players, but if you don't have what these girls have, it's hard to bottle it up," Hinsdale Central coach Tony Madonia said.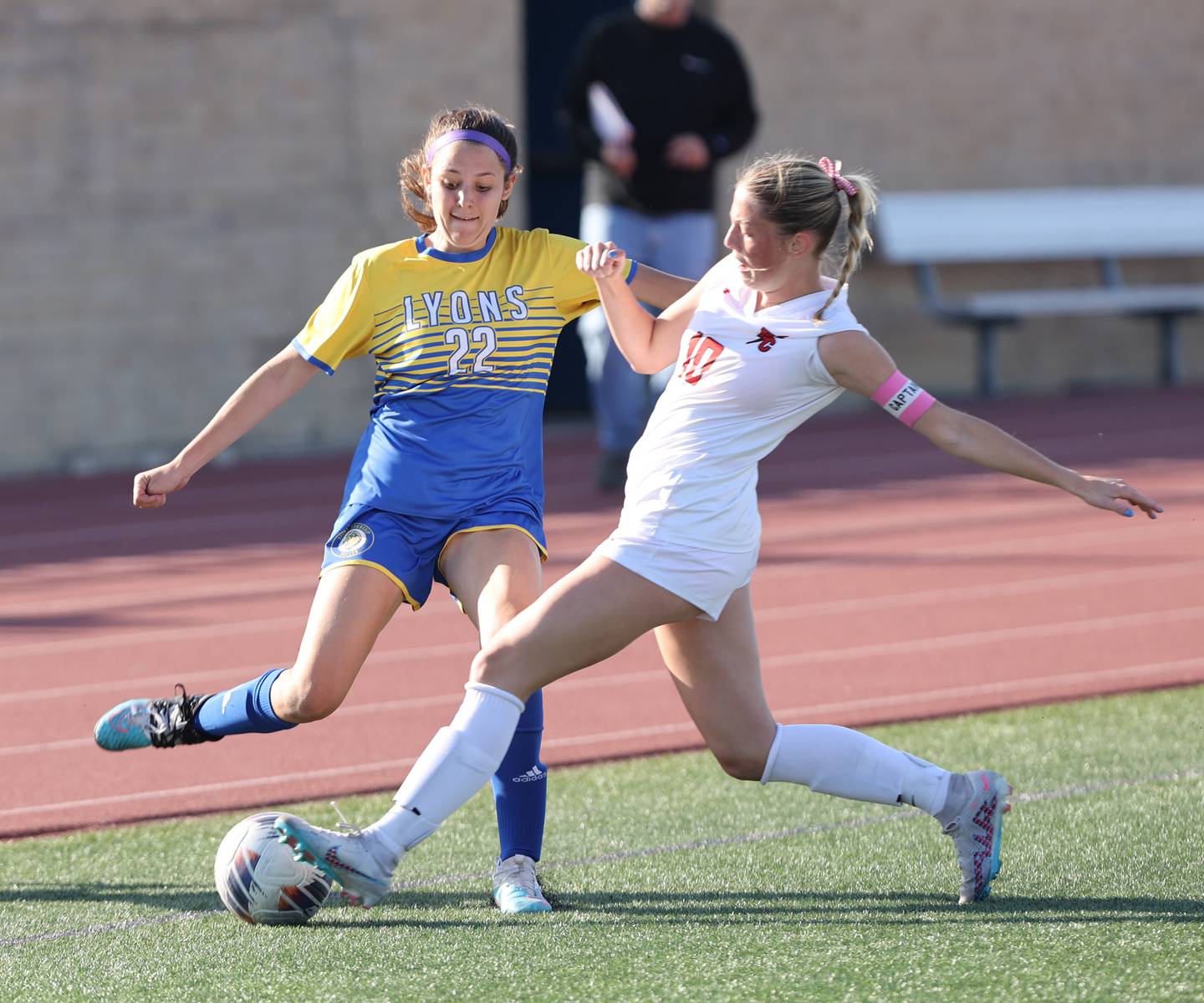 It was the fourth straight win for the Red Devils and seventh in eight games. The only loss, 4-3 against Metea Valley on May 13, was the first three-goal game against the 2022 Class 3A state champions since 2017.
Hinsdale Central could have been discouraged after falling behind 1-0 in the first half. The Lions had won their previous six games by shutout and had 18 shutouts on the season.
And a Knotts penalty kick was stopped by Lyons goalie Sara Schinker.
The momentum changed when Elliott tied the match with 28:24 left by putting a 40-yard free kick into the upper-right corner of the net.
"Going into the game everyone was like, 'Oh, LT's going to win.' Going down 1-0, it's a bad feeling," Elliott said. "Once we got that goal, I think we knew we could do it. That kind of boosted us up. Especially being our rivals, it pushed us more to beat them."
Lyons again had its season end in the sectional final. In 2022, the 20-2 Lions lost to Glenbard West on penalty kicks.
"I'm really proud of this team. What you remember and what we talk about is not just the play on the field and all of the great games," Lyons coach Bill Lanspeary said. "They built a lot of great camaraderie and friendships and that's the stuff that will last. I think that's what makes it that much harder when it comes to an end."
Lyons junior Peyton Israel scored first with 30:34 left in the first half off a left-wing cross by senior Katie O'Malley.
O'Malley, who will play at Illinois State University, had team highs of 19 goals and 19 assists. The Lions allowed only eight goals all season.
"It was our friendships on and off the field and the way we were able to play with each other the second we started. The first game we knew this was going to be a good team," O'Malley said. "I give [Hinsdale Central] credit. We saved that PK and they could have gone 'OK, it's over,' but they kept fighting."