The girls soccer season started this week. Here are previews of teams in the Suburban Life coverage area.
Benet
Coach: Gerard Oconer
2021 record: 18-1
Top players: Mariana Pinto, sr., F; Katie Lewellyan, sr., M; Annastacia Thiel, sr., D; Shannon Clark, jr., GK; Sadie Sterbenz jr., D; Rachel Burns, jr., M; Anna Casmere, jr., M.
Outlook: The Redwings return 16 players, including nine starters, from a team that went undefeated in the regular season for the first time in school history before losing 1-0 to state runner-up Lyons in the sectional final. Benet has moved back down to Class 2A, where it won the state championship in 2019, and figures to be a strong contender for another title. The offense will be led by the Lewis-bound Pinto, who had 12 goals and 10 assists last season, and Burns (nine goals, six assists). Lewellyan (four goals, seven assists) is the main playmaker. Clark was the ESCC Goalkeeper of the Year after posting a 0.47 goals-against average and 10 shutouts.
"We will look to benefit from additional experience and improved depth from last season to go along with our team speed and skill on the ball," Oconer said. "Looking to win a third consecutive ESCC championship in addition to making a state championship run as we return back to Class 2A this season."
Downers Grove North
Coach: Brian Papa
2021 record: 10-5
Top players: Kendall Hennelly, sr., F; Rachel Wilson, sr., D; Ryann Wendt, sr., F; Ellie Watts, jr., M; Addison Liszka, so., M; Katelyn Parker, so., F.
Outlook: Hennelly (eight goals, three assists), Wendt and Wilson are four-year varsity players and among six returning starters. Wendt and Parker helped the basketball team to a regional title last month and Papa is excited about Liszka's potential.
"We are cautiously optimistic," Papa said. "We have a great group of young and experienced players. If we continue on the progression we had from the last half of the 2019 season and 2021 season, we will surprise some teams that will look past us. One thing for certain, our depth is going to create competition within our team. That is not a bad problem to have."
Downers Grove South
Coach: Chris Hernandez
2021 record: 15-1
Top players: Mallory Qualizza, sr., F; Marley Davis, sr., F; Emily Petring, jr., F; Krystal Flores, jr., M; Teyani Sharkey, jr., D; Hannah Fedinec, so., GK.
Outlook: The Mustangs welcome back seven starters from a team that went unbeaten in the regular season, winning conference and regional championships before losing to eventual state runner-up Lyons in the sectional semifinals. Qualizza, Davis and Petring form one of the most potent front lines around. They combined for 48 goals and 28 assists last season. Fedinec and senior Brooke Patten split time between the pipes and combined for 11 shutouts.
"We look forward to the return of a more traditional season," Hernandez said. "Our outlook for the season is to continue to build upon the foundations of last year. We are now a little more experienced and are excited with how far our work ethic, ability and mentality can take us."
Glenbard East
Coach: Kent Overbey
2021 record: 11-3-2
Top players: Zoe Romano, sr., GK; Sarah Liljestrand, sr., M; Maia Zatarski, sr., F; Jasmine Dhamers, jr., F; Sarah Conroy, sr., F.
Outlook: The Rams return nine starters, including their top seven scorers, from a team that finished second in the Upstate Eight and reached a regional final. They are led by all-sectional picks Romano, a Catawba recruit who posted 10 shutouts last year, and Liljestrand, who had five goals and 12 assists. Zataraski (11 goals, five assists) and Dhamers (nine goals, three assists) also were all-conference selections, while Wisconsin-Platteville commit Conroy contributed five goals and 13 assists. Junior Brielle DeForest and freshman Julia Bereta will lead the defense.
"Our outlook is strong," Overbey said. "Our ability to stretch the field and score goals should be a strength. Defense will be young but talented. Zoe Romano is a top-level shot stopper."
Glenbard West
Coach: Adam Szyszko
2021 record: 11-6
Top players: Emmie Roberts, sr., F; Clare Kostolansky, jr., M; Kendall Walch, sr., F; Elise Pollock, sr., D; Jennifer Fox, sr., D; Emma Kluge, sr., D; Maggie McDonnell, sr., M; Maeve Repking, sr., M.
Outlook: The Hilltoppers return 10 starters from a regional championship team. They are led by the Loyola-bound Roberts, who had eight goals and 12 assists. She and Kostolansky (six goals, seven assists) are all-conference players.
"We return a lot of depth from a sectional-qualifying team," Szyszko said. "We have tremendous senior leadership and varsity experience at all three positional groups. Roberts' ability up top to create and Kostolansky's work ethic and toughness in the midfield are keys for us."
Hinsdale Central
Coach: Anthony Madonia
2021 record: 9-4
Top players: Hannah Florence, sr., F; MaggieSanders, sr., M/F; Rania Arain, sr., GK; Ava Elliott, jr., D; Maddy Panveno, jr., M; Cate McDonnell, so., F.
Outlook: Florence (six goals, three assists), Sanders (three goals) and Arain (three shutouts) were all-conference players last season. Elliott and seniors Claire Kumskis and Sydney Turnbull return from a defense that allowed 15 goals in 13 games.
"We are just looking to continue to build on the success we had last year throughout the regular season," Madonia said. "A schedule full of strong opponents will test us, and we have faith that it will prepare us for the playoffs. We have players of all ages who are going to be contributors, some with and some without varsity experience. Energy is high so far within the group. We're looking forward to a great season."
Hinsdale South
Coach: Jen Belmonte
2021 record: 7-8
Top players: Grace Cvengros, sr., M/F; Grace Raatz, sr., F; Makena Camden, jr., M; Tessa Frank, jr., D; Deidre Cranley, sr., M; Leslie Cervantes, sr., GK.
Outlook: The Hornets return their top three offensive players in Cvengros, an all-conference honoree, Raatz and Camden. They add a pair of promising freshmen in forward Audrey Atkinson and defender Fatima Mendoza Lopez and have several multiple-sport athletes. Camden and sophomore forward Amelia Lavorato play basketball, and junior defender Kelly Sullivan plays volleyball.
"The team is working hard and ready for a fun season with more games in the cold than last year," Belmonte said. "The team is a good mix of strong leaders with eight seniors at the helm. Two freshmen should come in and make an impact right away. The team is focused on getting some more conference wins and moving up from fourth place."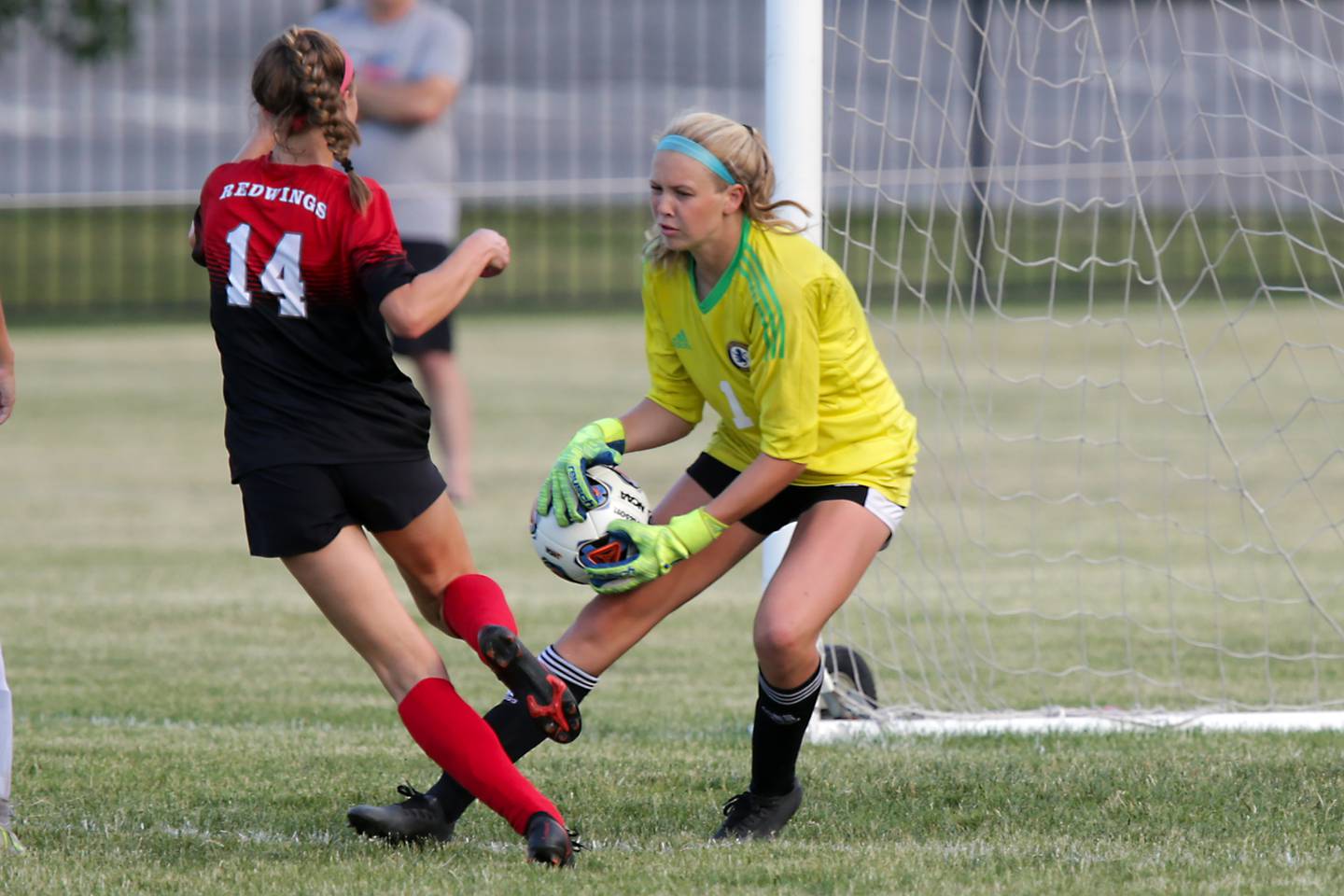 Lyons Township
Coach: Bill Lanspeary
2021 record: 20-1
Top players: Eleanor Musgrove, sr., M; Izzy Lee, sr., GK; Kate Fulscher, sr., D; Ava Pike, sr., D.
Outlook: The Lions came close to winning their first state championship last spring, going unbeaten until a 1-0 loss to O'Fallon in the Class 3A state final. They boast two of the top players in the area in Lee, an Illinois recruit, and Musgrove, who has committed to Air Force. Ten players have varsity experience, including senior midfielders Bella and Sarah Schirl, senior forward/defender Reilly Chesna, junior forward Katie O'Malley and sophomore midfielders Izzi Wirtz and Josie Pochocki.
"Our returning players are the key," Lanspeary said. "The play on the field and leadership that they will provide is crucial to our success. I think we've got a well-balanced team, but it's hard to not point to Izzy Lee in goal as a strength."
Montini
Coach: Kate Perry
2021 record: 8-5-1
Top players: Sawyer White, sr., M; Maren Hoovel, jr., F; Riley White, so., D; Anna Carrigan, sr., D; Jillian Parrilli, jr., M; Alexa Flynn, sr., M; Nicole Burger, sr., D.
Outlook: Eight starters return, including 20-goal scorer Hoovel, who was an all-sectional pick and conference player of the year last season. Sawyer White, who will play soccer and basketball at Illinois Wesleyan, was all-conference and all-sectional and is the team captain.
"I am extremely excited about this group," Perry said. "We have a core returning from our 2021 team and we added a lot of very talented freshman. We will be much more technical this year and have added a lot of depth that we did not have last year. We are going to be able to reload and look to a lot of different people to find the back of the net. I also foresee our backline being extremely hard to break down. Our weakness will definitely be our youth. We will be starting a handful of freshmen, but knowing a lot of them have varsity experience already (girls basketball and cross country), I am not too worried about the adjustment."
Morton
Coach: Jim Bageanis
2021 record: 9-5
Top players: Mayte Gongora, sr., M; Carisma Rosales, so., M; Brianna Avalos, jr., D; Fernanda Sanchez Duran, sr., GK; Stephanie Quevedo, jr., D.
Outlook: Gongora, a Roosevelt commit, and Rosales were all-conference picks in 2021. Senior midfielders Andrea Aguirre, a St. Francis recruit, and Esmeralda Bautista are the top newcomers.
"I feel that this team has a lot of potential," Bageanis said. "We are a team that can possess the ball and can play a fast offensive style. I think we have skill at all positions and we have a deep bench. It will take a little time to get to know each other on the field, but I feel we will be ready to go."
Nazareth
Coach: Robert Cianci
2021 record: 10-6-2
Top players: Loraine Healy, sr., D; Lily Berner, jr., D; Samantha Rozmus, so., M; Trea Notz, jr., M/D; Nikolette Weiss, so., F; Olivia Austin, so., F.
Outlook: First-year coach Cianci has six returning starters, including three-sport athlete Austin, who was all-conference as a freshman and played on Nazareth's state championship volleyball team and state runner-up basketball team. The team will be bolstered by three newcomers – senior midfielder Lydia Breslow, senior defender Mia Gurka and junior midfielder/forward Ella O'Neill.
"We look to compete and contend for a top spot in conference and try to make a run at the end of the season," Cianci said. "Mia Gurka and Loraine Healy will anchor the defense with the combo of Trea Notz and Lydia Breslow commanding the midfield to center forward Olivia Austin. Our strength is our skill and depth. We have 16 of the 18 players rostered who have varsity experience. A weakness at this point is the girls learning a new style of play."
St. Francis
Coach: Jim Winslow
2021 record: 13-1
Top players: Shannon Brown, so., D; Sarah Dzengel, sr., M; Claire Reinke, sr., M; Sophia Rozkowksi, so., M; Lauren Bruce, sr., F; Paige Chrustowski, so., F.
Outlook: Six starters return from a squad that went undefeated until losing in a Class 2A sectional final. Junior Adrian Saviano and freshman Ella Wainscott are two newcomers who will solidify the defense.
"We have good team speed, good technical ability and speed of play," Winslow said. "Getting our two new goalkeepers up to speed will be huge."
Timothy Christian
Coach: Jon Hamerlinck
2021 record: 17-3
Top players: Corinne Myket, sr., GK; Sophia Biscan, sr., D; Maddie Drye, jr., F; Angie Tornabene, jr., M; Mili Martens, jr., M; Hope Huizenga, so., M; Juliana Norman, jr., D.
Outlook: The Trojans have nearly everyone back from last year's Class 1A state runner-up squad, including all-conference selection Drye, who had 20 goals and four assists. Tornabene (10 goals, 10 assists), Martens (10 goals, seven assists) and Huizenga (seven goals, five assists) are proven scorers, while Myket posted a 12-1 record, nine shutouts and 0.43 goals-against average last season. Biscan has committed to Trinity Christian.
"I'm looking forward to continuing to build on the success of last season," Hamelinck said. "Finishing second in state was a huge accomplishment for the program and I'm proud of the run we went on. With many returning players from that team, I expect to be competitive, but we have lots of work to do.
"The girls have been working hard in practice. We will again be building around strong team defense as a hallmark of our team, but again, lots of work to do. Offensively, we have lots of returning starters from a team that produced 4.3 goals per game and we have a deeper bench on this team than maybe any other year, so I'm excited to see what they're able to do."
Wheaton Warrenville South
Coach: Guy Callipari
2021 record: 13-7
Top players: Ellie Farrel, sr., D; Lauren Barnett, jr., F; Kate Hartnett, jr., F; Mallory Cadigan, sr., D; Mia Taullahue, sr., F; Olivia Vassios, sr., D; Meghan Economos, sr., F.
Outlook: The Tigers graduated three all-conference players but return a strong group from a regional championship team that will be bolstered by freshmen Ashlyn Adams, Lily Petrie and Bri Stransky.
"The goal production will need to come from a concerted effort from the front five and our defensive posture will see four to five new faces," Callipari said. "Excitement runs high while predictions may be difficult early on. The possibilities are wide open if we entertain the ideas of working hard on both sides of the ball.
"Our goal is to develop continuity in our play and trust in one another while competing at the highest level possible each and every day."
Willowbrook
Coach: Julio Del Real
2021 record: 11-4
Top players: Erin Fitzgibbon, sr., F; Molly Brennan, jr., M; Brooke Vandergrift, sr., M; Rachael Klamecki, sr., D; Izzy Manning, sr., D; Maddie Aderholt, jr., GK.
Outlook: The Warriors are solid at both ends of the field, with all-sectional pick Fitzgibbon coming off a 10-goal, 8-assist season, while Brennan tallied seven goals and six assists. Purdue-Northwest recruit Manning, Klamecki and Aderholt also earned all-conference honors.
"After an 11-4 year, a second-place finish in conference and scoring 63 goals, it would seem difficult to repeat or better last year's performance," Del Real said. "However, this year's team has a lot of experience and seems ready to accept the challenge. They have been practicing very hard and are eager to get the season going."
York
Coach: Stevan Dobric
2021 record: 3-11-1
Top players: Olivia Greco, sr., M; Kathleen Buhrfiend, sr., M; Allison Sheehan, jr., M; Michaela Quinn, so., F; Ava Hansmann, so., D; Finley Ewald, jr., F.
Outlook: Sheehan had four goals and one assist and Quinn tallied three goals and five assists last year. Buhrfiend returns after taking a year off.
"This season the team is extremely excited to display all the hard work and effort they have put in this offseason," Dobric said. "All the girls have worked together on coming into the season with a high level of fitness and desire to win. Our seniors have shown great leadership already and will be essential in our success this season. Speed and the ability to work together has been a strength so far of this group. With some new players in key positions, we look forward to building strong chemistry on the pitch."