HOFFMAN ESTATES – Lyons Township senior defender Elli Kosanovich hoisted the second-place trophy over her head and ran over to her team's cheering fans.
The roar of the crowd was so loud – and the smile on Kosanovich's face so proud – that a bystander could have thought the Lions had beaten O'Fallon in Saturday's Class 3A state championship game at Hoffman Estates.
That wasn't the case. O'Fallon ended the Lions' bid for their first state championship with a 1-0 victory, but Kosanovich and her teammates were determined to celebrate.
"It for sure was a tough loss," Kosanovich said. "Obviously, anyone in this position wants to get first and O'Fallon is a really talented team.
"You have to celebrate all that we've accomplished this season because at the beginning of the year we didn't even know we were going to have a season. And the fact that we went 20-1 and let up four goals this entire season really says a lot.
"Because I'm a senior, this moment is only going to happen this time for me, so instead of putting my head down, I wanted to enjoy the moment. The crowd was insane again and I think my teammates are the best, so I just wanted to celebrate the moment. I wanted to keep everyone's spirits high."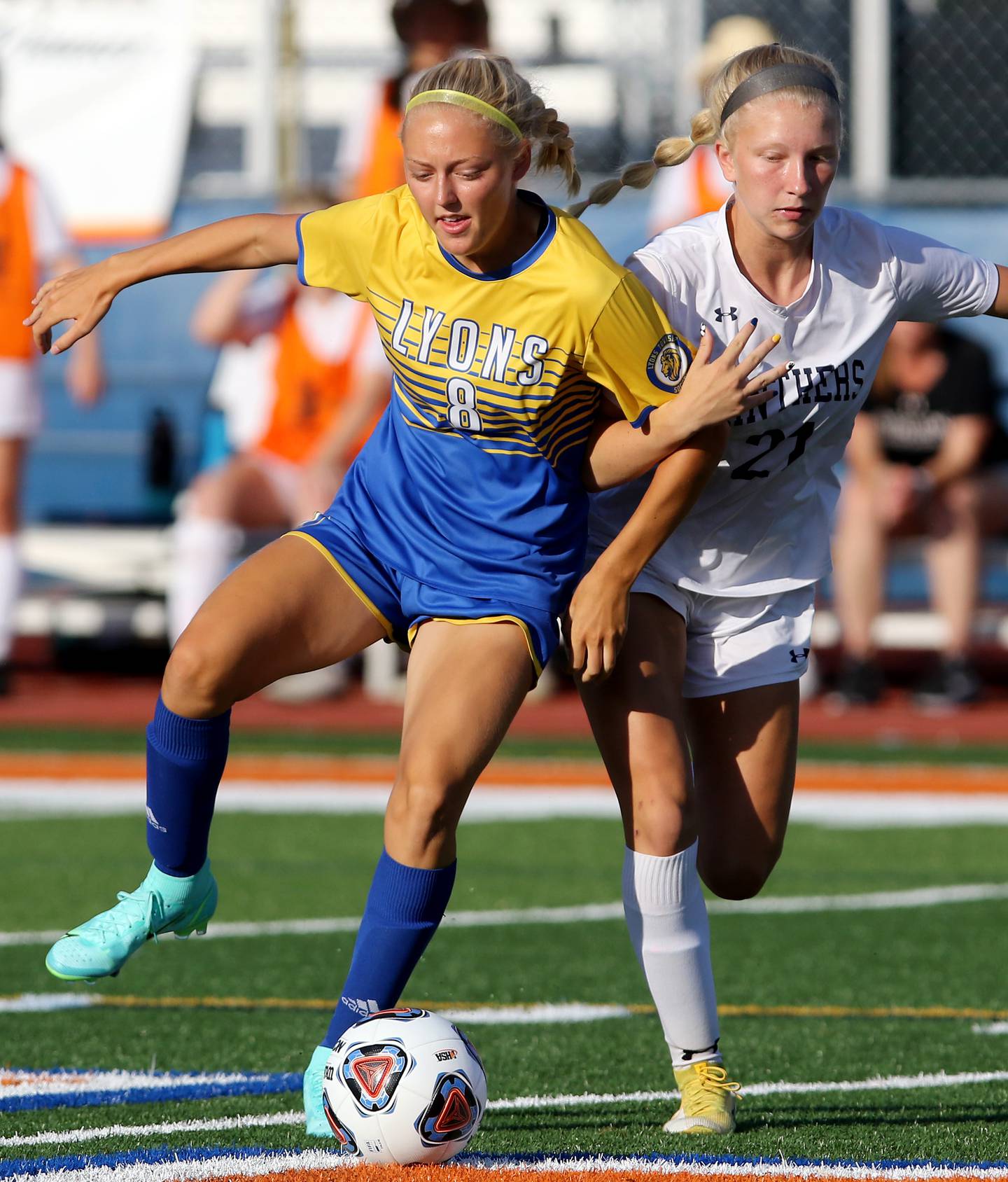 Kosanovich,a team co-captain, did that throughout a season that will be remembered as arguably the best in program history. The Lions, who were appearing in the state title game for just the second time and first since 1997, came within inches of becoming only the second large-school team to complete a perfect season.
Senior forward Ava Dallavo hit the crossbar with a dipping 30-yard shot with 4:20 left in the first half.
"If I had hit that a little bit less, it would have gone in," Dallavo said. "It's that one shot, that one goal, the one save that wins a state championship."
O'Fallon (20-2), which was playing in the state title match for the first time, got that one play with 35:29 remaining in the second half when Kiley McMinn blasted a 25-yard free kick into the upper right corner of the net for the game's only goal.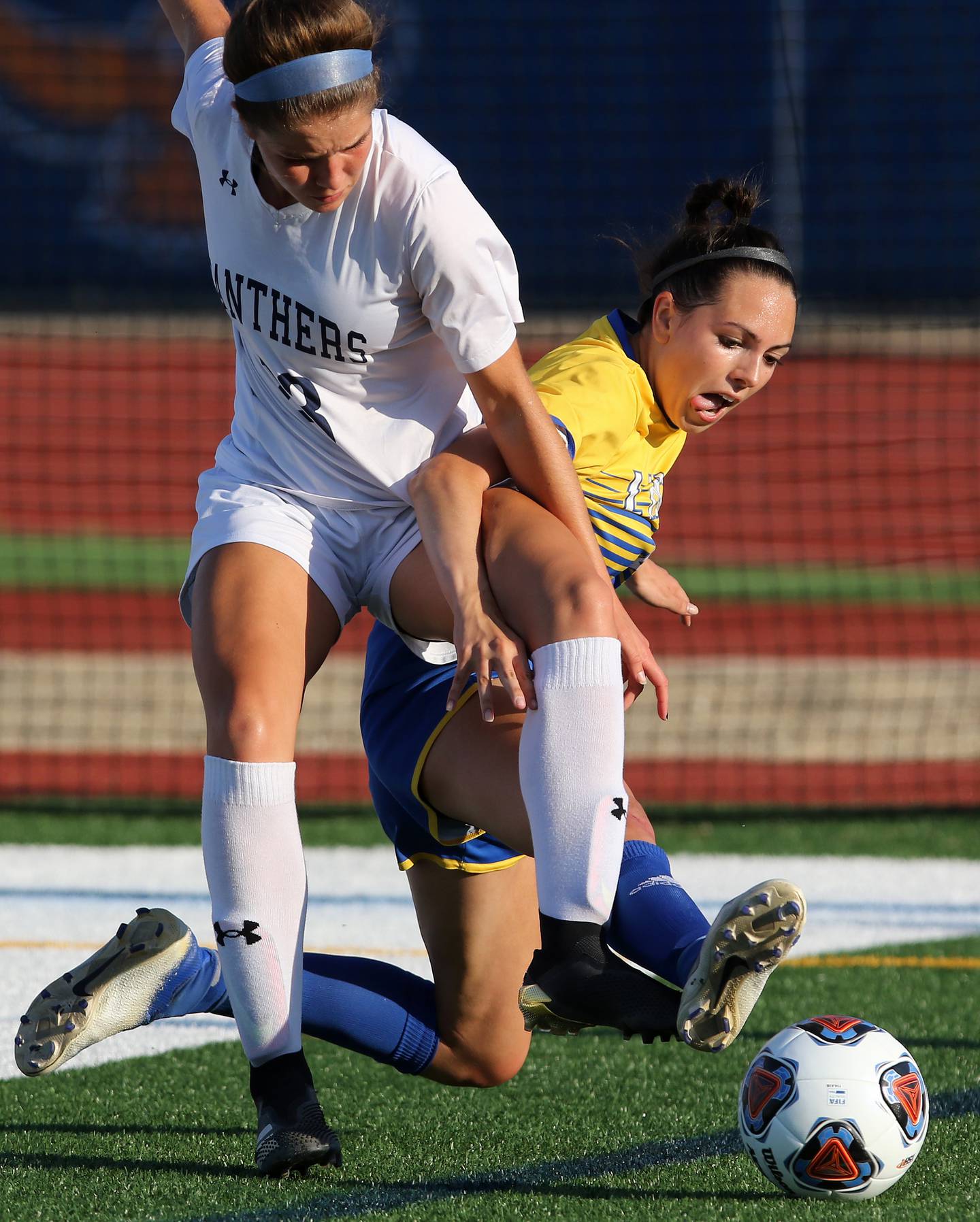 Shots from Kosanovich and Dallavo missed wide in the final 10 minutes. The Lions' final chance also went for naught when senior forward Jordan Lee-Caracci, who had scored the game-winning goal in the Lions' three previous victories, had a shot in the box stopped by O'Fallon goalkeeper Grace Vincent with 40 seconds left.
"You reach this point, everybody's good," Lyons Township coach Bill Lanspeary said. "It's a matter of little things here or there that can be the difference between winning and losing.
"Sometimes you need to catch a break, too, and tonight that break wasn't there for us, and they got one. But I couldn't be more proud of this group."
Lanspeary was especially proud of the classy way the Lions handled losing, opting for celebration rather than consolation. Those postgame festivities included dumping a bucket of ice water on Lanspeary, then chasing assistant coach Andy Newcomb halfway across the field to empty a second bucket.
"Why would we not?" Dallavo said of the ice showers. "We got second in state, which is amazing.
"A lot of us seniors have been playing together since U-8. It was a celebration of one last game playing together. I think it was great."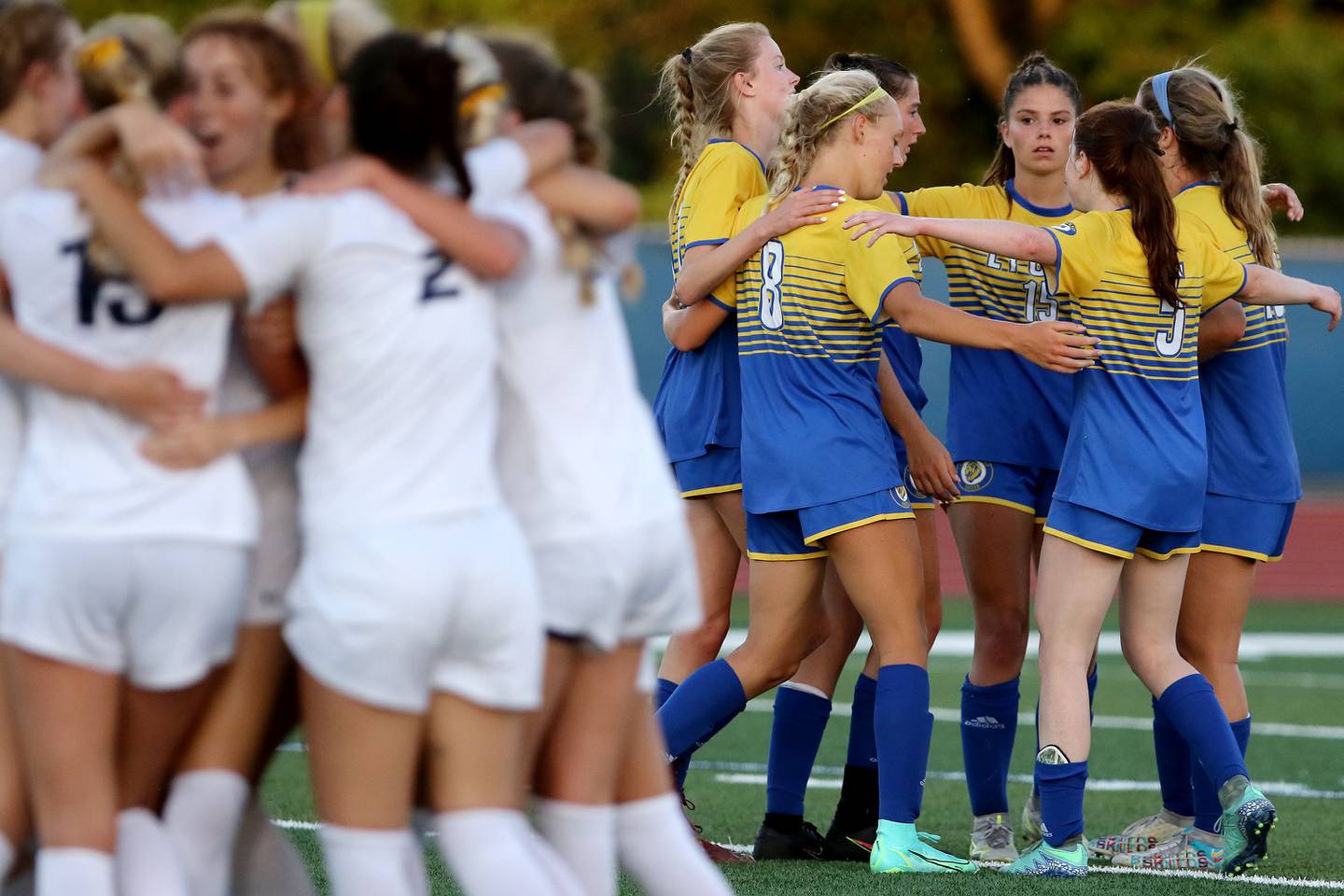 So did Lanspeary, who said the Lions' reaction proved that defeat doesn't have to bring agony.
"It's a great perspective on it," Lanspeary said. "When all these players look back on this season, and even right now, they realize how fantastic it's been.
"And most importantly, they've enjoyed every minute of it. They love being around each other, they love going to practice, they love playing these games, and that's what made it such a special group to be around."
That group included eight seniors, seven of whom started. Only two are committed to play in college, though Kosanovich is still mulling her choices.
"I'm super proud of our team," Kosanovich said. "One loss does not define us, even though it sucks that it was in the final game. It does not show everything we put into this season."
But Kosanovich's postgame trophy tour showed her character.
"That was a way of me thanking our fans," Kosanovich said. "We couldn't have gotten here without them, so I thought doing one little victory lap even though we lost was kind of fun."