GLEN ELLYN – Montini may have a different head coach, but its regional dominance remained the same Thursday night.
The Lady Broncos captured their 17th consecutive regional championship with a 51-26 decision over Lemont in a Class 3A regional final at Glenbard South.
The previous 16 titles came under Jason Nichols, who is now in his second year at Morton College. Last season there were no playoffs due to COVID-19.
"To be able to make it to the regional championship and now move on, this is a great experience," said junior Shannon Blacher, one of three current players on Nichols' last regional winning team in 2019-20 along with Sawyer White and Samantha Mogilinski. "I'm so excited; as a team, this is a big step for us. Especially after last season not being the best because of [COVID-19], that was more just random games. It's great to move on in the playoffs."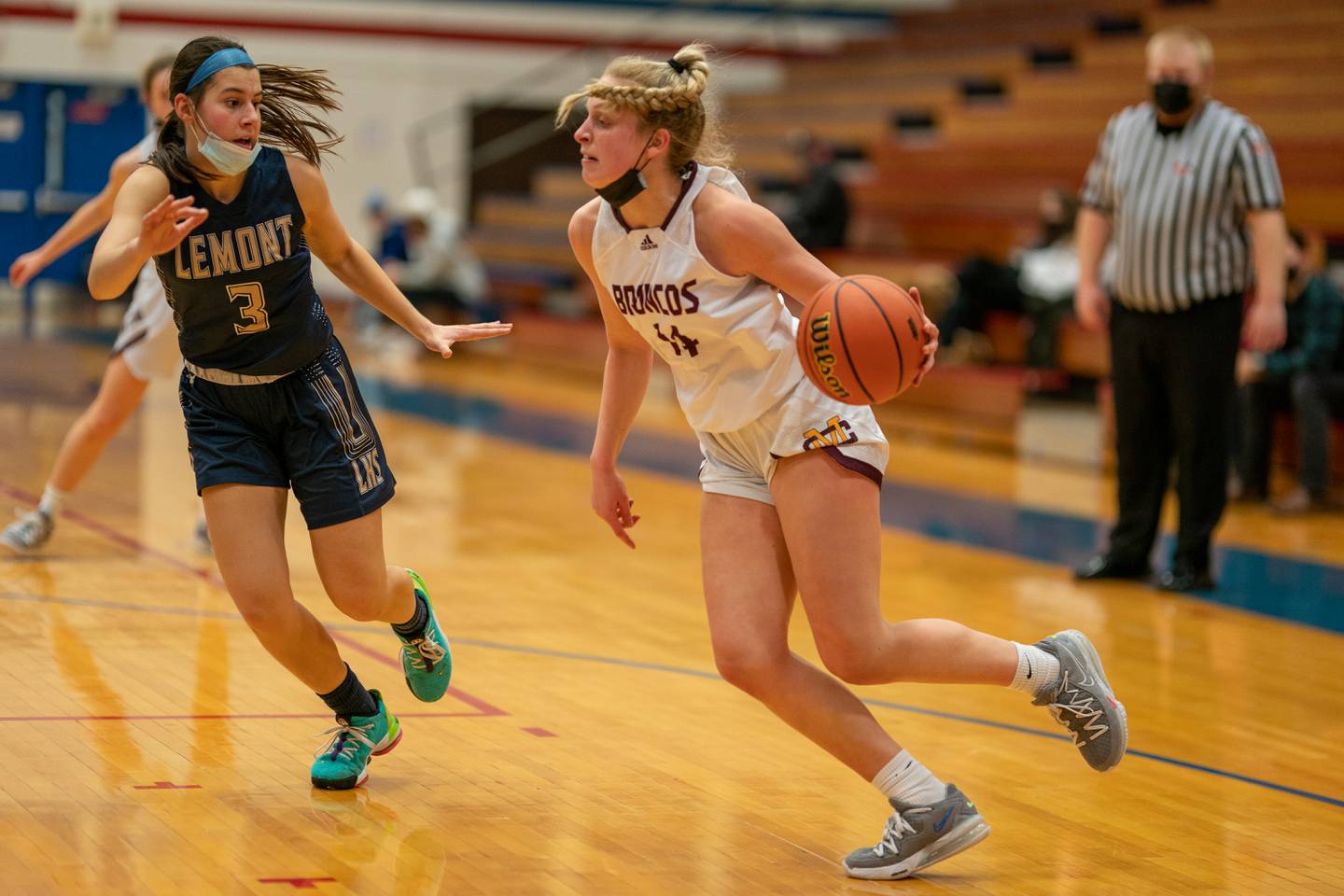 Blacher shared game-high scoring honors with Victoria Matulevicius as each totaled 13 points. Mogilinski also checked into double figures with 11 points, knocking down two of Montini's seven makes from beyond the 3-point arc.
"This means a lot," Mogilinski said, "especially after last year where there were no playoffs. This is a really good program and everyone is contributing. Everyone has come together and is working together. We are trusting our teammates and you can see that on the court."
Leading 18-15 shortly before halftime, the Lady Broncos went on a 21-5 run over the next 10 minutes to take a 39-20 advantage into the fourth quarter. Matulevicius and Blacher had seven points apiece during that spurt and Mogilinski had five.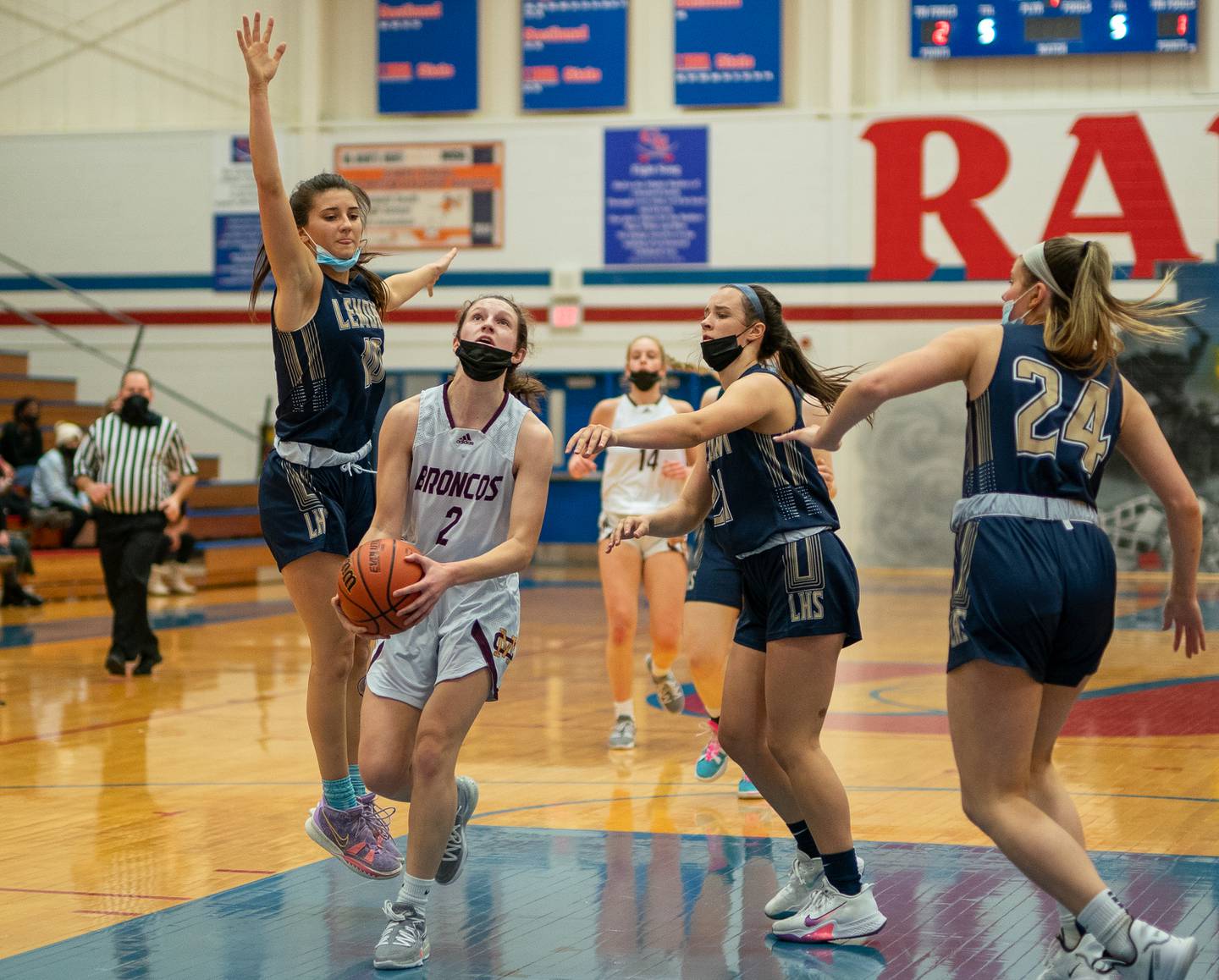 White tallied five of her nine points in the fourth quarter and also added five rebounds and three steals. Montini forced 16 turnovers and held Lemont to just two fields goals in the second half.
"I'm super proud of our team," White said. "The past two years, it has been something new with new coaches. We really wanted this for them and for our younger players. Every game means something to us and I'm so proud of how well we've been playing."
With the victory, Montini (24-8), winners of 14 of its last 16 contests and Girls Catholic Red conference champs, advances to the Kaneland Sectional and will play either Burlington Central or Rockford Boylan at 7:30 p.m. on Tuesday.
"I know I have big shoes to fill," second-year Montini coach Shannon Spanos said. "I'm just so happy for them, I'm surrounded with good kids. I'm lucky to be a part of a such a special group of girls and coaches.
"We've been playing well and hopefully we are peaking at the right time. We talk about it at practice every day, especially at tournament time, you have to be better defensively. We can talk about offense but we preach that on every possession, we have to be locked in defensively."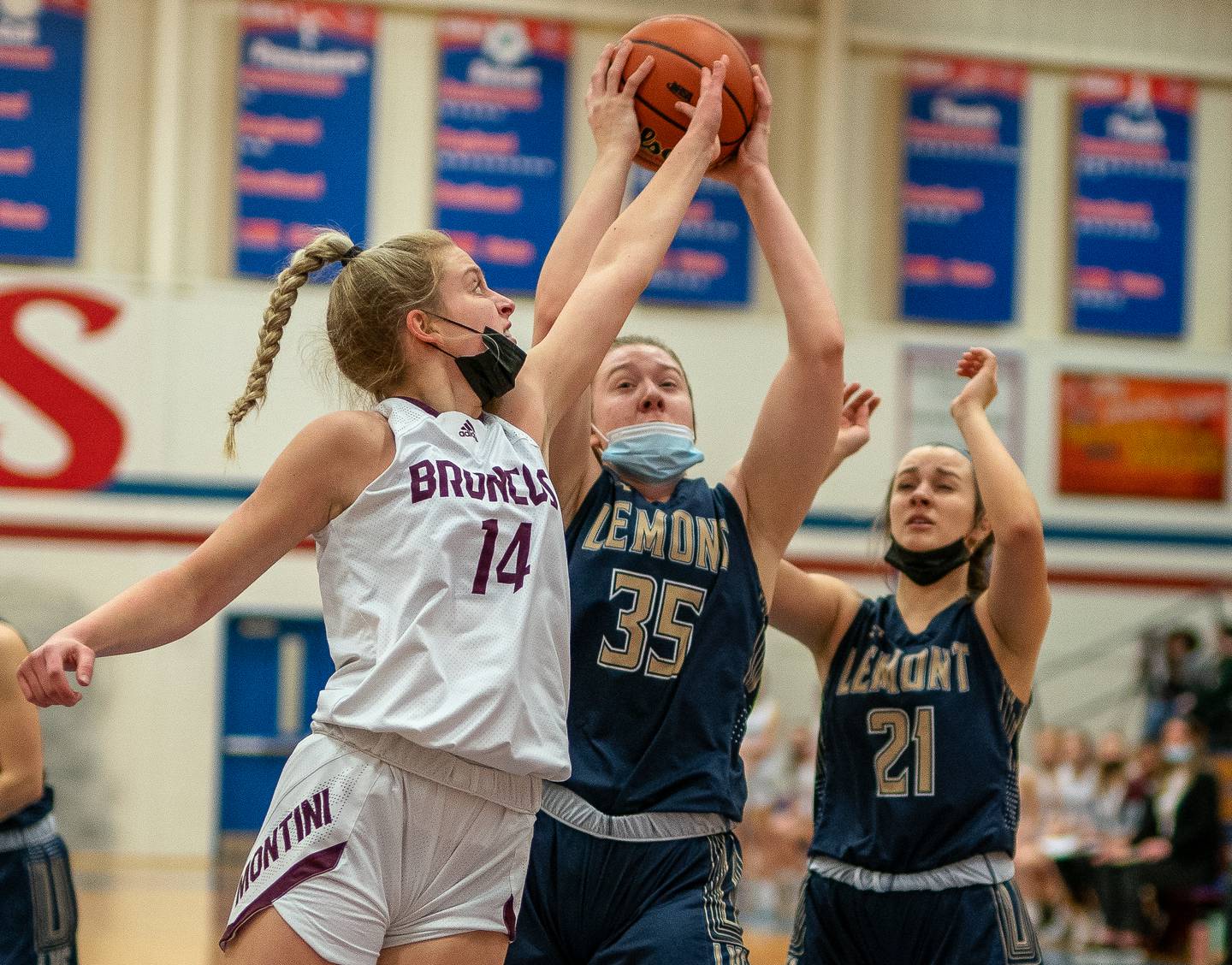 As for Lemont (19-7), the defeat brought an end to a great stretch of basketball. After losing three straight in early December, the team finished the season by winning 14 of their last 17 games. Isabella Kedryna led the visitors with 11 points while Brooke Panush contributed four points and seven rebounds. Senior starters Kaya Stropus and Jackie Wencl, two of seven seniors on the roster, had four and three points respectively.
Trailing 14-7 after the opening eight minutes, Lemont, which finished in a tie for second place in the South Suburban Blue conference, went on a 8-4 run in the second quarter to get within three.
"Coming into the sectional, we knew we were in a really tough sub-sectional," Lemont coach Tracy Rainey said. "Playing Montini for the regional, we knew it would be an extremely intense game and that we'd have our work cut out for us. That was a testament to how they've played all year.
"I feel like we were up to the challenge. We were down 10 at half (25-15) and were a possession or two away from making it even closer. We had some looks that just didn't fall in the second half."