WHEATON – Wheaton Warrenville South's basketball team attempted to encapsulate a lifetime of memories into Friday night's game.
The Tigers, on Senior Night, set up individual tables near the concession stand for each senior to go with a separate table full of goodies for every player. A dessert table filled with cookies and a big cake was placed near the concession stand, and a lengthy postgame highlight reel full of memorable moments was all set up.
[ Photos: Wheaton Warrenville South vs. Lake Park ]
A 10-page colored program honoring the nine seniors — Bear Awadzi, Kellen Brown, Tyler Fawcett, Danny Healy, Jim Hohnstein, Lance Kottke, Rourke Robinson, Colin Scudder and Matt Sommerdyke — was handed out to the fans. Each player had a full page, complete with pictures and answers to several questions that provided an insight into the personality of each senior.
But the Tigers nearly forgot to provide the main ingredient for the party — a victory.
After a sluggish start and a rough shooting night, the Tigers cobbled together a few runs and played stellar defense to squeeze out a 30-26 victory over Lake Park in DuKane Conference.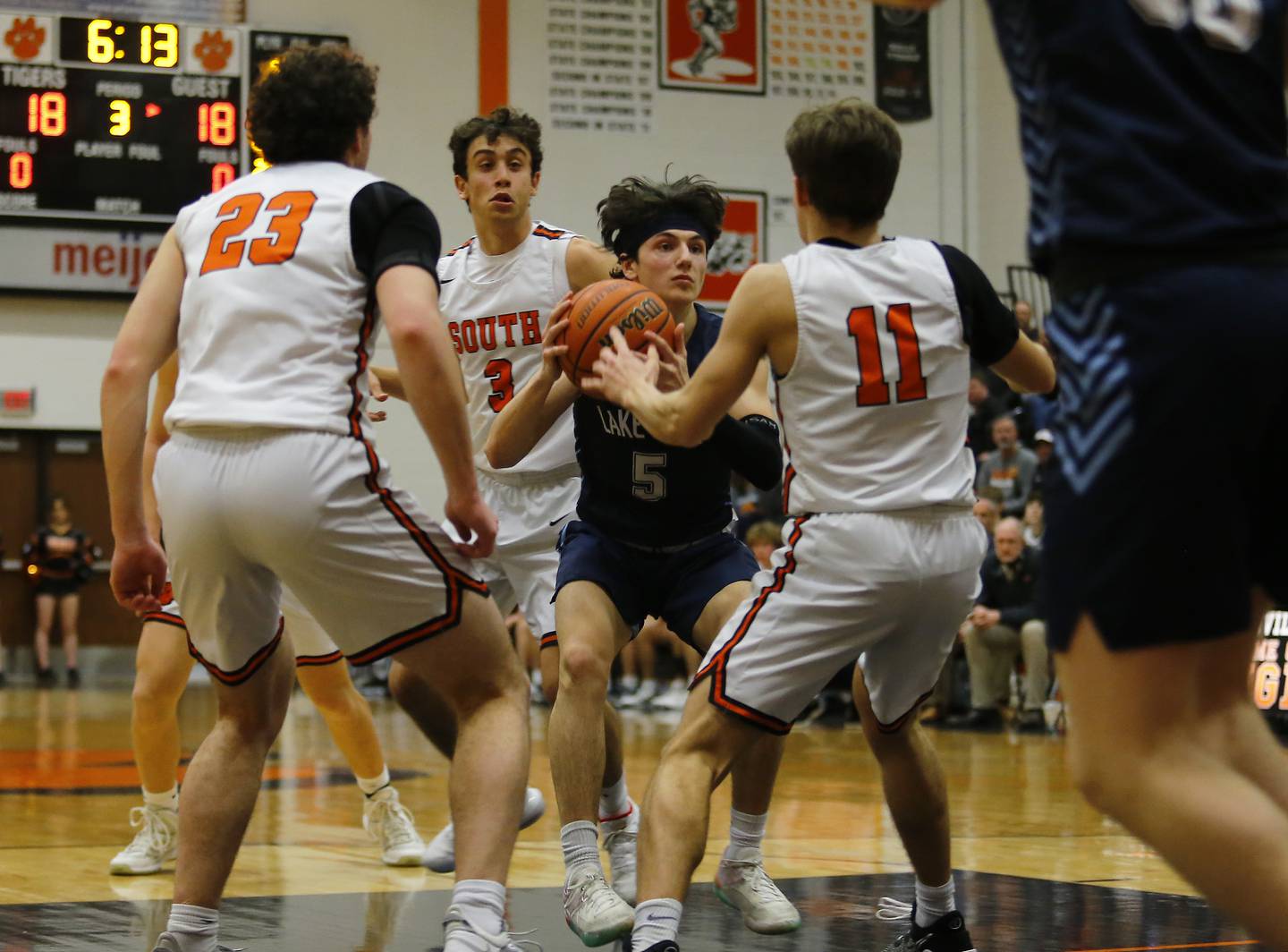 With the win, the Tigers (27-2, 13-0) continued their magical season by notching their second straight conference title. When the final buzzer sounded, several Tigers jumped into a mosh-pit like setting at halfcourt with the student body.
"It's nice to get a big win on senior night, just grind it out," Fawcett said. "Both teams took long possessions and played good defense. It feels good. It's a different type win. We work so hard, always have composure, even on senior night."
Fawcett led the Tigers with seven points, Sommerdyke and Braylen Meredith both chipped in six points in the hard-fought, grind-it-out defensive battle that included long possessions with more passes than shot attempts.
WW South coach Mike Healy, after spending a few seconds sitting on the bench and chatting with his son Danny, admitted it was a tough game for his players and coaches because of all the emotions, along with Lake Park's defensive intensity.
"This wins means a lot, just an emotional day," Mike Healy said. "They're nine awesome kids. Danny showed a little video because they've been together since nine or 10 years old. They had pictures together, from travel and feeder teams. It's well deserved and an awesome moment for them.
"Lake Park is so well coached and did so many good things. We kind of buckled down defensively in the second half. I'm really, really proud of them. They're so unselfish and don't care who scores. They play for each other and enjoy each other and love hanging out."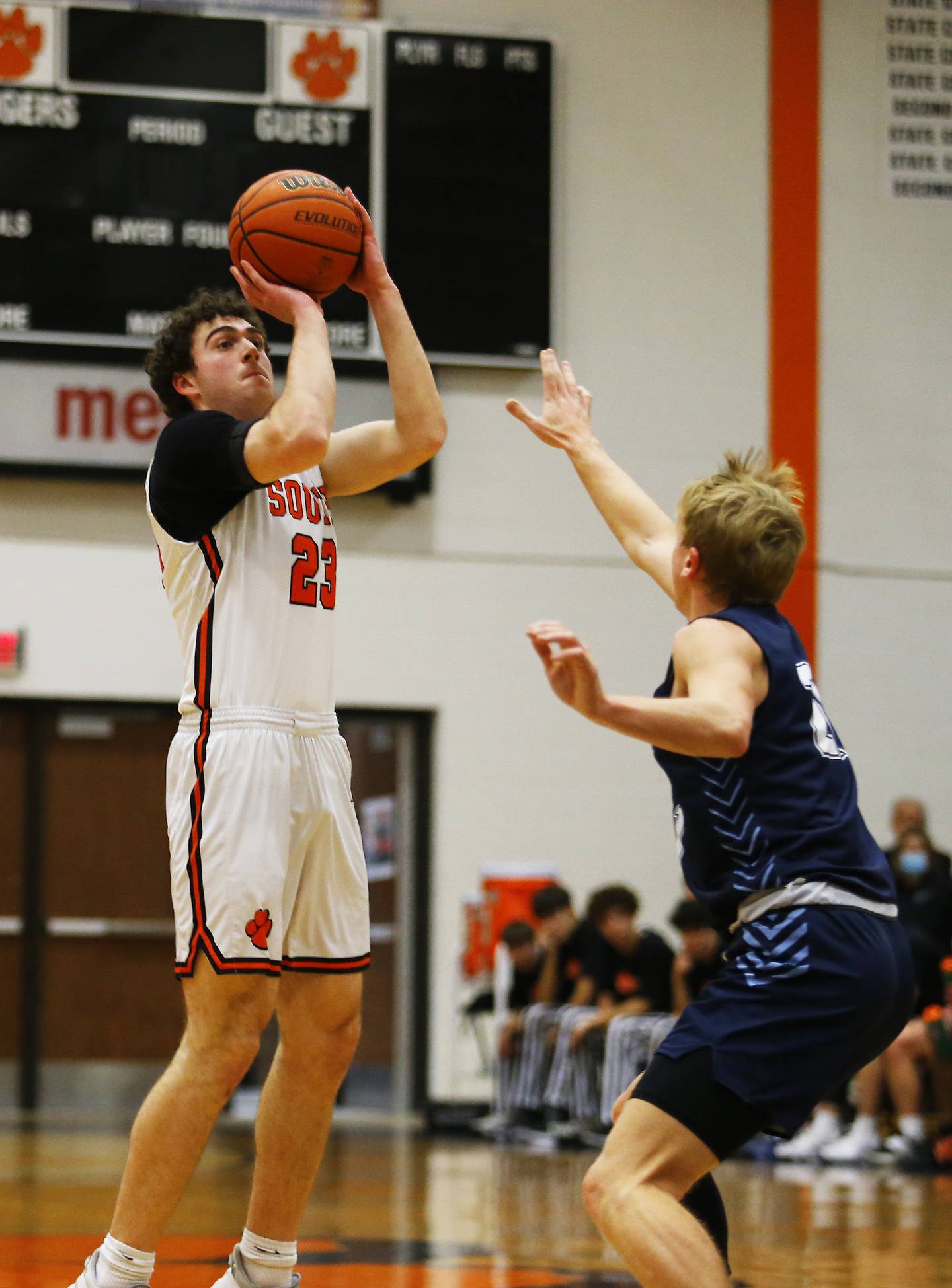 The Tigers' lone two losses — Normal Community by four points, Hillcrest by one point — are the only blemishes on their stunning season.
Fawcett struggled to find his flow in the game, not scoring a point until the 1:20 mark of the second quarter. His block late in the fourth quarter of a one-possession game saved the Tigers, who scored just two points in the opening seven minutes due to a new starting lineup for senior night.
The Lancers (20-6, 10-3) committed just six turnovers but made only two 3-pointers. Sophomore forward Tommy Rochford hit both 3s, finishing with 10 points, including his team's first seven points of the game. Sebastian Blachut attacked the glass and played strong defense, finishing with seven points. The Tigers pulled away behind a 9-0 run in the third quarter, with four different players supplying the scoring.
"I'm so proud of how hard our guys played and battled," Lake Park coach Billy Pitcher said. "A team doesn't celebrate like that after the game against a mediocre or bad team. That's a sign of respect for us. They had to beat us to win conference. They outplayed us, especially in that stretch of the third quarter. A great team makes you pay for mistakes. Give them credit. They wear on you and are so physical.