There was little room for error last Saturday in West Chicago as the Upstate Eight Conference wrestling tournament unfolded.
"Going into the last round, West Chicago was up nine (points)," Glenbard East coach Don Pool said.
League supremacy was truly up for grabs between the Rams, the host Wildcats and Bartlett. They were essentially all tied for top honors after the regular-season dual meet schedule. But Glenbard East prevailed in the end behind three tournament champions.
"We were trying to keep watch on both of them," Pool said of the Rams' chief competitors. But the final round turned out to the Rams' liking.
"We went 7-3 in the final round," said Pool, who took over the program from longtime coach Kevin Carlson. "That put us over the top."
Will Schultz, Diego Garcia and Blake Salvino all captured conference titles for the Rams, who eased past Bartlett 270-264 for the overall championship.
West Chicago was third with 263.5 points.
Glenbard East technically defended its 2020 conference championship as the pandemic precluded a league tournament during the revamped spring season last year.
Glenbard South failed to produce any champions in scoring 127 points to place seventh in the 10-team field.
Schultz, Garcia and Salvino all captured titles for the Rams at 126, 138 and 160 pounds, respectively.
The Rams had an equal number of runner-up finishers as Andrew Gron, a senior 132-pounder, extended his team lead in wins with a 29th victory in the semifinals.
Schultz earned valuable bonus points with a second-period fall in his title match.
Zach Polling and Jacobi Moore were in the spotlight of the Rams' triumphant finals performance as the duo won critical third-place matches in back-to-back weight classes to start off the final 14 brackets at 106 and 113.
But Garcia has been the face of the Glenbard East program this season.
The senior outdueled West Chicago freshman Donovan Avila 2-0 in a tactical championship match to improve to 25-1 on the season.
"Diego has been a rock for us all season," Pool said.
The 160-pound title collision was a back-and-forth affair as Salvino, a sophomore, earned his 21st victory by rallying for a 14-9 triumph over West Chicago senior Larsen Gallian.
The Rams will prepare for the Class 3A Wheaton North regional with a regular-season-ending quad on Saturday against Addison Trail, Kaneland and Burlington Central.
Glenbard South, one of two Class 2A programs in the Upstate Eight, was paced by Tyre Davis (120 pounds), Paul Orizba (152) and Steve Orsolini (195).
The Raiders' triumvirate all won major-consolation titles to place third at West Chicago.
"Our goal every season is to have two state qualifiers," veteran Glenbard South coach Derrick Crenshaw said. "We have never had three."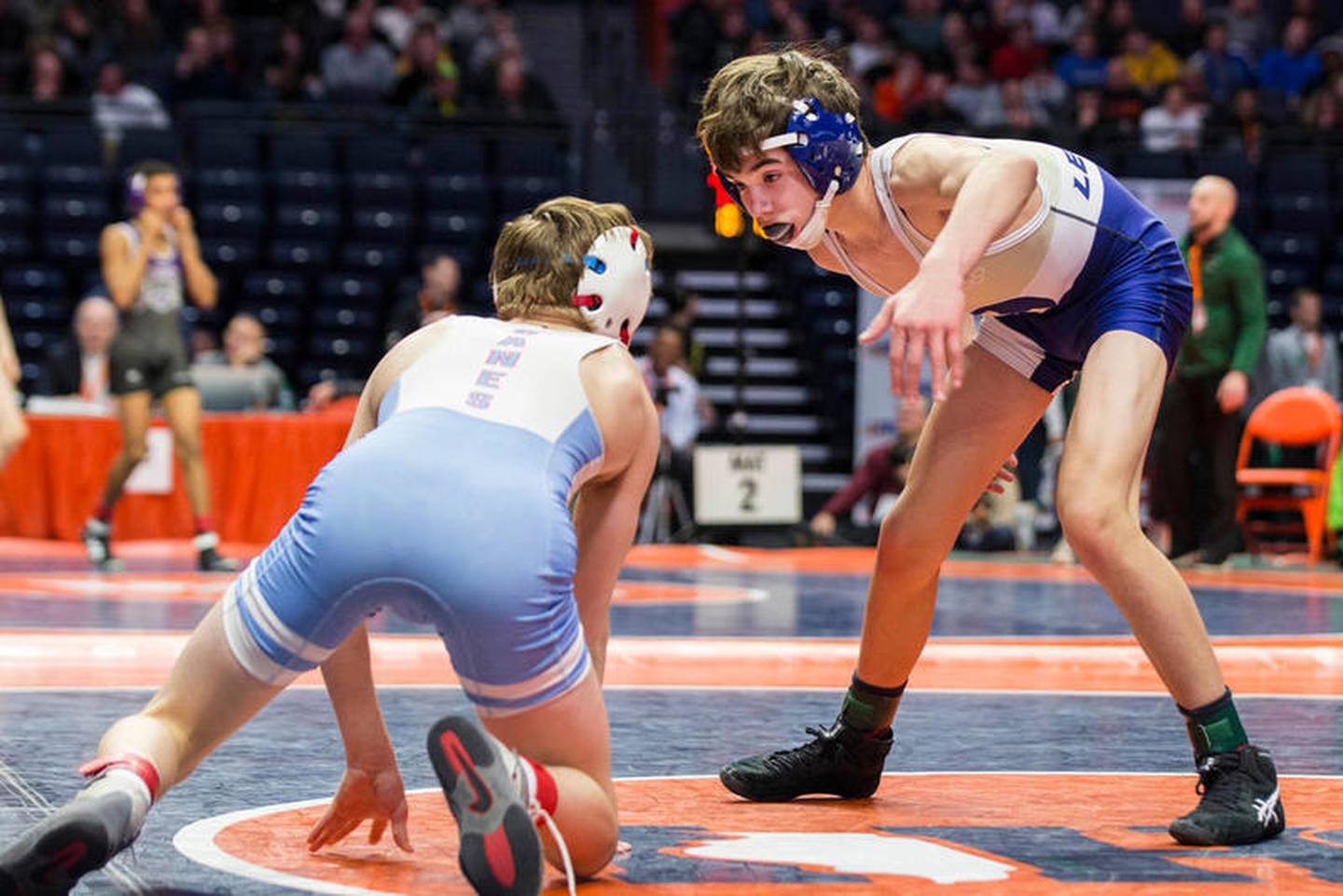 Lemont claims another SSC title
In what proved to be the final state tournament for a male sport in 2020, Lemont ended the four-year Washington run at the Class 2A team-dual state meet in Bloomington.
Not much has changed in two years as Washington is the top-ranked team in the land.
Lemont will enter the La Salle-Peru Regional, where No. 2 Joliet Catholic awaits, as the fourth-ranked program.
In its final major tuneup before the postseason, Lemont crowned six champions to deny Oak Forest the South Suburban Conference championship at Argo in Summit on Saturday.
Lemont defended its title with a 224-164 cushion over the Bengals.
"Every week it seems like someone new stands out and leads by example on the mat," Lemont coach Erik Murry said.
In wrestling, bonus points typically are the difference between winning and losing in both dual meets and major tournaments.
Lemont greased its way to victory over the weekend behind championship falls by Johnny O'Connor (132 pounds), Evan Schiffman (138), Tyler Wilma (220) and heavyweight Alex Pasquale.
State-ranked seniors Alex Tagler and Mo Khalil were the other champions for Lemont in consecutive weights at 170 and 182.
"Bonus points are always huge in a tournament format," Murry said. "That is probably why we won the prestigious Rex Whitlatch tournament at Hinsdale Central (last December)."
The Lemont road to another state championship is littered with roadblocks.
Six of the top eight teams in the state — Lemont, JCA, Washington, Geneseo (No. 5), Aurora Christian (No. 6) and Rock Island (No. 8)—all feed into the Sycamore individual regional and Washington team sectional as the Class 2A sectional complex encompasses a geographical swath from the southwest suburbs to Peoria, Rockford and the Quad Cities.