Sage Mardjetko set a nearly impossible standard to live up to the last game of her junior season.
But that is not how she's measuring herself these days.
Lemont's senior pitcher tossed a no-hitter in last year's Class 3A state championship game against St. Ignatius, powering her school to its first state softball title. Mardjetko still has a season to go before heading off to South Carolina, but she's already preparing for life as a college athlete.
"I'm working more toward getting ready for college, working out more, trying to throw faster with better spin and tighter spin," Mardjetko said. "I'm not so much worried about how great I do in every game, but how I feel my pitches are working. Mostly what I worry about now is getting ready for the next level."
Mardjetko said she was a little rusty at the beginning of the season. She appears to be in midseason form now, though.
Mardjetko on March 30 struck out 17 batters in a no-hitter against Hononegah. The week before, she struck out 10 in a three-hit, 1-0 win over Marist. Over 17 innings on the young season, Mardjetko has struck out 35 and allowed just three hits and three walks.
"I'm trying to figure things out. Pitches weren't super sharp, but they worked, so that's good," Mardjetko said. "It was awesome to see our team hitting [against Hononegah], something we struggled with the first couple games."
Beating Marist, last year's Class 4A runner-up and the 2021 4A champion, was a good early season measuring stick for Class 3A No. 1-ranked Lemont.
"It definitely was a great confidence boost," Mardjetko said. "I know a lot of the girls on that team. The Lemont players know the girls on Marist. They are a good team every year, so to be able to hang with a team like that is a good sign."
As good as Lemont was last year, it was a young group. Lemont started four sophomores and two freshmen and graduated only two seniors. Mardjetko is joined this season on Lemont by younger sister Rhea Mardjetko, a junior who threw four innings of one-run ball in a win over Huntley.
"We played together when we were 10 and 12, so it's been a while. Playing with her is awesome," Sage Mardjetko said. "She's very different than me. She's a really good pitcher and it's going to be great to have her. She gets a lot of groundball outs and keeps the defense on their toes."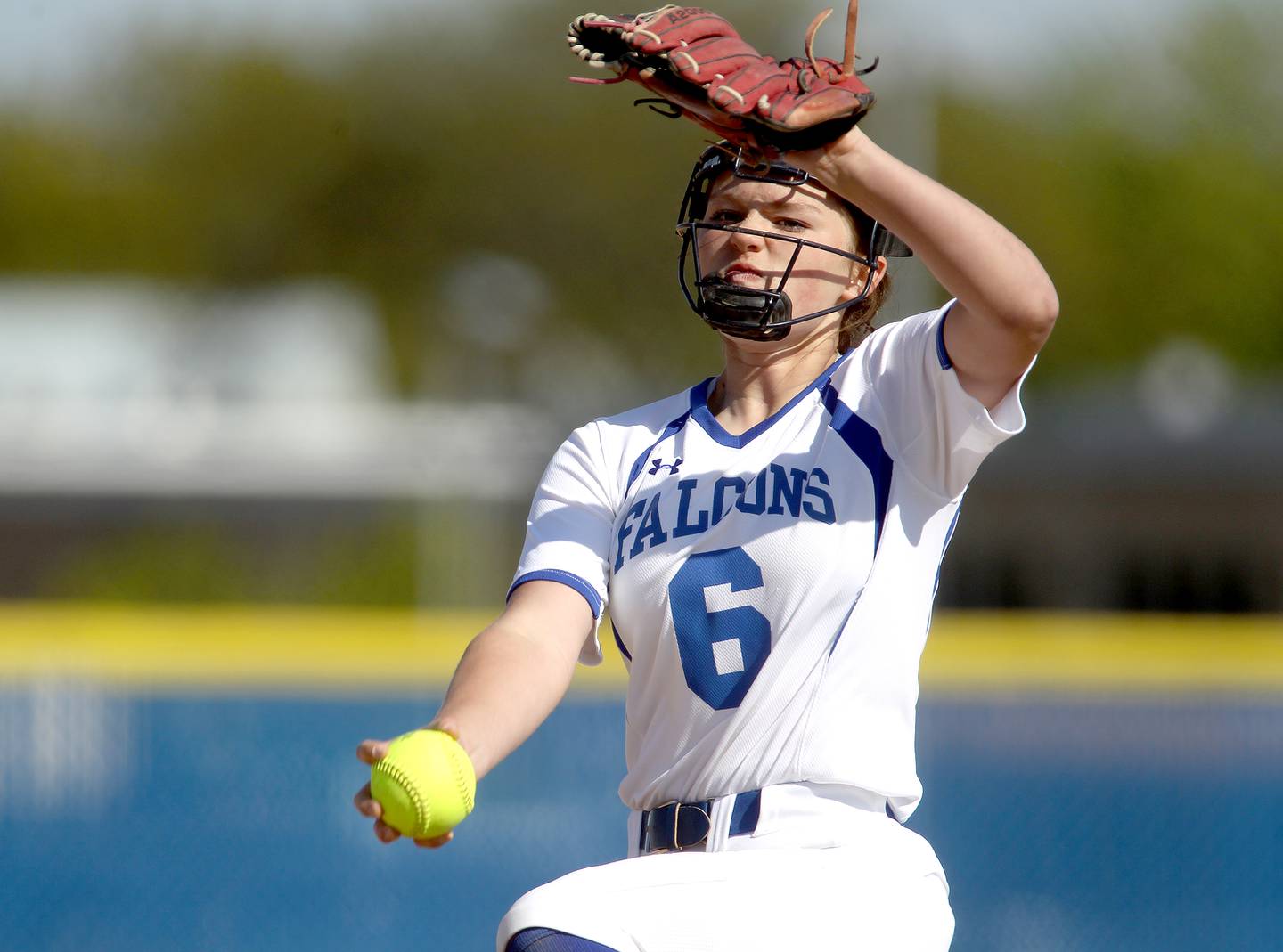 Erin Metz takes on mantle of Wheaton North's leader
Erin Metz has been a standout pitcher for Wheaton North since she first stepped into the circle two years ago as a freshman.
Back then, Metz had high-level Division I recruits Ellie Hubbard and Lauren Vaughn backing her up in the infield.
The roles are reversed now.
Metz, who made her verbal commitment to Valparaiso in September, is now the veteran leader of a rebuilding Falcons team with half of its roster made up of freshmen and sophomores. That responsibility is not lost on Metz, who plans to study nursing at Valparaiso.
"The beginning of this year, Erin and I had a talk and I said, 'You're a Division I pitcher, and as a pitcher, whether you like it or not, whether you sign up for it, you are the leader and people are looking and feeding off your emotions,'" Wheaton North coach Allie Ravanesi said. "She understands that. Having played at that level, I know what will be expected of her. She has to start getting in that mindset."
Ravanesi has noticed a more mentally tough pitcher in the early going this season. Metz has struck out 67 batters in six games for the 3-3 Falcons and walked only 15.
On March 30 against Conant, Metz struggled a bit over the first two innings and Ravanesi talked to her in the second inning about getting her head on straight. Metz responded, striking out 16 batters in a 3-1 loss.
"I told her to focus on what her individual job was and she went back out there and killed it," Ravanesi said. "I was so proud of her to see that she wasn't letting someone else affect her. She focused on what she had to do and ran with it, where in the past she would let it ruin her game."
Metz dedicated herself between high school seasons to working out more to gain strength, speed on her pitches and endurance. Once travel ball ended with the Chicago Wildcats, she started doing lower body and core strength training every other day, up to an hour and a half. She's throwing her best pitch, the screwball/rise, harder now and with more movement and is working off it with a change-up.
"My teammates were a big reason for it. Seeing the girls work harder made me want to work harder," Metz said. "I feel a lot faster with my pitches now, feel more confident in my abilities and hitting spots is easier. As soon as you get tired, it's harder to stay consistent."
Metz recalled that when she first got to Wheaton North, she was nervous at times, which made it nice to have upperclassmen to lean on. That helped Metz get to where she is today, and now she has taken it upon herself to make her younger teammates feel welcome.
"Basically just talk to them, have normal conversations," Metz said. "I think a lot of people see it as 'I'm a freshman, I'm a junior,' but I don't see it that way. I try to become friends with them, pick up their confidence, make them feel comfortable. I think that's huge in how they play."