Editor's note: This is the first in a five-part series on the national worker shortage and how it has impacted area businesses, health care facilities and local governments.
Like many people, Batavia resident Eriel Wills wanted to fatten his paycheck.
So when the 28-year-old found out that Smithfield Foods in St. Charles was holding a walk-in hiring event this month, he decided to attend.
"Right now, money is needed, so it's an opportunity for me," Wills said. "I have three beautiful daughters. I wouldn't mind seeing what I can learn to do in this environment."
In the past, Wills said, he has been a cook at nursing homes, so getting a job at the meat processing plant would represent a career change for him.
"For me, this is an opportunity that I'm willing to take," Wills said.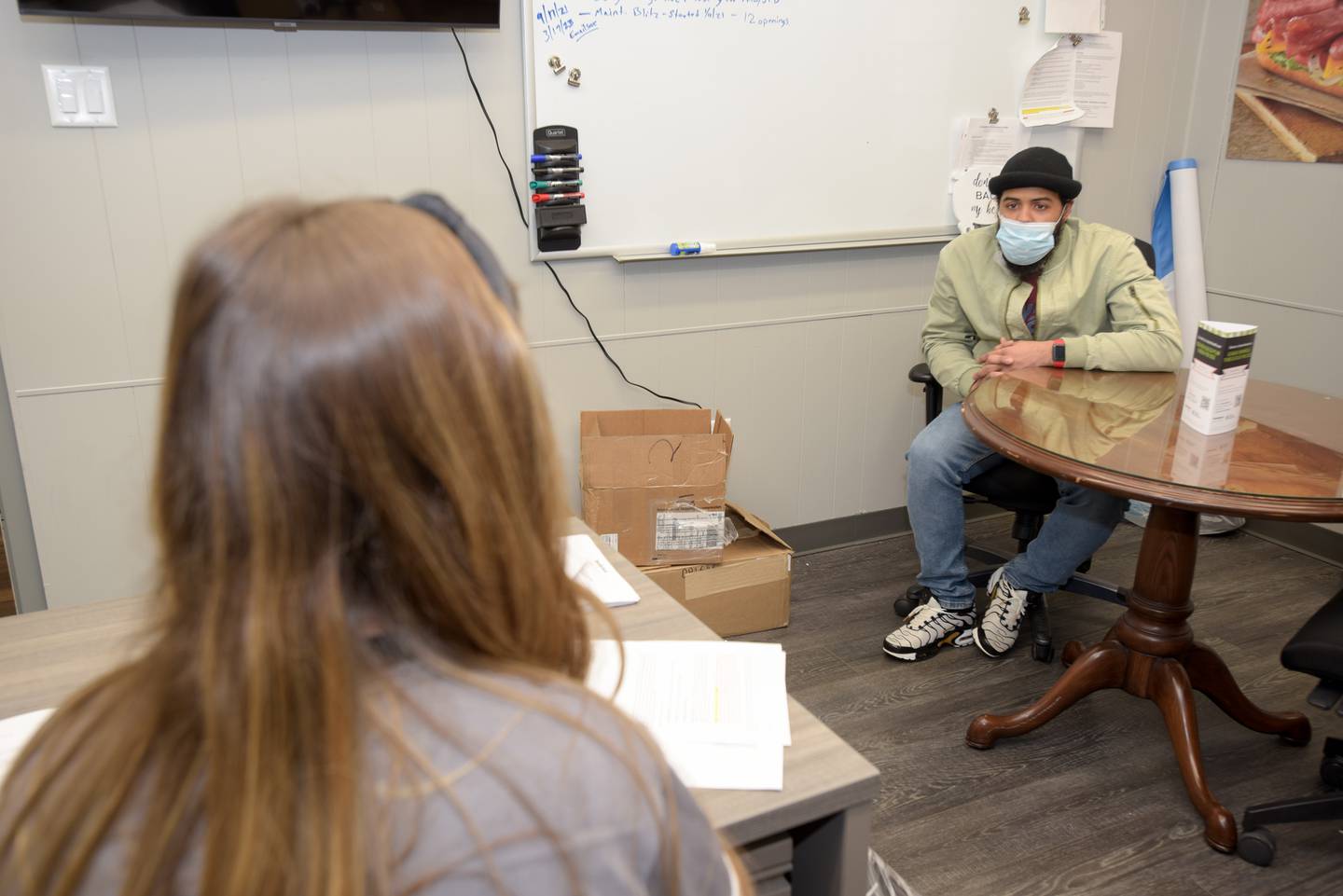 Later that day, he was offered a job.
Like many other businesses across the country, Smithfield Foods is in need of workers. There were 10.4 million job openings in the U.S. at the end of September, with a record 4.4 million people quitting their jobs that same month, according to the U.S. Bureau of Labor Statistics.
Some businesses are gaining more employees than others. According to preliminary data from the Illinois Department of Employment Security and the U.S. Bureau of Labor Statistics, the industry sectors with the biggest job gains during October were professional and business services, which added 17,700 jobs; leisure and hospitality, which added 8,400 jobs; and trade, transportation and utilities, which gained 7,700 jobs.
The Illinois unemployment rate fell two-tenths of a percentage point in October to 6% as employers added 40,900 jobs during October. The October jobless rate in Illinois was 1.4 percentage points higher than the national rate, but it was 2.1 percentage points below where it was a year earlier.
Companies need more workers for a variety of reasons.Smithfield Foods is in need of more workers because of a recent expansion project at its meat processing plant on Kirk Road in St. Charles.
"We have two new high-speed production lines," said Mark Potempa, human resources manager for Smithfield Foods. "We've had a couple of hiring events here in the last couple of months and we will continue to run them until we get fully staffed."
The company is looking to hire about 70 additional employees, he said. And Smithfield is trying to get the word out that it needs more workers.
"Now Hiring – Bring Home the Bacon with Smithfield," is plastered on several banners in front of the plant on Kirk Road, a reference to the fact that Smithfield Foods is the world's largest pork processor.
Like other companies, Smithfield Foods is offering additional incentives to attract potential workers. In this case, the company is offering a $3,000 welcome bonus that is spread out over six months.
Smithfield also offers training to new employees.
"We've invested a lot of time and resources into our local training and development," regional human resources director Brad Thornton said. "We're willing to invest time and training efforts for people who are new to manufacturing and want to learn a manufacturing job."
For those looking for work, people such as job and career coach Cynthia Wade can give them guidance. Wade, founder and managing director of the Geneva-based nonprofit organization do-over.me, said the job seekers she has been working with are looking for new jobs for a variety of reasons.
"What I'm basically hearing is two things," said Wade, who was part of a recent job fair at the Geneva Public Library. "They want to be paid a living wage. There are many, many jobs still that don't pay enough and don't offer enough benefits for even themselves. So a living wage and the right benefits is a big part of it."
As she noted, inflation has pushed up the cost of everything from food to gasoline. Then there are those people who have decided to change careers because of the COVID-19 pandemic.
"People decided they really didn't want to do anymore what they had been doing for years," Wade said. "Maybe they got stuck in an accounting career and maybe they never realized that maybe they're good with numbers, but they hate accounting. COVID really forced us to look at things differently. It caused them to realize that life is short and it can be gone in a blink of an eye."
Margaret Perreault, president and CEO of the Batavia Chamber of Commerce, said Batavia, like other communities, is feeling the effects of the labor shortage. She said in an email that she had hoped the situation would improve once pandemic unemployment subsidies ended and children went back to school.
"Many factors are contributing to the employee shortage, like lingering fears of catching COVID-19, the lack of day care options and increased cash savings from pandemic relief compensation," she said. "In addition, many older workers took early retirement and left the work force permanently. Some workers who are looking for work are not willing to take a job with low pay, no benefits or little flexibility."
As Perreault noted, businesses across the board are impacted by the labor shortage.
"You will see the impact in a variety of sectors. Our retail, restaurant and manufacturing areas all have help wanted signs posted," she said.
Perreault said the Batavia Chamber is working to help businesses, including posting job openings on the Chamber's website and letting the Batavia School District counseling and career center know about the openings in order to encourage those entering the workforce to consider applying. Perreault said she highlights the worker shortage each month when the Batavia City Council meets, and she speaks with local and state lawmakers about it regularly.
"We are keeping this critical issue on the forefront," Perreault said, "so we can do what we can to resolve the issue."