The excitement of literally getting a new lease on life could not outweigh the dire possibilities facing Cody O'Neill back on Nov. 18, 2020.
As O'Neill was wheeled on his bed through Northwestern Memorial Hospital to receive a heart transplant, he could not help but fear the worst.
"The stress of it all, at that point in time, I thought my life was over," said O'Neill, a 2009 Marian Central graduate. "I felt like, 'This is it, I'm not going to make it out of this deal.' My wife (Kelsey) was going to be husbandless with two young kids, and it's going to be hard as hell."
Their daughter Emersyn was 2 years old. Kelsey was seven months pregnant with their son Lincoln, who O'Neill might not ever meet.
O'Neill, who discovered earlier in 2020 that his heart was failing, came through the transplant well. While there were some complications and a readmittance to Northwestern on Christmas day that year, the O'Neills' road since has been a relatively smooth one.
"I feel great, man," O'Neill said. "I feel tremendous. The best thing is I have no restrictions."
O'Neill had one huge lifestyle change, however. He resigned his position as offensive line coach for South Dakota School of Mines and Technology's football team.
O'Neill was part of a long line of NCAA Division I linemen who came out of Marian Central, following Bryan Bulaga (Iowa) and Sean Cwynar (Notre Dame). He played at South Dakota and then coached at the college level for several years.
South Dakota School of Mines has since placed O'Neill in the position of athletic operations/football operations director, taking care of the NFL pro liaison contacts. He works three days a week and otherwise focuses on time with Emersyn and Lincoln. Kelsey works as the university's associate vice president and head of human resources in Rapid City.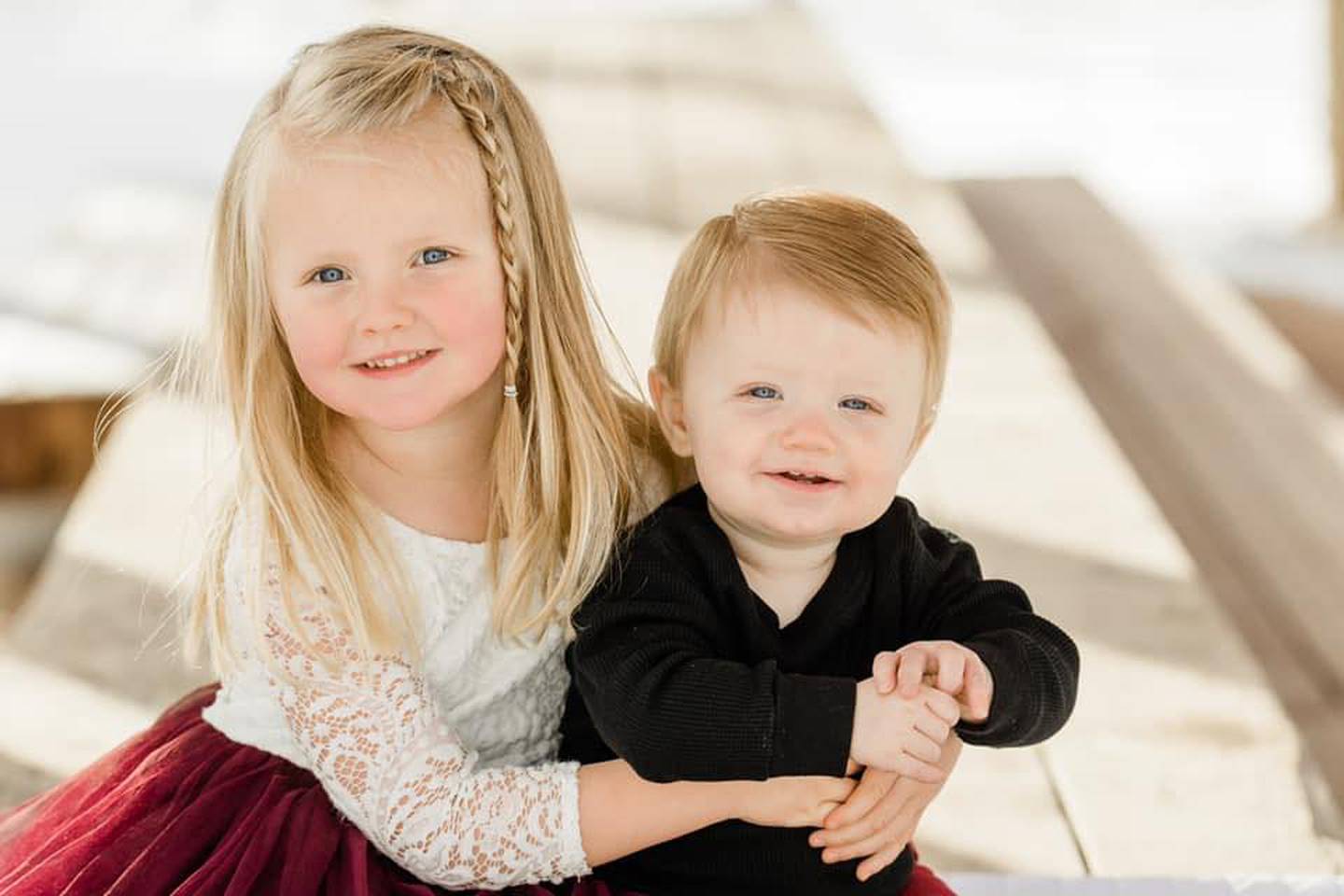 O'Neill works Tuesdays, Thursdays and Fridays for the athletic department and spends most of the rest of his time as a regular dad. Doctors had OK'd his return to coaching, but O'Neill felt pulled in another direction.
"The amount of time my heart issues took away from my wife and daughter at the time, I felt like I owed it to them and to myself to be a better dad and husband," O'Neill said. "I'm full-time husband and full-time dad. I go into the office three days a week and get what needs to be done football-wise and athletic department-wise.
"I think about (football) every day. I absolutely loved coaching. I miss the recruiting aspect. I miss the chance to be hands-on and get the kids to enjoy every little thing about football."
Kelsey, who started dating Cody when she was a senior at Marian [after he had graduated], enjoys more family time they get together.
"Cody has had a big shift in his career," she said. "He's definitely taken on more of the stay-at-home day, house husband a couple days a week. He comes in to work three days a week, which is good for him. It gets him a llttle sense of normalcy.
"With coaching, we went from not seeing each other the vast majority of days to having a lot more time together, especially weekends. That's been a really good benefit out of a really unfortunate situation."
REALIZING THE PROBLEM
It was March 2020 when O'Neill was battling a cold he picked up from his daughter. He took over-the-counter medications, but had difficulty breathing. He made a doctor's appointment and a chest X-ray revealed his heart was working at only 20%.
O'Neill, now 30, was put on some medications that helped for a while, but in the summer, after more problems, another test showed his heart was working at only 15% of what it should have been.
By October, he was at Sanford Medical Center in Sioux Falls, S.D. when he was told a transplant was necessary. He was transferred to Northwestern and waited for the right match, which was difficult given O'Neill's 6-foot-3, 290-pound frame.
O'Neill knew a transplant could happen on short notice, which it did. Everything went as planned and he was released Dec 14. O'Neill, however, was not out of the woods yet.
The heart was working properly, but he came down with a blood infection and a bladder infection, which caused him to retain fluid. He talked his cardiologist into having Christmas morning with his family, then at 11 a.m. drove to Northwestern to be readmitted.
For three days he could not urinate for himself. His blood pressure plummeted to a dangerous level and medical personnel took about 22 pounds of fluid from his body. His kidneys had shut down.
"They basically saved me from dying," O'Neill said. "My cardiac surgeon is an unbelievable man. He'd probably make a house call if he had to. The care and the amount of knowledge with doctors and nurses, techs, everything was unbelievable."
THE ROAD TO RECOVERY
The O'Neills stayed in Woodstock with Andy and Jocelyn Harding, Kelsey's parents, so Cody could be close to Northwestern in the next few months.
Early on, he had weekly checkup visits. By March and April of 2021, it was every other week. By May, June and July, it was monthly. The O'Neills returned to Rapid City in late May.
Between having a husband who almost died and giving birth to their second child, Kelsey O'Neill demonstrated amazing resiliency.
"It was survival mode for a lot of it, but we definitely had a lot of people that helped," Kelsey O'Neill said. "Being able to have the transplant done in Chicago was a huge blessing because we could have the family and other people around to help us get through that time.
"He's still kind of working through that trauma associated with that seven-month period from when he got diagnosed to transplant. He definitely, energy-wise and physically, he's doing really, really well."
Cody O'Neill could not be more grateful for having Kelsey.
"She is everything and above," he said. "She's an incredible person, and she's been the one who helped me through all of this."
MENTAL THERAPY
O'Neill enjoys getting outside to walk with his children and get a little exercise. He has spoken to different people about the mental aspect of what he would be facing.
One man, another transplant recipient, made a huge impact with O'Neill. He was the ideal person to talk to O'Neill, since his wife was due on the date of his transplant surgery. Somehow, she went about a week late and he was there to see his first child born.
"He and I have kept in contact the last year-and-a-half and the best thing to hear from him is, 'Life goes on,' " O'Neill said. "It sounds dumb to say, but life does go on. The sun comes up, I don't really think about being a heart transplant patient. I think about being a dad and a husband and trying to enjoy life.
"That was his best advice to me. He said, 'You're going to be on medication the rest of your life, you're going to have hiccups here and there. Just live your life, go forward, be the best dad and husband you can be.' That's the one thing he said that has stuck with me, and I continue to try to do every day."
THE GIFT OF LIFE
O'Neill initially had no intention of finding the family that donated his heart, but he has a different attitude 16 months later.
"At the time of transplant and the year after, I didn't want to have any idea," he said. "I don't have a reason for why. People have asked me, and I didn't want to know, I was happy to be here.
"About four days ago, I wrote my letter to the donor family, and I'm waiting for Northwestern to hopefully connect us. If they don't want to know anything about me, then I'm totally OK with that. They're the one who lost a loved one. If they don't want to have a connection with me, I completely understand. But I hope to find out about the family and the person who gave me a second chance at life, hopefully sometime in the near future."
The whole last year-and-a-half still remains a blur to the O'Neills.
"It definitely feels like it was a long time ago, but also like it just happened," Kelsey O'Neill said. "It was a lot. We were constantly waiting for the next shoe to drop in a lot of ways. Getting through the transplant and seeing him recover and people can't believe, looking at him that he had a heart transplant a year-and-a-half ago.
"I'm grateful he's feeling good, which is huge. Just living life as normal now, which didn't seem like a possibility when all of this started."