Bureau Valley 35, Mendota 14: At Bureau Valley, Elijah Endress rushed for 249 yards and five touchdowns to lead the Storm past the Trojans.
In a 21-carry game, his long run was 40 yards and his longest touchdown run was 21 yards. Cameron Lemons added 102 rushing yards on 11 carries for Bureau Valley, who pulled away with a pair of 14-point quarters in the second and third. Brady Hartz amassed 63 yards on seven carries for the Storm.
Forreston 46, West Carroll 0: At Forreston, the Cardinals routed the Thunder in an NUIC matchup.
Forreston's Kaleb Sanders rushed for 62 yards and a touchdown on three carries, scoring on a 45-yard run. Alex Ryia hauled in a 26-yard touchdown pass from Brady Gill and rushed for a 1-yard touchdown. Micah Nelson, Owen Mulder and Christian Ryia added one rushing touchdown each for the Cardinals. Mulder rushed for 63 yards on seven carries. Gill finished 3-for-3 passing for 65 yards.
Raef Schintgen passed for 51 yards to lead West Carroll.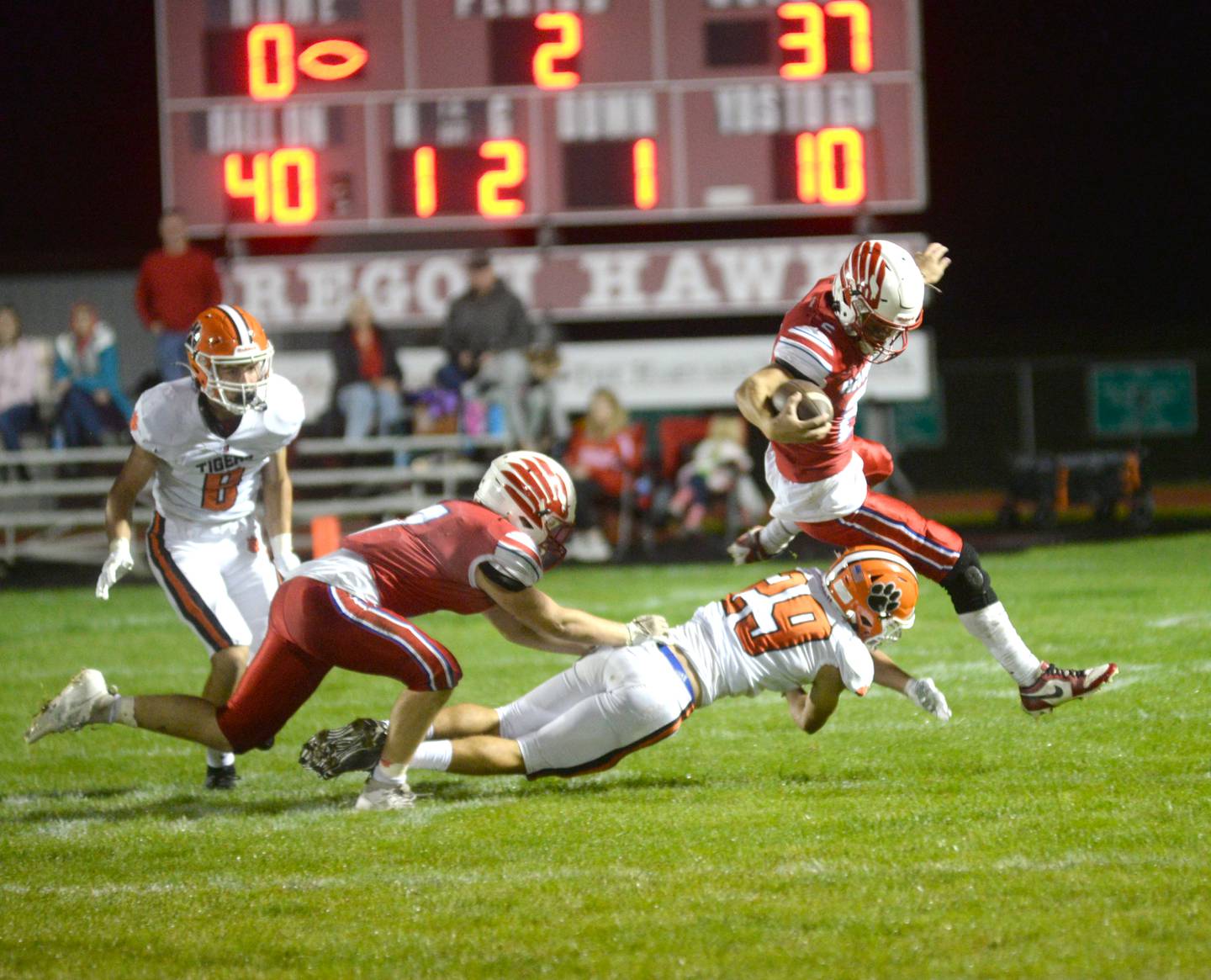 Byron 51, Oregon 0: At Oregon, the Tigers held the Hawks to 56 total yards in a Big Northern Conference shutout win.
Logan Weems led Oregon with 49 rushing yards on 19 carries.
Caden Considine led Byron with 75 rushing yards and three touchdowns on 11 carries.
Stockton 35, Eastland-Pearl City 8: At Eastland, the Blackhawks rolled past the Wildcatz in an NUIC matchup.
Eastland-Pearl City was led by Jaxsyn Kempel with 63 rushing yards and a touchdown. The score came on a run of 44 yards.
Dixon 42, Rockford Lutheran 0: At Rockford, Dixon cruised past the Crusaders in a Big Northern Conference matchup.
Illinois 8-Man Football Association
Amboy 48, Ridgewood 42: At Woodhull, the Clippers edged the Spartans, led by 148 rushing yards and three touchdowns from Landon Whechel.
Amboy's Eddie Jones went 7-for-12 passing for 116 yards with a touchdown pass to Brennan Blaine. Blaine rushed three times for 31 yards and caught three passes for 39 yards. The Clippers' Quinn Leffleman rushed for 102 yards and two touchdowns and caught two passes for 56 yards.
Taylor Snook paced Ridgewood on the ground with 168 yards and two touchdowns.
Polo 42, River Ridge 6: At Hanover, the Marcos rolled past the Wildcats in a North 2 division game.
Polo's Delo Fernandez rushed for 118 yards and two touchdowns on eight carries, scoring on runs of 60 yards and 1 yard. He also had a 19-yard reception. Marcos teammate Brock Soltow rushed for 79 yards and a touchdown on 14 carries and caught four passes for 54 yards.
Also for Polo, Carter Merdian threw a 25-yard touchdown pass to Billy Lowry, Nathaniel Yingling returned an interception 42 yards for a touchdown and Noah Dewey rushed for a 19-yard touchdown.
Milledgeville 74, Kirkland Hiawatha 26: At Kirkland, the Missiles streamrolled the Hawks.
Milledgeville's Connor Nye went 7-for-10 passing for 204 yards and four touchdowns. He also rushed six times for 105 yards and one touchdown. Bryce McKenna caught four passes for 131 yards and three touchdowns, including a 49-yard touchdown reception, and Micah Toms-Smith rushed for 167 yards and two touchdowns on six carries, including a 71-yard run.
Konner Johnson chipped in 87 rushing yards and two touchdowns, and Spencer Nye tallied 77 rushing yards and one touchdown for the Missiles.