POLO – With all of the hype leading up to the eight-man football game between rivals Milledgeville and Polo, numerous monikers were attached to it, such as "The Battle of the Blacktop," "No. 2-ranked vs No. 3″ and "The Nye and Soltow Show."
After the game was over, Polo coach Ted Alston had a different term for it, and it was more of a statement of reality than of hype.
"It was physical beating. We couldn't get a stop to save our lives," said Alston, whose team was on the receiving end of its worst loss ever in eight-man by a 58-22 margin.
With quarterback Connor Nye directing the Missiles on five first-half scoring drives, Milledgeville stunned and completely silenced a large Marco crowd accustomed to state titles.
Five touchdowns weren't as much of a stunner as only one score put up by the home team in the 36-8 first-half deficit. A scrambling Brock Soltow found Noah Dewey for a touchdown pass to pull the Marcos within 14-8, but that was as close as they would get.
"Our number one goal all week was to take Soltow out of the game," said Milledgeville's Micah Toms-Smith, who had two rushing touchdowns and one receiving touchdown.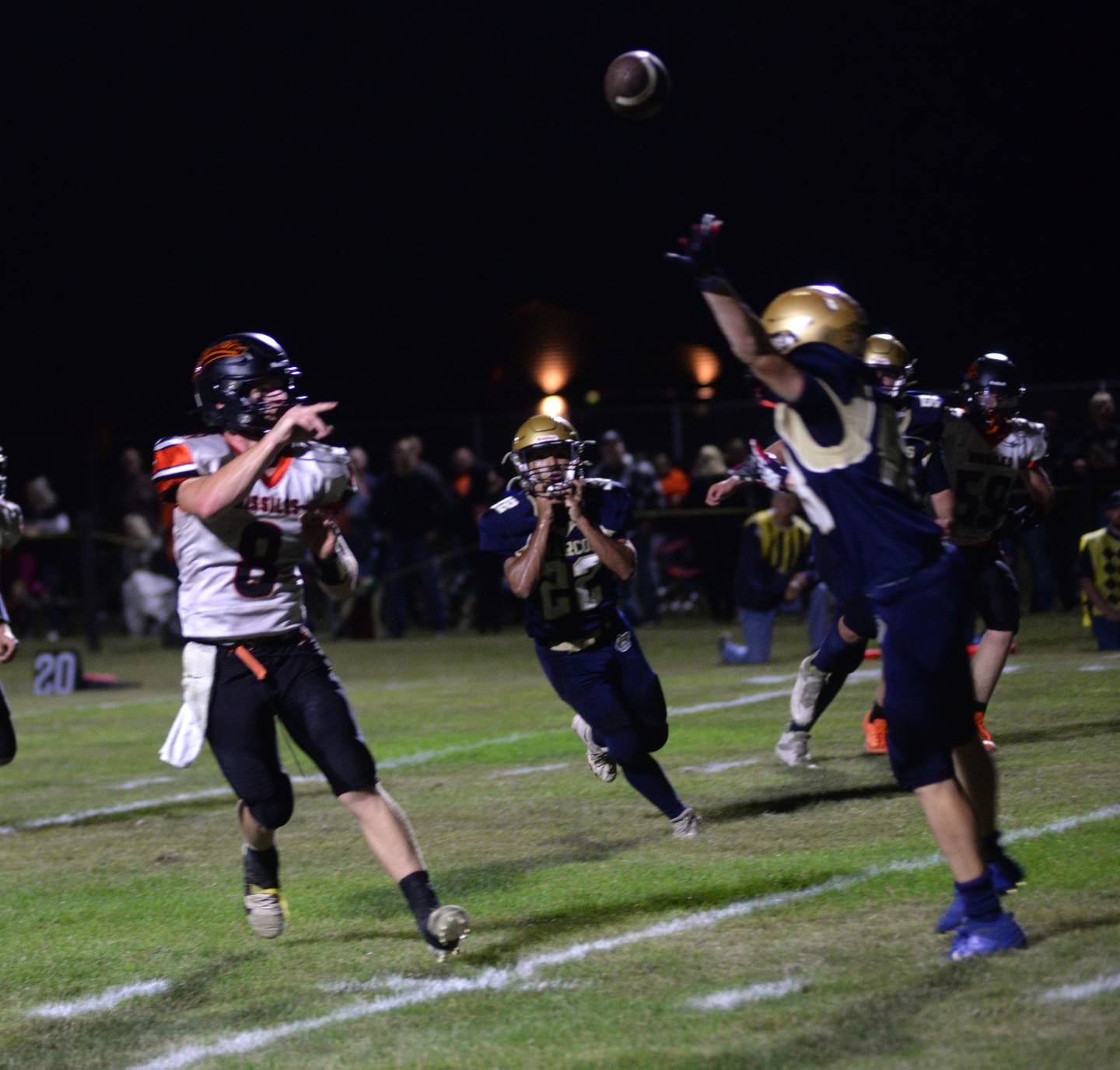 On Milledgeville's opening drive, a fumble and a penalty made it fourth-and-11, but with Nye and Toms-Smith around, why worry? The pair connected on a 13-yard pass play to make the first down, and on the next play, linked up for a 22-yard scoring strike and an 8-0 lead.
Bryce McKenna then intercepted Polo's Carter Merdian, who shared time with Soltow at quarterback. Keyed by a 51-yard run by sophomore Konner Johnson, the Missiles made it 14-0 on a 22-yard Nye touchdown. A Johnson touchdown made it 22-8 after Polo's score.
"We got in a hole and couldn't get out," Soltow said. "They pounded us and always seemed to know where we were going."
Merdian and Soltow connected on fourth-and-12 to keep Polo's next drive alive. Then, on fourth-and-20, it was the same combo, this time for 30 yards.
However, officials ruled offensive pass interference on Soltow, and the drive died. Needless to say, the call was widely criticized by the Marco coaching staff.
With 1:10 left in the first half, Toms-Smith capped a 54-yard scoring drive with a 7-yard TD, following runs of 15, 10 and 18 in which Marco players looked helpless to stop him.
Merdian had three straight completions, but was intercepted by Spencer Nye with 30 seconds left. Rather than taking the 30-8 lead into halftime, Milledgeville coach Jason Wroble went for broke.
Nye found a wide-open Karter Livengood for a 59-yard touchdown and 36-8 lead on the very next play.
"I knew we had an explosive offense," Wroble said. "But what I was really pleased with was how we got them out of their game plan."
On Milledgeville's first play of the second half, it was Nye and Livengood catching Polo out of position for a 45-yard touchdown pass and 44-8 lead. If there was a positive for Polo, it was avoiding a running clock.
Soltow ran for a 27-yard touchdown to avoid that embarrassment before Milledgeville hit the 50-point mark.
"I'm surprised a bit. I didn't think the score would be like this," Nye said. "Our backs ran well and line blocked well. Even our JV guys played well."
Milledgeville had 305 rushing yards, with Toms-Smith and Johnson both over 100. Nye needed only four completions for 136 yards passing and three touchdowns.
Soltow was still impressive in the loss, tallying 100 yards rushing and 64 receiving on seven catches. Dewey caught five balls for 109 yards. Meridian was 14-for-23 passing with 138 yards and one touchdown.
"They were more physical, more disciplined, and beat us in every aspect of the game. We also made bad penalties and had too many mistakes," Alston said.