Beau Desherow wasn't sure he'd return to coaching until someone he trusted offered him a path back to lead the program to which he dedicated his life.
Desherow stepped away from coaching as an assistant at Loyola in 2019 and thought his coaching days were done. When former head coach John Holecek decided to step down in December and encouraged his former assistant to apply and take over the program, Desherow found his way back into not only coaching football but coaching a program to which he dedicated so many years.
Loyola announced Desherow would take over the program Wednesday.
"I'm beyond excited," Desherow said. "It's a dream come true."
Welcome back Beau Desherow '93, our new Head Football Coach. Beau has been an employee of Loyola since 2004. As a LA Football alum, a long-time coach, & parent of 3 Ramblers, he has had an invaluable role in our continued success on & off the field & in developing men for others pic.twitter.com/QjO7axO6LL

— Loyola Academy Football (@Loyola_FB) March 15, 2023
Desherow was a two-year starter for the Ramblers in 1991 and 1992, helping Loyola win back-to-back Chicago Catholic League championships and state semifinal and final appearance, respectively. He started his collegiate football career at Tulsa before he finished at North Park University, where he was the team leader in tackles for loss and sacks.
Desherow returned to Loyola as a coach in 2004 when he was an outside linebackers coach before taking over the sophomore team in 2009. He jumped back to the varsity team in 2011 as the defensive line coach before he stopped in 2019.
That's when Desherow had to make a hard decision. He became the school's vice president for admission and enrollment and wanted to watch his sons play college football. Since at least half of Loyola's games were on Saturdays, he made the tough decision to step away from coaching.
Desherow was surprised when Holecek said he should interview for the job. He enjoyed how thorough Loyola was with its search for a new head coach and couldn't believe that he would take over.
"I never truly believed this day was going to happen," Desherow said. "When it did, I felt an immediate release of emotions. It was special to me hearing that news."
Loyola interviewed nearly 70 candidates during its process, according to the school's Vice President for Athletics and Fitness Genevieve Atwood. Candidates from around the country and in high school and college wanted to take over a program that many said had a national reputation for being one of the best.
Atwood was always attracted to having someone who knew the program and school take over from Holecek, but just like when the school hired Holecek as an outsider, she wanted to make sure there wasn't a stone unturned. Once it came time to make a final decision, Desherow fit everything the search committee wanted.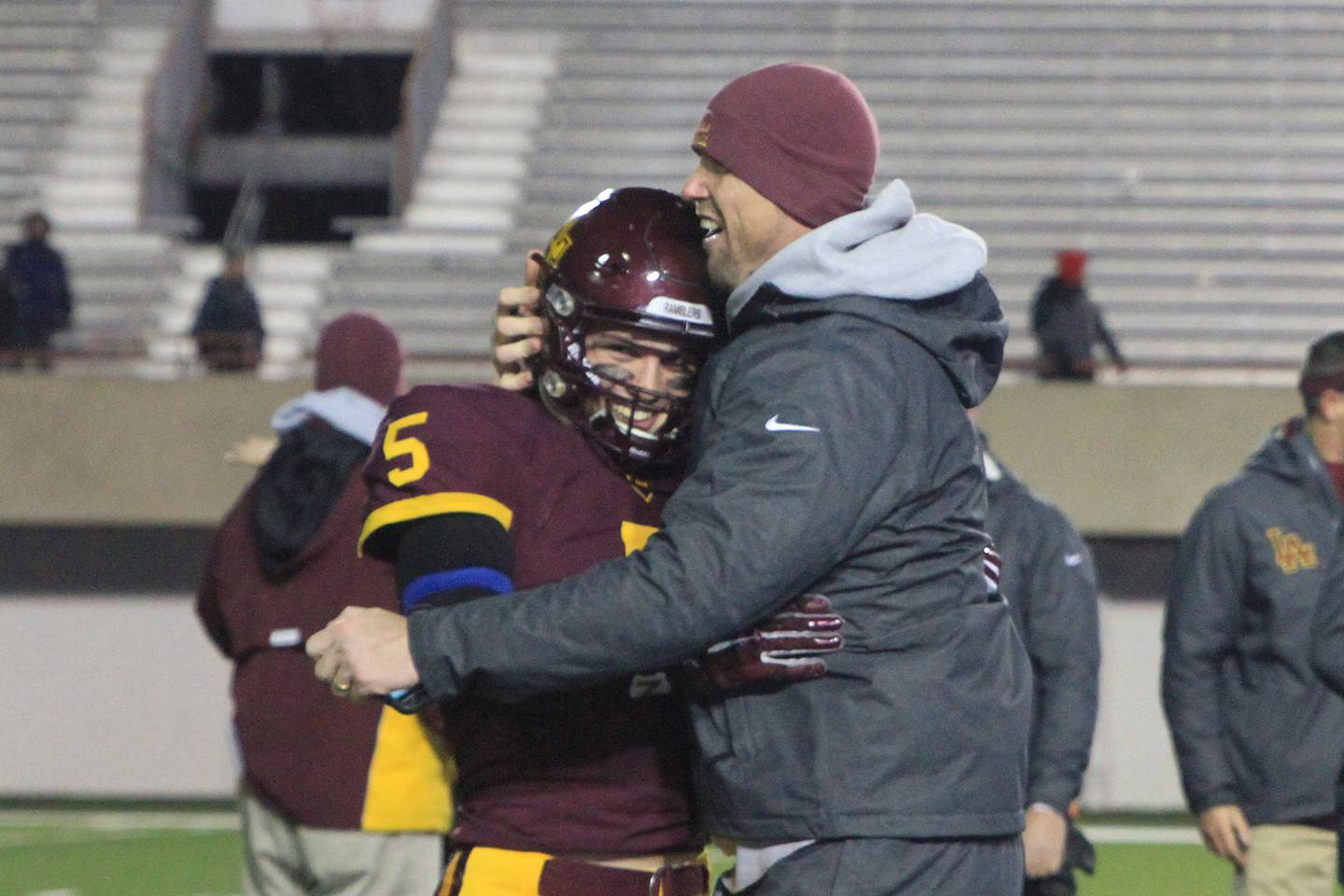 "It felt like he was a great combination of someone who could step in and continue the winning tradition and really advance the football program at the same time while being mission-centered and focused on how to continue to develop leaders and help these young men develop into great young people who can lead productive lives," Atwood said.
Desherow knows he'll have big shoes to fill. Holecek elevated Loyola to another level when he took over 17 years ago.
Loyola won three Class 8A state titles under his tenure and played in four more title games – along with nine Chicago Catholic League and CCL/ESCC championships and two Prep Bowls. The Ramblers won their first state title under Holecek in 2015 and won another in 2018 before this past season's title run.
Desherow said he won't change too much when it comes to the X's and O's and he plans to keep the assistant coaches he worked with before.
His first task will be finding a Week 1 opponent. Loyola hopes it can find an opponent to play at home as Desherow starts his tenure.
Whoever the opponent will be, the opener will be a surreal moment for Desherow, one that he wasn't sure would happen.
"The excitement is unreal," Desherow said. "I want to get that first game scheduled, I can only imagine the emotion of what it's going to feel like to come out … I'm just getting goosebumps just thinking about it right now."