JOLIET – It took a little while for Plainfield South to adjust to the style of play they were seeing Monday in a nonconference match against Morris.
Once they did, however, the Cougars were able to pick up a 23-25, 25-15, 15-10 win.
Junior Savannah Stepanek, a three-year starter, was a big factor for South, as she finished with eight kills and nine digs and was a focal point for the Cougars.
"This was a fun match," Stepanek said. "We have a lot of weapons, and we try to use them all. We got better at the short balls they were sending over. We are used to a little deeper balls, and we were back on our heels a little bit, and that made it hard to get to the short ones.
"It took us a couple different rotations, but we communicated well on the court and worked through it. We were ready for anything."
The Cougars (13-7) led early in the first set, taking an 11-6 edge on a kill by Grace Malek, who led all players with 10 kills to go with 15 assists. Morris (12-7), however, began to chip away at the lead and closed to 21-19 on a kill by Ava Smith, one of her team-high eight. South then got kills from Sami Lanan and Stepanek to move ahead 23-19. Morris got the serve back on a block by Lily Hansen, and Smith then served three straight points to tie it at 23. Smith then served an ace and Morris won the set on a kill by Haylee Dunne.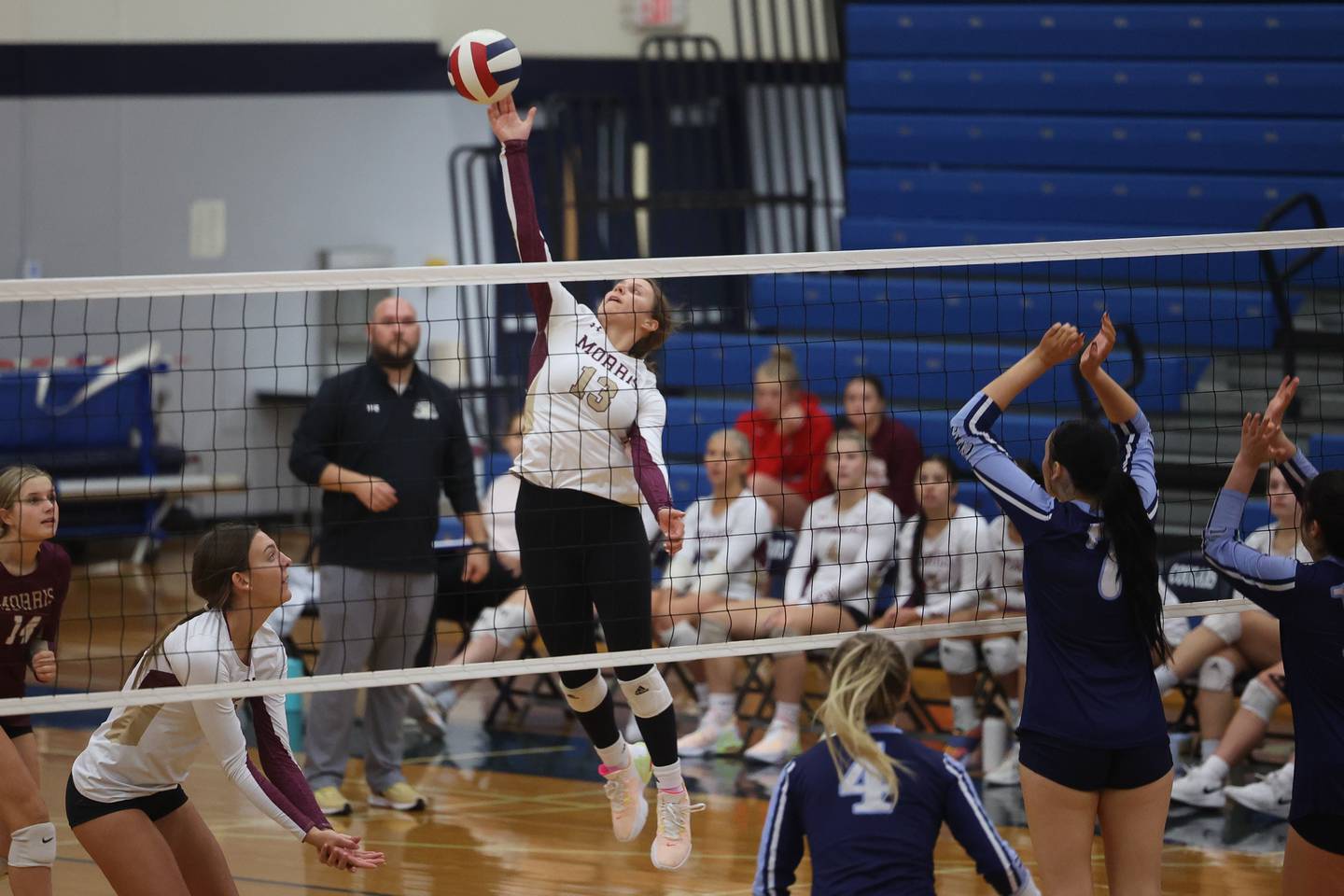 "I can't fault our effort," Morris coach Scott Howell said. "It's the Monday after Homecoming and I thought we might be a little sluggish, but the girls played hard. We struggled a little bit with our serve receive tonight.
"It's nice to have Ava as a go-to player. We feed off her when she's hot, and she had some hot stretches tonight."
Morris continued its hot play to start the second set, as Dunne served four points, three on aces and one on a Smith kill.
It was South's turn to come back, and come back they did. Stepanek had three kills in an 11-1 spurt that gave the Cougars an 11-5 lead. Malek then had three kills in an 8-3 run for a 19-8 lead and South cruised from there.
In the third set, it was tight early and it was tied at 9. Malek got a kill for South, then stepped to the service line and served two aces to put the Cougars ahead 13-9. Morris got a back-row kill from Smith to get the serve back, but South's Sophia Pellegrini countered with a kill of her own and a Morris hitting error ended it.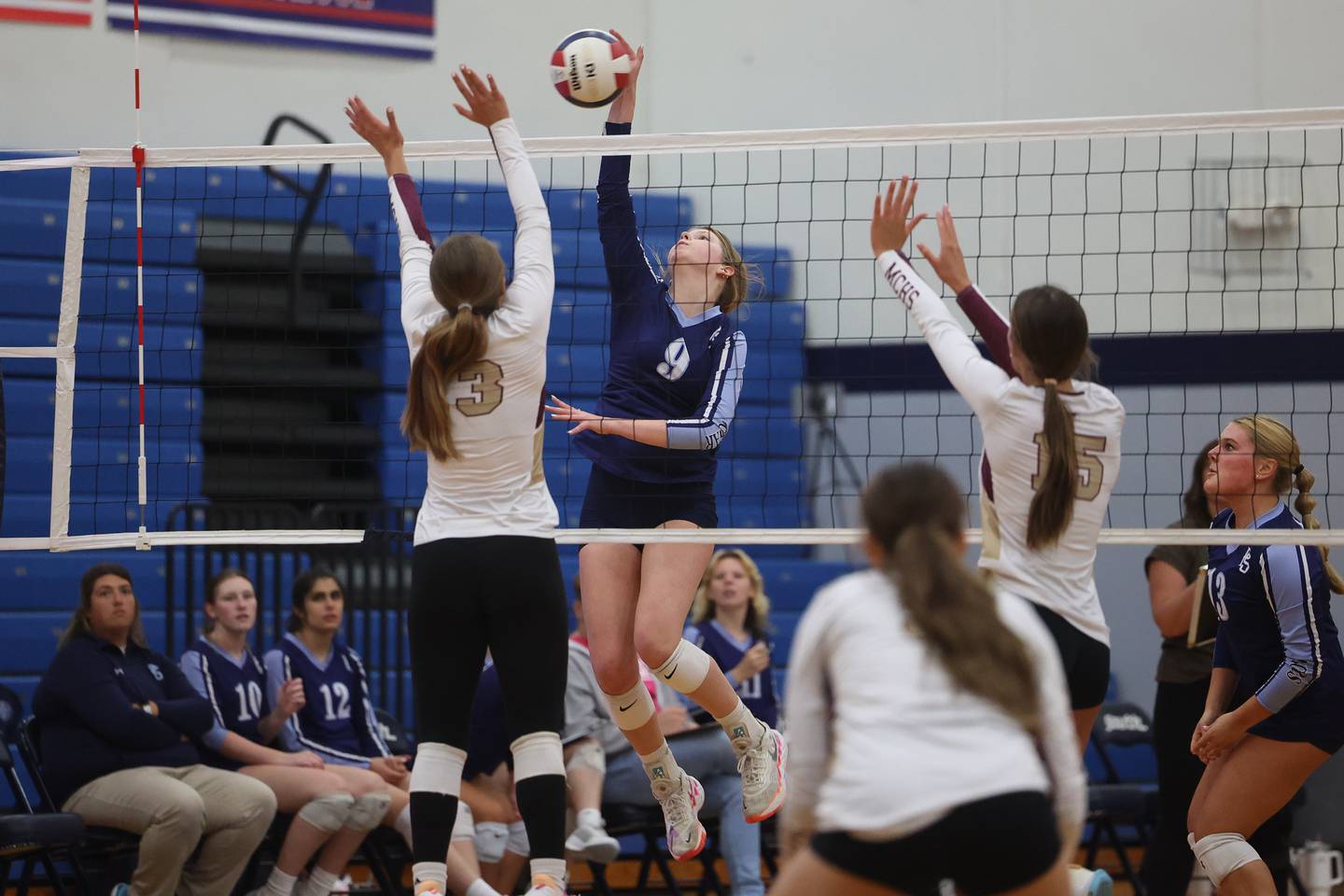 "We played more together as the match went on," South coach Kate Kendall said. "We showed a lot of scrappiness tonight. Savannah is one of our leaders and we play off of her energy. She has been coming out with a lot of energy lately and has stepped into that leadership role.
"We have a lot of weapons, and we want to move the ball around and try to get everyone involved. We did a good job of that tonight."
Pellegrini had six digs for the Cougars, while Kayla Baetzel had four aces. Lanan and Sam Cartwright each had three kills. For Morris, Dunne had four aces, Mia Olvera had seven assists and Alyssa Jepson had 15 digs.
"Jep played well tonight," Howell said. "She has stepped in as a sophomore and gained a lot of confidence. When she makes a mistake, she fixes it right away.
"We took a good 4A program to three sets. That's why we schedule and play matches like this. I like what we are doing heading into the postseason. We are starting to get things together at the right time."