JOLIET – Coaches Marissa Chovanec and Angela Findlay each had good advice for their Lockport hitters Thursday in the championship game of the WJOL Tournament.
The Porters listened, and their bats exploded for a 15-0 win over Minooka to win the title.
In the top of the fourth inning, Morgan Spodarek was at the plate with two runners on. With an 0-2 count, she fouled off three straight pitches.
"That's OK, Morgan," Chovanec yelled from the third-base coach's box. "Keep fouling them off until you get one you like."
Spodarek got one she liked and launched it over the left field fence. It was part of a 4 for 4, six RBI performance for Spodarek, who made the WJOL All-Tournament Team along with teammates Kelcie McGraw, Addie Foster and MVP Alaina Peetz.
"I knew that one was gone when I hit it," Spodarek said. "When we get going, the hitting is contagious. We were all pretty loose, and we all love to be around each other.
"It feels good to win this tournament. There's always good competition."
Besides Spodarek, the Porters' No. 3 hitter, going 4 for 4, leadoff hitter Foster was 4 for 4, No. 2 hitter Sarah Viar was 3 for 4 and No. 9 hitter Giuliana Giodano was 3 for 3. That's a combined 14 for 15 from four spots in the order, and they also combined to score 13 of the 15 runs for Lockport (7-0).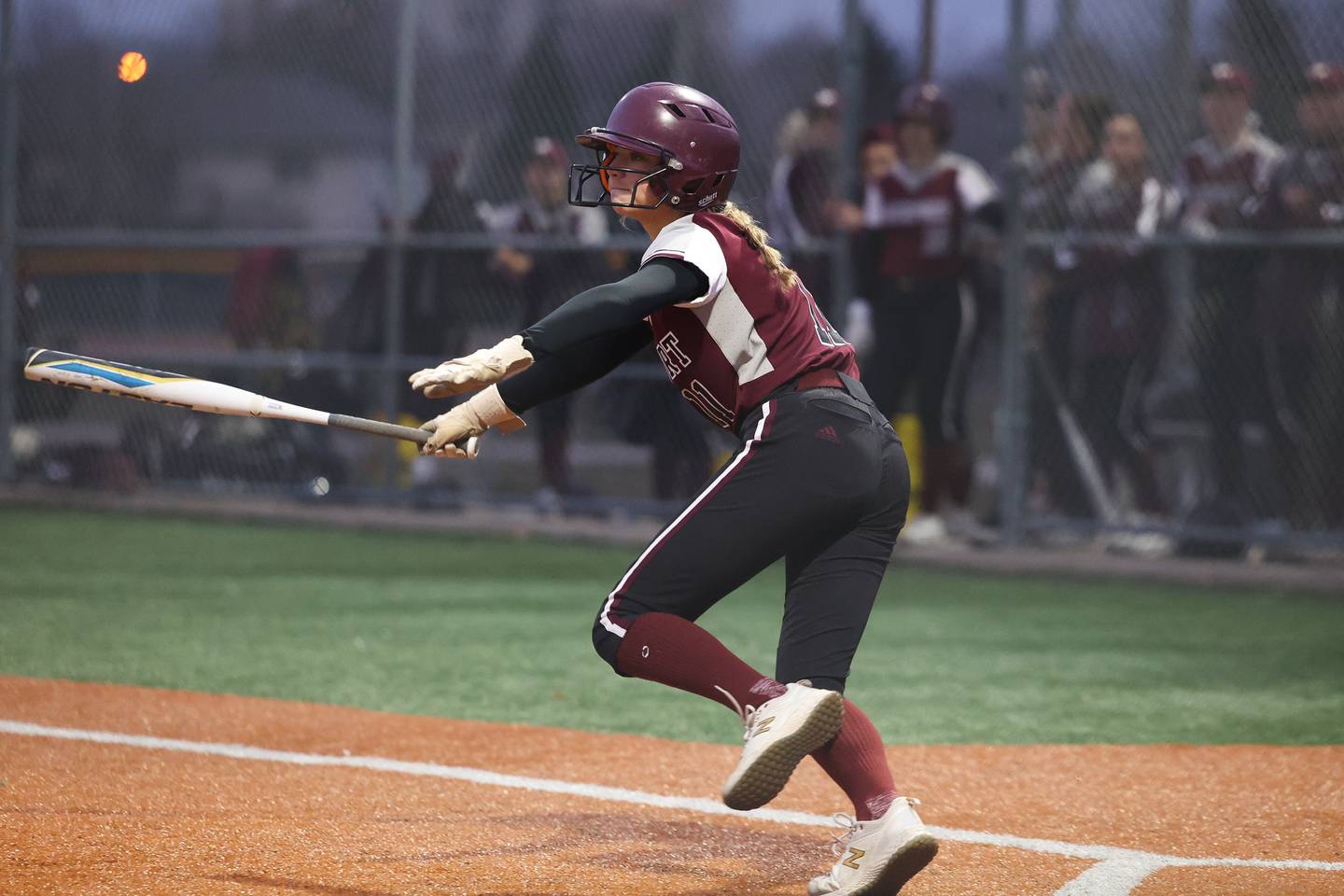 "Coach Findlay told the girls, 'Hit the big yellow ball,'" Chovanec said. "That's what they did. Morgan Spodarek had a big day today, starting with a big triple to get us started against JCA [a 3-2 win in the semifinals]. Addie Foster is the spark plug at the top with her speed, and we moved her around the bases. Then to find a No. 9 hitter like Giuliana that can turn the lineup over is great.
"We are off to a good start. It's always fun to play in this tournament with the great competition, and we appreciate being part of it."
Peetz, who threw all five innings, allowed only two hits and struck out eight, appreciated the offensive support.
"It definitely makes my job easier when I have a lead," Peetz said. "I know that the team has my back, so I can just pitch to contact and throw the ball over the plate.
"We're off to a good start, and this is a good tournament. It will help us get ready for the conference season because our conference schedule is very tough."
The Porters gave Peetz the lead before she stepped in the circle. Foster led off with a single and stole second before coming home on an RBI single by Spodarek. A wild pitch moved Spodarek to third, and Ava Swain drove her home with a sacrifice fly to left.
Lockport added to the lead in the third, getting RBI singles by Foster, Viar and Brooke Keltner (3 for 4, 3 RBIs). After four runs in the fourth gave the Porters a 9-0 lead, they put it out of reach in the fifth, highlighed by a two-run homer by Giodano and a two-run single by Spodarek.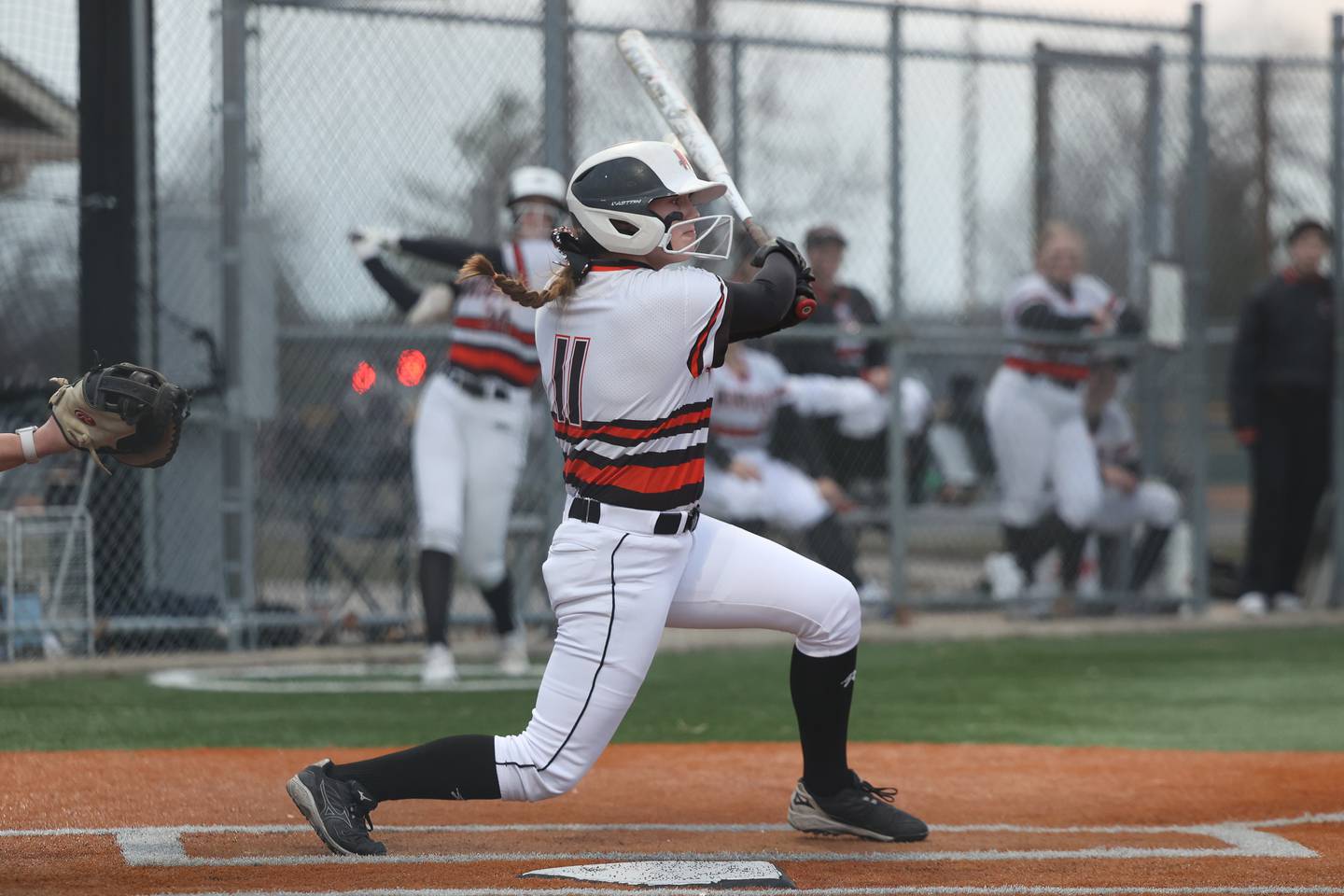 "We ran into a buzzsaw today," Minooka coach Mark Brown said. "Give credit to Lockport. They came out and swung the bats well.
"Our pitchers threw strikes. They didn't hurt themselves with a lot of walks, but Lockport just hit the ball well."
Anna McClimon had both of the hits for Minooka (3-3) and also was named to the all-tournament team along with teammates Rylee Boyd and Taylor Mackin.
In a 10-4 semifinal win over Lincoln-Way West, Minooka got a home run by Gracie Anderson and two hits, including a double by Madison Kelly, while Mackin picked up the win.