The Strange and Unusual Gallery in downtown Joliet is the place to go for people who prefer art that is offbeat, atypical and dark.
"We are not pretty landscapes and self-portraits," Christine Nordstrom, co-owner with husband Terry Eastham, said. "It's a little darker, but still beautiful and brilliant…I think a lot of us have dark spaces in our minds. We just choose not to entertain them."
Eastham said he and Nordstrom had discussed opening a gallery or a "little store front" that sold artwork and furnishings (Eastham makes furniture, too, he said) before opening The Strange and Unusual Gallery.
We kind of immerse you in the artist's mind. It's kind of in-your-face and represents the artist themselves."

—  Terry Eastham, Co-owner of Strange and Unusual Gallery
"We knew we never wanted to make a living off it," Eastham said. "It was more just to support the artists."
Nordstrom, a mixed media artist, said Eastham, who upcycles objects, builds faux walls and "amazing sculptures" to make the gallery an integral part of each exhibit instead of just "six pieces of art on the walls," Eastham said.
The result is, "You can't trust your eyes when you're in here," Nordstrom said.
"We kind of immerse you in the artist's mind," Eastham said. "It's kind of in-your-face and represents the artist themselves."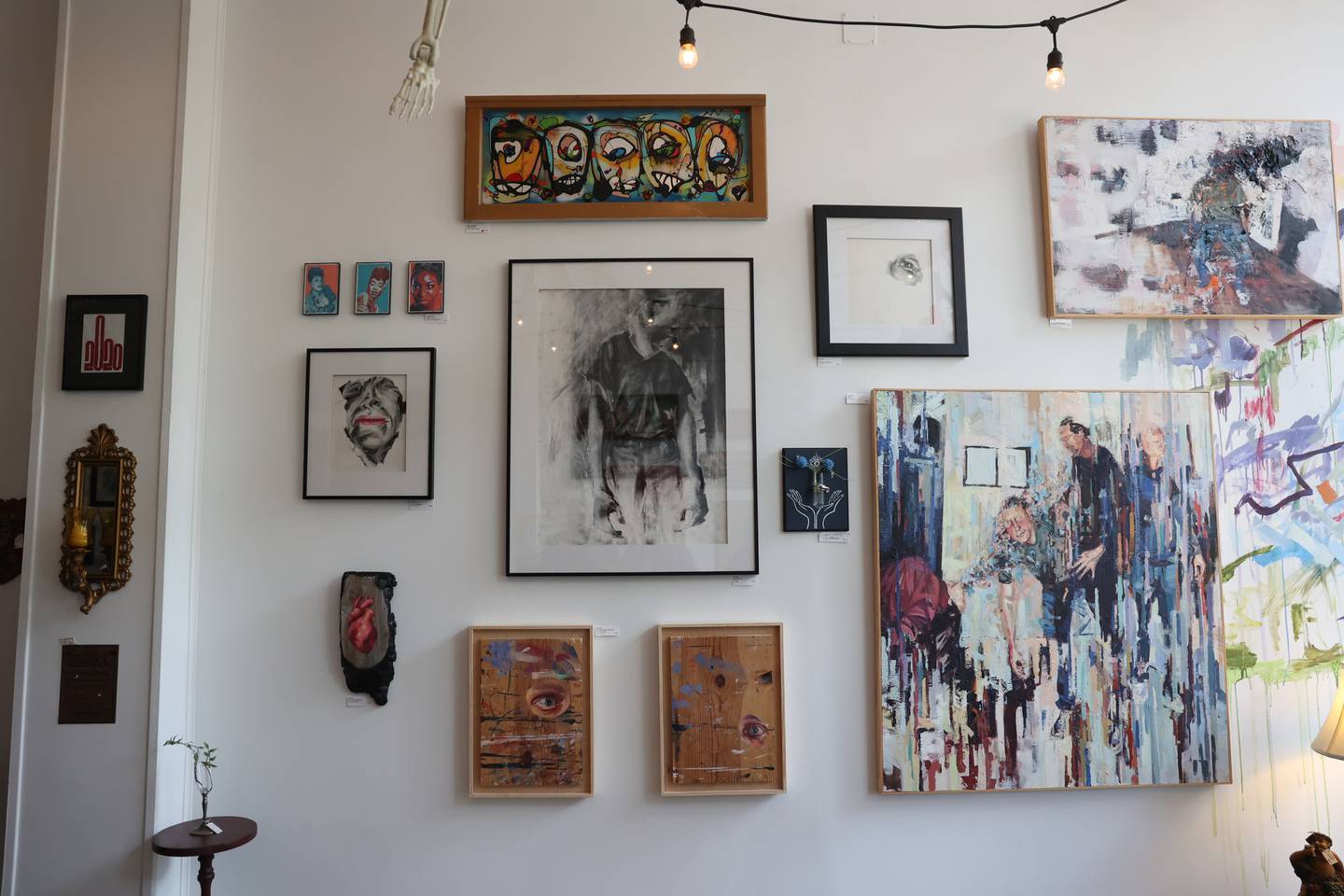 'Strange and unusual' beginnings
With that premise, it's no surprise that The Strange and Unusual Gallery had a strange and unusual beginning.
First Eastham, a tile fitter and sole proprietor of his business, was diagnosed with transverse myelitis in May 2019, she said. Transverse myelitis is a rare inflammatory disease that injures the spinal cord," according to the National Organization for Rare Diseases website.
"He woke up one day and could not walk," Nordstrom said.
Although Eastham has mostly recovered and returned to work, Nordstrom wanted Eastham to be occupied with something over than tile fitting. They knew Joliet needed a place that "really embraced artists" because both are artists, she said. "We wanted to be that place."
The couple moved ahead with their plans.
"We opened on Feb. 9, 2020. Two weeks before COVID hit," Nordstrom said. "We literally took over the spot in September and had worked on it for four months to get the shop ready. We spent all this money and then something we never thought would happen happened. We freaked out. How would we pay for the rent? We had just opened a show and we closed. It was absolutely terrifying. Who would ever have thought? It was like living in a science fiction movie. We'd never experienced a pandemic before. To have that happen, to have the world close down for as long as it did was surreal. We were scared because we did not know what would happen."
Resident artists
Erik Ohrn of Joliet said as a resident artist of The Strange and Unusual Gallery, he's part of group shows and had a solo show in 2021. Ohrn and his wife Eryn Blaser, also a resident artist, will show their work work in September, he said.
Ohrn said each artist's show is a "unique experience" and Nordstrom and Eastham dilligently generate "buzz" about each exhibit and then "keep the energy going" by hosting a variety of events, too.
As a result, Ohrn has sold quite a few pieces through The Strange and Unusual Gallery, he said,
"They get the big picture of art and the art world," Ohrn said. "And they are very passionate about it."
Ohrn said he mainly creates "expressive" oil paintings.
"I like to paint with very thick paint applications, so I think a lot of the meaning and feeling come through that," Ohrn said. "It's not your ordinary figure painting. What makes it different, I think, is that the figures are abstracted within their environment. And I just try to convey a mood or feeling."
Ohrn's experience with exhibits before he came to The Strange and Unusual Gallery was that of dropping off his work and then picking the same artwork back up when the exhibit ended.
"Basically, I just respect them [Nordstrom and Eastham] as people," Ohrn said. "And I'm just honored to be part of their gallery."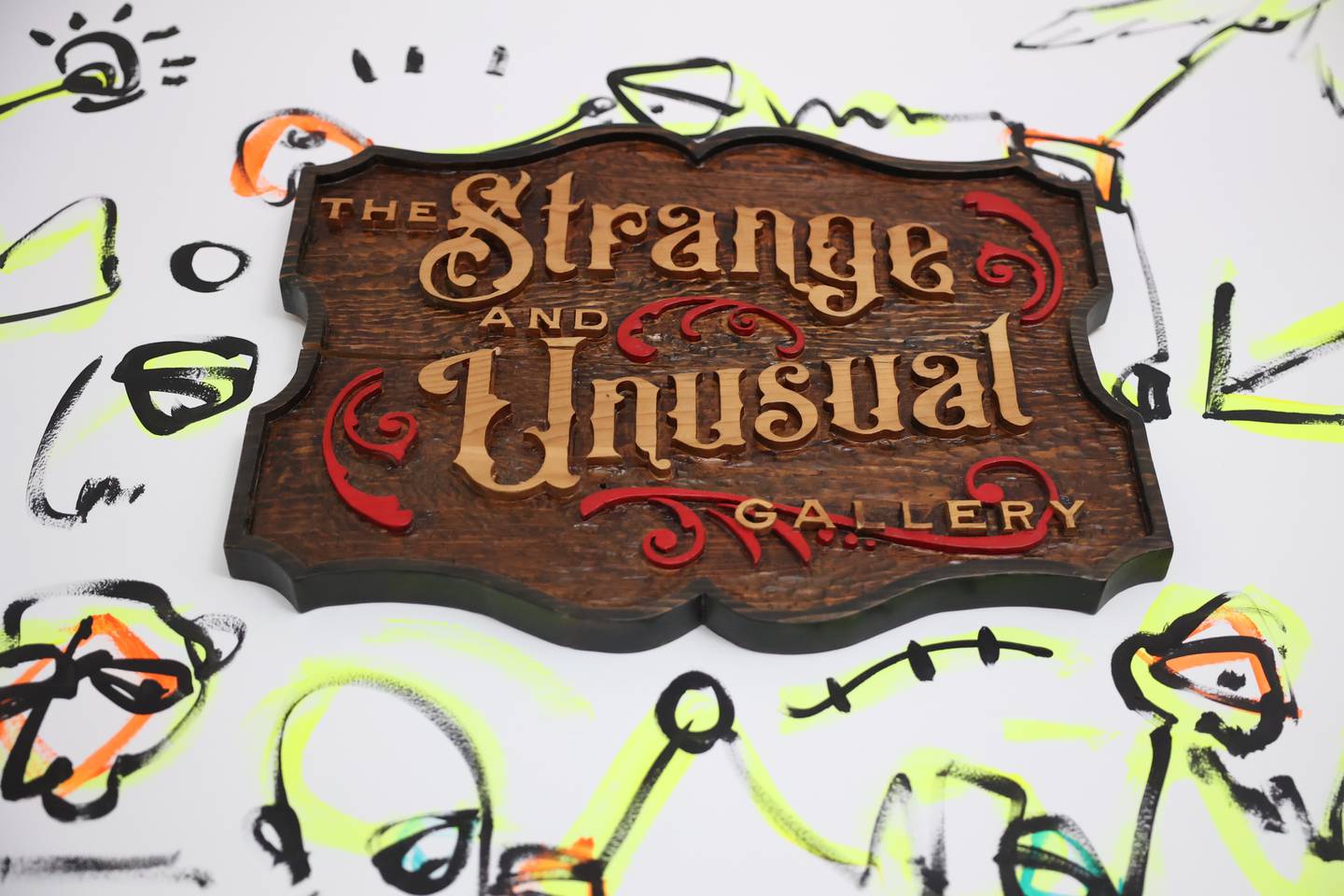 April Love of Indiana, another resident artist, said she had a solo show last year, will have a second in June, and, like Ohrn, is honored to be part of The Strange and Unusual Gallery.
"I know that nothing but good things will come of it," Love said. "Just to have my art featured on their wall means a lot to me."
Love said her work is conceptual and "pretty strange and unusual," so it fits right into the gallery.
"It's not everyone's cup of tea," Love said. "It's a little on the darker side in a few ways, content and colors. I love to go with darker tones. And I love to shoot abandoned buildings. So I give an eerie feel to it."
Love said she likes the texture of abandoned buildings and the contrast of shadows and "natural light coming through the windows."
"I can get lost in wondering and imagining about the lives that lived there before," Love said, "what their lives were like, what kind of memories those walls hold. All of those things are really interesting for me."
Love said she's sold pieces and received commissions during her time with The Strange and Unusual Gallery. Love said she "cannot say enough positive things about the whole experience."
"I went into it with not lot of gallery experience," Love said. "It was intimidating at first, but they were so warm and inviting that the anxiety of the intimidation just melted away…it's been amazing. They've walked me through every step of the way."
Going forward
Eastham said he'd like to eventually move the gallery to a large space; it's just a matter of finding the right spot. For now, the couple has their hands full with their current projects.
"Every two months or so we have a show," Nordstrom said. "The show runs for three to four weeks. And then we close down, and we have to fix all the walls – paint, fill in holes – and get everything ready so we can bring in the next artist. We do this on nights and weekends."
Nordstrom said she and Eastham have worked hard over the last four years to build awareness of their venture. The result is that the gallery now attracts crowds at some of its exhibit openings. The gallery also sees art enthusiasts from neighboring states, she said.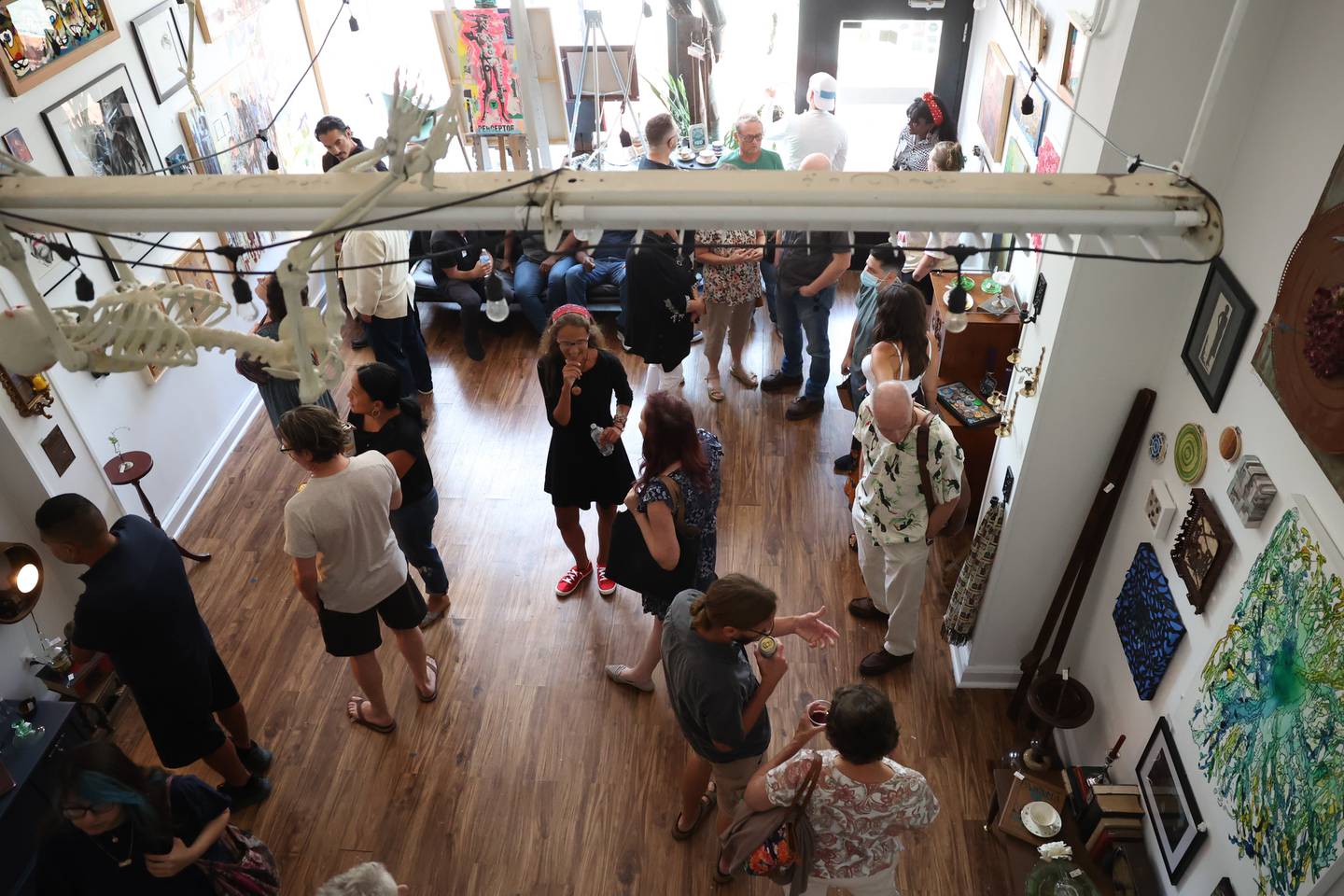 Both Eastham and Nordstrom said they take a small commission from sales. Artists aren't charged a fee to apply or exhibit either, Nordstrom said.
"We just want to keep the lights on, the doors open, and the insurance paid," Nordstrom said.
IF YOU GO
WHAT: The Strange and Unusual Gallery
WHEN: 5 to 9 p.m. Fridays and 1 to 5 p.m. Saturdays. Hours may vary for events.
WHERE: 34 Clinton St. Joliet
INFO: Visit strangeandunusual.hopestreetwoodworks.com.