The last day of business at the original Chicken-N-Spice on Tuesday was a steady stream of chicken, cake and well wishers as Pat and Ken Reimer head into retirement on a happy note.
"It's been like this all week," Pat said during an interlude among the many customers, former employees and friends who have been coming to say good-bye as she and husband Ken head into retirement.
"It's been the kindest send-off that people can give us – taking time from their busy day to wish us well. It will stay in my memory forever."
The day featured free cake and Chicken Chunks for anyone who stopped in and even included the presentation of a Certificate of Recognition from the Illinois State Senate presented by State Sen. John Connor, D-Lockport, recognizing the accomplishment of the Reimers 42 years in business – nearly all of them in downtown Joliet since moving the restaurant to 251 N. Chicago St. in 1981.
The brand will continue even with the Joliet location now closed through a separate business run by family friend Steve Wiborg, who has Chicken-N-Spice locations in Shorwood and Orland Hills. But Tuesday was the last day for the downtown location that the Reimers closed as Pat, who turns 78 Wednesday, and Ken, 81, retire.
"I can't believe this," Ken Reimer said as he held the state Certificate of Recognition in his hands and talked about the what the business has meant to him and others through the years.
"A lot of good people in Joliet," Ken said. "A lot of people worked here and became successful doctors and lawyers and registered nurses. They were all Joliet people. You didn't know there were so many good people in Joliet, did you?"
As Ken was interviewed, Pat brought someone to see him.
"My first job was here when I was 15," the man said.
"It's unreal," Ken said. "So many of these people came up to me today and said, 'I used to work for you.'"
Joliet attorney Jason Wilkins didn't work at Chicken-N-Spice. But his parents were among the first customers – so Pat told him.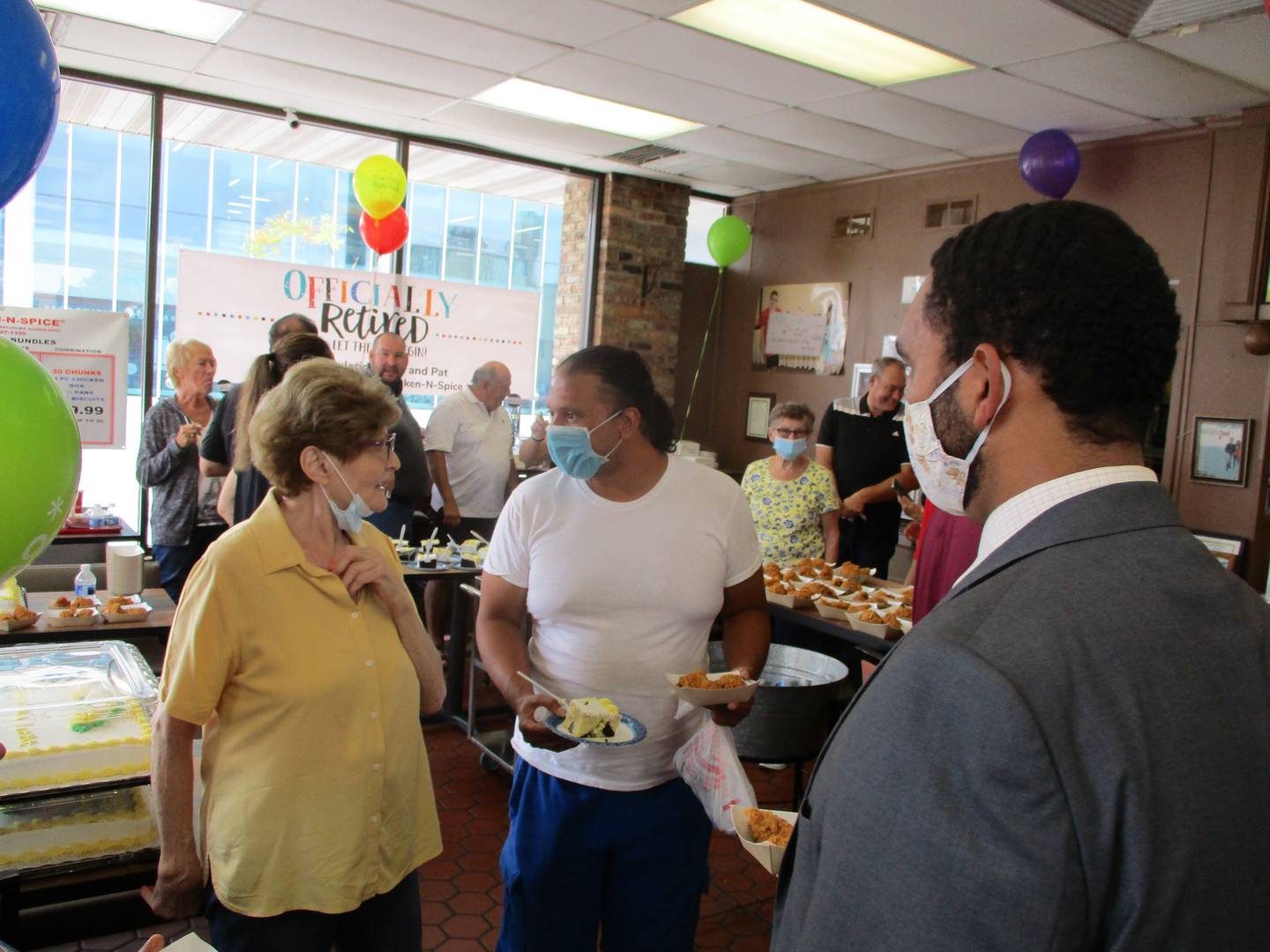 "They would bring home what they called Chicken Chunks," Wilkins said. "I didn't know what it was until I got older, and I started practicing law."
That's when he came across the Chicken-N-Spice building in downtown Joliet that made the trademark Chicken Chunks that his parents brought home.
"I said, 'Wow, this is where it comes from,'" Wilkins said.
The realization that they were losing Chicken-N-Spice downtown affected different people in different ways.
Latasha Simmons' eyes were streaming with tears as she talked about Chicken-N-Spice, the Reimers, and the people who worked there.
"I've been coming here since I was a little girl," Simmons said. "Every time I came in this place, they gave me great service. They pray for people."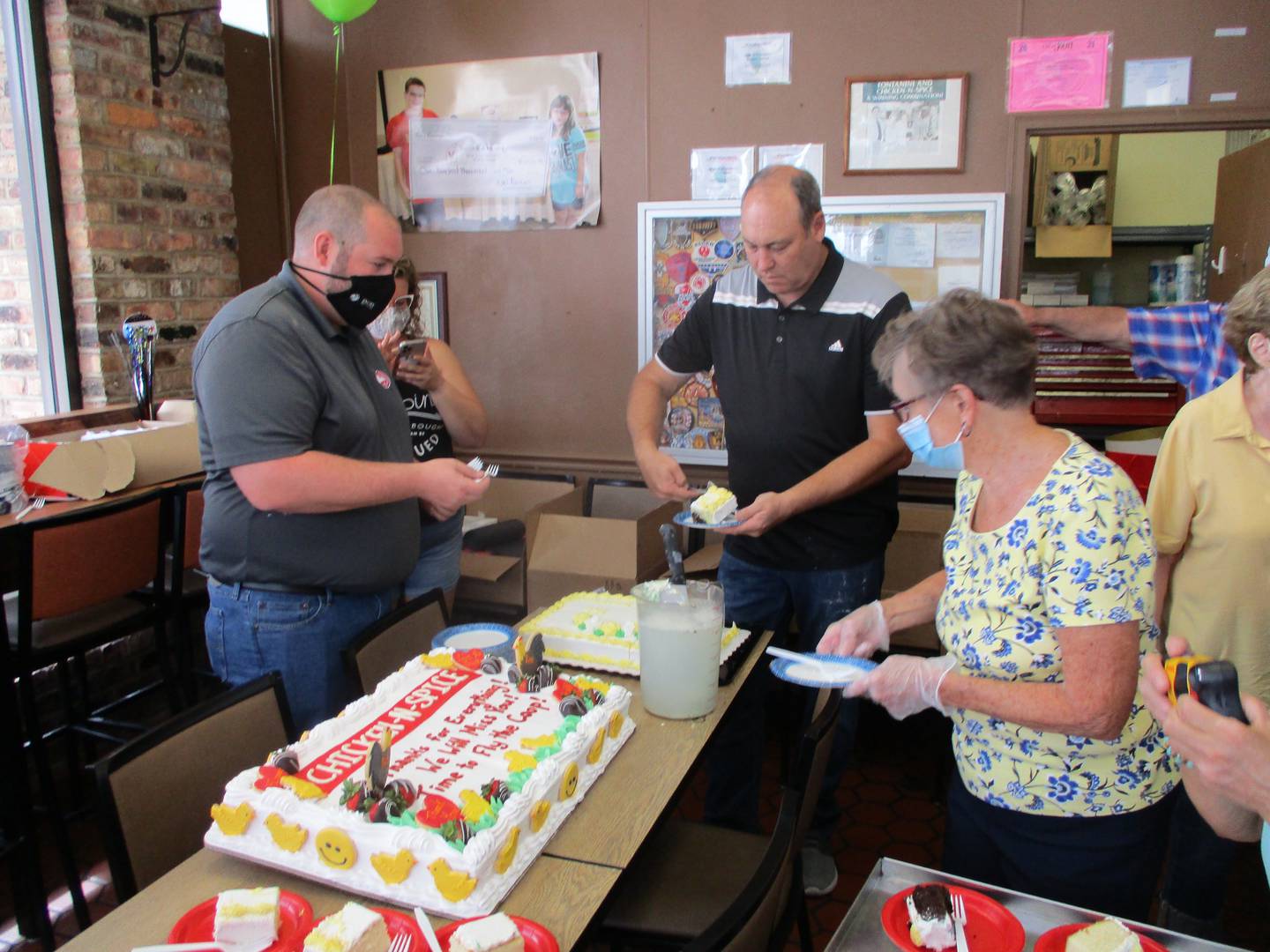 It was more than the chicken, Simmons said.
"I've witnessed them give homeless people free food because they didn't have money," she said. "They're so kind and so nice."
There was a moment of prayer when the Pastor Loy Schlote from Our Savior Lutheran Church in Joliet, the church to which the Reimer's belonged, invoked God's blessings for the Reimers for "more than taking care of a business – taking care of a staff and taking care of a community."