Protesters gathered outside the building housing the office of Will County State's Attorney James Glasgow to demand another investigation into the death of Eric Lurry Jr. and to demand charges against four Joliet police officers who are being sued by his widow.
The protesters also demanded another investigation into the altercation between Joliet Mayor Bob O'Dekirk, Victor Williams and Jamal Smith at a Black Lives Matter protest that turned into a riot on May 31, 2020.
About 10 people attended two protests held throughout Friday outside the Will County Court Annex building on North Ottawa Street in downtown Joliet.
Joliet Black Lives Matter activist Karl Ferrell said the protest was about the "lack of accountability that's coming out of the state's attorney's office."
"This is one of many," Ferrell said of Friday's protest. "We're going to continue to do this until we get our needed results."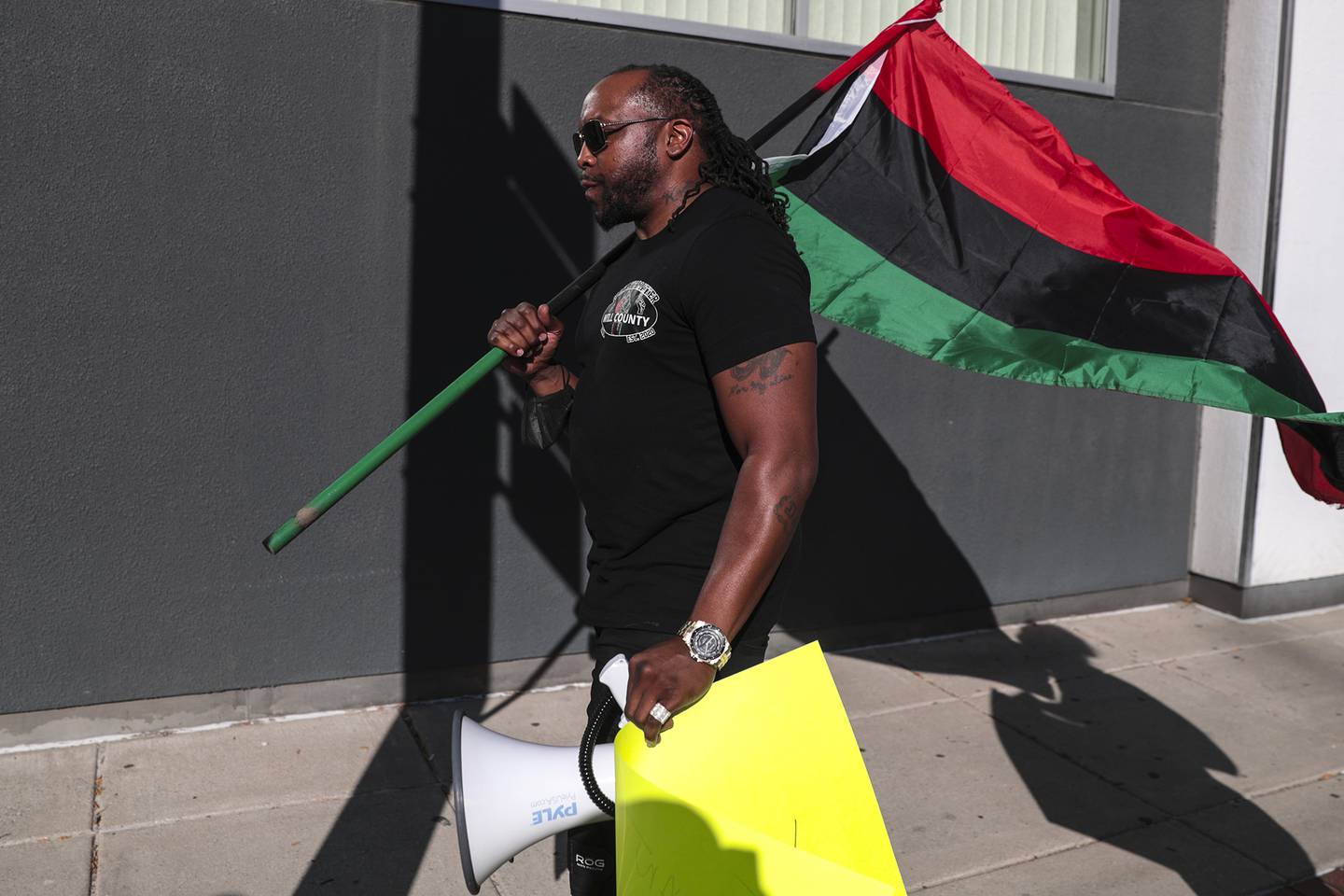 Ferrell shouted the protesters' demands through a megaphone outside the annex building while other protesters waved signs that said, "Justice for Eric Lurry & Victor & Jamal," and "Justice for Javier," referring to Joliet police Sgt. Javier Esqueda.
Esqueda publicly released video from the Lurry's Jan. 28, 2020, arrest and then was arrested on Kendall County charges accusing him of unauthorized release of the video.
Alonzo Waheed, lead organizer of Chicago group Equity and Transformation, questioned why Esqueda was "penalized."
"He's going to call out a wrong and then he's penalized? That makes others afraid to come forward," Waheed said.
Several of Lurry's family members held a protest outside of Glasgow's office last year. It was one of many that took place throughout the summer in Joliet in response to Lurry's overdose death in police custody at AMITA Saint Joseph Medical Center.
Ferrell called upon Glasgow to "step up" and do another investigation of what the protesters said was the "murder of Eric Lurry."
"The attorney general is already out there, so that means something is definitely wrong," Ferrell said.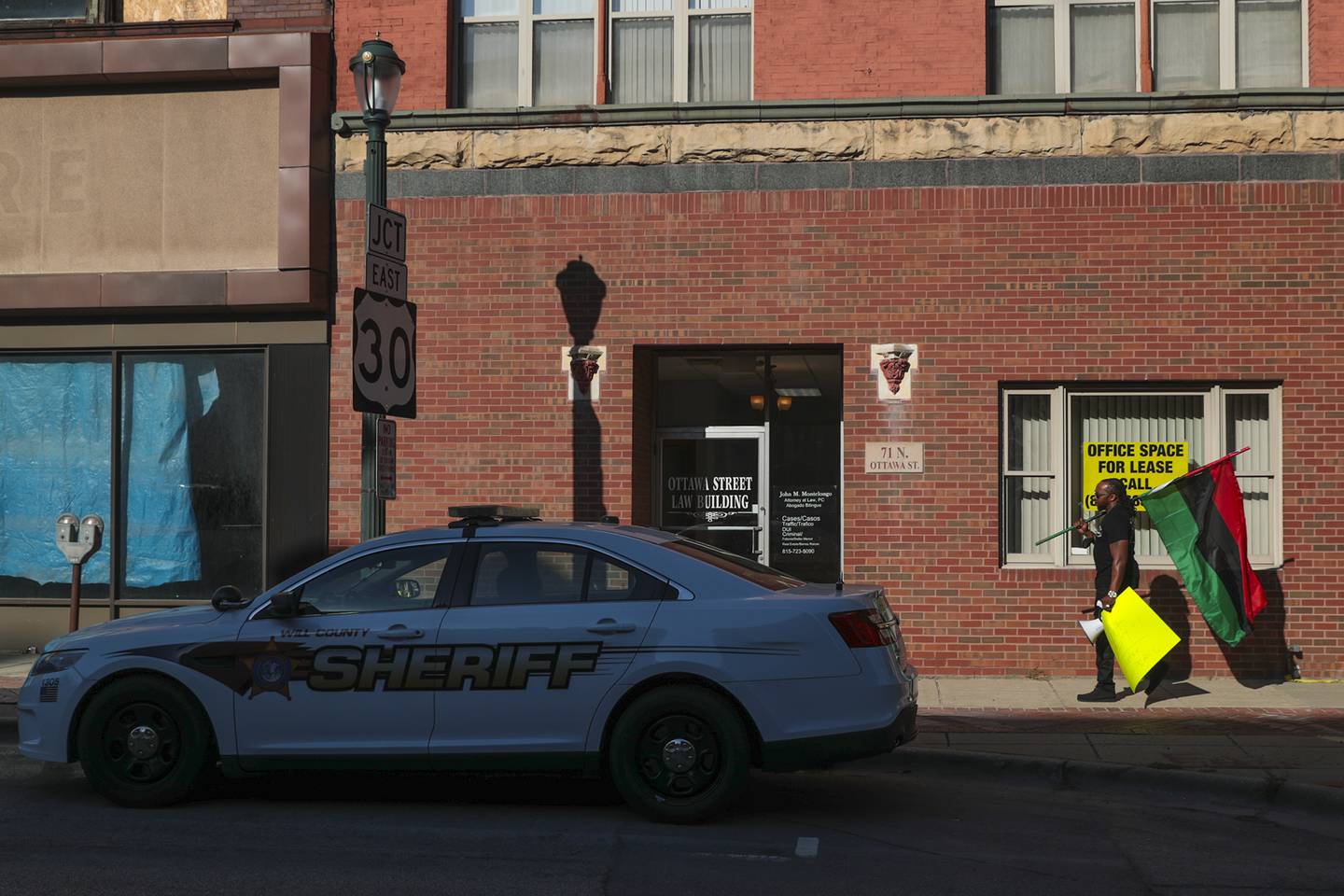 On Sept. 8, Illinois Attorney General Kwame Raoul announced his office would conduct a civil investigation of the Joliet Police Department to look for patterns or practices of unconstitutional or unlawful policing.
In response to Friday's protest, Glasgow released a statement that said an independent, board-certified forensic pathologist conducted the autopsy on Lurry and concluded his death was caused by his ingestion of fatal amounts of heroin, fentanyl and cocaine.
"The toxicology report issued by the forensic lab indicated that Mr. Lurry had fatal amounts of heroin, fentanyl, and cocaine in his system with levels or concentrations over 10 times the fatal range," Glasgow said.
Glasgow said the forensic pathologist watched the video of the police interaction with Lurry and concluded "nothing the officers did contributed in any way to Mr. Lurry's death."
"Mr. Lurry, a felon who served prison time for multiple offenses dating back to 1998, voluntarily chose to ingest the fatal doses of these illicit drugs while sitting in the back seat of a police vehicle after being apprehended by the Joliet Police Department for distributing drugs to another individual on [Jan. 28]," Glasgow said.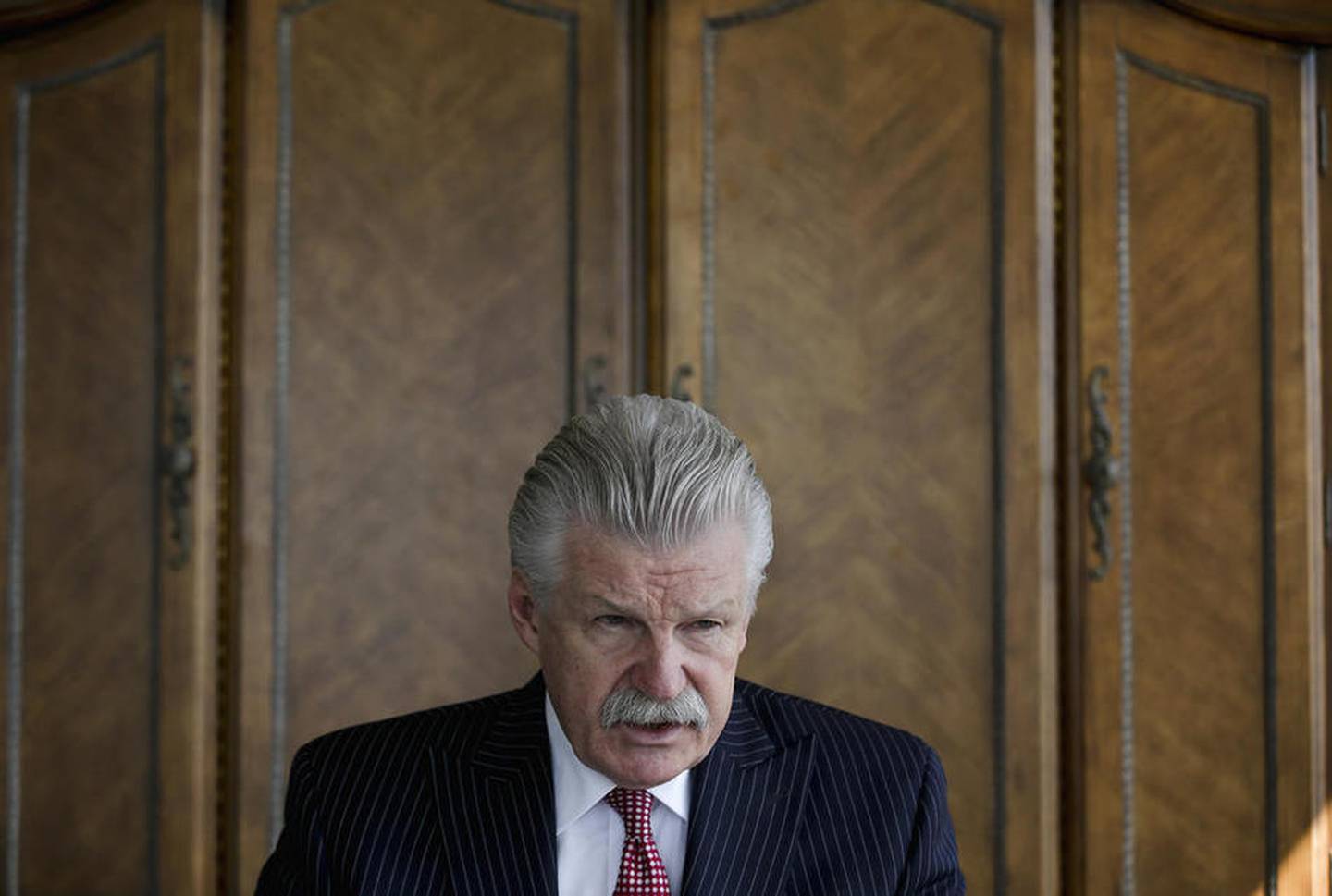 Glasgow said the individual who received the drugs from Lurry was charged in connection with the transaction and now participates in the Will County Drug Court program.
Eric Lurry's widow, Nicole Lurry, has contended in an ongoing federal lawsuit that her husband's death was caused by the "willful and wanton acts and reckless conduct" of Joliet police Sgt. Doug May, Lt. Jeremy Harrison, and officers Andrew McCue and Jose Tellez.
Her lawsuit said those officers failed to transport Eric Lurry to a medical facility so the "toxic items" in his mouth could be safely removed and the officers performed an "unreasonable search" by attempting to remove those items, "thereby causing Mr. Lurry to ingest the toxic substance."
The lawsuit also said McCue and May subjected Eric Lurry to excessive force when McCue forced a baton into his mouth and May slapped his face and pinched his nose shut while retrieving the narcotics without medical assistance.
Nicole Lurry attended Friday's protest.
"We need more accountability and more transparency from the state's attorney's office," she said.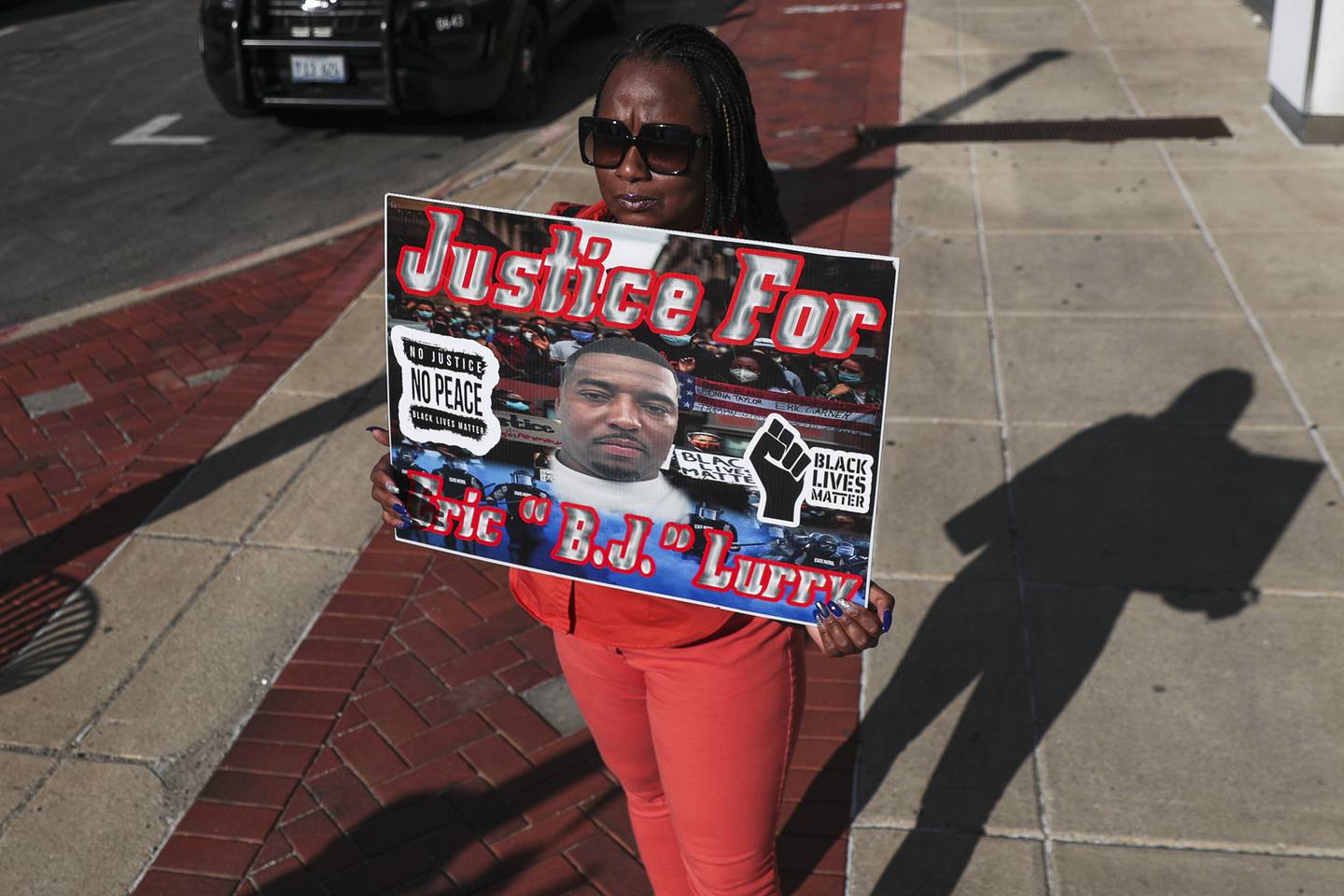 A two-person protest in support of the police was also held across the street from the annex building. Emily Cahill, of Plainfield, said she came out Friday to "stand up and support law enforcement." She stood next to a sign that said, "Back the Blue."
"For over a year now they've been coming out and doing events like this to speak down about the Joliet Police Department, Will County State's Attorney and Will County Sheriff," Cahill said of the protesters.
Joliet Township Trustee Suzanna Ibarra said the protesters were not "anti-police, we're anti-corruption." She said Raoul's investigation indicates "there is corruption here in Joliet."